Content Length, Marketing Skills for the Future, and Creating a Crisis Plan (The IMPACT Show Ep. 54)
In this week's episode of The IMPACT Show, Nick and Steph discussed the age-old question of optimal content length, why you need a crisis plan, and a whole lot more.
Just in case you missed us live (or if you want to relive the magic), you'll find the episode's show notes below as well as the recording.
Enjoy and make sure to share!
Like what you saw? Make sure to subscribe to email reminders and give us a review on iTunes.
Have feedback or questions? We'd love to hear it. Comment on this blog or email us at show@impactplus.com
IMPACT Updates
The Unplugged Week of IMPACT
As we hit the middle of the year and wrapped up the second quarter, IMPACT encouraged us to take our summer vacations during the week of the 4th of July (and take some time to unplug). Some important things we made sure to do to make this successful were:
Setting expectations with our teams
Setting expectations with our clients
Putting up the proper away messages/giving people someone else to contact if needed
We definitely came back refreshed and appreciate IMPACT giving us this opportunity to have some time away.
The Countdown to IMPACT Live
It's true! IMPACT Live is just a few weeks away and we are stoked. If you're going and want to share on social to tell your friends how excited you are - let me know! I have some pre-written posts and I will make you a special promo code with your name on it so you can share and get credit!
Elite Member Shout Out!
This is a little early in the show this week because it's Stephanie's IMPACT Update as well. Ryan Casey reached out to me via Facebook message after the episode where I talked about how much I love sending and receiving hand-written thank you notes. He said he'd listened to the Hubcast, my INBOUND talk, and loves the IMPACT Show and has learned a lot for us. Because of this, he wanted to print me some of my very own custom note cards! I was completely blown away by this gesture and couldn't be happier with the beautiful cards we designed together. I can't wait to start using them - so keep an eye on your mail! Here's what the cards look like: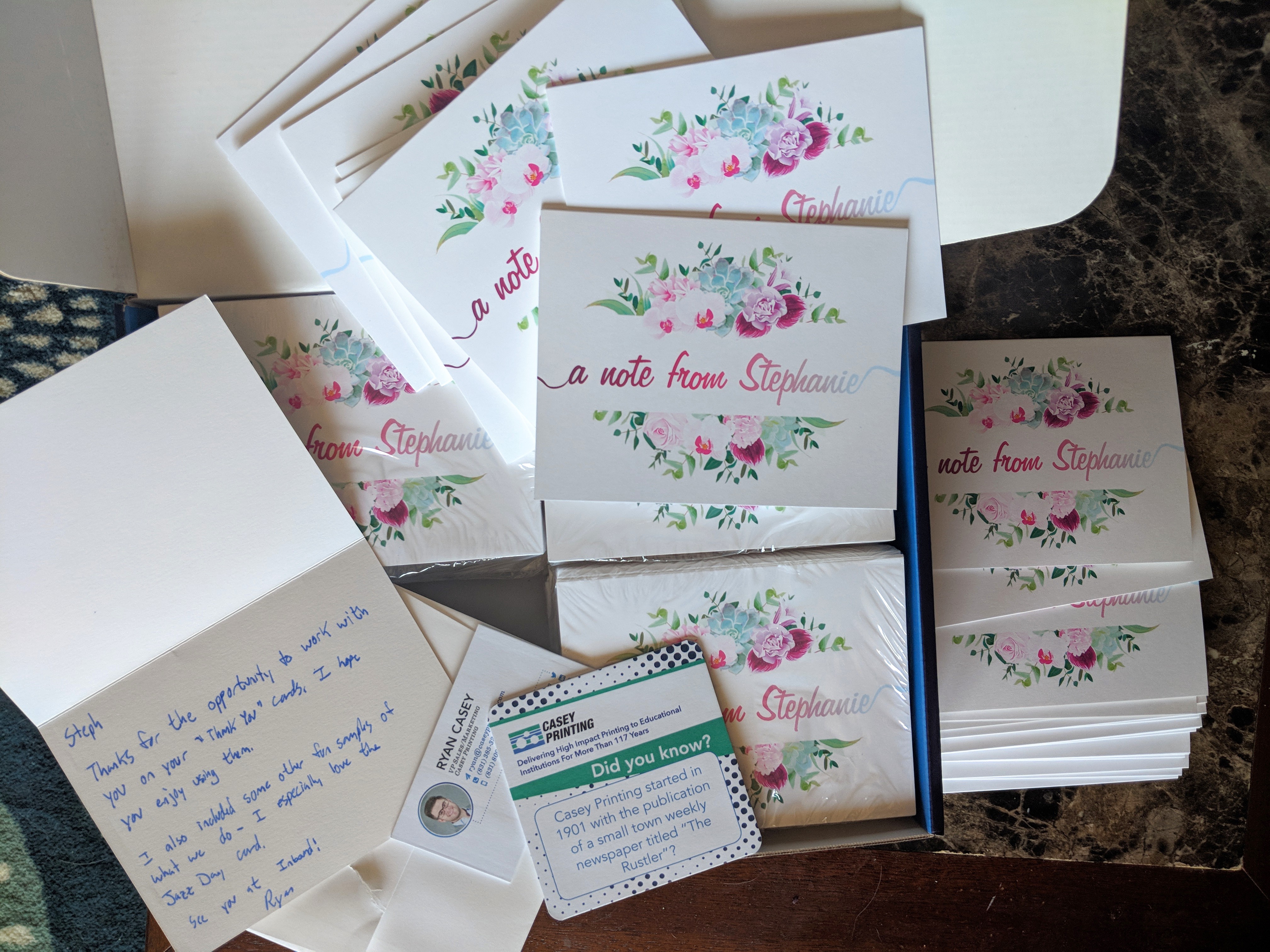 What Marketers Be Talkin' 'Bout
Where we go over what you're saying in IMPACT Elite.
IMPACT Elite crossed 3,200 members! Know someone who would like IMPACT Elite? Invite them to join.
Online Reputation Management - Do you have a crisis plan?
Jonathan posted in Elite asking for feedback about online reputation management. This sparked a really great, deep discussion including multiple comments with a variety of tools and feedback. One that stuck out to me was from Kristin (who works for Edelman PR) who replied:
"Set up a crisis management plan/protocol approved by all necessary clients/ executives / legal on how to respond to certain issues online. It shouldn't be 100% copy/paste for each situation but set a pre-agreed upon framework for how to immediately respond to something while the issue is discussed further internally, which could take more time. Many a social/PR crisis gets worse because of time wasted on that initial response."

-Kristin K., Edelman
Check out the discussion in Elite. We talked about how important it is to come up with a plan in advance for how you'll respond to issues online. Kristin's feedback is so valuable. Nick and I also talked about how you can get ahead of things by being transparent up front and talking about issues and risks with your product or service now. (Big 5 anyone?)
The age-old question of optimal content length
Elite Member: Neadom Tucker posted:
"So question for the group. If your paying for content creation and have a budget. Do you go for word count or number of posts? We are doing about 4 posts a month at about 700 words per post. I was thinking about going to about 1000 or 1200 words. I have more funds now to put toward this. I am just wanting to know everyone's thoughts are on this. I know it is about creating great content and believe in that 100%. But we still have a budget."

-Neadom T.
Ah, the age-old question. "How long should my content be?" We talked about a lot of the great comments on the thread. From making sure you answer the most important questions in the time/length it takes to do it well, to being consistent with your content, there's a lot to consider.
One of my favorite metaphors from college that I'll never forget is the "no soggy steak fries" rule. Check out the episode to hear what I mean! Then Nick talked about creating a content advisory board to get qualitative feedback about your content. Check out the discussion in Elite.
Inbound in the Trenches
This is where we talk about what we're doing and what we've learned lately right here in the trenches.
Marketing Skills for the year 2023
My friend Mark posted in my second favorite group - The Daily Carnage:
"I'm working on a blog post about the marketing skills that employers will be looking for in 5 years. I'd like to include a few quotes (with full credit) from some of you smart people here. So...what do you think? What marketing skills will be in demand in 2023?"
Obviously, I love this topic. I'm all about how to future-proof your skills as a marketer. Some of my favorites from the post included:
Formal knowledge of psychology
Problem solving/seeing the big picture
Having a well-rounded skillset
Being a learner and being flexible/open to new things
Audience research and social listening
Taking risks and owning the outcome
There are a lot of great comments on this thread if you want to check it our for yourself.
IMPACT's new product/services page launched!
Check it out at agency.impactplus.com and see what we've been up to! We created this site to help us better relate to our personas, create more targeted content, and really speak their language. The page provides a better capture of intent, speeds up our sales process, and makes us more efficient when talking with prospects.
We would love your comments. What did you think of the show? Let us know in Elite. Make sure you never miss a show or update by subscribing at impactplus.com/show.
Join Us Next Time!
Next week, we'll have a community hangout on FRIDAY July 20th at 4:00pm Eastern. (we're doing this one happy-hour style!)
Until next time...we'll see you in Elite!
Free Assessment:
How does your sales & marketing measure up?
Take this free, 5-minute assessment and learn what you can start doing today to boost traffic, leads, and sales.