Converting Inbound Leads to Opportunities: The IMPACT Show Ep. 5 [Show Notes]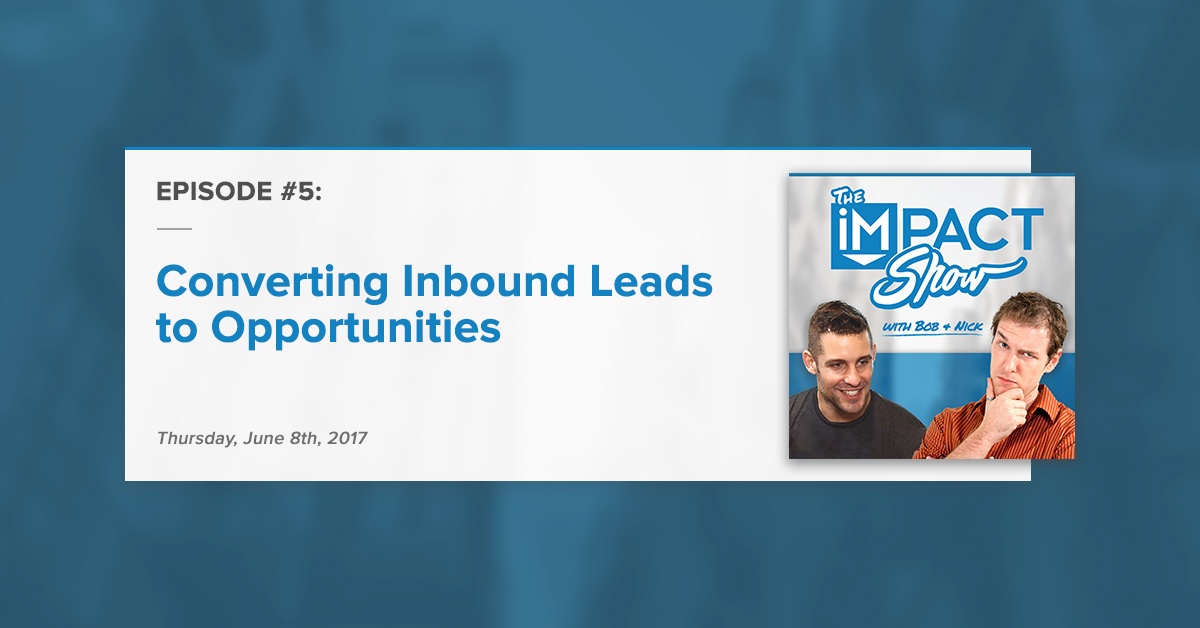 One of the biggest challenges many organizations have is that revenue is rarely impacted despite an increase in traffic, contacts, and bottom of the funnel inquiries.
This week, Bob and Nick took to Facebook Live to discuss how marketing and sales can better convert inbound leads into sales opportunities, optimize your content to rank 0, the importance of your homepage and LinkedIn Company page descriptions, and IMPACT Live.
Just in case you missed us live (or if you want to relive the magic), you'll find the episode's show notes below as well as the recording.
Enjoy and make sure to share with your peers!
A two-day event in Hartford, CT on August 1-2nd, 2017.

An intimate group of experienced, dedicated marketing and sales leaders. Here's a look at why we're hosting IMPACT Live.
NEW LOWER PRICING:

We want you to go and, we don't want pricing to be the hurdle stopping you so now you can get your general admission ticket for just $999 or VIP access for $1399.

Speakers include Marcus Sheridan, Tara Robertson, Mike Volpe, Mark Roberge, George B Thomas, Paul Roetzer, and more.
Does Your LinkedIn Page Match Your Homepage?
Often times the short summary of what businesses do doesn't match what's on your homepage. Usually, because it's out of date since it's an area a lot of businesses forget to update on a regular basis.
Although the action of someone clicking at both your LinkedIn company page and website homepage may be low, it's still important to match the two because these individuals are actively looking to learn more about you.
We have found that a businesses LinkedIn description does a better job of explaining what they do than their homepage due to individuals overthinking what they do and who they are.
Action Item: pull up your LinkedIn page and Homepage and look to see if there's any disconnect.
Apple "Home Pod" and Google Rankings
While a little late, this product is a response to Amazon's Alexa. This product is able to do the same things as you would with Alexa or Echo, but it would operate off of Siri.
Marketers will need to think about how they should approach AI to ensure that Alexa and Apple's Home Pod are answering questions with your companies answers.
Alexa and Siri also get their answers from Google. In order for your content to be the one Alex or Siri recommends is by having your content rank 0. Rank 0 is when your content appears in the white box above all of the search results.
Here's how you can rank 0:

You should be creating long form quality content, that meets the intention of the readers searching that question.
You'll want to answer the question the searcher is looking for, high up in the blog post (possibly in the introduction).
Main Topic: "Converting Inbound Leads to Opportunities"
There's always been the battle between marketing and sales and creating alignment among the two teams.
The biggest challenge we hear is as traffic and contacts go up and bottom of the funnel inquiries go up. But is it really impacting revenue? For many businesses, it doesn't. They notice that there's a drop off from that form fill, down to how many actual sales opportunities close.

It may be because you're not generating quality leads, or because there is a leak in your funnel at this part that needs to be plugged
Maybe your content is attracting the wrong audience, but in many cases, your are still converting good high-quality leads. But unfortunately, many organizations have a gap between the sales rep working a deal and what came in from marketing.

Here are 5 things you can do to evaluate the issue and what can be done to increase the number of contacts moving from an inbound lead into a real sales opportunity.

Lead nurturing


Are the contacts coming into your system fully educated on what you're actually trying to sell them?
As marketers, what can we do to better educate and set up these contacts for success before they fill out a bottom of the funnel form?
Content should hit on the pain points your potential customers have. This allows them to see you as a trusted resource.
If you're marketing team isn't nurturing leads, you run the risk of putting your sales team on them too early. Causing sales to tell marketing their leads suck.

Lead scoring and notifications

If there aren't any metrics in place to understand the behavior of someone on the site, you might be jumping the gun too soon.
Have systems to understand how people are bouncing around on your site, and a lead score that will measure the type of engagement each lead has with your company. Example, once a lead receives a lead score of 50, they're automatically delivered to your sales team.
Don't forget about notifications.

Often times, there's the right fit with a company but it's the wrong time.

Sales should be notified once a lead comes back to your site and is re-evaluating your product or service. It's a subtle sign to reach out and re-engage with them.
A great tool is HubSpots Sales Tool (we might be a little bias), but there are also other tools available.

Making sure that anyone on your site showing really strong sales interest is responded to in under 5 minutes

When someone is in that mindset and filling out a bottom of the funnel form on your site, don't wait half a day to respond to them.
If you don't respond immediately to them, at that point, it might not be as high of a priority for them.
For every minute that goes by, the success rate for closing that deal goes down by the minute. Don't be the company that calls them back last.

How you can prevent that from happening:

Hire a person that's dedicated to that part of the marketing and sales funnel (BDR).
Response time needs to get even faster
Live chat

Understanding that inbound leads are different from outbound leads

Someone visiting your website and engaging with your brand understands who you and what you do by the time your sales team starts communicating with them.
You need to adjust how you're communicating with them. Rather than spitballing what your company does, answer their questions and see how you can help them.

Make sure that you're exciting prospects


Sales often think that every lead is ready to buy, and that's not always the case. Many prospects are interested in learning more to better understanding how your company's solution can help them.
Books/Resources:
Next Steps:
Get your tickets to IMPACT Live 2017 to meet David Meerman Scott, Mark Roberge, Marcus Sheridan, and dozens of other experts in-person this August!
We would love your comments! Feel free to send us an email or comment on the facebook thread. Did you know that people who attend live broadcasts and actually comment and engage are more likely to retain more information from that broadcast thus getting a better return for your time.

Join Us Next Week! Topic:

Building a Successful Marketing Team
We'll be back again next Thursday, June 15th at 10:00 AM ET. Bob's going to be in Europe so we need to start a little early!

Want to get reminded? Drop us your name and email address below and we'll make sure you're notified before the broadcast every Thursday!
Free Assessment:
How does your sales & marketing measure up?
Take this free, 5-minute assessment and learn what you can start doing today to boost traffic, leads, and sales.