"Creating an Online Community Using Social Groups:" The IMPACT Show Ep.16 [Show Notes]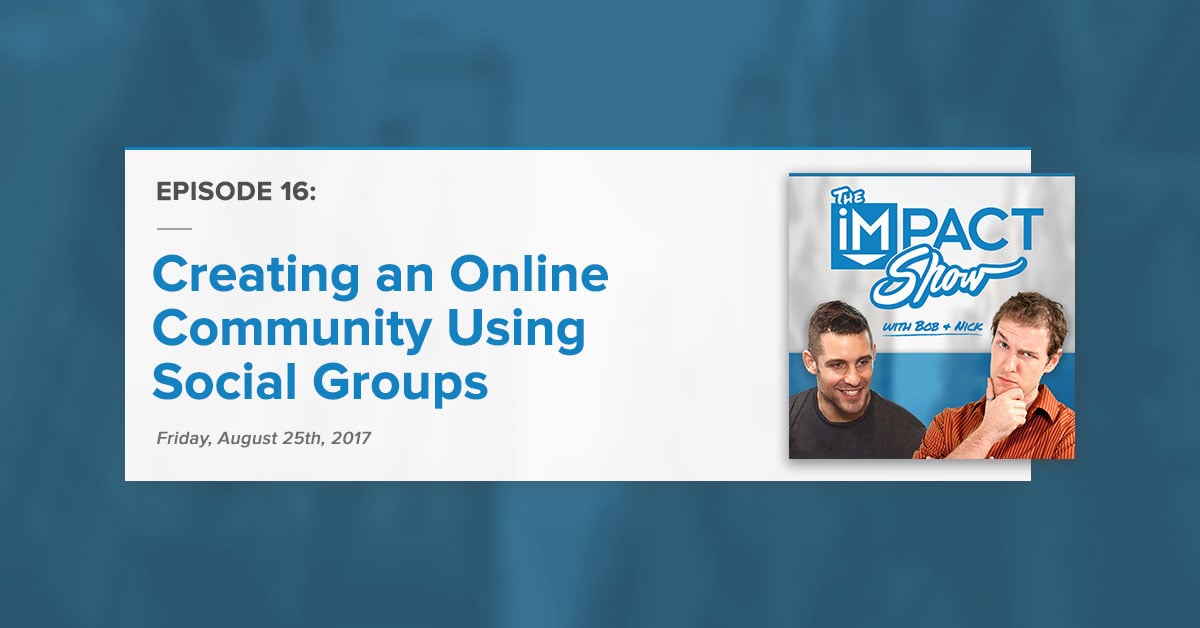 Providing a great user experience is key.
One way you can do that as an organization is by building social communities for your customers and fans.
In this week's episode of The IMPACT Show, Bob and Nick discussed this, as well as mobile vs. desktop usage, and Google reinforcing the importance of SSL.
Just in case you missed us live (or if you want to relive the magic), you'll find the episode's show notes below as well as the recording.
Enjoy and make sure to share with your peers!
Like what you saw? Make sure to subscribe for email reminders and give us a review on iTunes.
Have feedback or questions? We'd love to hear it. Comment on this blog or email us at show@impactplus.com
Digital Marketing News
Where each week, Bob and Nick share one thing from the world of digital marketing that caught their eye and found interesting to share.
Mobile vs. Desktop Usage
57% of traffic now from smartphones and tablets.

At a recent press event, a Google speaker said "vast majority" of search queries are now mobile. However, this is not official and wasn't affirmed by spokespeople.

Brightedge, an enterprise SEO platform, just did a report that 57% of traffic now from smartphones and tablets.

In some categories (e.g., restaurants), the numbers can be significantly higher. That goes equally for younger demographic segments, where all the numbers skew more mobile.

BrightEdge also reported that mobile vs. desktop search queries produce different rankings almost 80 percent of the time.

The way that you use your mobile device is different than how people use their laptop or desktop computer.
Google Sending Messages to Webmaster About SSL
They are always trying to solve for the user >> this is what the user needs to know

This ultimately will be good for organizations that have secure sites >> need users to continue to trust sharing information with organizations that treat it responsibly (meaning securely above all)

Their email is an example of how you can do mass emails that are highly personalized.

If the aim is trust, then "not secure" at the form will cancel out all your efforts/credibility.

The time to get on SSL is now, and there's a positive benefit, and it's SEO. If there's a sudden decrease in form fills this could be the reason if your website isn't SSL.

HubSpot has SSL out of the box for this reason, they are anticipating it. What are other CMS's doing to keep pace? I don't know….but if you're not going to be on HUBS, you probably should find out.
Main Topic: "

Creating an Online Community Using Social Groups

"
Before we dig in, start thinking about how the things we're talking apply to your company. If you have any challenges or questions that you want us to address, a leave comment or send us an email to show@impactplus.com. We'll get to as many as we can either at the end of the show or during next week's episode.
Problems many companies face (why a community?):
Misconnections with email / social profiles

Lack of consistent human connection

Lack sense of community of customers and brand fans
Reasons to create an online community
Solve problems

Able to get more members of your company involved and answering questions asked by your audience.

Stronger connecting to your audience

Humanizes the brand in a digital way

Channel for idea generation/feedback

Nurtures prospects in a differentiated way

Challenge members to stretch themselves to hit new goals and hold each other accountable
About IMPACT Elite: Purpose, Vision, Growth
Purpose:

IMPACT Elite is a community of IMPACT fans, clients, IMPACT Live

attendees, and amazing marketers doing amazing things. The purpose of the community to help members stay connected, get questions answered and become better marketing leaders.

To join, g

o to impactplus.com/elite
Our community is on Facebook, but that doesn't have to be the case for yours.

Platforms can also consist of LinkedIn, Slack, etc
How to create an online community
Who's the leader

There has to be a leader, who cares about the group and can make sure that it's a valuable community.

Define the purpose/differentiators…. make sure it's clear

How can you build it into your product?
Is this a "marketing thing" or a truly supported company initiative?

Set some guidelines for posting
Invite your truest fans, get feedback, prototype
Get on a regular publishing schedule
Get routine in inviting..
How can your members invite more people?

Events help.
Next Steps:
We would love your comments! Feel free to send us an email or comment on the Facebook thread.
If you really liked it, please give us a 5-star review on iTunes. Review offer: We have a special price for the first 10 people to leave us reviews on iTunes (hopefully 5-stars). After you do, send us an email at show@impactplus.com so we know it's all set.
Join Us Next Week! Topic: 5 Reasons Your Inbound Marketing is Failing
We'll be back again next Thursday, August 31st at 1:00 PM ET. Want to get reminded? Drop us your name and email address below and we'll make sure you're notified before the broadcast every Thursday!
Free Assessment:
How does your sales & marketing measure up?
Take this free, 5-minute assessment and learn what you can start doing today to boost traffic, leads, and sales.