Google now testing short videos carousel in mobile SERPs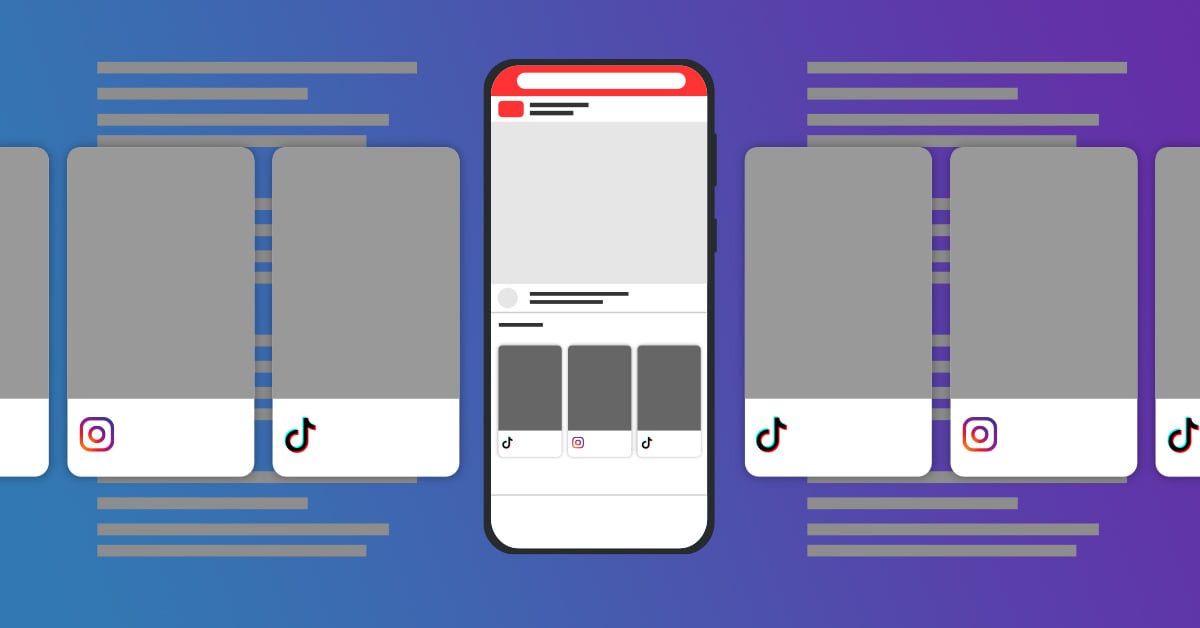 Consumers' insatiable appetite for short-form video has spawned Google to get in the game, search-wise. Google is now testing a new mobile search-dedicated carousel in the search engine results page (SERP) for short-form videos that will include TikTok and Instagram clips.
This expands upon a test feature launched by Google earlier this year that included a carousel of short videos within the personalized Google Discover tab — the personalized feed in the Google mobile app and on the left of the home screen on some Android devices.
This is not to be confused with Google Stories, introduced last year, which consisted of short-form videos created by Google's online publishing partners.
🎓 Free IMPACT+ course: How to fully maximize your Google My Business listing
How do I see this fancy new search result?
Well you can't really. Not yet at least. According to TechCrunch, "the feature is currently available in a limited way on the Google app for mobile devices and on the mobile web." It will not appear alongside every current search query.
However, when Google does start rolling this out for more searches, it will be found by scrolling past the Google knowledge base box, top stories, twitter results, top results, images, videos and other content, like an about section.
🔎 Related: Our ultimate Google Ads getting started guide
Who knows how long they will have the short video search result reside so low in the results, but while they test it, that's where it is.
Why now Google, why?
Google already has control over everything search, why do they need this?
This feature will allow a person searching for a video to stay on the Google platform and not be taken to the native app to view the video. A person can simply click on the video search result and it will open the web version. They will need to click the back button to get out - thereby remaining on Google.
In other words "A Social Video Entertainment Mecha!" At least, that's what I'm guessing Google executives said in a boardroom at one point in time.
Jason Linde, our Google Ads lead, chimes in:
"Bettering our search experience is always worth caring about. Google is taking the steps to lean into what searchers want (short-form vids). Being able to see this now in our search versus discovery is the forward thinking we need, especially knowing the success Google saw in YouTube with how-to videos.

Imagine being able to quickly jump right to a variety of quick videos on how to do something directly from your search.

I think this is something we will continue to see grow. People love short-form video and Google is smart for bringing this to the searchers journey. Adding to this experience only helps bolster Google as the forward thinking juggernaut they already are."
What does this mean for digital marketers?
Google has indexed video content for many years and partnered with Twitter in 2015 to index search results. Could Facebook or TikTok be next? As Google scales the product, it could be an interesting tool for indexing and surfacing top video content from social media.
Just like when Google rolled out Feature snippets, as digital marketers we started to learn how to optimize towards getting these in a better position or even shown at all. This would follow in those same footsteps.
We will need to know how Google selects these videos and from where exactly. This would help clients (future and current) gain top of SERP real-estate. By understanding the why and what of Google rolling this out via search will only help in our clients growth (and our own company) if applicable.
Obviously this might not work for everyone. The more we understand if certain verticals will fare better, the better we will be able to direct our clients.
Free: Assessment
Does your website build trust with buyers and bring in revenue?
Take this free 6 question assessment and learn how your website can start living up to its potential.