Subscribe
Join 40,000+ sales and marketing pros who receive our weekly newsletter.
Get the most relevant, actionable digital sales and marketing insights you need to make smarter decisions faster... all in under five minutes.
Thanks, stay tuned for our upcoming edition.
How to build an advocate community for your business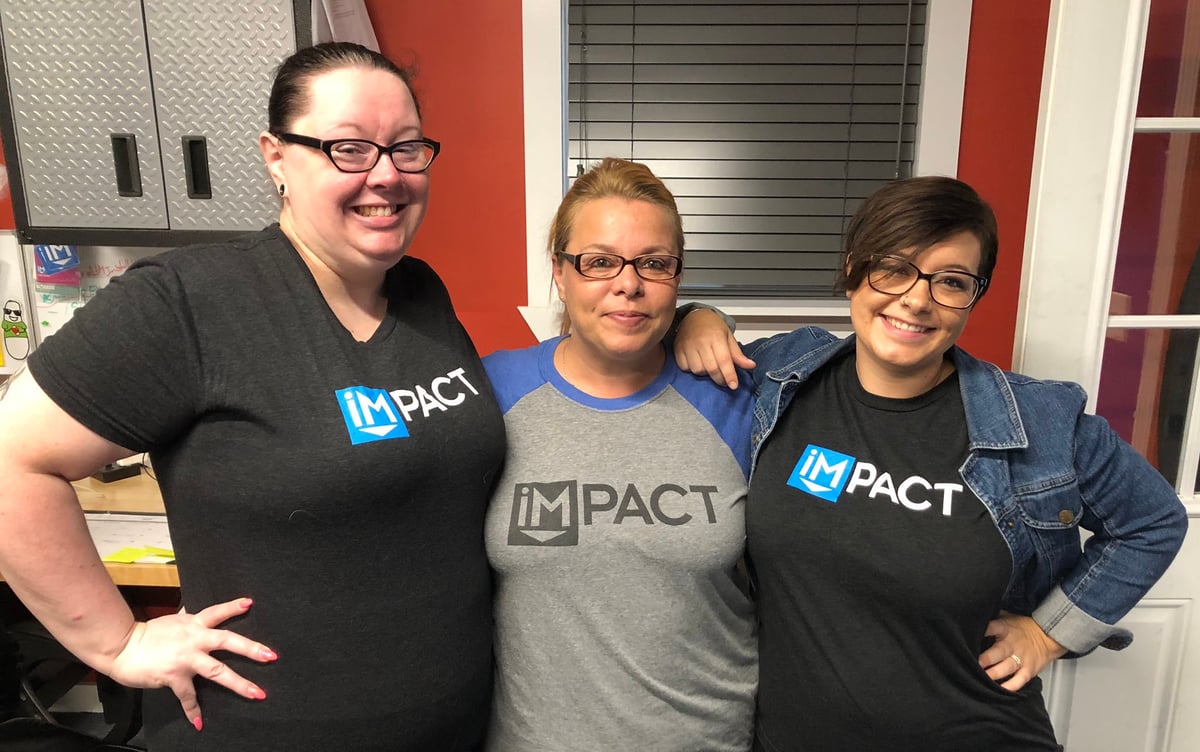 Think about the last time you purchased something.
Maybe you were shopping for a new fish tank on Amazon (I was) or maybe you were comparing software solutions for your business.
Even if your purchase wasn't online and you ended up going to a physical store (I did), you probably read or watched an online review before deciding to buy (of course, I did).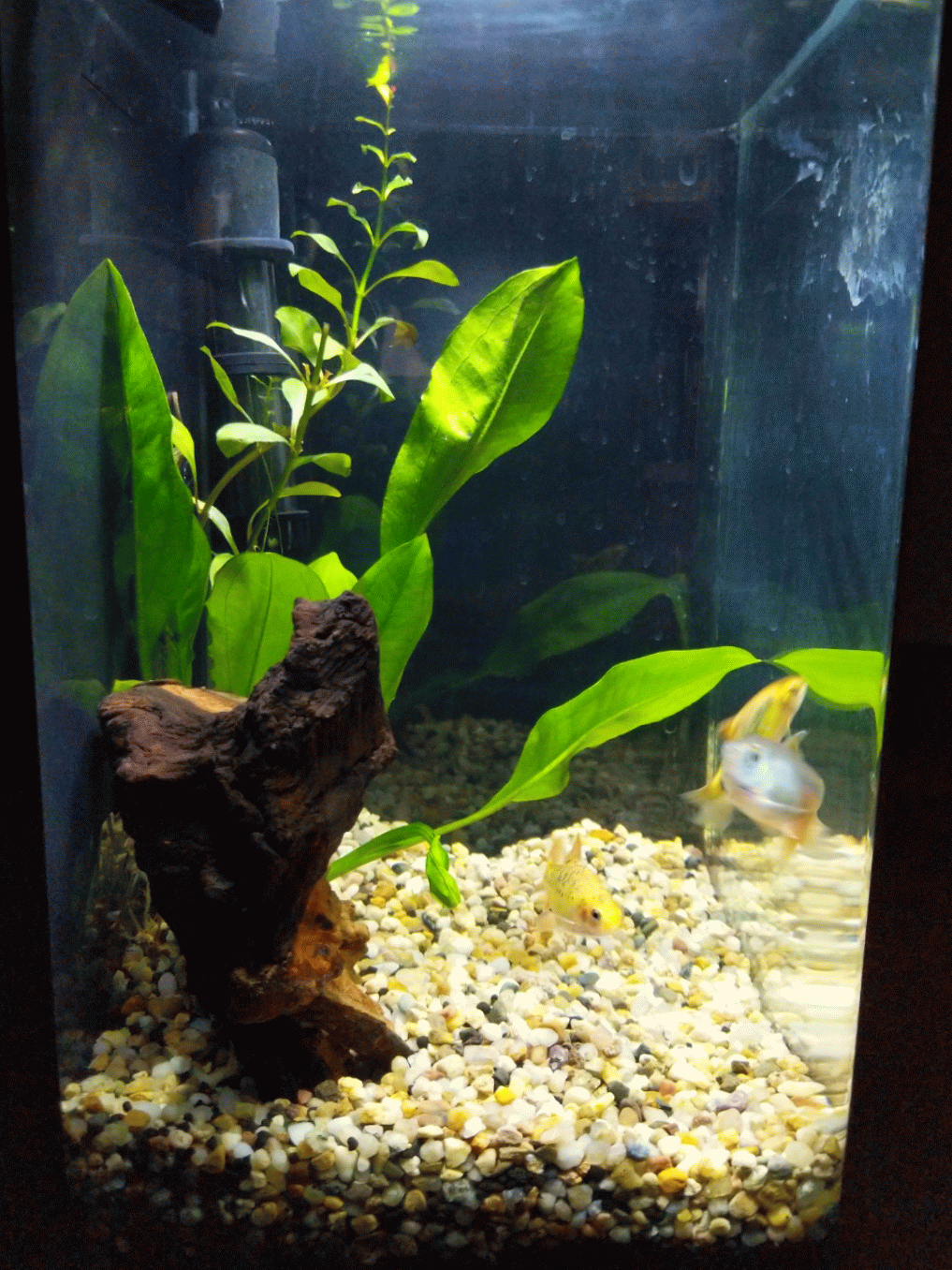 The fish tank I ended up purchasing after consulting many reviews.
Before we spend our own (or our company's) hard-earned money on something, we want to be confident we're making the right purchase.
This is nothing new. For as long as business has been in existence, consumers have been asking for references, consulting friends and family, and doing research on their own before making a purchase.
What is new is the fact that today, most of this research and these interactions take place online.
Maybe we see a friend recommend something on Facebook or we watch a YouTube video of someone unboxing and reviewing a product. Or perhaps we read reviews on a Google listing before visiting a business.
In fact, 91% of people read online reviews and 72% of customers don't take action until they have read reviews.
But think about the last online review you wrote. Was it a positive or negative one?
For most people, it was negative. In general, we're quick to share our bad experiences with brands but much less motivated to take the time to share positive ones.
Therein lies the problem: 57% of consumers will only use a business if it has 4 or more stars. Yet most people won't bother to write positive reviews.
Plus, if you have have absolutely no reviews for your company online, all it takes is one bad review to ruin your reputation in the eyes of potential buyers.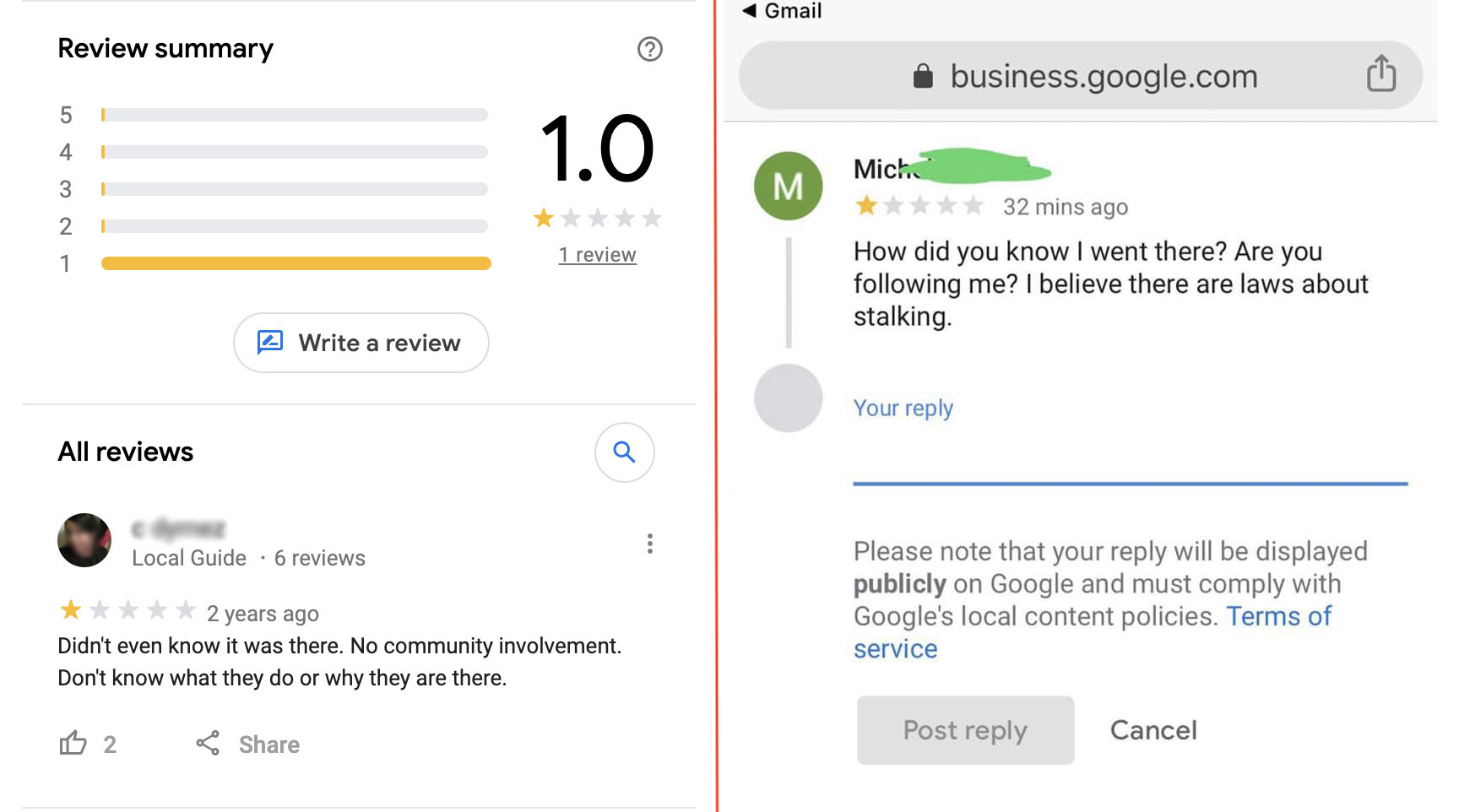 Examples of 1-star company with 1 review and a confused reviewer.
Sometimes it's even just a confused reviewer and not even an accurate reflection of your company. For instance, a one-star review on amazon that is NOT about the product, instead something like "Amazon sent me the wrong color — 1 STAR!"
We know the importance of making sure the conversations about our brand happening online are positive, but this is challenging to monitor and manage.
So how do we solve for this? By creating a community of advocates.
What are brand advocates?
Brand advocates are people who share information about products and services they use, usually without any incentive to do so.
Unlike influencers, advocates usually don't have huge social followings, but they are closely connected with the people they engage with online. They are not famous names endorsing your company. Rather they are your satisfied customers, business partners, and even employees.
While influencers are only trusted by about 46% of people, advocate recommendations and actions are trusted by 84% of consumers.
Advocates are so powerful because they bridge the gap between people trusting each other and people being able to trust a brand.
As the director of community and events at IMPACT, part of my role is to empower our community of advocates to build trust on our behalf.
In fact, I've even started referring to our advocates as "trust advocates" instead of "brand advocates" because what we really need from them is to share why they trust us enough to do business with us.
Some characteristics of brand (or trust!) advocates:
Have small to moderate social followings (but are not influencers)
Participate in online conversations and have genuine interactions online
Driven by sincere/honest brand loyalty
Willing to endorse, review, or talk about a brand without expecting compensation
The great thing about advocates is they're highly willing to participate in an advocate community. The thing is you have to ask them to do it.
If asked, 70% of consumers will leave a review for a business.
It goes beyond just needing reviews, too.
Think about the organic conversations you have with friends and family or the things you share on social media about products and services you use.
Take this conversation I had with my teammates last week: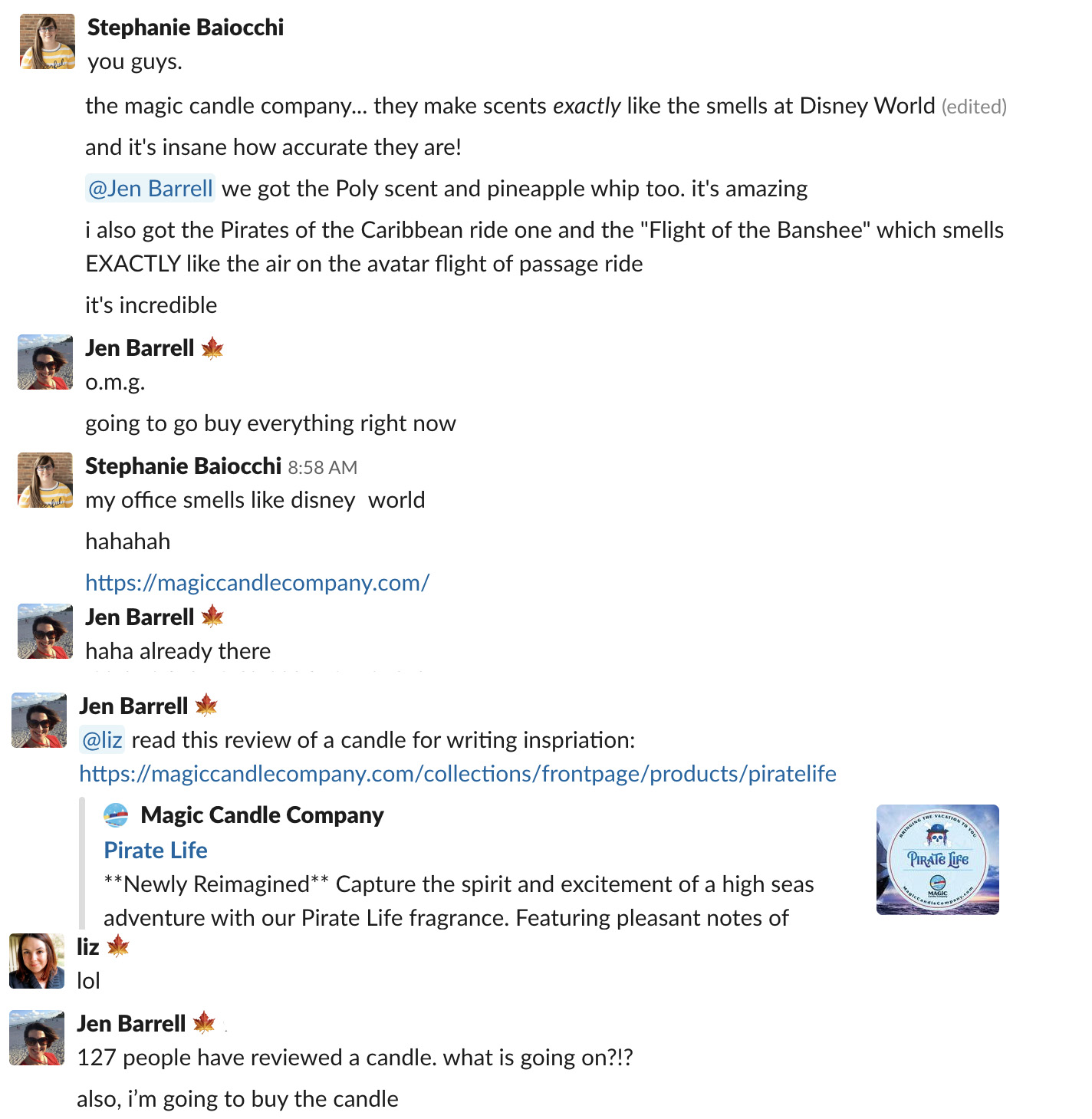 Sometimes these conversations happen organically, but they're much more likely to happen if you actively encourage your customers to share their experiences.
By intentionally asking your biggest fans to share the fact that they love your product or service, you're more likely to broaden your brand's reach in a positive way.
Plus, note how Jen pointed out that 127 people have reviewed the candle she was considering. Those positive reviews are not the result of a group of highly motivated candle-lovers. It's because someone asked the buyers to take the time to review the product.
You might be thinking people won't trust the opinions of complete strangers reviewing things online as much as they trust opinions from close friends.
Amazingly, that's not true. In fact, 88% of people trust online reviews as much as they trust personal recommendations.
To find those people who might be willing to share their experiences, and to get them to actually do it, you need to build an advocate community.
How to build an advocate community
To build a successful advocate community that amplifies your brand and builds trust on your behalf, you need to do three things: identify, empower, and reward your advocates.
While your happy customers may take it upon themselves to leave a review or share your content from time to time, to harness the true power of an advocate community you need to manage and clearly direct their efforts.
Identify: finding your brand's best advocates
Finding your future advocates can seem like a daunting task at first. It's not a segmented list you can build based on someone's job title or location.
Fortunately, there are steps you can take to identify your advocates and draw them into your community.
First, think about the different groups of potential advocates and how they engage with your business. You'll typically have groups such as customers, employees, partners or sponsors, and potentially industry experts with whom you have a relationship.
Customers are great advocates because they are highly credible when it comes to talking about experiences with your brand.
Employees are a great fit for your advocate community because they have a natural brand loyalty and are usually adept at communicating your brand's message accurately. Plus, their willingness to participate can help motivate others in the community to follow suit.
Including partners and sponsors in your advocate community also shows that you have relationships outside your organization. Plus, it's likely that many of your partner or sponsor relationships include a revenue share or benefit to the partner if they send customers your way. Making it easier for them to do this will benefit both of you.
Industry experts are often very willing to share content from brands that's given to them an an easy-to-share format with suggested text and images. Plus, they're typically happy to re-share something that mentions or quotes them directly.
If you want to get a big name in your industry to share your content, the best way is to feature them in it and then tag and alert them. Once you've built a relationship with someone in your industry they will be more willing to be part of a community that helps promote your brand.
If you can do something to highlight them and expand their following, they'll be grateful and even more willing to help you. I really like the way InVision sets up its ambassador program to highlight some of its ambassadors: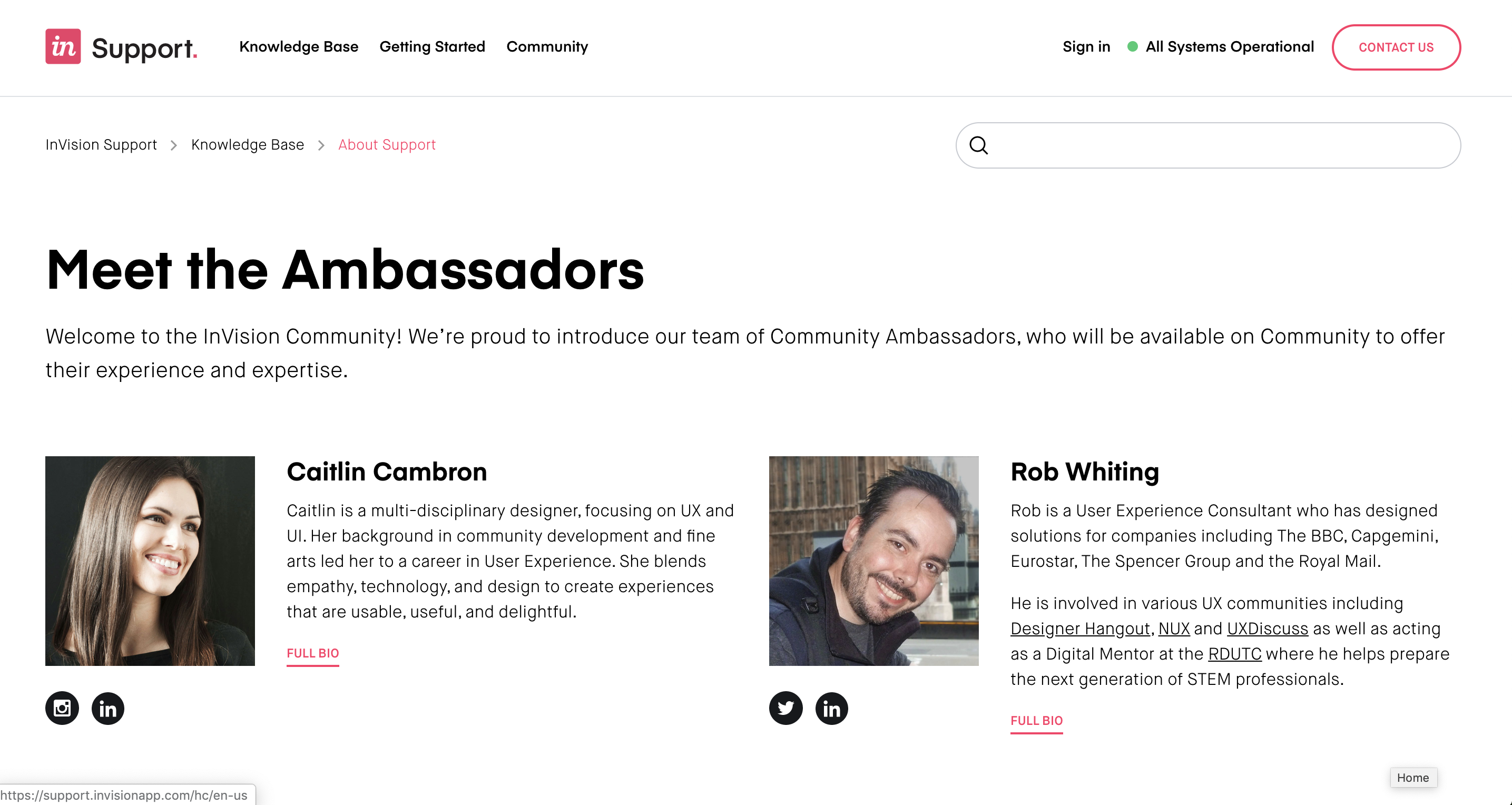 Once you've identified these groups of potential advocates, it's time to go out and find them.
To identify customers who may be a good fit for your advocate community, look for those who have been a customer for a long time or are particularly high-value.
It's important to be surveying your customers on a regular basis. If you're using an NPS (net promoter score) to track your customer satisfaction, you can invite customers who have given you a high NPS rating to join your advocate community.
Not using NPS? That's fine — any survey asking for customer feedback can help uncover potential advocates.
As Juliana Nicholson, Program Manager for HubSpot User Groups at HubSpot says: "Customer feedback is a necessary piece of the advocacy puzzle. If you aren't regularly requesting feedback, it can be hard to find out who is singing your praises behind your back. You can ask for feedback on social media, through NPS surveys, or via email — but just be sure to do it."
It also doesn't hurt to take a look at customers who have experienced issues with your product or service. If the issues were resolved well and the customer had a great experience, they may be just as willing to participate and share their experience as someone who has never had an issue at all.
Beyond customers, you can plan to include your employees and partners in your community and reach out to invite industry experts. Plus, keep an eye out for advocates on social media, at in-person networking events, and on review sites. Anyone talking positively and publicly about your brand or your industry is a potential advocate.
By segmenting your advocates into these groups you can better customize online events, activities, and challenges to their role and preferences. Here's how we segment users into groups and show specific activities to specific groups in our advocate platform:

Once you've found your advocates it's time to invite them into your community and empower them to take action.
Empower: activating your advocates to amplify your brand
While your advocates are likely willing to review you or share your content online, they are not likely to do so without explicitly being asked. They're also not going to continue to engage as advocates over time without a structured program. Enter: advocate community software.
Choosing an advocate community platform
When it comes time to actually build out your advocate community you'll likely want to use a tool built for this. While you can try to build your own or hack your current tools, they're just not designed to truly empower advocates and allow you to prove the ROI of your program.
When you begin searching for a solution you'll find many different versions and names for tools that do basically the same thing. From influencer software to rewards programs to word of mouth marketing platforms, there are tons of tools out there that can do some of the things you'll need.
However, for a truly successful advocate community you'll need a tool that solves for all of these things:
Challenges with point values attached and the ability to submit based on information, file upload, and/or button click
User profiles with member login functionality
Segmentation based on advocate personas (to personalize challenges)
Gamification functionality — points, leaderboard, badges, etc.
Reporting ability to prove ROI
Custom branding options
Rewards tracking and fulfillment
Beyond these requirements, here is some optional but highly useful and recommended additional functionality:

Referral and affiliate link functionality
Integration with your marketing software and/or CRM
Mobile app or mobile-responsiveness
Automatic point to dollar calculation
Some of the most popular tools for advocate communities are Ambassify (which we use at IMPACT), Influitive, Yotpo, and Fancorps.
Creating activities for your advocates
Once you've decided who will be in your community and picked a tool to manage the program, it's time to start building out activities or challenges for your advocates. Online reviews are important, but there is much more that advocates can do to amplify your brand. From sharing content to providing feedback, there are many ways to engage your advocates in a meaningful way.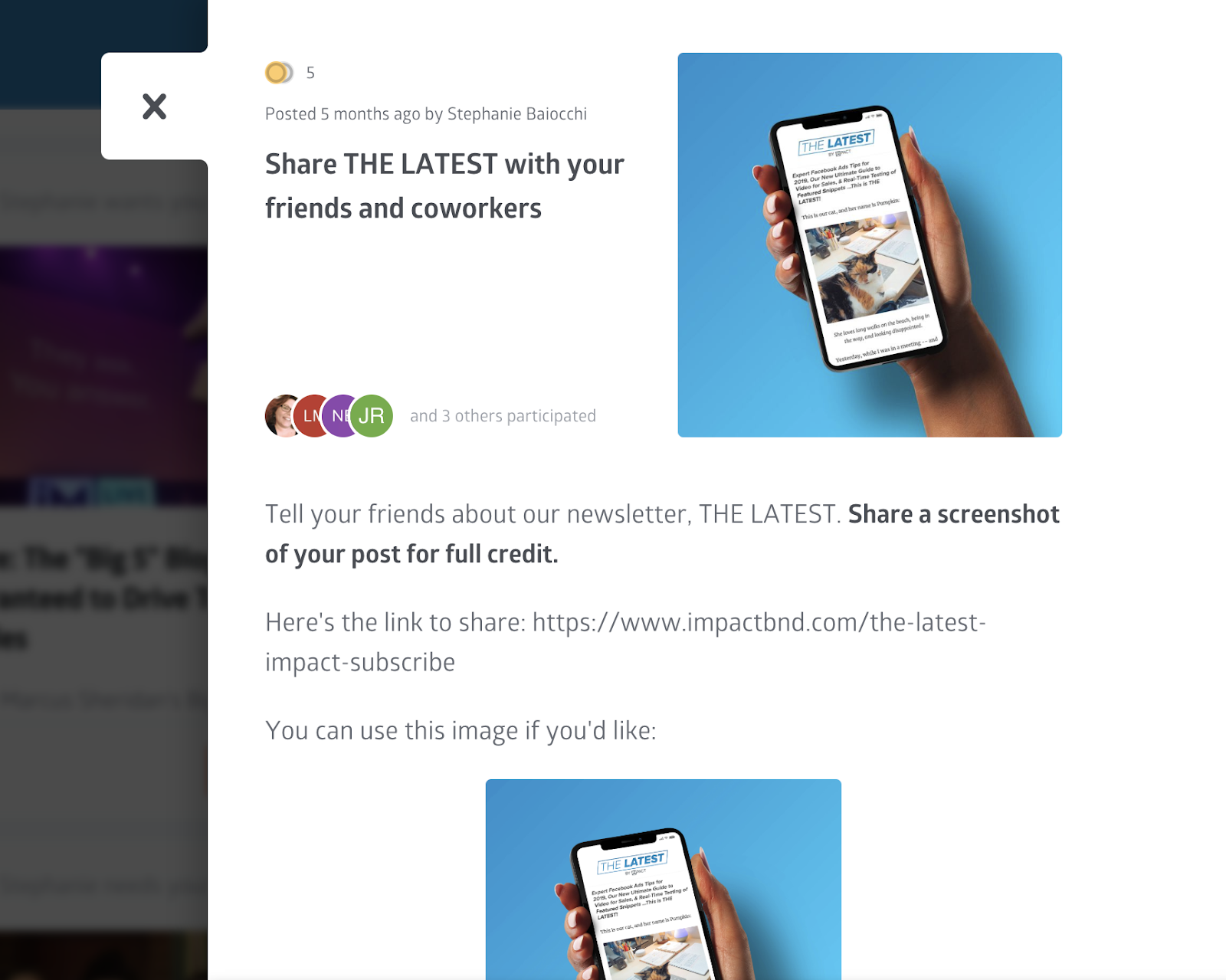 Example challenge from IMPACT Insiders.
I highly suggest having a variety of activities with varying levels of difficulty available for your advocates to complete, especially when they first join. Without many challenges available when people first join, they won't be encouraged to participate and stay engaged.
Conversely, if you launch everything at once it may overwhelm your advocates and they'll feel that you're asking too much of them. I recommend creating a backlog of challenges for the future or drafts of challenges you can roll out over time.
Start by creating some simpler challenges such as sharing a social post or retweeting a tweet. From there, work your way up to more challenging asks such as recording a video testimonial or writing an online review.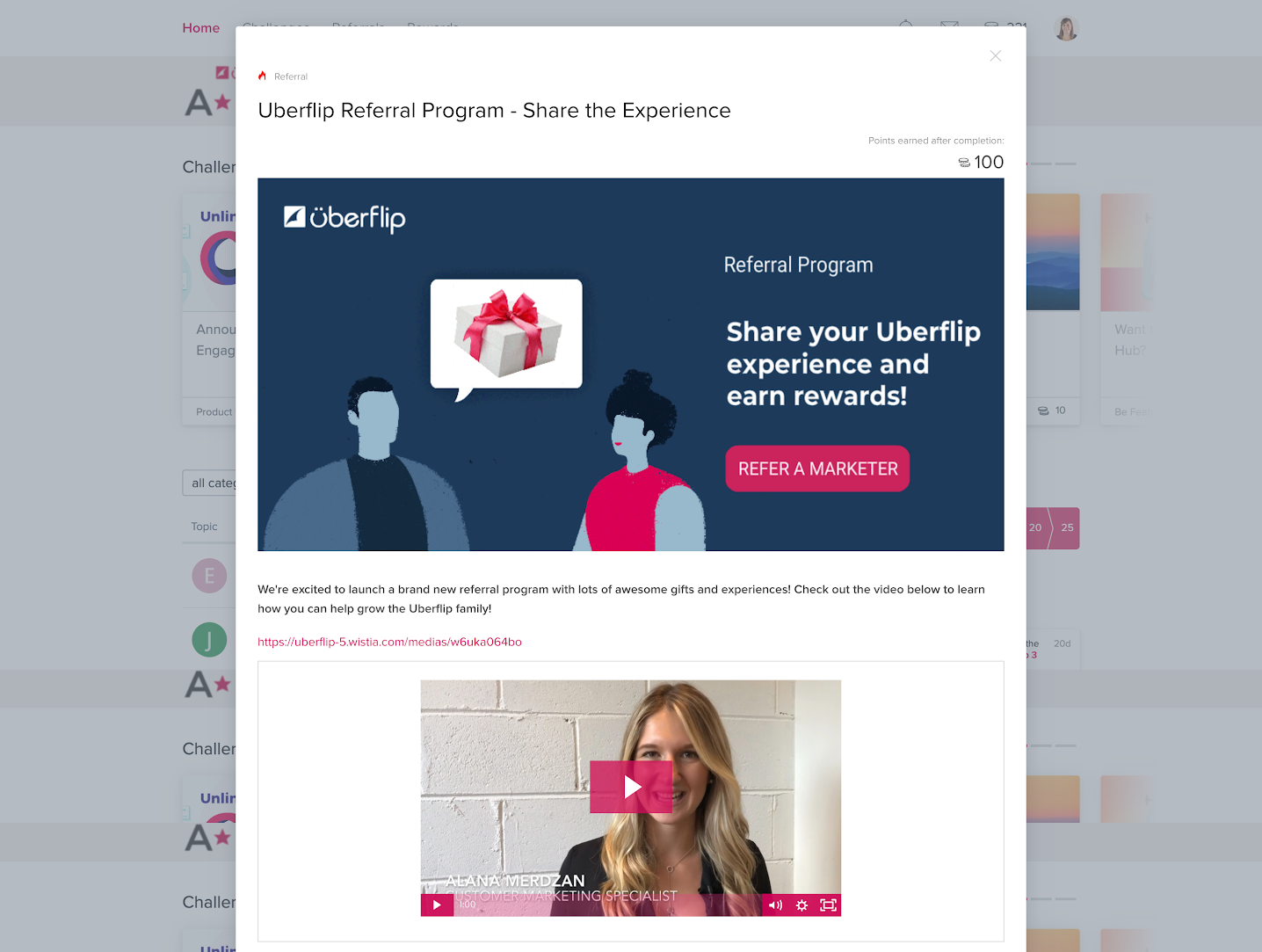 Example from Uberflip's A-List community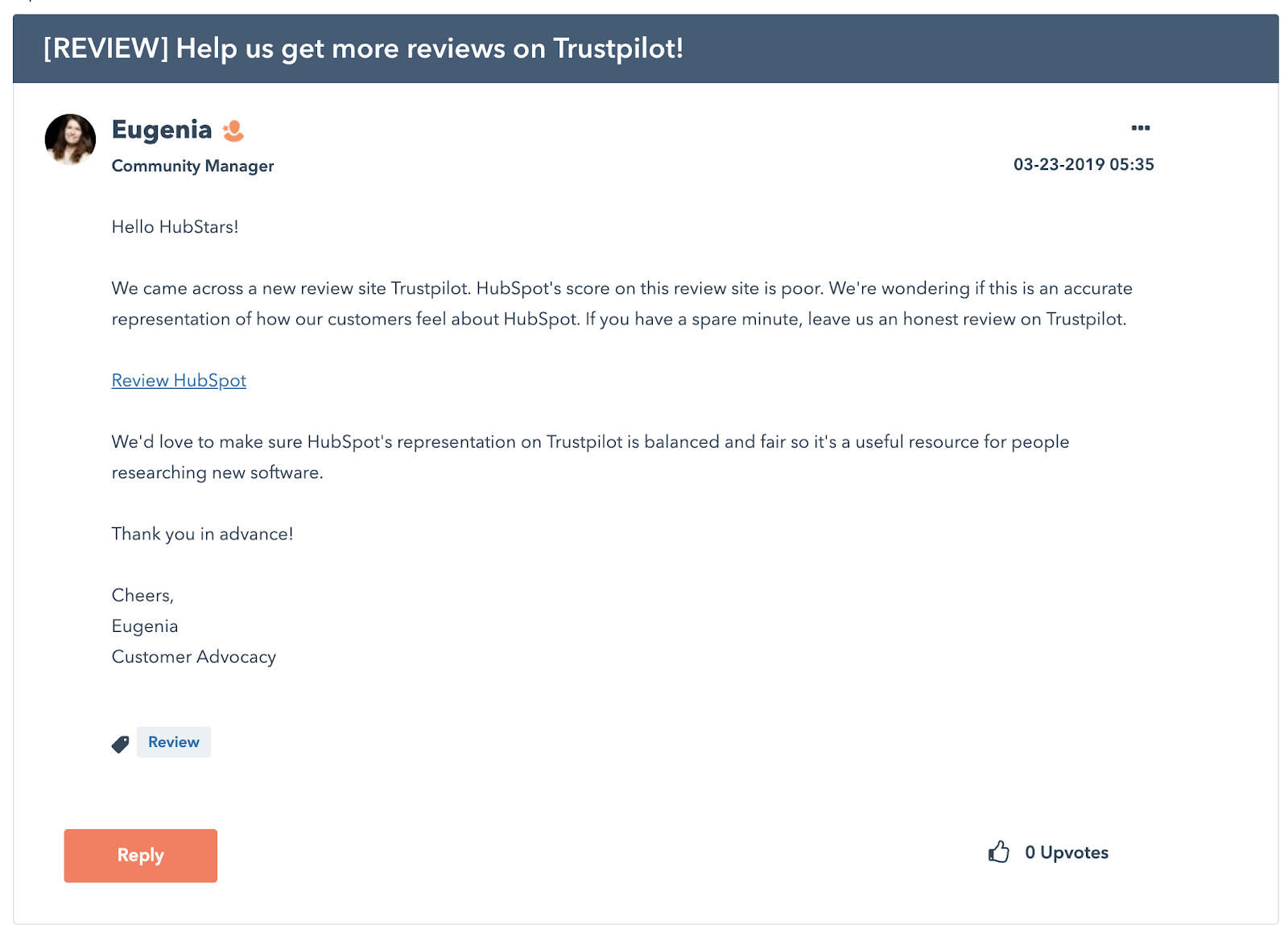 Example challenge asking for reviews from the HubSpot Community
You can also call on your advocate community when you need user-generated content or quotes, a customer reference for a prospect, or even responses to questions in a community forum.
In this example from the Secrets Resorts' Secrets Society. They ask for stories from visitors to share on their blog and Instagram.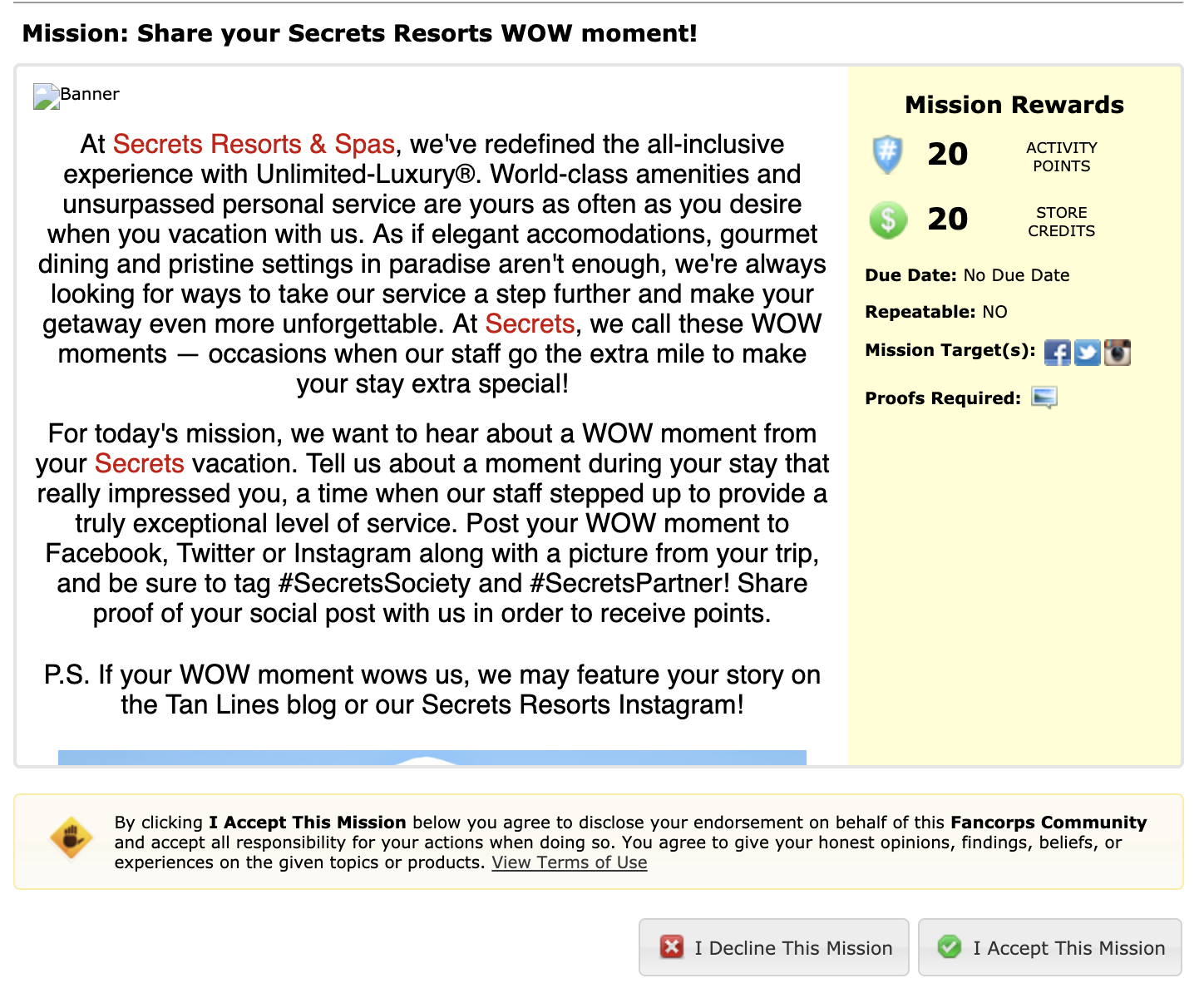 Secrets Society request for user-generated content.
When creating your challenges it's important to give your advocates as much freedom as possible about the content they're sharing. What someone says when they share is very important. People will notice "copy/paste content" coming from a mile away.
Advocates engage their followers authentically by putting things in their own words.
Some tips for encouraging authentic content sharing and reviews:
Give advocates keywords and hashtags to use and explain the overall purpose of what they're sharing.
Remind them to put things in their own words and encourage them to make it their own.
When it comes to reviews, say things like "share your experience" instead of "give us a 5 star review."
Suggested copy is helpful, but allowing — and encouraging — advocates to share things in their own words will make them more likely to do it.
Protecting yourself with the fine print
Another way for your advocates to maintain their trusting relationship with their followers is to properly disclose their relationship with your brand.
Of course, whenever you're giving someone money or a reward in return for something, you want to make sure both you and they are protected legally.
Even if this kind of disclosure weren't legally required, being transparent about brand affiliation up front helps a person be seen as honest, trustworthy, and transparent.
According to the Federal Trade Commission's (FTC) Endorsement Guides, "endorsements must be honest and not misleading and if there's a connection between an endorser and the marketer that consumers would not expect, and it would affect how consumers evaluate the endorsement, that connection should be disclosed."
To put it simply: if someone stands to receive any sort of benefit — financial or otherwise — from a recommendation of a product or service, the person must disclose this to the public.
Remember, the benefit doesn't have to be monetary. This applies to anything of worth including, but not limited to, swag, exclusive access, or discounts.
The FTC says it clearly: "Even an incentive with no financial value might affect the credibility of an endorsement and would need to be disclosed."
To help your advocates understand the importance of disclosure, give your community members clear direction about how to properly disclose their status as an advocate.
We have an initial challenge for new members and then we remind them again in each challenge where disclosure may be required.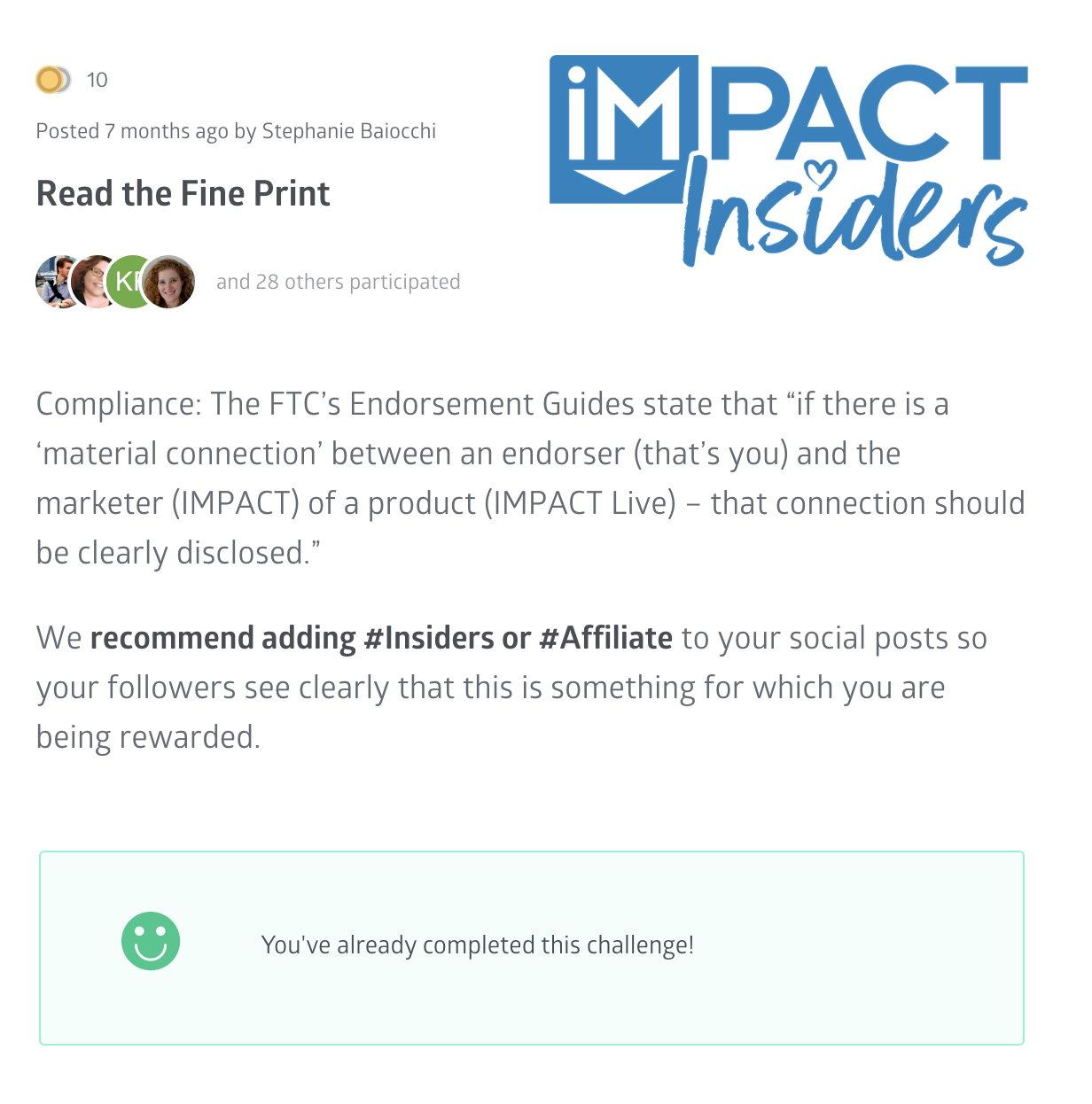 Another great example of this is Secrets Society's. They also link to their full terms of use and disclosure information on each "mission."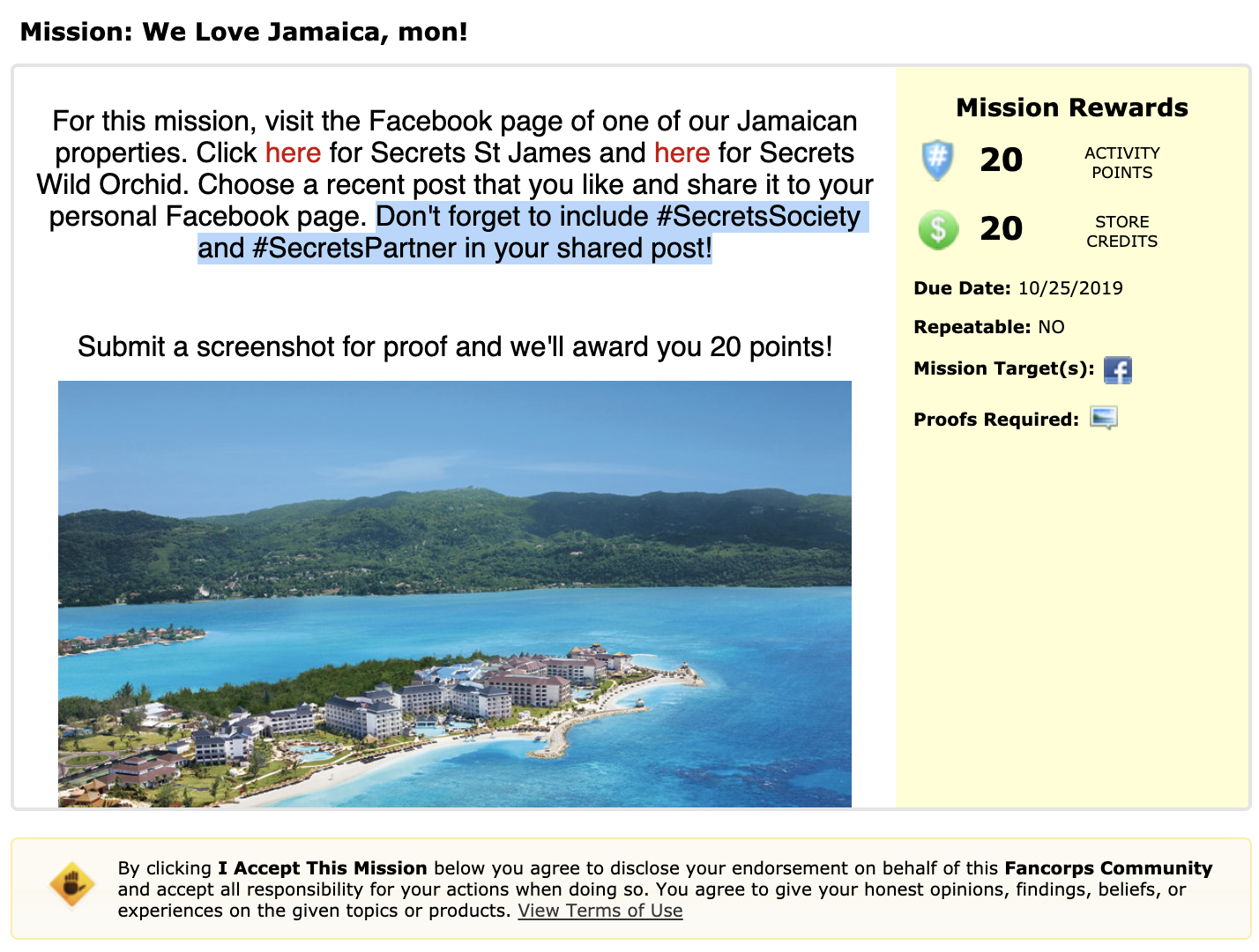 Reward: keeping your advocate community engaged
Speaking of benefits, let's talk about how to reward your advocates for their time and effort!
Advocate rewards typically fall into one of four categories: gifts, access, involvement, and recognition.
Gifts: Gifts can be anything from money or a gift card to apparel and swag. If you're going to offer branded materials as rewards make sure you're choosing awesome swag people actually want!
Access: Access-related rewards give advocates exclusive access to something not everyone gets to see or experience. From educational material to a tour of your office, there are a ton of options here. For employees, maybe it's lunch with someone on your leadership team or the ability to sit in on a planning meeting. For customers, maybe it's a backstage tour at your live event or the ability to join your company on a charitable outing.
Involvement: Involvement rewards are similar to access rewards but they encourage advocates to help with something. Perhaps it's beta access to a new tool or solution. You can involve them in choosing food, drinks, or games for an industry event you're hosting. In fact, you may even want to feature them as speakers at your events. You can even make advocates admins of forums or your online community.
Recognition: Finally, we have recognition rewards. These are a great way to reward your advocates in a way that makes them really feel valued. Some examples of recognition awards include writing a LinkedIn recommendation for them, giving them a shout out at an event, sending a handwritten thank you note signed by members of your team, or sending them a personal video.
Your rewards need to be valuable enough to keep advocates engaged over time. HubSpot said it well in their customer advocacy report: "Customers should feel they are getting much more out of the advocacy program than they are putting in."
Once you've developed a list of your potential rewards, it's time to determine what each reward "costs" and what your advocates will need to do to earn each reward.
The best way to do this is to assign a cost to each reward and a point value to each activity or challenge.
Start by setting the value of one point. For instance, we say that one point is worth one cent in our program. That means 100 points is the equivalent of $1.00.
To determine the value of some of your challenges such as social shares and reviews, you'll want to look at the most common things you do now, how much they cost, and how those methods convert, and the lifetime value of your customers.
Then, consider what it would look like if an advocate were able to achieve the same outcome. Finally, consider the goals of your program.
If your goal is to get 50 reviews and you're willing to pay $10 per review, that means each review challenge would be worth 1,000 points.
If your cost-per-click on a Facebook ad is typically $2.00, then maybe a social share is worth 25 points and 8 social shares equates to about what you'd "spend" to get a click on a Facebook ad.
I recommend setting up a spreadsheet with the things you currently do and how much they "cost" in terms of cost-per-click, cost per 1,000 impressions, time and effort, or what you'd be willing to pay to get it (such as giving someone a $10 gift card for writing a review).
Inviting advocates to join your community
Now that you've developed your list of potential advocates, chosen a platform, and created challenges and rewards, it's finally time to invite people into your advocate community!
Start with an initial outreach email explaining the benefits of the community and encouraging people to participate. This might include a video, example challenges from the community, and some featured rewards to entice people to join.
Here's what our initial email looked like: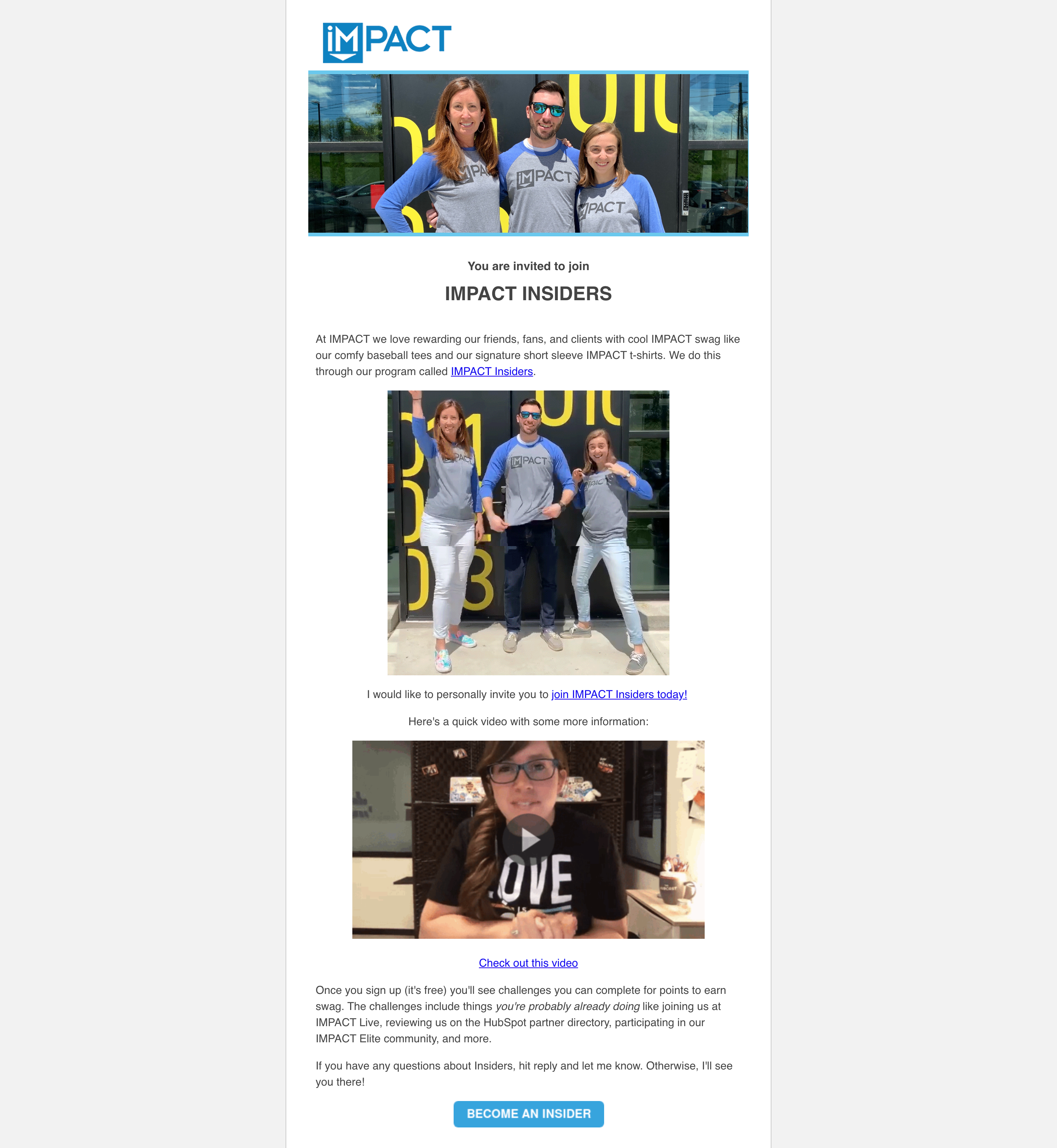 It even featured a fun GIF of some of our team members rocking our new baseball tees.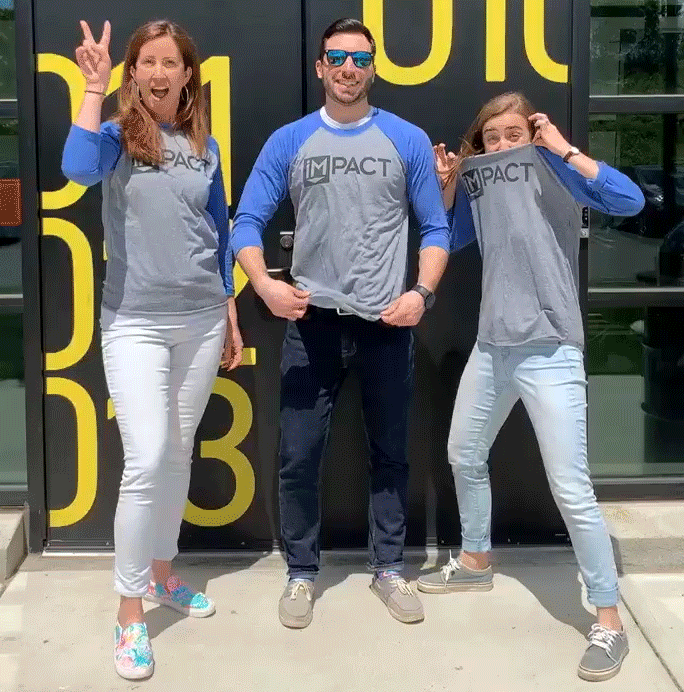 IMPACTers showing off their swag
In addition to an email, sharing the program along with a video on social channels will help make sure your potential advocates see it. Have your CEO or a prominent voice at your organization create a video explaining why you're starting an advocate community, why you want this potential advocate to participate, and how meaningful it is to your brand to have this person as a member.
Make sure to create a dedicated page for advocates to sign up and include answers to any questions they might have about joining and participating. Here's what our page looks like: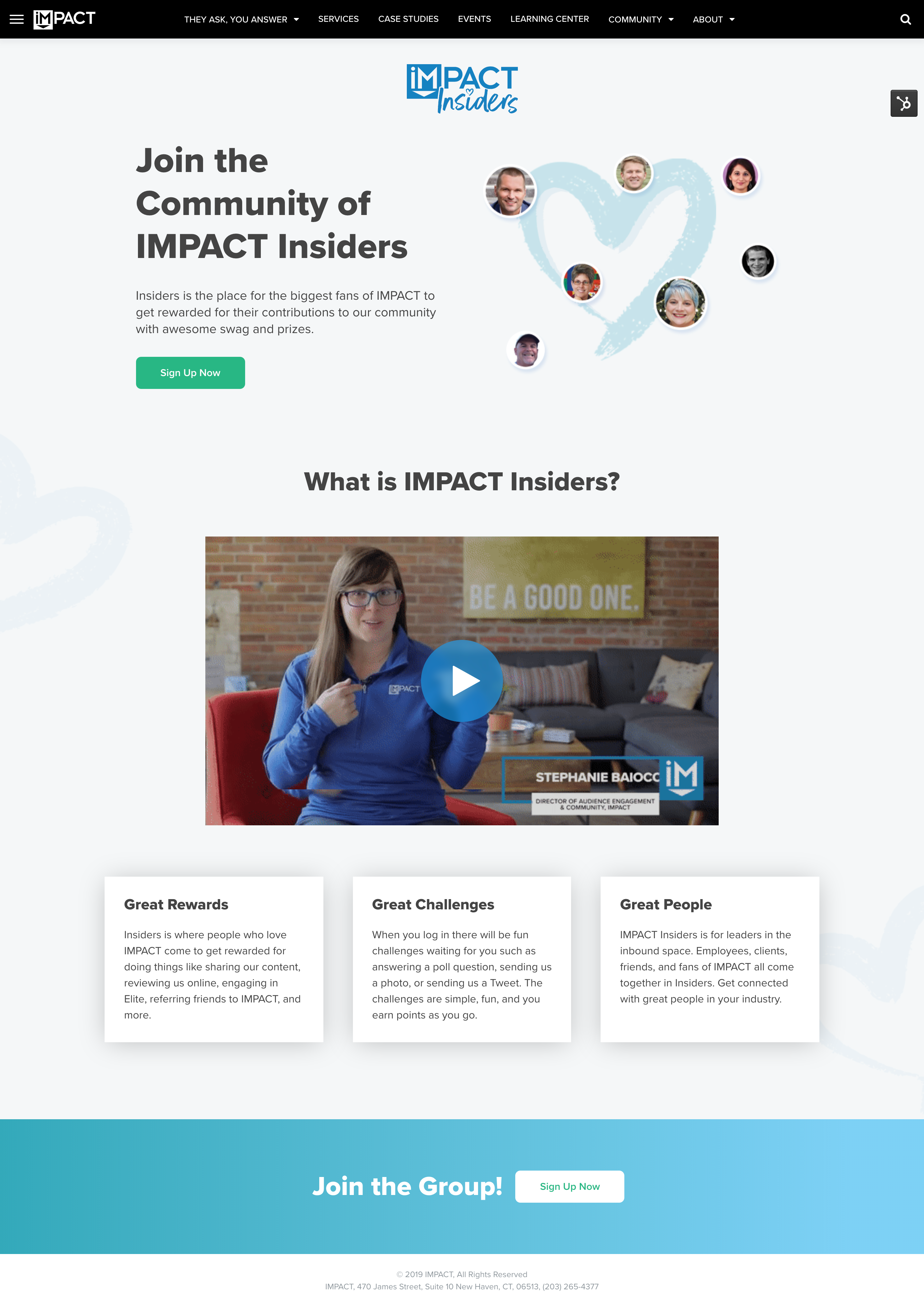 Be sure to include your employees, sponsors and partners, and even industry experts in these invitations.
Feature your advocate community in your email newsletters, in content on your site, and on future social posts. It may take a few times of seeing it before someone is willing to sign up.
Work the invitation and content into automated checkpoints in your customer lifecycle. For instance, if someone gives a promoter NPS score or after their one year anniversary as a customer.
Finally, be sure to promote your advocate program at in-person events, especially those that you host. If someone is willing to go to an event, they're likely willing to participate in other activities.
Measuring the success of your advocate community
After building and launching your advocate program, it's time to set yourself up to prove the ROI of what you've created!
Think back to the goals you set when configuring the rewards in your community. Make sure you're measuring against those goals.
If the goal of your advocate community is to get more reviews of your company and get people to register for your event, measuring the number of people who share your content on Twitter, while still valuable, won't prove anything.
Those low-effort challenges are necessary to keep your advocates engaged with the program, but the vital metrics you want to report will include things like the number of reviews, traffic, and conversions generated by your advocate community.
Most advocate platforms will have built-in reporting for things like active members, interactions or challenges completed, and the estimated reach and ROI gained through your program.
In the platform we use, Ambassify, I can easily log in and see my key metrics and even break them down by different date ranges. It also shows me which of my campaigns have been most successful, and I can use that to guide my future campaigns.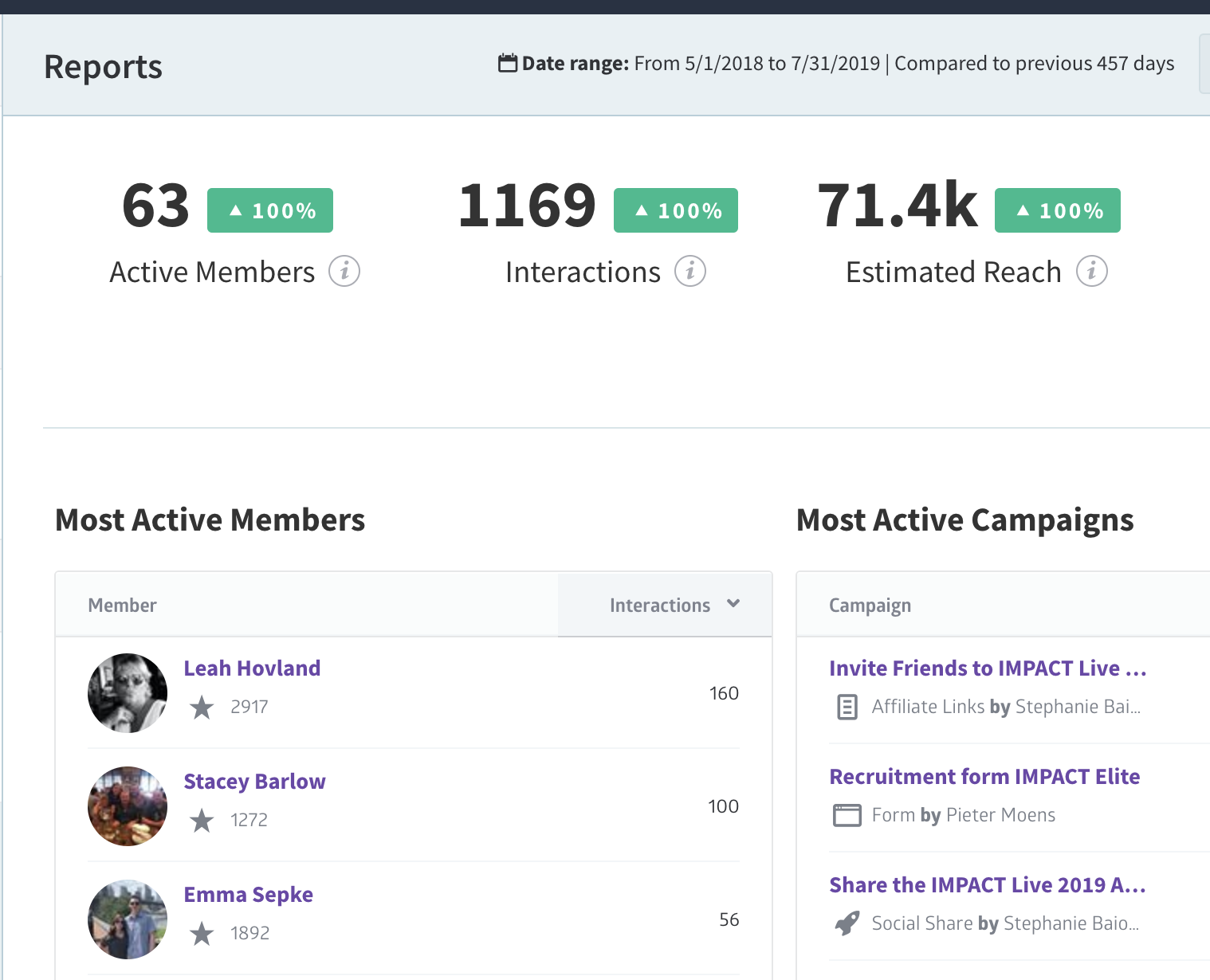 Part of my dashboard report for IMPACT Insiders in Ambassify
Did I tell you about the fish tank I got?
So back to my fish tank. It's actually a very cool fish tank that includes an herb garden on top. It's an aquaponic ecosystem where the fish fertilize the plants on top and the plants clean the water, making it nearly self-cleaning.
As a person who is highly active on social media, it would've made a lot of sense for me to post cool photos of my new garden fish tank on Facebook and Instagram and have my friends start asking where I got it.
But I didn't.
It honestly didn't occur to me — and no one asked me to talk about it.
Eventually, weeks later, I did get an email asking me to review my purchase on the company's website. By this point, the novelty of my purchase had worn off a bit and I wasn't feeling particularly motivated to write a review for nothing in return — not even a coupon for my next purchase.
As a member of multiple advocate communities, both B2B and B2C, I am used to being asked to write reviews and service as a reference. I also genuinely enjoy completing little challenges for points when I need a break in my day and it's a simple way to help promote a brand I genuinely believe in.
I would've happily shared my experience with my fish tank on social media and even written a review had I been asked to do so.
Next time someone goes to research your product or service, whether they post in an industry Facebook group asking for feedback or search online for reviews, what will they find?
Consider this when building out your advocate program and, if you do create one, let me know! I'd love to check it out.
Free Assessment:
How does your sales & marketing measure up?
Take this free, 5-minute assessment and learn what you can start doing today to boost traffic, leads, and sales.