Hubcast 181: #INBOUND18 Excitement, Sequences, & All Things Service Hub
Carina Duffy also recommends this free guide, The Inbound Marketer's Guide to Maximizing HubSpot ROI.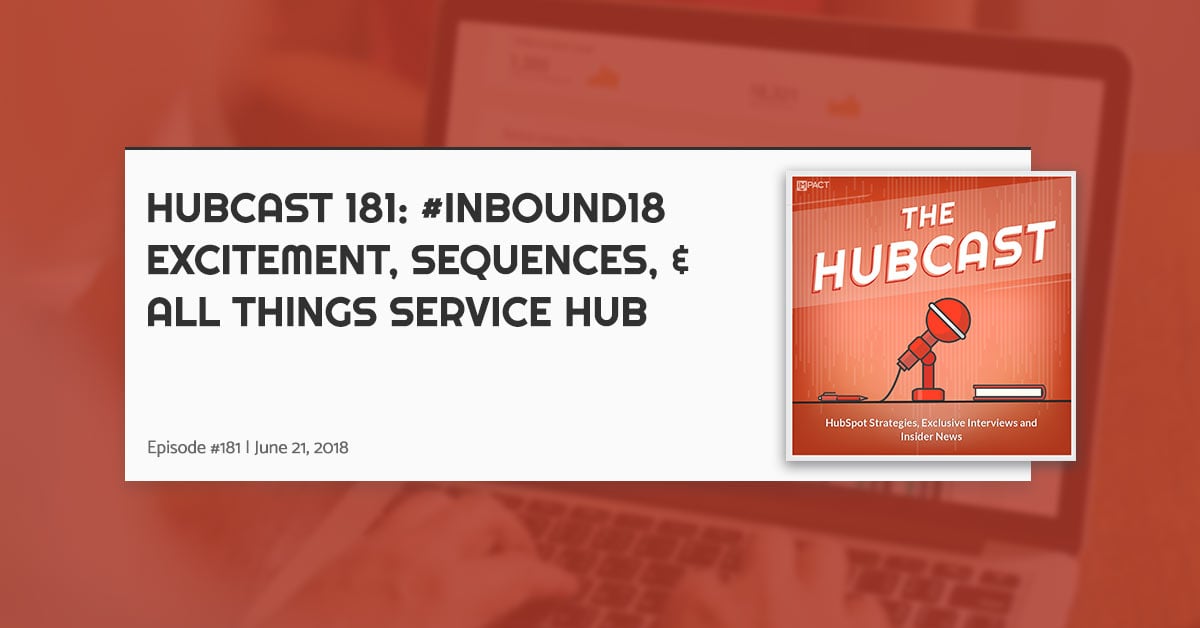 This episode of the Hubcast is brought to you by Qwilr.
We've got a special guest host today! Dave Barron is the Go-to-Market Lead for HubSpot's new Service Hub and all around Grade-A HubSpot boss.
Listen to the episode to hear all of the things Dave is excited about for the Service Hub platform!
Free Guide: The Inbound Marketer's Guide to Maximizing HubSpot ROI
New INBOUND Spotlight Speakers Announced (spoiler alert: we're pumped!):
"Like so many of us at INBOUND, Shopify Founder and CEO, Tobi Lütke recognized a gap in the market that lent itself to major innovation and transformation for consumers and businesses alike. Today, Shopify has over 600,000 merchants from across the world and is one of the largest multichannel commerce platforms ever."

"After a nearly year-long search, Vimeo announced in July 2017 that their Head of Marketing, Anjali Sud, would be CEO of the IAC-owned brand. In true INBOUND fashion, Anjali immediately put forth an ambitious plan to shift Vimeo's focus to the creator side, providing individuals and businesses the tools to distribute and monetize their work anywhere without the burden of advertising dollars driving their content. Her focus has empowered the Vimeo community as the platform continues to grow as a leading software as a service entity."

Why she's INBOUND: "As executive producer and anchor of Bloomberg Technology, Emily is an expert on all things tech and business. She has spoken with some of the most prominent Silicon Valley innovators of our time and has now channeled her expertise and personal experiences in her latest book, BROTOPIA: Breaking Up the Boys' Club of Silicon Valley). Her commitment to understanding gender inequality in the tech world and how to affect change from the inside out make her story compelling for INBOUND."

Why he's INBOUND: "Troy's vast experience, from working with some of the music industry's most talented and influential stars to his current role as Global Head of Creator Services at Spotify, speaks not only to his deep understanding of industry trends but also his incredible adaptability as a business mogul; throughout his career, he has leveraged his experience to continue to grow in each varied role, a challenging feat and one that will resonate with INBOUND attendees."

Why he's INBOUND: "Ronan's Pulitzer Prize winning work in exposing the dozens of accusations of sexual misconduct against Harvey Weinstein has since propelled the #MeToo movement into the national spotlight. Ronan continues to work on the frontlines of this groundbreaking movement and has solidified his place as one of the most influential investigative journalists of our time."

"Prior to leading Alphabet's ground-breaking self-driving-car initiative, Claire worked in various managerial and VP positions at Google. Her vast experiences have served Stripe well as it has transformed from startup to multibillion dollar software company."

"Payal is a risk-taker. After establishing herself as a formidable business executive at companies like Bain & Company and Warner Music Group, her decision to develop ClassPass was driven by her passion for dance and fitness. Her risk has certainly paid off, with subscribers having booked more than 45 million reservations to date."

"Best known as the founder of the 'me too.' movement, Tarana has spent over 25 years fighting for social justice. As a survivor of sexual assault herself, Tarana's devotion to empowering women to speak out against their oppressors and giving a voice to marginalized groups is not only inspiring but courageous."
Property of the Week:
Currently in Sequence
"A yes/no field that indicates whether the contact is currently in a Sequence."
Why does this matter? Well for one, you don't want to be sending marketing emails to contacts who you're sending sequence emails to.
Not using Sequences? Even worse! Get on that.
What's On Dave's Mind
You'll just have to listen to the episode to hear why Dave is so fired up about the Service Hub!
This Episode's Sponsor: Qwilr
Qwilr helps you make beautiful, intuitive proposals and other sales documents that impress clients and win more work.
Check out Qwilr's post on the HubSpot User Blog: Do PDF Proposals Still Work? Here Are Two Alternatives.
And here are a few of Qwilr's templates that I think you may find particularly interesting!
Learn more about the HubSpot + Qwilr Integration here. Spoiler alert - it's dope!
HubSpot Updates
[For Partners] Revamped Agency Partner Certification course now LIVE!
"HubSpot Academy is very excited to announce a revamped Agency Partner Certification course is now LIVE in the Learning Center and available as a track for all HubSpot partners!"
[Now Live] Publish videos to Twitter and LinkedIn
"You can now post videos to both Twitter and LinkedIn, just as you post videos to Facebook, within HubSpot social publishing tool."
[Now Live] Easily link to your Pillar Pages within the Content Editor's Optimize Tab
"You can now add an internal link from a piece of content to its pillar page directly within the optimize tab of the content editor. This update lets you paste an internal link to your pillar page directly within your content so that all of your content can easily be optimized for search."
Until Next Time
If you're listening on iTunes - head on over and leave us a review! We love hearing your feedback, so feel free to leave some in the comments, or shoot me an email at cduffy[AT]impactplus.com!
Until next time. This is Carina Duffy & Dave Barron saying to you, go out into the world and do some happy HubSpotting!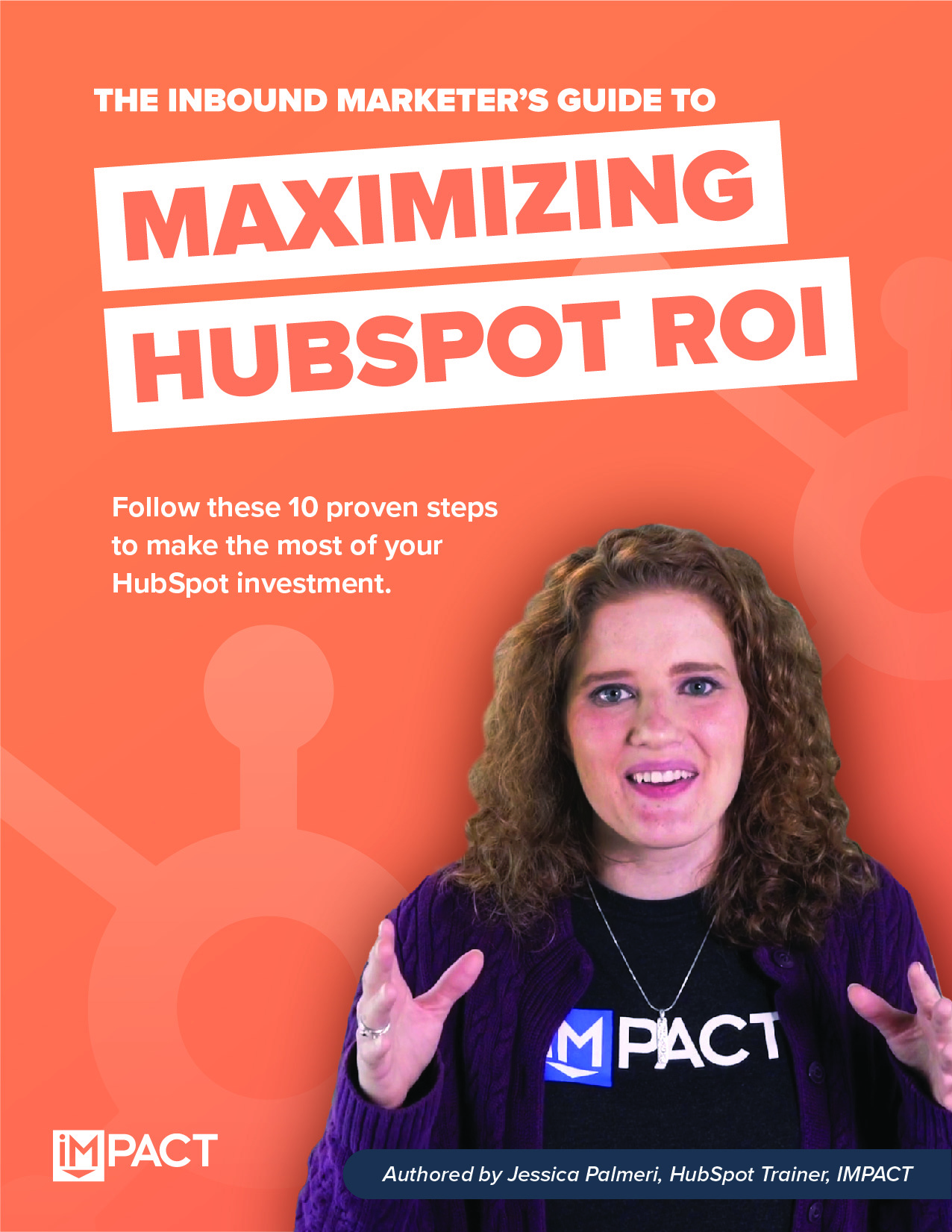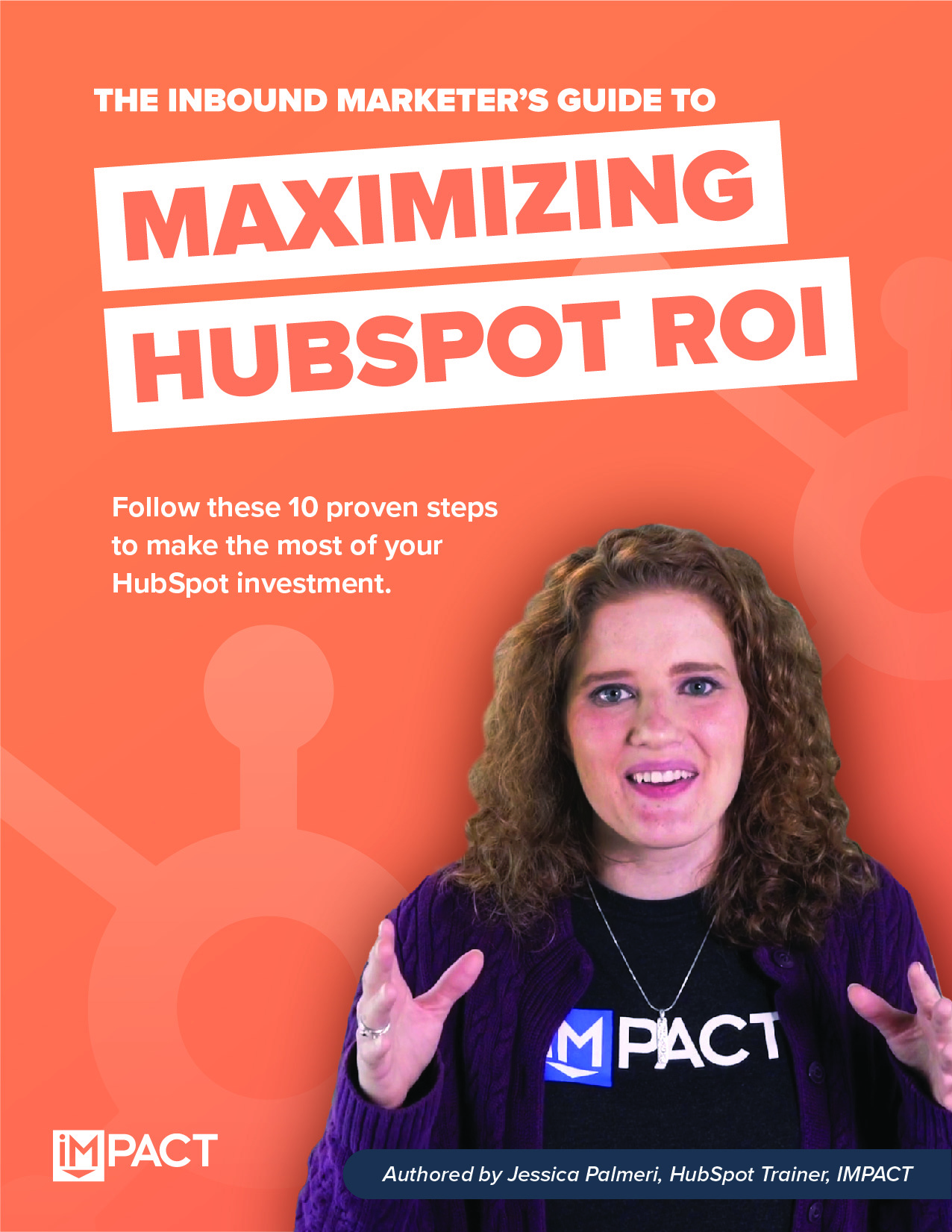 Free Guide:
The Inbound Marketer's Guide to Maximizing HubSpot ROI
Follow these 10 proven step to make the most out of your HubSpot investment.
In this free guide, you'll learn:
What HubSpot is and isn't
How to use HubSpot to track inbound success
How to make sure you truly are getting the most out of HubSpot
Published on June 21, 2018