Instagram Story School: What it is and How Marketers Can Benefit
Kate Fodera also recommends this free course, Fundamentals of Social Media Marketing.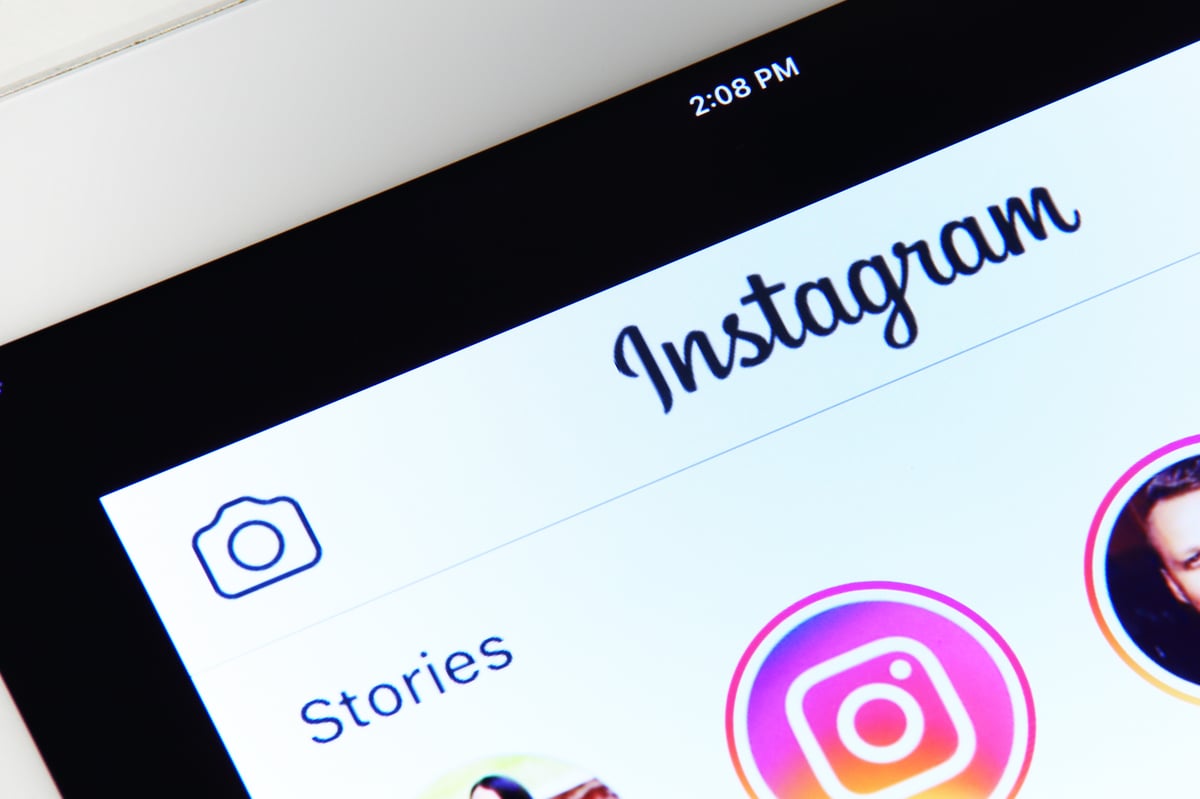 With 400+ million people using Instagram Stories every day and 45% of the most viewed stories being from businesses, it's time to take notice of the possibilities within this social platform.

That's the good news.

Now, the even better news here is that Instagram is making it easier for marketers to really dive into Instagram Stories Ads.
With Instagram offering Story School, marketers now have everything they need at their fingertips to not only understand why they should consider this ad format but also how to bring their brand and/or product to life using it.
The guesswork has been taken out of the process, which leaves busy marketers more time to craft the right visual assets, get inspiration, and understand the exact steps to deliver compelling - and effective - ads to their target audience.
What Is Instagram Story School?
Free Course: Fundamentals of Social Media Marketing
Instagram Story School is a free educational hub that has been created by Instagram to help businesses make better use of stories as part of their marketing strategies.
Story School offers the following pages to help guide marketers:

Create Story:

Learn the basics of Instagram Stories Ads, what elements make up Stories Ads, and insight into what unique creative tools from Instagram are available to you to make your story pop



Edit Story:

Understanding of what types of elements can be added to make your Story more engaging and ideas to take your Story to the next level (oh yeah -- I'm talking stickers and filters).



Grow Your Stories:

See how other businesses have used Instagram Stories Ads and the success they've seen.



Creative Tips:

Instagram offers a plethora of ideas to get your creative juices flowing here -- including content ideas, creative considerations, and apps that may help you create a stand out ad.
Personally, I haven't seen a more comprehensive guide to creating and launching a great ad that has been put out by the platform itself. Usually I have to spend time searching Google for the best of the best articles when it comes to finding inspiration and tips on what apps work best for making creative pop.

Instagram has really done us all a favor by offering Instagram Story School.
Read on for insight into what the heck Instagram Stories Ads even are, a deeper dive into what's offered by Instagram Stories Ads, and the 8 steps you need to take to push your creative live.
What are Instagram Stories Ads?
According to Instagram, Instagram Stories Ads are able to:

"Engage potential customers with immersive ads that bring your business to life. With stories ads, the Swipe Up feature will be added at the end of your story so you can send your potential customers to your website."
Simply put -- Instagram Stories Ads are a unique way for businesses to get their product in front of their target audience.
Unlike other social platforms, Instagram is a great tool for highly visual marketing; therefore, these ads provide a unique way for marketers to get creative.

If you've ever been perusing Instagram, you've probably come across a story ad already. They're a full screen, 15-second video clip (or a 5 second image) that is inserted between stories that your friends on the platform have uploaded.
Similar to Facebook ads, these ads will show up for the duration you set versus a typical 24-hour story that was uploaded by an Instagram user. As an advertiser, you have complete control over the time frame, visual assets, and audience who will have their eyeballs on your ad.

Even more exciting, stories are not only fun from a creative standpoint but they work -- 1/3 of the most viewed stories are from businesses.
Yeah, we think your boss will like that too.
As marketers, it's absolutely essential for us to figure out how to get the right message, to the right audience, at the right time and Instagram Stories Ads are a great way to do that.
With the targeting capabilities offered, we can really own the creative and also make sure that the demographic we want to see our ads actually do.

But more than that, this format really takes the user one step further when it comes to engaging with your brand. If you've dug into this, you'll have noticed that viewers of your ad are prompted to 'Swipe Up' for more information on the brand and/or product.

I took a screenshot of a video clip from Magnet Mount for this example from my own Instagram account: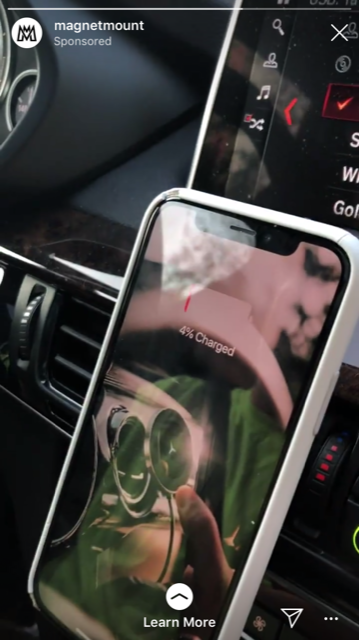 The video clip was engaging and it showed the product in action.

When I swiped up to 'Learn More' I was taken to the product landing page. This page provided information on how much the mount costs, reviews, information and specs, and more.
Everything I needed to know was on that landing page and I was even given the ability to purchase the mount right on that page. I got all of this information and was encouraged to purchase in a matter of two minutes or less, right from an Instagram Stories Ad.
Now, if I looked at the ad and thought it wasn't appropriate, I didn't want to see it anymore or just wanted to learn more, Instagram gave me the ability to indicate that by clicking on the three dots that are in the lower right-hand corner.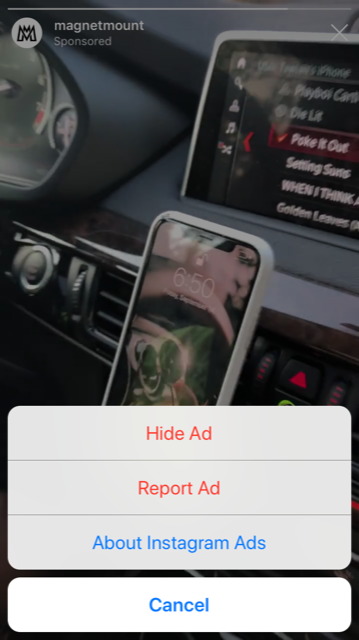 As a marketer, I like Instagram Story Ads because they give me a lot of freedom to create an engaging ad for my audience.

As a user, I like them because they are easy to engage with. They're not intrusive, they provide an easy way for me to learn more, and if I absolutely hate what's being served up to me, I can hide them.
How do I Create an Instagram Stories Ad?
Perhaps the coolest thing about Instagram Stories Ads are that they're fun (and fairly simple) to create.

Of course, it's great to have a big design team ready and willing to jump on creating a 15-second clip for you to use but if you don't have that available, consider these ideas:
Content type
At the end of the day, success with Instagram Story Ads is all about the value your ad brings and ensuring that your message comes across in a way that inspires the viewer to take action. That's why you want to think of the content/message first rather than what creative will support it.
Common types of ad content include:
How-to Videos: Can you use a story to explain how to teach something interesting that's related to your product?


Behind the scenes: This type of video can be really interesting when it comes to showcasing your product. An example would be showing a model getting ready before the product shoot.


Promotional:

You can take new images or even recycle an older product photo if you're in a time/budget crunch. When a viewer sees this content, encourage them to swipe up for more information that can take them to that product page on your website. This is an expected but awesome way to move traffic to your site to learn more about the product (and to hopefully purchase)!
Get Creative
There are a number of ways to enhance the content you create for Instagram Story Ads:
Use the tools that are available to you: Content is more engaging and exciting when you take advantage of features and tools such as stickers, apps, or even drawings. For example, Boomerang is a really fun way to loop videos.

Speed it up or slow it down

: Video clips give you an interesting way to either speed up the assets or slow them down to get your message across. For example: Speeding up the process of setting cooked meals on a table and adding a text overlay could be a fun way to showcase a meal kit service.
Edit for Engagement:

Piece together short clips of videos to keep the viewer engaged and interested in the narrative you're telling. For an example, check out the @Kayla_Itsines story showcased

here

.
Most importantly, have fun, but remember to stay on brand. That means ensuring you're using your brand colors, keeping the approved tone of voice, and more. Just because this is a creative, social ad doesn't mean you should create something off the wall -- this ad still represents your company.
How Do I Take My Instagram Stories Ad Live?


Similar to how you would create ads in Facebook, you can create an Instagram Stories Ad inside of Ads Manager.
Go to Ads Manager

Choose the objective that best fits your goals for this campaign (r

each, b

rand awareness, t

raffic, a

pp installs, l

ead generation, v

ideo views, or c

onversions)

Select your target audience

Select 'Stories' in the placement dashboard

Select the budget for the campaign

In Identity, choose your business's Instagram username in the drop-down menu (

If you do not have an Instagram account, click here for instructions)

Choose your ad format (i

mage or v

ideo)

Review and confirm your ad
Seriously.
It's that easy to get up and running with Instagram Stories Ads.
Have you tried Instagram Stories Ads yet? If not, what are you waiting for?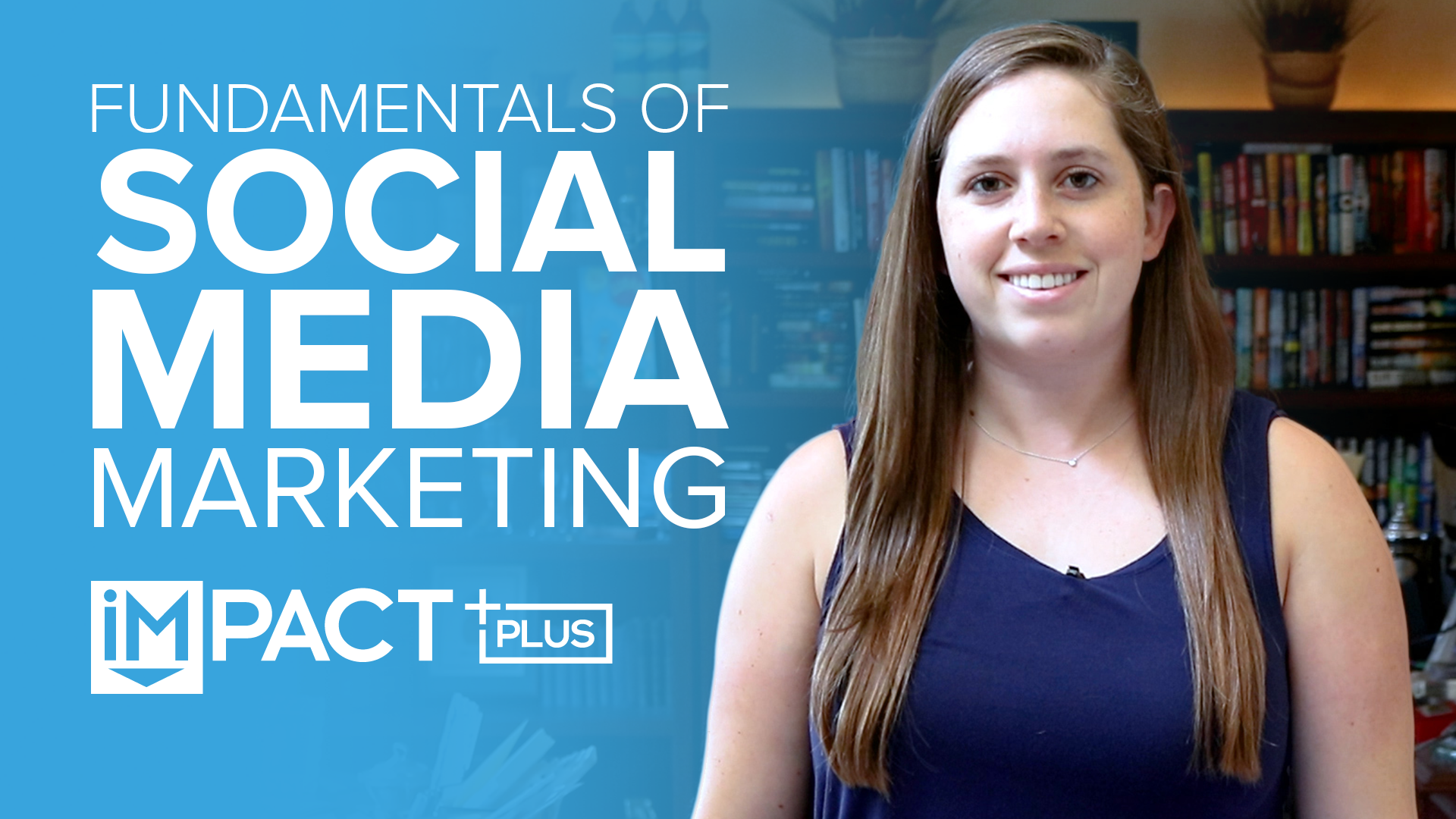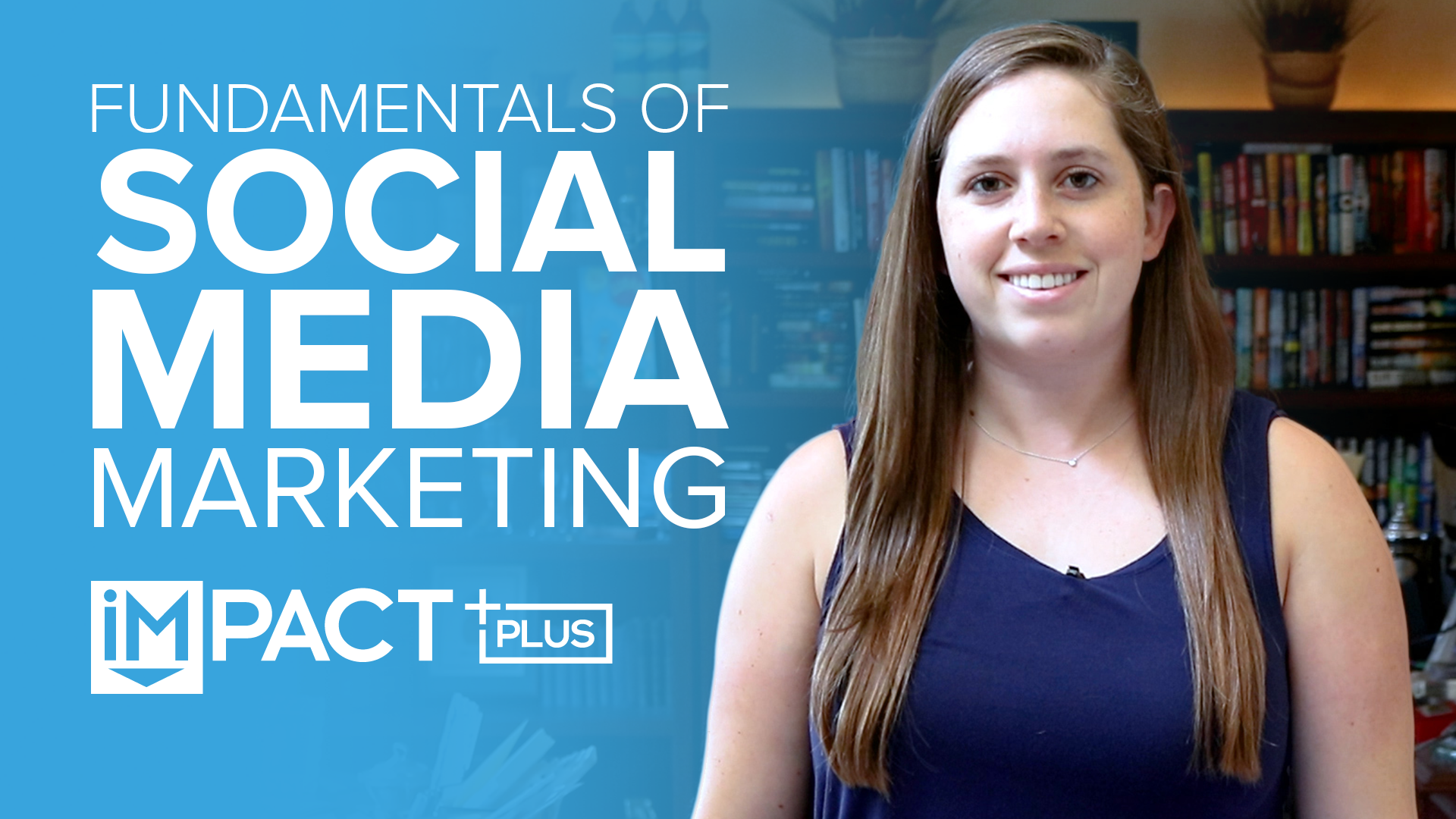 Free Course:
Fundamentals of Social Media Marketing
Learn how to use social media to successfully drive awareness and engagement for your business
In this free course, you'll learn:
How to choose the right social platforms for your business
Basic best practices for different social media channels
B2B vs. B2C practices on social media
Published on October 15, 2018