Lessons You Learn When You Do The Thing (The IMPACT Show Ep. 73)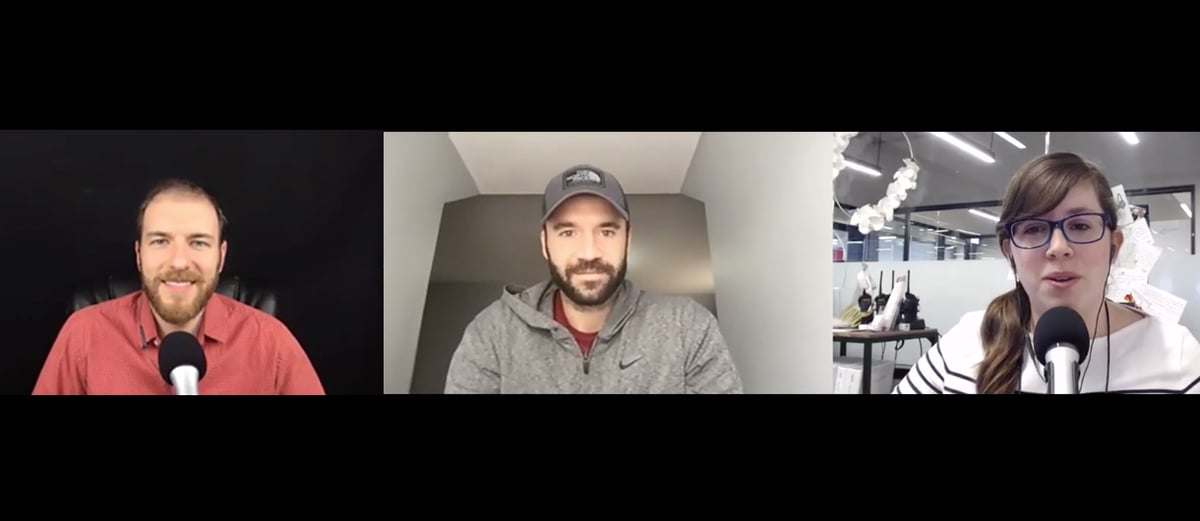 In this episode of The IMPACT Show, Nick and I discuss lessons from my first piece of pillar content, the verdict on using images in marketing emails, HubSpot's sales tools, and more.
Check out the video recording below as well as the show notes. Enjoy and let us know what you thought in IMPACT Elite.
Like what you saw? Make sure to subscribe to email reminders and give us a review on iTunes.
Have feedback or questions? We'd love to hear it. Comment on this article, hit us up in Elite, or email us at show@impactplus.com
The LATEST
This is where we update you on the latest from IMPACT as well as the latest from the inbound world.

My First Piece of Pillar Content
I finished my first piece of pillar content recently! It's not quite live yet but I'll update here when it is and will share in IMPACT Elite.
Planning Ahead When Someone is Out of Office
Myriah was out of the office for a few days so Nick and I talk about how she prepared us for while she was gone, what she did well, and some challenges we still ran into anyway! Plus, we've got some tips for how you can do this yourself.
From THE LATEST
This is our nod to IMPACT's newsletter which is the most honest, relevant, and actionable marketing content hand-curated and delivered to your inbox 3x a week. Subscribe to THE LATEST now.
How Remote Team Leaders Can Support Their Employees
Nick shared this article from THE LATEST in which they interviewed Claire Lew, CEO of Know Your Team. Take note: this is how to do sponsored content really well! Check out the interview here.
Images vs. No Images: What Should We Do in Our Marketing Emails & Newsletters?
IMPACT's Liz Murphy shared a ton of interesting insights on whether or not you should be using images in your marketing emails and newsletters. As you might assume, the answer is: it depends!
WIN a ticket to IMPACT Live
You can enter to win a free ticket to IMPACT Live plus 4 books from our featured speakers. Check it out and enter to win.
The IMPACT Community
Where we go over what you're saying in IMPACT Elite.
MPACT Elite is a community of over 4,700 passionate inbounders looking to help each other succeed. Join us in IMPACT Elite.

IMPACT Elite Member(s) of the Week!
Chris Zook is our Elite member of the week this week!
Chris has been ALL over the place responding to conversations and questions in Elite with helpful answers and links. He replied to Karl's question with info about Google's update, asked a great question about Salesforce imports, and gave a very in-depth reply to Diego's question about pillar content.
Using Templates and the Rest of the HubSpot Sales Tools
Kendall Shiffler Guinn posted "My team is seeking to replicate the "templates" functionality in Hubspot Sales Pro, but we don't have the budget right now to afford this for our whole team. We use Outlook 365.

Would buying one license get us access to more email templates or do you have to buy for the entire organization?

Has anyone found any similar alternatives that are free or at least less expensive to implement?"

Nick and I dove into how to answer this question as well as some of the insights shared in the thread in Elite.
Guest of the Week
This is where we pick someone from the community who we feel like you need to know about.
Our guest of the week is someone making great moves in their campaigns, have leadership lessons we can learn from, or are just overall awesome people you should make it a priority to get to know.
T.C. Jennings, IMPACT's PPC Specialist
This week we interviewed IMPACT's PPC Specialist, T.C. Jennings.
T.C. shared some fantastic insights on how to start doing paid ads at your organization if you've never done it before and how to optimize them if you are doing them already.
You can find T.C. on LinkedIn at linkedin.com/in/tcjenningsofficial/
We would love your comments. What did you think of the new format of the show? Let us know in Elite. Make sure you never miss a show or update by subscribing at impactplus.com/latest.
Join Us Next Time!
We'll be back again next week (and every week!). Until next time...we'll see you in Elite!
Free Assessment:
How does your sales & marketing measure up?
Take this free, 5-minute assessment and learn what you can start doing today to boost traffic, leads, and sales.