"Live from INBOUND 2017:" The IMPACT Show Ep.21 [Show Notes]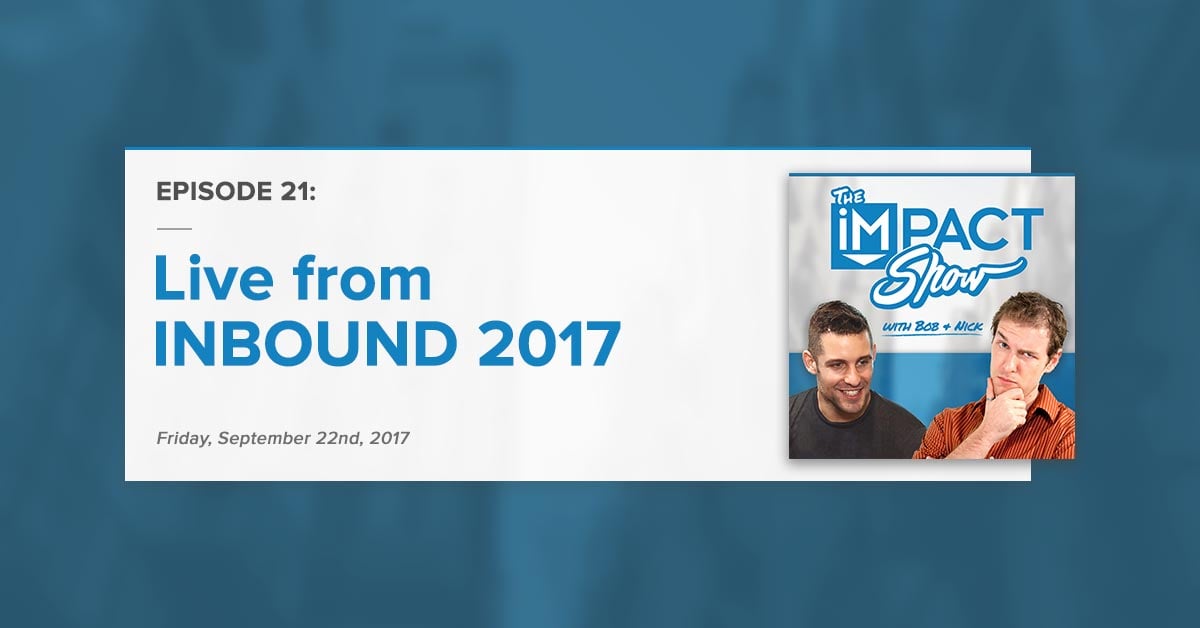 What a week!
Since Monday, most of our team spent the week up in Boston at INBOUND 2017, HubSpot's annual event. As a sponsor with several team members also speaking, we had the opportunity to meet marketers from all walks of lives and critique over 100 websites, but our proudest moment was undoubtedly being named HubSpot's 2017 Partner of the Year.
Bob and Nick took this week's episode of The IMPACT Show on the road to the event and invited along special guests Marcus Sheridan, Ryan Deiss, and Kipp Bodnar. They discussed how successful INBOUND was, what they would change about the conference, and what marketers can takeaway and implement within the next 12 months.
Just in case you missed us live (or if you want to relive the magic), you'll find the episode's show notes below as well as the recording.
Enjoy and make sure to share with your peers!
Like what you saw? Make sure to subscribe for email reminders and give us a review on iTunes.
Have feedback or questions? We'd love to hear it. Comment on this blog or email us at show@impactbnd.com
A Look at What's Happening at INBOUND17
Where each week, Bob and Nick share one thing from the world of digital marketing that caught their eye and found interesting to share.
You have an inside look at INBOUND, So what worked this year?
Kipp Bodnar: Overall the event was great, and our INBOUND team works extremely hard year-round for the event, so hats off to them.
We did something different this year. We kicked off INBOUND with Partner Day for all of our HubSpot partners and that was a success. Overall, I thought the keynotes were really great and strong. Brene Brown is still my favorite, so far.
Most people here had a really great time, they enjoyed being with everybody and were able to focus on some the problems they have and opportunities.
Marcus Sheridan: Two years in a row nobody has complained about the lines. Which is pretty impressive.
Bob Ruffolo: Does anything immediately come to mind that you would change for next year?
Kipp Bodnar: There are always little things. Opportunistic things. Maybe rolling out some VR elements.
Marcus Sheridan: I have one. I think every conference goes through this, but the one complaint I always hear is that the sessions are too general or above them. In general, we need to do a better job of leveling the content, and helping the attends better classify if a session is a good fit for their level.
Bob Ruffolo: That was something done in 2012.
Ryan Deiss: None of the speakers want to do basics and the attendees don't want to think they're basic. Consider rephrasing basic, maybe identify the more advanced sessions as Super Advanced.
Kipp Bodnar: Some things we might want to consider is having a knowledge check. If you know these three or so things, then this session probably isn't right for you.
Is INBOUND Going to Stay in Boston?
Kipp Bodnar: INBOUND and Boston forever!
Marcus Sheridan: I heard a couple people in line say, the conference has gotten too big for the convention center. There only next step would be to move out of Boston. Let's set the record straight.
Kip Bodnar: We plan to be in Boston for years! Fortunately, the city of Boston is continuing to grow.
Ryan, What Did you Learn From INBOUND That You Can Take Back to Your Event?
Ryan Deiss: So, the product-specific tracks. Having a variety of tracks that you can have specific members from your team go to.
Elevate the experience of the event.
There needs to be great content and when you walk around the event you need to feel lifted up. Re-energizing. It's not just the killer keynotes, but the consistent, waterfall of great content.
Marcus, You Often Have Strong Feelings Regarding What INBOUND is Doing.
Marcus Sheridan: We bleed orange. We're customer number 700 and something, been to every single INBOUND, and I think if HubSpot got off-track last year, I think they started to get back on-track this year. I would still love to see more of the keynotes business-focused.
We tried to really start scaling that up, but there's more that we can still do.
It was a step in the right direction, but why is all of the HubSpot sessions in the Westin? Is it symbolic to HubSpot moving further from INBOUND?
Kip Bodnar: There's very limited space. Most convention centers are made for boat shows. A lot of the space is made for bigger centralized areas, where we have Club INBOUND and need to use connected hotel areas. If a team member or attendee is going to sessions that are on the same track, it's important to keep all of them together, otherwise, they're running around and not really enjoying the experience. People are here to learn and they want to get to the sessions in time and in their seats.
Ryan Deiss: What I heard is that this needs to be a boat show.
Marcus Sheridan: If we have 25,000 next year, how do we make that work?
Kipp Bodnar: I think we have some more space at the Westin and there are a lot of surrounding hotels in the area, so there are adjacent meeting spaces that we can utilize.
Biggest Takeaways from this Year
Bob Ruffolo: How Facebook and Google are trying to keep you more on their platforms, using video, bots, and messenger ads. There's a shift from all of your content being on your website to it being on different platforms.
Marcus Sheridan: There was a ton of sessions on video. A huge area that was needed.
What's One Thing Marketers Need to Focus on Over the Next 12 Months as They're Building Their Marketing Programs?
Ryan Deiss: What we're seeing and tracking is how many conversations can we generate rather than leads and clicks. It's being able to leverage automation to make humans more efficient. And, how can we have more conversations.
Kipp Bodnar: HubSpot's rolling out Conversations. Live chat started it all on your websites and now it's expanded across Facebook and other messaging channels. It's not to replace channels, but to answer questions faster and get the right human to help you. And, they'll be great at getting sales.
Marcus Sheridan: HubSpot the tool has answered the call of going beyond marketing to also including areas of sales, customer experience. And, this is where HubSpot has really surpassed the market place. And, Brian and Dharmesh's keynote's really mirrored that.
Nick Sal: Aside from this rocking raspy voice. Having been part of putting on INBOUND as an employee of HubSpot and now as an INBOUND Sponsor, I just see again and again the power of the event and how it can create this sense of a movement with the speakers and the attendees. And, the energy surrounding the event is great.
Next Steps:
We would love your comments! Feel free to send us an email or comment on the Facebook thread.
If you really liked it, please give us a 5-star review on iTunes. Review offer: We have a special price for the first 10 people to leave us reviews on iTunes (hopefully 5-stars). After you do, send us an email at show@impactbnd.com so we know it's all set.
Join Us Next Week!
We'll be back again next Thursday, October 5th at 1:00 PM ET. Want to get reminded? Drop us your name and email address below and we'll make sure you're notified before the broadcast every Thursday!
Free Assessment:
How does your sales & marketing measure up?
Take this free, 5-minute assessment and learn what you can start doing today to boost traffic, leads, and sales.