Radical Ownership, Feedback, and Balance (The IMPACT Show Ep. 60)
In this week's episode of The IMPACT Show, Nick and I talked about radical ownership, giving and receiving feedback, balancing personal and professional passions, my SUPER nerdy Halloween costume idea, and more.
Join the IMPACT coaches for a deep dive on a new topic every month in our free virtual event series.
Check out the video recording below as well as the show notes. Enjoy and let us know what you thought in IMPACT Elite.
Like what you saw? Make sure to subscribe to email reminders and give us a review on iTunes.
Have feedback or questions? We'd love to hear it. Comment on this article, hit us up in Elite, or email us at show@impactplus.com
IMPACT Updates
Radical Ownership
IMPACT is working on something called radical ownership. The principle of radical ownership is that when you say "This is where I fell short - and this is how I could have done it better (and will next time)." There's no finger pointing or buts or excuses. Just lessons and things to change for next time. So how did this concept come to IMPACT?
Marcus Sheridan recorded a video and shared it with us after IMPACT Live. He shared a moment of radical ownership with us and also shared a story of a past employee of his. He talked about how this employee was afraid to own up to their mistakes but it was more challenging to Marcus, as a leader, because he couldn't tell if the employee wasn't owning up to something or just wasn't recognizing what was happening. Plus, this is an opportunity to learn. He challenged us to do the same at IMPACT. Nick went on to share examples from IMPACT including one of his own from this week.
Maybe this is something you can try at your organization!
IMPACT's New People Tools
This week, IMPACT's team launched our new people tools! It's a big goal of ours to make sure people can see their future at IMPACT. This is a big part of that - how we evaluate our performance, define our job roles, establish our paths for growth, and more.
The team that shared these new tools with IMPACT did a fantastic job and it really reminded me that I'm in the right place at IMPACT - a company that cares about my future and my growth. The tools are a combination of subjective and objective goals and criteria.
The team also noted that the tools are not complete - because they need to be used and tested by the teams to see what other changes may need to be made to perfect them.
I especially appreciated that Chris Duprey, our COO, took a moment to remind us that having a defined process for reviews does not mean that you hold in all your feedback you have for someone until the review. In fact, the best time to give feedback is often right in the moment - to give someone the opportunity to learn right away and continue growing constantly.
Giving and Receiving Feedback
Speaking of feedback, I wanted to give a shout out to how great the members of Elite have been at giving and receiving feedback lately. We tout this group as being somewhere where you can share something and get valuable feedback - and that's great. But it's not always easy to hear feedback! Especially when you put a ton of work into something your proud of. It's even more challenging to give and receiving feedback in something like a Facebook group where it's easy to forget there's a real person with feelings on the other side of the screen. Members of Elite have been so fantastic lately about giving truly constructive feedback and taking it well and with grace. Go Elite!
What Marketers Be Talkin' 'Bout
Where we go over what you're saying in IMPACT Elite.
IMPACT Elite has over 3,800 members! Know someone who would like IMPACT Elite? Invite them to join.
Discussions from IMPACT Elite
Emma Sepke's Highest Clicked Email Ever!
Last week in Elite Emma Sepke shared a story with us. After IMPACT Live she read They Ask You Answer by Marcus Sheridan on the flight home. She said the first thing she did after getting back to work was to draft a landing page all about pricing. She went on to tell how her sales team wanted to send an email and she suggested it be something helpful vs. just a hard sell. Here's how it went:
"So, what did I include? Our article titled " Am I Paying Too Much For Professional Liability Insurance?" AND IT'S KILLING IT! So far we have our highest click rate to date. ANDDD people are reading through the article and clicking on the CTA to get a quote. We are also getting more positive responses than usual, a lot of thank you's and positive feedback like wanting us to touch base again when they are closer to their date."
How great is that?? Congrats Emma and keep it up! Thanks for sharing! See her whole story in Elite.
Finding Good Outsourced Copywriters
Paul Chesher posted: "Need a little help. We're launching a new Lifestyle brand website and I am looking to seed it with some highly valuable, fun, and interesting content. The problem is that I have no idea where to find said content. We have one writer on staff but she can't do everything. We've tried a couple of services but they've been less than amazing."
Abhijeet Rajput jumped in with great questions like: Are you looking for advice on:
1) How do I know that a given copywriter will really help me out and write valuable and interesting content?
2) I know what good copywriter is, but need suggestions on places to find them.
Paul answered that he's in group #2 - needing a place to find good writers - he knows what one is already.
Abhijeet then shared: "Here are a few insider insights on which copywriter you should absolutely avoid considering (After working for a couple of years on Upwork)" Such as… people who do everything under the sun, try to get into business super quickly, etc.
And it wasn't just Abhijeet. There were a ton of great comments on this thread! This is the kind of discussion I love to see in Elite
When Organizations Support a Cause
Kendall Shiffler Guinn shared something AQUILA is doing to support breast cancer awareness month. We loved the lessons Kendall shared about how they did it though:
1. Two of their employees are breast cancer survivors so advocacy and awareness are very important to their whole company. (yeah, pick something that matters to your team! Don't just shoot for brownie points)
2. They had their developers create a separate style sheet that they can switch to for a month each year. (Great one time investment!)
3. They made a video with their survivors and wrote a blog post that they can promote year after year. (Show don't just tell!)
Bonus: Ann Handley joined our community hangout last week!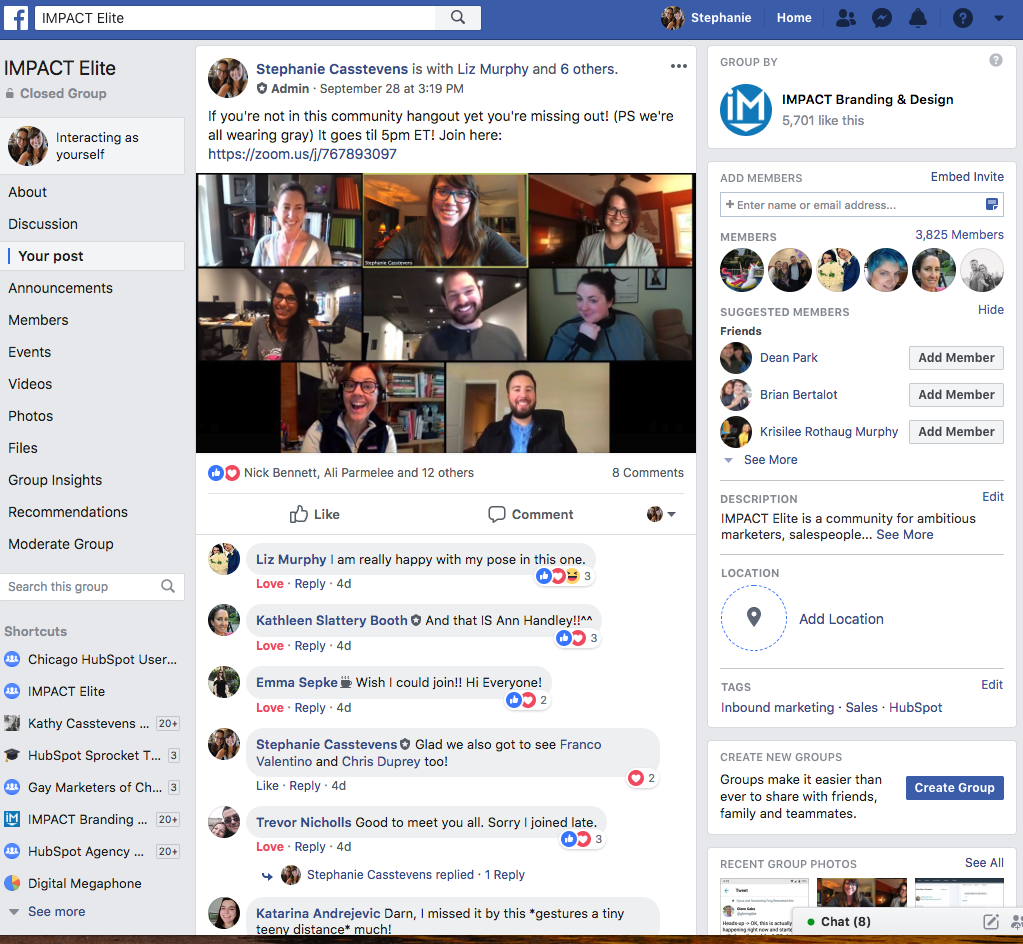 Inbound
in Action
This is where we talk about what we're doing and what we've learned lately right here in the trenches.
Balancing Personal and Professional Responsibilities
My wedding is two weeks from tomorrow. AH! Yes, needless to say, things have felt a little frantic lately. Nick and I shared some thoughts and stories on balancing professional and personal tasks when we're passionate about both! We talked about how we use one single to-do list and how we live off our Google calendars! How do you stay balanced? Let us know in IMPACT Elite!
That wraps it up! To check out Final Thoughts be sure to listen to the episode or watch on Facebook.
We would love your comments. What did you think of the show? Let us know in Elite. Make sure you never miss a show or update by subscribing at impactplus.com/latest.
Join Us Next Time!
Until next time...we'll see you in Elite!
Join the IMPACT coaches for a deep dive on a new topic every month in our free virtual event series.
Register Here
Join the IMPACT coaches for a deep dive on a new topic every month in our free virtual event series.
Published on October 5, 2018