Subscribe
Join 40,000+ sales and marketing pros who receive our weekly newsletter.
Get the most relevant, actionable digital sales and marketing insights you need to make smarter decisions faster... all in under five minutes.
Thanks, stay tuned for our upcoming edition.
3 Scary Sales Stories (and The Lessons to Be Learned)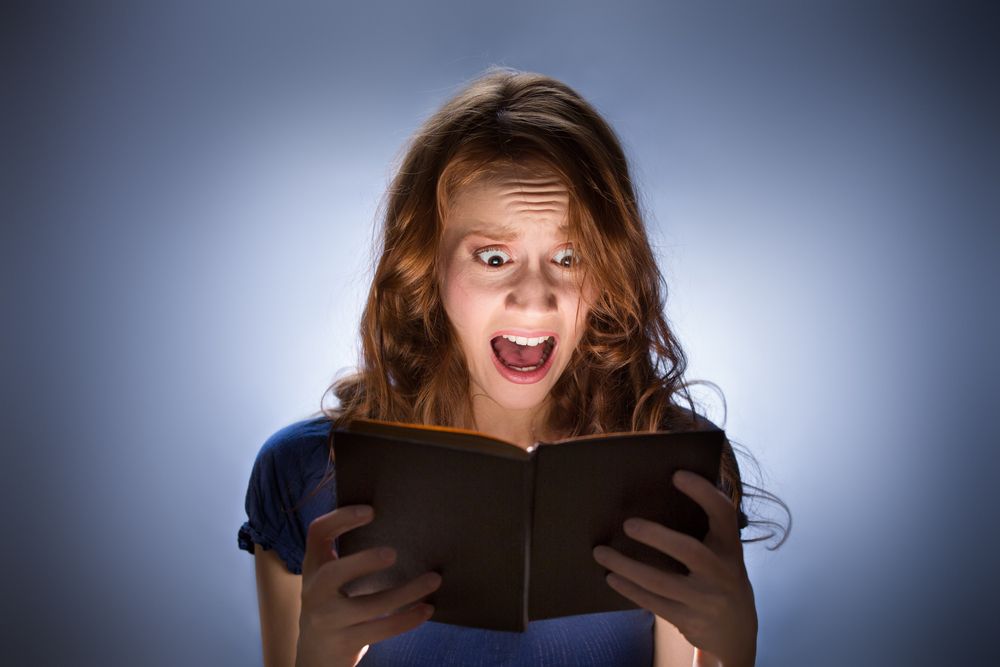 If you work in sales, you've undoubtedly made a mistake or had an experience you wish you could forget at some point.
Whether it's accidentally deleting an important document right before a big meeting, not hitting save, or realizing you've been calling your prospect by the wrong name the entire meeting, these sales slip-ups can happen at any point and to anyone.
As random as they can be, one thing is for sure, these moments will haunt you long after they've happened.
Can't relate?
Consider yourself lucky! The truth is, whether you're new to sales or a seasoned veteran, you're bound to experience one of these unnerving moments before the final bell tolls on your career and having these key takeaways and lessons learned to fall back on may just help you avoid the same cringeworthy fate.
#1. The Story of "Me-First"
The Scenario:
John landed a first meeting with the big kahuna (aka the decision-maker) at a Fortune 500 company he's been trying to break into for months and he's eager to make a great first impression.
Based on his sales approach and process, John typically starts these types of meetings by giving a brief presentation of himself and the company.
Fast forward 20 minutes -- and John is still talking.
He put up one self-focused slide after another. Slides with pictures of his company's employees, the building, the logo. You name it. When John finally took a breather, he realized everyone in the room had tuned him out and were visibly distracted.
What's wrong with this picture?
This is the classic story of a sales rep using the "me-first" approach. Whether you've heard it before or not, it's worth repeating, no one really cares about how great you or your company is, they want to know what's in it for them.
The Lesson Learned
: Shift the Narrative to Your Customer
Think of your pitch as a conversation, rather than a presentation.
Asking the prospect questions will help you tailor your talking points to better suit their needs. It will also help clients become engaged and more interested in what you do have to say.
A common reason for losing sales deals is not addressing the customer's needs.
Many sales conversations focus too much on a product's features and functions rather than on addressing the customer's business problems.
Salespeople default to product demonstrations and presentations, rather than mapping recommended solutions onto a customer's business problems. When the sales message stops being self-focused and starts being customer-focused, things turn around.
You can avoid this nightmare of a sales experience by focusing on these tips:
Shift Your Sales Story

:

If you take a solutions-oriented approach to selling, then your sales pitch or story needs to be focused on the customer. Who are they? What are their goals? Their challenges?

How can we help solve the customer's business issues?

It may sound like a simple shift, but it requires effort and training to ensure any "me-first" sellers are comfortable with the new way.

Mapping Each Account

– Your goal as a salesperson should be to drive growth beyond selling a product or service to selling solutions and ideas. Building an account plan for each client or opportunity will help you gain a better understanding of the customer's business goals or problems and will enable you to map out a solution to align with their needs. An account plan is a critical tool for both sellers and managers. You will build your relationship with each other and helps instill the process of preparing and planning for each account. Bonus tip for managers: this is a great time to provide coaching for each of your reps.

Content Playbook

– Content provides fuel to the sales fire. Whether you're just starting a sale or about to close the big one, content provides just-in-time conversation starters and insights into how to speak the customer's language while staying focused on discussing their goals and challenges.
Don't get spooked into being a "me-first" seller, just remember to stay customer-focused by leading your next sales conversation with questions to get your prospect or client talking first.
#2. The Unprepared Rep
The Scenario:
Laura has been a sales professional for 25 years. She recently changed jobs and is now working for a new company, in an industry she is only semi-familiar with.
She has been given more responsibilities than she is used to and has been tasked with coaching some of the less experienced reps.
Since Laura is an experienced salesperson with a proven track record, she wasn't worried about this transition, but lo and behold, her first meeting was a frightening display of what not to do as a salesperson.
Laura was behind on her work and she had a list of things to do before going to the meeting. So what happens? She walks into the meeting without knowing anything about the company or the person she was meeting with.
When asked about the meeting, she said "I thought I would just go in there and sell them our solution. I'd learn more about the person and company while I'm in the meeting."
Oh, the horror!
While having experience is an advantage in some cases, it worked against Laura in this situation because she believed that she could do what she has always done by using the same old spray and pray tactics.
Transitioning to a new job is challenging for anyone, but for Laura, it was an eye-opening experience that made her realize how sales has changed and gave new meaning to being prepared and customer-focused.
The Lesson Learned:
Do Your Research!
You'd think this is pretty straightforward, right? But how many calls have you made where you didn't do the necessary preparation beforehand?
Don't worry, it happens. There are many legitimate reasons for being underprepared, but for every reason (or excuse), there's a solution. Here are three reasons reps don't do their research and how to suck the poison out of the situation.
Your last meeting ran over and now you're rushing to your next one

– This happens to the best of us, but it's an easy one to fix. At the beginning of every sales meeting, you need to set expectations. Maybe it is as simple as opening by saying "Thanks for taking the time today. I have 30 minutes booked for us, so let's get started." Once the meeting begins, you need to manage expectations. So if you're coming up on the 30-minute mark, say "We only have about 10 minutes left and I want to respect your time. So, as we wrap up, let's recap

what our next steps are."

You're depending on your memory from the last meeting

–

This strategy will most likely fail you every time because your memory isn't as reliable as written or recorded notes. How can you expect to remember all the details of the last call with a prospect? A standard best practice is to take meticulous notes and then review those notes before your next call. If you're using a CRM, then make sure you're capturing the details of the call there too.

You've assumed nothing has changed since your last meeting

– Depending on your timing between follow-up calls, you would be surprised to know how much can change in just a few days. Always take an opportunity to go the extra mile and do a little more research on the company and your contact before you make the follow-up call. A good way to stay up-to-date on all of your current accounts or prospects is to set-up a Google Alert with their name. That way, you'll get notified when they are mentioned in the news and you'll have a new talking point or will have gained further insight into the company or person, which will ultimately help you more effectively position your solution.
If you want to take your sales career up a level, then it's imperative to spend more time preparing. Because if you really want to win, you have to work harder AND smarter.
#3. The Cryptic Email
The Scenario:
Sean and Mary work together at a professional services company. Sean is the CEO and Mary helps with logistics and coordination.
Sean is getting ready for a big presentation he has been working on for a few weeks and is now ready to bring Mary in to help coordinate the details.
As Mary usually does, she sends a detailed email to Sean listing specific options for him to select from as well as an outline of the steps still needed to take to prepare for the presentation delivery.
A few days pass, no response.
Mary sends another email. Now, this time, she gets a response. It was not the response she was looking for, but rather a one word cryptic email that didn't answer or address any of the information she outlined. How should she respond? Was this message even intended for her?
Dun, dun, dun.
This is a common occurrence in the world of business.
According to the Email Statistics Report, the number of emails received by corporate employees is more than 100 and may go up to 136 per day by 2017. That said, the need to send pointed emails is understandable, however, many employees labor over emails seeking guidance from the boss, only to receive a cryptic reply such as "Noted." Or "Sounds great!" Or no answer at all.
The result? Confusion and frustration.
The Lesson Learned
:
While emails are one of the most efficient forms of communication, they can often get lost in translation. Even well-written emails can elicit frustrating responses if bosses and employees have different communication styles.
That's why it's necessary to make an effort to understand the communication styles of your peers and employees. If you don't, you run the risk of miscommunication and feeling defeated.
Here are a few tips on combatting the cryptic email and getting a better response to your messages.
Stay Focused

–

Emails covering multiple subjects can be confusing. Stick to one subject at a time or consider talking it out over the phone if you need to cover a lot of details and coordination. Also, make sure you're keeping your emails short, simple, and to the point. No one wants to read a long, rambling email when all it might take is a sentence or two to explain.
Consider Changing the Subject Line

–

When you're answering any type of cryptic email, make sure you provide a clear subject line. If you've sent a previous email, consider changing the subject line to something more relevant or specific to the recent conversations you've had. When you have an appropriate subject line, it will encourage the recipient to read the email rather than putting it aside as unimportant, or worse, deleting it.
Build a Formula

– If your emails aren't getting the response you want, then it's time to reassess their structure. If it's a priority for you to get the other person's attention, try outlining your email like this: (1) State the information you need, (2) Identify a firm deadline when you need a response by, and (3) Confirm what you need through a question to verify the recipient understands.
You may not be spared that unsettling feeling of opening your inbox to see the dreaded one-word or one-sentence response, but you can use these tips to help fight back.
Haunting Moral of the Stories
Sales can be a scary profession.
Whether it's the nagging fear of uncertainty or a lingering feeling of pressure to close the deal, it's all part of the job.
We've all been in situations that we would have rather avoided, but you don't have to let these scary sales stories keep you up at night.
Instead, stay focused on keeping your customers front and center throughout the entire sales process, remember there's no such thing as too much research or preparation, and finally, learn how to correspond with every different type of communication style will pay dividends for your career now and into the future.
Free Assessment:
How does your sales & marketing measure up?
Take this free, 5-minute assessment and learn what you can start doing today to boost traffic, leads, and sales.