Subscribe
Join 40,000+ sales and marketing pros who receive our weekly newsletter.
Get the most relevant, actionable digital sales and marketing insights you need to make smarter decisions faster... all in under five minutes.
Thanks, stay tuned for our upcoming edition.
The Attention Economy is Changing Inbound Marketing Tactics [Video]

There's a major shift that's happening in the way businesses reach their audience. Moving forward, that means your traditional inbound marketing strategy may not be comprehensive enough to reach your audience.
The Rise of the "Attention Economy"
Now, more than ever, platforms like Facebook, YouTube, Instagram, and Snapchat are measuring their success by daily active users. Essentially, the success of these platforms can be directly attributed to their ability to capture and hold your attention.
This has led to the genesis of something we're calling in our industry the "Attention Economy."
Here's the thing though: These social platforms don't actually produce the content they use to capture people's attention.
You don't scroll through your social feeds seeing posts curated by Facebook and Snapchat; You find posts by your friends and the businesses that you follow.
These social companies have created platforms in which we are both the producer and the consumer. Not a bad business model, ey?
The thing is, it's working well.
Amazon ranks YouTube and Facebook as the 2nd and 3rd most trafficked websites on the web, only falling behind Google. On top of that, both YouTube and Facebook have longer average time on-site than Google.
In short, people are spending a lot of their time on social media… but I probably didn't need to tell you that.
So let's recap: Your audience is spending an increasing amount of time on platforms whose goal is to grab their attention with compelling content.
How Does This Change How We Market?
The inbound marketing movement was founded on the idea that people would find your content while doing research on the web.
Businesses that practice it create keyword-specific content designed to answer the questions their would buyers ask as they work their way through each stage of the buyer's journey.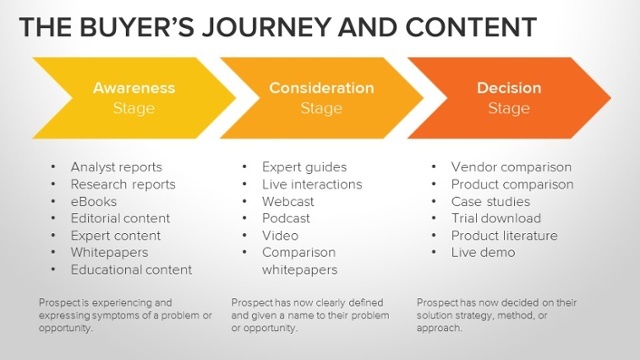 Courtesy of HubSpot
Inbound was a reaction to the fact that people were changing the way they were making these purchasing decisions, in that they were spending more time researching on their own before engaging with someone in sales.
That's why inbound as a methodology is a great, human-centered, approach and is still extremely relevant.
If you think about it, however, it doesn't exactly line up with the Attention Economy model we just discussed.
Facebook, YouTube, Instagram, and Snapchat choose the content to display to your audience based on an algorithm that determines will best capture their attention.
This is pretty far from a model that relies on people searching for exactly what they're looking for. And for us as consumers, that means we're losing control of the content we view.
I'm not going to get into the social implications of this, but Will Schoder does a great job of that in this video:
You should watch the whole clip, but the gist is that our attention is being fought over by social media platforms, and it's fundamentally changing the way we consume content.
Instead of curating content on our own, it's being done for us.
For Businesses, This Isn't a Bad Thing
To do this, these social media platforms need you. As I said earlier, they don't actually produce the content they use to capture people's attention.
They need your content, and they need it to be human, so it'll resonate.
There's something beautiful about this: These platforms give businesses like you (and us) an opportunity to show who they really are, and empowering us to display the human side of a brand.
This is pretty incredible, especially if you're a services-based business like IMPACT.
The reality of the situation is that the people who work with us are buying access our people. So, as someone who's marketing that, my primary goal is to bring those people to the forefront. (More on that later.)
So, how do you take advantage of this shift towards algorithmically curated content?
Create the content that captures the attention of your audience. It's no different than what you've been doing all along, but this time think of it differently.
Humans, while beautifully intricate, are at our core the same animal -- literally.
We're all subject to human nature and, for the most part, that nature is consistent from one person to the next. This is why spiders are scary to many people, and it's how politicians are able to capture the minds of millions of people whom don't always agree with them.
You may not be your persona, but you're human.
Social platforms aren't wired to grab the attention of your specific persona. They're wired to grab the attention of humans.
So, when you are creating social content, ask yourself three questions:
Would you read, click, watch, like, comment?

Does reading something make you feel strong enough about something to talk to someone about it?

How does the way your content compare to the content that's landing in your feeds?
How Is IMPACT Adapting?
IMPACT's marketing model has always been a "lead by example." I wouldn't be here telling you my perspective on the shift we're seeing if we didn't have an experiment in the works to test the validity of what I'm saying.
So, how are we changing our content model? It comes down to one word: Human.
First, we're shifting our content style to be more human. Most of us are surrounded by social posts that expose people as unfiltered versions of themselves.
This is only increasing as social platforms are giving us more and more tools, like Snapchat Stories and Facebook Live, to create raw content instantly, in the moment. This type of content is becoming the norm.
For us, we want to expose the human side of growing a business because, well, that's who our personas are: humans growing a business.
This means showing IMPACT as it really exists. We're also stepping away from creating filtered content that's over planned and over perfected, that's not human.
Next, we're focusing a lot of energy on optimizing for human nature.
This isn't much different that we've always done, but now we're taking into account how social platforms algorithms interpret our attempts. In the past, we were optimizing for humans who had specific search intent on Google; now we're creating content that people aren't seeking it out.
This means we need to spend more time thinking of how people are interpreting our content within the first seconds.
If people aren't looking for it, are they still going to be engaged by it?
If we do this successfully, we'll be rewarded by the social algorithms boosting the reach of our content.
Finally, we're not as search-driven as we have been in the past.
Not every piece of content we're producing is part of the searches being done by our audience in their buyer's journey. Does this mean we're abandoning keyword driven content creation? Absolutely not. Instead we're augmenting it with content that people enjoy but may not seek out.
Because of this, we're focusing on highlighting the conversations that are happening around our office.
If we're talking about work-life balance, certainly someone else must be thinking about it, even if they aren't searching for it. This works extremely well when combined with the shift in our content style.
What's Next?
There's no doubt in my mind that more and more of our time spent on the web will be spent in platform. That means that, as consumers, we'll be spending more and more time letting algorithms determining what type of content matters to us.
If you're a smart marketer, you'll start thinking about this now.
There's quite a shift to be made going from on-page SEO focused content to content that performs well in the Facebook news feed. I, personally, am just starting to figure it out.
As a case study, I invite you to follow along with our weekly production of Behind The Screens, our weekly YouTube show that explores the humans behind growing a business.
While this blog article wasn't meant to serve as a full explanation of what you can expect with this series in the months to come, it's a perfect example at our attempt to create content that's truly optimized for the human.
Enjoy & subscribe for weekly updates!
Free Assessment:
How does your sales & marketing measure up?
Take this free, 5-minute assessment and learn what you can start doing today to boost traffic, leads, and sales.