5 Things That Can Go Wrong When Building Your Online Community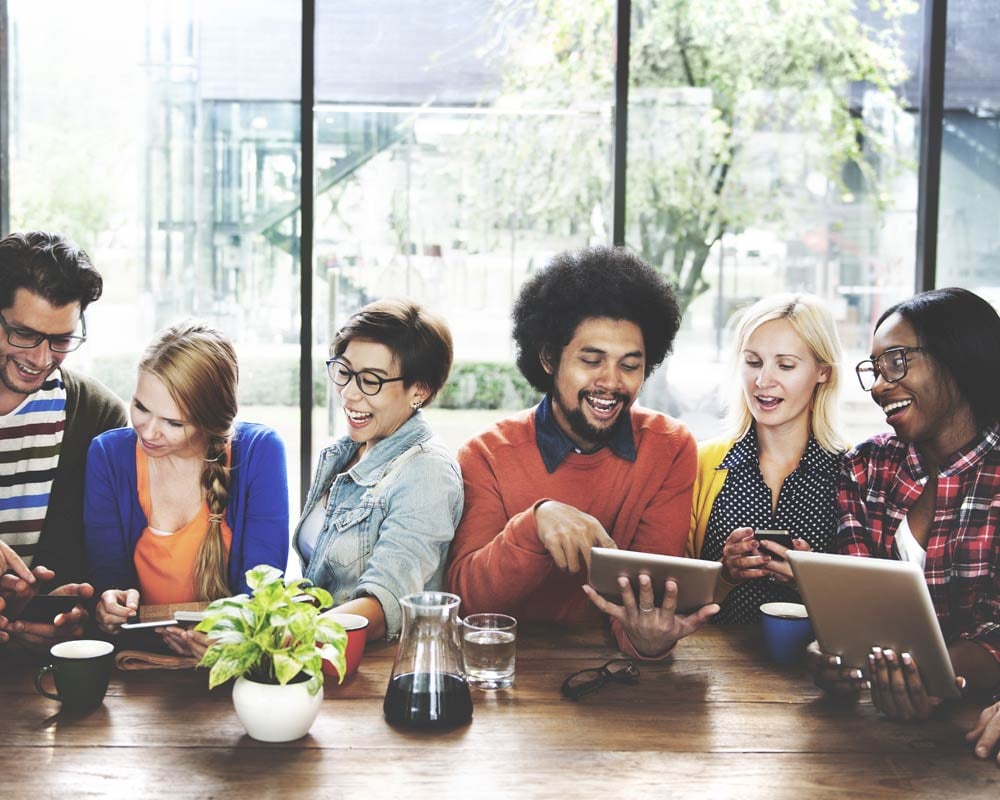 What's a community anyway?
I tend to answer this briefly saying this - a community is a group of people with a shared purpose who are connected in a two-pronged way -- one connection with peers and the other with the community head.
With the popularity and growth of social media, there has also been a steep acceleration in the adoption of online communities.
To put things into perspective, consider this statistic reported by Forrester -- In the US, the use of community almost doubled in 2015 in comparison to 2012.
Coming to the theme of this article, I'll cover an overview of why online communities are becoming so popular, things that can go wrong when building communities, and how to avoid these slippery slopes.
The current state of online communities
Before we get into the factors that are pushing adoption of online communities, let's first understand the current state of the online communities.
For many brands, Facebook Groups and LinkedIn Groups are popular options for building communities, however, these platforms lack many of the functionalities (i.e. ability to create groups inside a community, one-to-one discussion, option to organize discussion based on topics and knowledge discovery) brands need to truly connect and achieve what they need.
Another popular tool to build pseudo-communities is Slack. Buffer used to run its community, but the team finally ditched it this year. Here is what the community manager said about the change:
"Slack was the perfect place for us to gather back in 2015, initially to gather the #bufferchat community. Four years later, we've been coming against limitations on the platform that make it challenging for people to connect and learn from one another. Slack is a tool built for team communication, and we have been using it for a very different purpose! I'm sure you have noticed some of these limitations: messages get deleted, there's a lack of profile information about one another, the speed of conversations that flow by in the Slack feed can be overwhelming, to name a few.

We know we must find better ways to help the community grow and connect in a sustainable way. Just like we evolved from gathering on Twitter, to gathering in Slack, we now have a wonderful opportunity to gather more intentionally in a new home!"
There are several other issues as well -- right from data privacy and lack of reporting to moderation and customization.
Essentially, you don't have any control over the data and privacy issue in a community that you don't own! Reporting and analytics are highly critical as you need to justify the investment and show how it aligns with the organization's goals.
For instance, you would like to measure after joining the community if the transactions increased from the existing users. You would also need to compare lifetime value of customers who are members and who are not members.
In the context of this article, online communities are the branded communities custom-built by companies in which the goal is to keep the audience involved via the three key pillars of support, feedback, and advocacy.
Based on the type of audience, some of the common types are customer and partner communities, employee communities, professional communities (i.e.,community of accounting professionals).
However, In this article, we're going to discuss the branded communities businesses need to be building — communities that build member-to-member relationships and the relationship between brand and the members in a sustainable and scalable manner.
Let's now look at the current state of the online communities.
According to Community Roundtable, in 2019 the share of the external communities (i.e.,outward-facing communities such as customer communities) and internal communities (i.e.,inward-facing communities such as internal communities) has flipped. Back in 2018, 52% of the communities were internal, 29% were external, and 19% both.
This change shows that community space is undergoing a trend reversal and there is much more interest in customer-facing communities.
But what's driving the growth of online communities?
There are several reasons why there is a renewed fascination for these types of branded online communities, but let's cover the four key factors here:
High user engagement
Public online communities serve as an open space for customers and prospective users to congregate and create content.
Search engines index these community web pages with user-generated content and tend to give preference in terms of ranking as well.
Check out the following example in which a search query related to Spotify gives user-generated content as top results.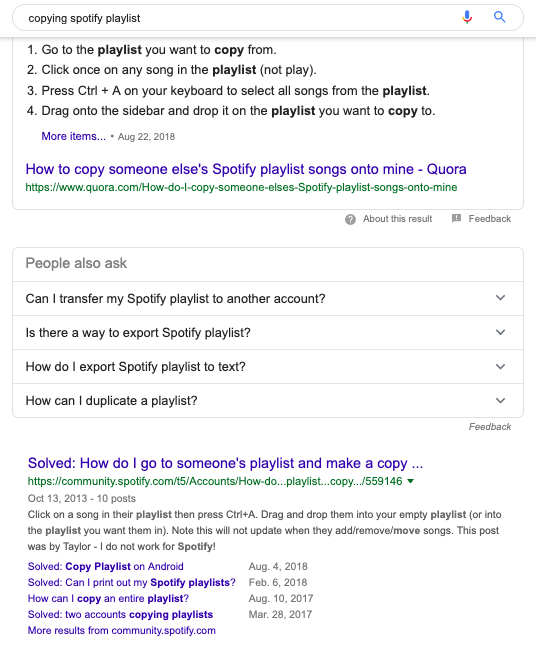 This opens up a whole new, powerful organic growth opportunity for companies.
Apart from acquiring new users, communities also help in engaging your existing customers; keeping them involved with the brand's offerings (i.e. helping peers with issues and posting innovative use cases) to keeping them informed about new updates.)
When customers are engaged with your brand, they tend to return to the platform and stay loyal to your brand.
Here are some ideas to keep your users engaged in your online community:
Send emails to prompt users to come back to the community with specific actions -- For instance, if a user is subscribed to a topic or follows certain member, send a notification when there is new and popular content on that topic or from the concerned member. You can also encourage them to introduce themselves or read more on a particular topic.
Capitalize on social proof by building case studies or getting testimonials on how the community adding value for users. Use that to motivate the inactive members.
Acknowledge, appreciate, and feature high-quality contributors so they continue to do the good work. This will help in keeping the community vibrant, increase return visits and add value to the community in terms of quality content. Member reputations and leaderboards are some of the common practices to achieve this.
Run contests and competitions in the community. People can resist a little friendly competition. For your community, the end goal can be anything from influencing user behavior to sourcing ideas and generating content rapidly. Reward the winners with promo codes that can be redeemed to purchase your products or services or even exclusive prizes.
Here is an example of our client, SmartNora (a snoring solution) running a campaign in their community to source stories from their members around snoring: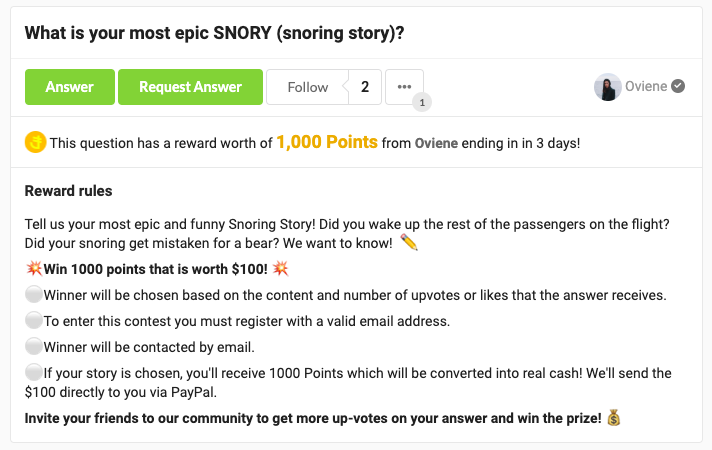 As you can see, this particular contest rewards virtual coins based on content quality and number of upvotes to the members for the stories they share.
Enabling self-service & knowledge sharing
It is the growing desire of customers to connect, self-educate, and self-serve that is fueling adoption of knowledge base in online communities.
The curated content generated in a community is a valuable knowledge base that can help customers easily find solutions to their problems without necessarily having to reach out to an expert.
Members often use communities to discuss their issues, ideate, and come up with different plans.
Taking note of this, you could create a weekly round-up of the best discussions, best solutions to product issues, or ideas posted in your community.
In addition to sharing their own knowledge, you can and should encourage members to also source books and high-quality third-party content related to your industry and share ideas on why they found it useful. You can do this as the owner of the group as well.
This sharing of knowledge creates a network built on helpfulness and education. Even if you're not necessarily the one giving the advice, you establish trust and authority by being the brand behind the community that made it possible.
Candid customer insights
The very nature of most online communities is informal and friendly, making it a good place for candid discussions and free flow of ideas.
Many companies treat communities like this as big focus groups where they can collect feedback and generate candid insights.
For instance, companies can use the community to carry out one-to-one discussions with their super users. Abrand can recruit its most active and valuable users from the community and create an exclusive group. Then, the group can be used to facilitate focused discussion. Your superusers can submit ideas and give feedback on what they think of others'.
When companies proactively seek opinions from customers use those to improve the product, their customers feel empowered and valued.
They feel like they've directly impact the direction of the company and become even more invested.
For example, one of Tribe's clients, SkyScanner (a fare aggregator and meta search engine in travel sector) has built a close-knit community with their super users to get feedback on the new user interfaces, product roadmap and crowdsource high-quality ideas for their upcoming online tools.
Tribal tip: Support tickets are great for sourcing super users and it's a good practice to segregate super users into different tiers.
Establishing brand authority
Brand value is one of the most valuable, though also most intangible assets a company owns.
In fact, according to the International Organization for Standardization (ISO), brand value accounts for close to 20% of enterprise value on an average.
It allows companies to charge a premium and establish trust in the value they deliver. That's the reason, almost all of the companies have thought leadership as a key component of the long-term growth strategy.
When a company builds a community around its product, service, or the industry itself, it is essentially positioning itself as the leader in that space. They can propagate their ideas for the vertical and set the agenda for the discussions.
Again, even if the opinions and knowledge don't come directly from you; you will be known as the one who facilitated the conversation.
How can you go wrong in building your online Community?
Now that we have established the reasons behind community growth and how lucrative communities can be for companies, let's get to the meat of this article and explore how to do that successfully.
Here are a few things that can go wrong when building an online community:
1. Poor onboarding processes
Generally, what often goes wrong with a community is companies become too focused on growing the community in numbers, rather than understanding the nuances of engagement and retention.
When this happens, community managers can get easily overwhelmed when a swarm of new users start joining and there is no clear-cut process on moving them through the membership lifecycle stages —from outsider, lurker, to participator, leader, and finally evangelist.
Being a member of a community is great, but if they're not engaging, neither they nor you will get any value out of their membership.
It is important to have a plan for moving them along.
For example, give the right tools to the learner in terms of knowledge discovery, so that the member gradually becomes a contributor.
Online communities must be run with outstanding operational processes (i.e. a clear blueprint on the planning around attracting users, onboarding them, getting them engaged, and then keeping them engaged.)
Here are some important tips to help you out:
Create the ideal member journey for your community (moving from an outsider to becoming a learner and leader in the community). If you already have a community, see how the most engaged members have moved through different activities.
Group these activities based on the ease and overall impact on your retention. Then, based on these activity groups, you can:
Create a nurturing email campaign to move new members through these steps
Have a clear recommended checklist of actions that members should complete to get the most out of their experience in the group
Explore your automation options for notify users (inside the community or email) based on their activity
2. No plan for seeding and engagement
As mentioned above, if a community has no content or engagement, it is unlikely anyone else would want to join it so you need to be prepared to encourage or "seed" the engagement early on. In the initial period, your team would start off by creating quality content which would attract engagement from the members.
Consider attracting users and prompting them to engage by answering, upvoting, commenting, sharing and posting comments. Here are some of the common ways of doing that:
Asking thought-provoking questions (e.g., If you could change one thing about your industry, what would it be? Why?)
Posting videos and images as pictures tell stories in more convincing manner
Run polls on topics that have strong emotional associations with the members (e.g., Mac vs. PC)
As the team behind a community, you should also be facilitating conversations.
What exactly does that mean? You can consider scouting members with particular expertise to answer unanswered questions.
You can also seek experts to contribute comments and regularly put efforts to make sure that there is ample content to drive discussions.
3. An inadequate community software
The online community platform that you choose to build on can dramatically impact its success. Its features and permissions will determine a great of what you and your members can actually do and how you can scale.
Every community is different and the specifics of what they'll want out of their engagement will be as well, but this aside, there are certain factors that you should consider and look for when evaluating community software:
Building networks & connecting
Find out how the community software would enable your members to build peer networks and connect them to your brand.
For example, you want it to be easy to follow member updates as well as find, search, and message them.
Other facets can be notification systems, emails digests for getting users back to the site, gamification, virtual coins to influence user action, etc.
Integration with your product or service
Having an online community is great, but wouldn't it be even better if you could integrate directly into your product or service?
Imagine being able to allow members to discuss and share feedback without leaving your site or tool.
This can also help members discover new products or offers if the community is around an ecommerce shop. For example, multiple users discussing a certain product can also talk about a complementary product which can lead to additional sales.
For example, AppJobs (a marketplace company in the gig economy space) uses Tribe to embed the discussions from their community right on their site.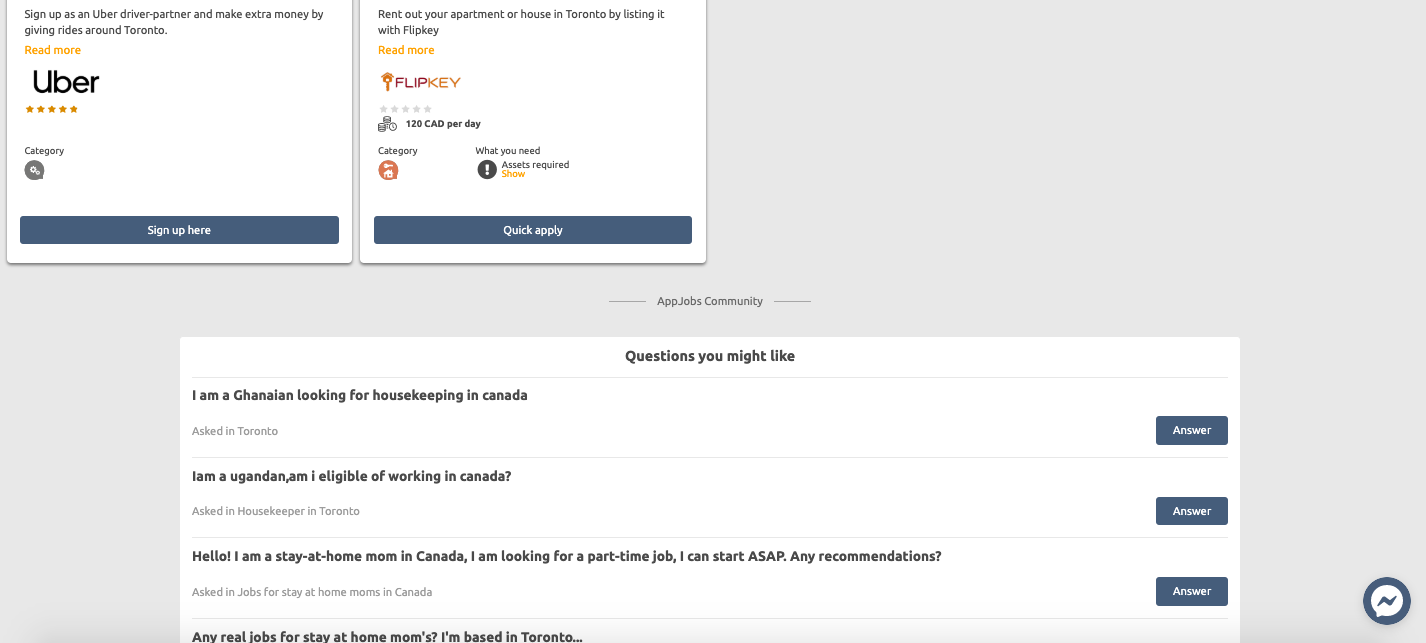 As you can see there is "Questions you might like" section which has discussions from the community. And this discussion component of the community has been embedded inside the web page where there are other ads and offers (Uber, FlipKey, etc.).
This helps drive contextual discussions in the community (without leaving the main site) and adds an exciting social component to the product itself.
Another way you can incorporate your community into your product could be showcasing community discussions around certain product.
Given below is a screenshot that shows sample community discussions for a book powered by an education software called TopHat.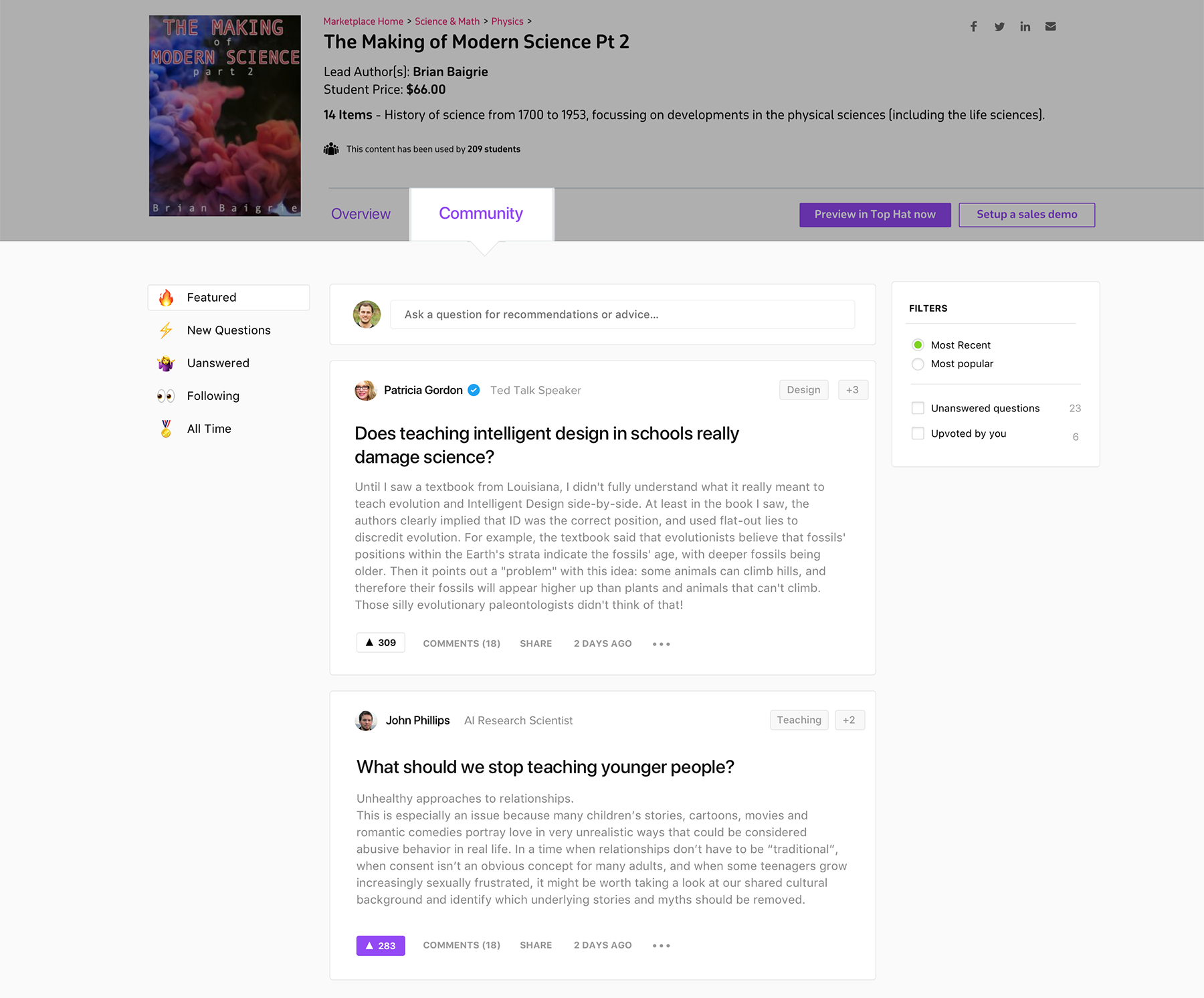 So, here the books are the products that the education software is facilitating.
The authors and subject matter experts are able to discuss, gather feedback, and share knowledge around different chapters in the community.
The integration of Tribe Community Platform with TopHat allows discussions and comments inside the education software to be posted in the community, and vice versa.
This two-way integration helps in having elaborate discussions in community based on an idea or observation made in the software for the book.
APIs, webhooks, and integrations
APIs and webhooks help multiple applications sync and transfer data easily.
Since companies are becoming reliant on more and more software applications every day, data should never remain in silos. Each department must have smooth flow of data to function efficiently.
Hence, it is important to ensure that your community also easily communicates with your data tools.
For example, you would want your CRM and support ticket system integrated with customer and support community to see impact on the revenue and KPIs associated with customer support.
Apart from that, you might want to have custom integration with certain apps that the platform doesn't support out-of-the-box. In this type of case, APIs would be very helpful.

Moderation tools
Moderation is incredibly important for any community that wants to be a welcoming and popular place for users to gather. Otherwise, toxic elements like spam and abusive language may take over and slowly lower the value people get out of your community.
For example, you might want to automatically flag content that might have offensive language based on the blacklisted keywords. You should also be able to define rules to allow members to post content only if they have certain minimum points or reputation. Apart from these, your users should also be empowered to report inappropriate content to the moderators.
You may also want to see if these moderation tools can be automated. This way community managers can save time and keep the community safe as well.
Groups
Essentially groups are more specific segments created inside a community based on additional common elements of the members. They help idrive more focused discussions without distracting other members.
Groups are important as they enable the community managers to categorize the community members and build user cohorts. Ultimately, this helps in creating a stronger relationship between members and establishes a space for intimate discussions based on shared interests.
For example, in a community for marketing professionals, there can be separate groups for e-commerce industry and banking industry. Again groups can public, private, or unlisted based the purpose of the group.
Customer support
Customer support is critical when getting started with relatively complex products like community software. Without a good support, you might spend a lot of time on some of the advanced configuration or get stuck when setting up a new process.
You want to make sure that the software you choose has the support that are easiest for you, whether it be email, live chat, phone, community support, or hands-on training.
Also, find out if the vendor providers any value-added services to help you grow your community. It can be anything from community growth strategy and SEO to content generation and moderation.
Tribal Tip: Download Tribe's free and detailed template for creating a compelling community software requirement document.
Budget
Last, but not least, budget is always important as you need to always justify the return on investment.
There are some great community software that deliver outstanding value for money, so in case you are going with something expensive, try to evaluate how it is going to benefit you in the long run.
4. Rigid moderation
It is important to set certain community and content guidelines so that the community remains a safe space for the members. Here is a screenshot of Atlassian's community guideline: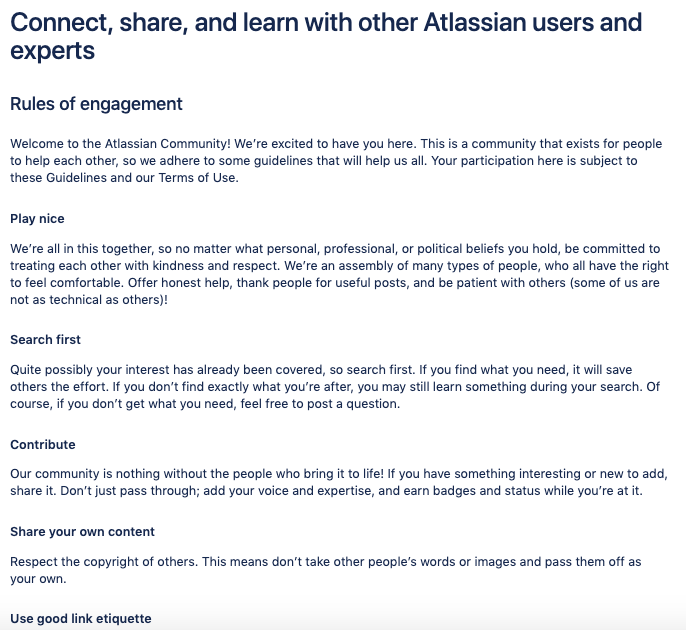 However, these rules should be implemented with the goal of adding value to the community.
Many of the moderators make the mistake of implementing rules that actually depreciate the value of the group for members.
For example, no one likes a community full of spammy sales pitches. However, in some instances, a member might post something which is self-promotional, but still that might add value to the community.
In these cases the moderator can use judgement to retain the piece without being completely rigid.
You need to be a skilled moderator to know what is adding value and what is crossing the line and have to be able to extend some flexibility to things that may blur that line.
So, first start by trusting your members as the members must be able to trust the community instead of fearing about punishment. They need to know that their contribution is being valued and they must be appreciated.
5. Neglecting member experience
One of the common mistakes that community builders make is the sidelining of the needs of the members.
It is understandable that the company wants to engage the users, increase loyalty, get actionable insights, and boost the lifetime value, but it must also take care of the members and make it a great experience in the process.
When you stay out of touch with the growing needs of the community or subcultures inside the community, you slowly alienate the members and they gradually look for other alternatives.
Growing the right way
It takes an enormous amount of time and consistent effort to create a thriving and absolutely 'sticky' online community, but, when companies execute their community building plan the right way, there would be long-lasting and tremendous value for both the members and the company itself.
We learned about various factors driving the growth of online communities -- right from engagement and insight mining to support and establishing brand loyalty. We also looked at the way one should tackle content seeding, moderation, set processes, select community platform and make continuous effort to stay relevant with the members.
It's time for you to launch and grow your community -- here is our free guide to help you become successful with some solid insights on building online communities.
Free Assessment:
How does your sales & marketing measure up?
Take this free, 5-minute assessment and learn what you can start doing today to boost traffic, leads, and sales.