"Turning Customers into More Customers:" The IMPACT Show Ep.11 [Show Notes]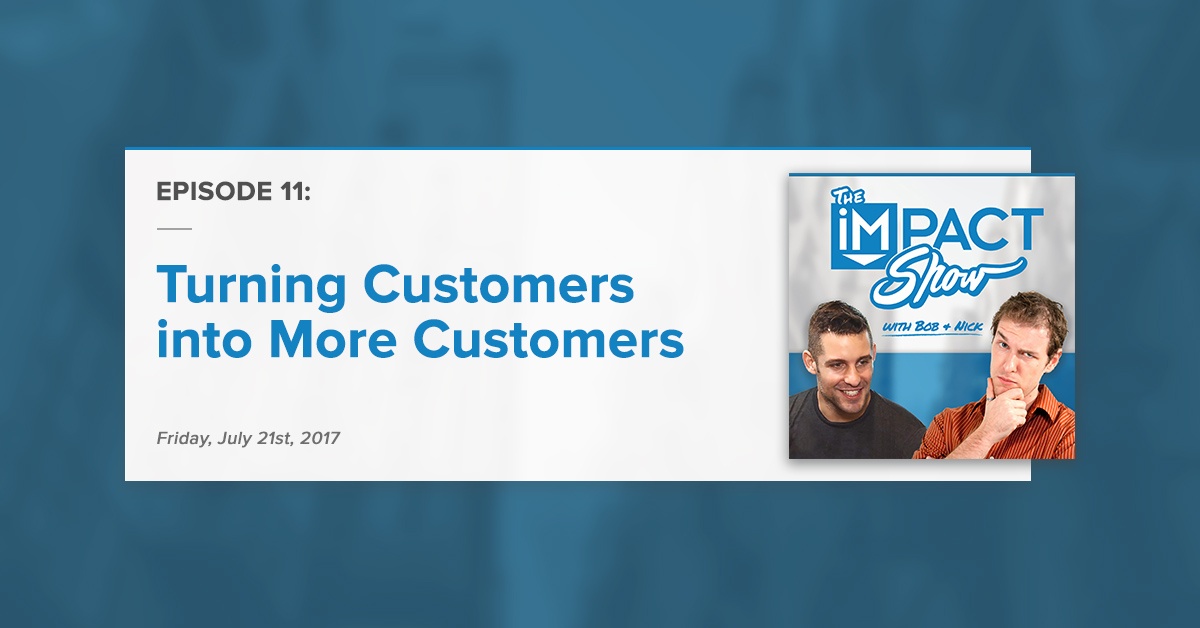 Did you know, your current customers are the quickest way for you capture new customers?
This week on The IMPACT Show, Bob and Nick took to Facebook Live to share our tips for turning your customers into even more, and also talk INBOUND17, agile marketing, and how you can get a free IMPACT Show t-shirt!
Just in case you missed us live (or if you want to relive the magic), you'll find the episode's show notes below as well as the recording.
Enjoy and make sure to share with your peers!
Like what you saw? Make sure to subscribe on iTunes and give us a review.
Have feedback or questions? We'd love to hear it. Comment on this blog or email us at show@impactplus.com
Get your FREE The IMPACT Show tee at the event!

Hartford, CT on August 1-2nd, 2017

An intimate group of experienced, dedicated marketing and sales leaders.

Speakers include Marcus Sheridan, Tara Robertson, Mike Volpe, Mark Roberge, George B Thomas, Paul Roetzer, and more.

ALMOST SOLD OUT: Get your ticket here now.
Something stopping you? Price? Getting buy-in? Email us.
IMPACT Featured As Top SMB Workplace
Join us at INBOUND17!
The dates: September 25th-28th in Boston at the Boston Convention Center
IMPACT will be there the entire week

Top speakers include:

Michelle Obama

Brene Brown - Research professor. Brené will be talking about her new book, Braving the Wilderness: The Quest for True Belonging and the Courage to Stand Alone.

Brian and Dharmesh

Adam Grant - "When we ask attendees who they want to hear from, Adam is one of the top names that always comes up. It's not hard to understand why: his best-selling books and viral TED talks speak to themes like helpfulness and resilience that are at the core of an inbound, human way of doing business."

Elizabeth Gilbert - best known for her iconic memoir Eat, Pray, Love

Piera Gelardi - Executive Creative Director and co-founder of the award-winning digital media company, Refinery29.

Andy Cohen - Emmy Award-winning host of "Watch What Happens Live with Andy Cohen" on Bravo… also huge on Instagram

HubSpot users look out for big product announcements

Over 300 breakouts…4 From IMPACT:

Bob: "Your employees need to see their future at (you company here)" - His 6th time speaking at INBOUND

Nick: "HubSpot Reboot: 5 Secrets Successful Marketers Wish They Had Known the First Time Around"

Liz Murphy: "How to Create a Content Style Guide for Your Business"




Which we also have an article about here!

Carina Duffy: "10 Things We've Learned from Doing Over a Hundred Website Throwdowns"

Next Website Throwdown is next Friday, the 28th at 2 pm EST

Submit your site before Tuesday!

Guest: Justin Champion, Principal Inbound professor at HubSpot
Agile Marketing Metrics
Tracking and sharing sound agile metrics can reduce confusion and shine a light on the team's progress (and setbacks) throughout the development cycle.

it's important to track both business metrics and agile metrics. Business metrics focus on whether the solution is meeting the market need, and agile metrics measure aspects of the development process.

More than anything, this article is part of a larger, freely accessible and indexable series of content on Atlassian's site called, "The Agile Coach", which is a great example of a pillar content strategy

Five Agile Metrics You Won't Hate - Atlassian
Main Topic: "Turning Customers into More Customers"
The most trusted products and companies will win. ringing back word of mouth and testimonials. Helping you generate new customers from current customers.
Three parts:
Delivering value to your customers
Importance of delivering on your value proposition

Listening to customers… Why are they delighted, what can you learn?

How are you measuring customer delight? (share what we're doing) - all companies are different.

Improvement is an "all-hands on deck" activity… marketing and sales should support.
Implementing social proof on your website

Importance of online reviews

Having great case studies

Involving customers in marketing, webinars, and speaking opportunities

Ultimately, your best marketing is word of mouth / what your customers have to say about you.

Pro tips:

Go as far as you can for them "You said this to me, would you mind…"

Enable them to deliver the message you want them to deliver
It's about growing your sales force.

Your customers often hang around with more people like them that may buy from someone like you.

Referral programs

Affiliate

VAR / Partner programs
Common objections
Our customers don't hang out with other customers… it's a lie.

We can't incentivize our customers (for whatever reason)... okay, but what can you do? What would make it valuable for them?

If it's not money, can it be exclusive events or experiences? Lunch & learns? What else?
Books/Resources:
Next Steps:
Get your tickets to IMPACT Live 2017 to meet Mike Volpe, David Meerman Scott, Bob, Nick, and dozens of other experts in-person this August! We're almost sold out! Don't wait!
We would love your comments! Feel free to send us an email or comment on the Facebook thread.
If you really liked it, please give us a 5-star review on iTunes. Review offer: We have a special price for the first 10 people to leave us reviews on iTunes (hopefully 5-stars). After you do, send us an email at show@impactplus.com so we know it's all set.
Join Us Next Week! Topic: Getting People to Know You Exist
We'll be back again next Thursday, July 27th at 1:00 PM ET. Want to get reminded? Drop us your name and email address below and we'll make sure you're notified before the broadcast every Thursday!
Free Assessment:
How does your inbound marketing measure up?
Take this free, 5-minute assessment and learn what you can start doing today to boost traffic, leads, and sales.
Get Started
Free Assessment:
How does your inbound marketing measure up?
Take this free, 5-minute assessment and learn what you can start doing today to boost traffic, leads, and sales.
Published on July 21, 2017