What is Amazon Spark (& How Can Marketers Use it?)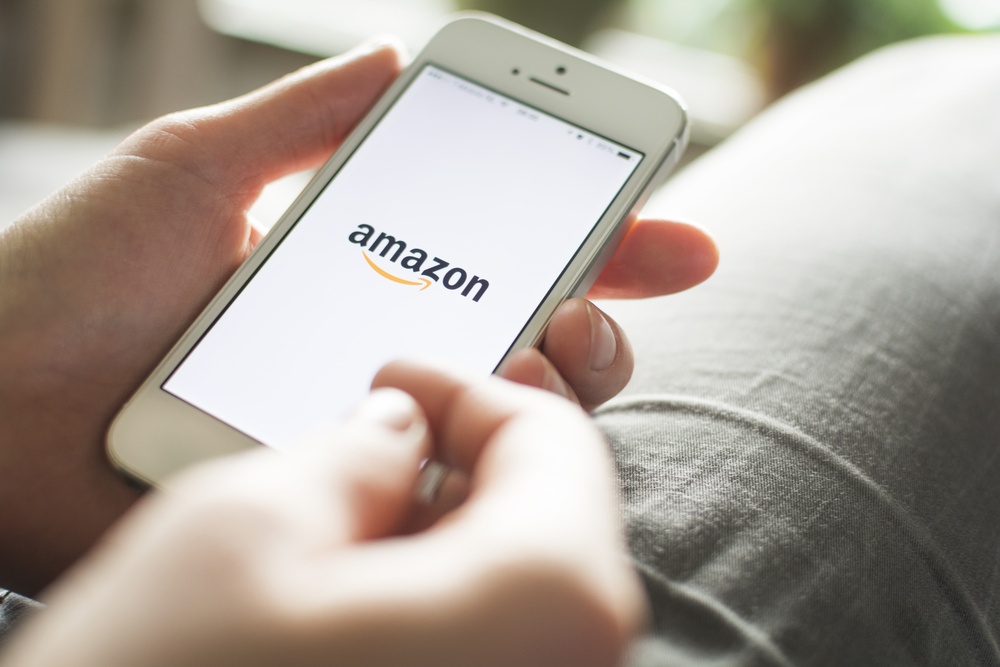 Amazon Spark was released earlier this month putting the online giant into yet another digital space -- social networking. Only available on Amazon's mobile app, Spark is a place for users to share photos of different products they've tried or are selling via the Amazon Marketplace, and explore suggestions.
Join the IMPACT coaches for a deep dive on a new topic every month in our free virtual event series.
According to a report by Consumer Intelligence Research Partners at the end of March Amazon had at least 80 million people subscribed to Prime in the U.S. alone, with 300 million users total as of February.
While this isn't as much as Instagram or Facebook, it's not that far behind for a new player in social media.
Why Should I Care About Amazon Spark?
Between food and alcohol delivery, video streaming, e-reading, and clothing, Amazon has already proven it's serious about being a game changer in many industries. If the next one is social media with Spark, as a marketer, you'll want to sit up and pay attention.
As mentioned above, in Spark, Prime users can post images of products (they're trying, selling, or curious about), then friends can share their thoughts and views about the item, or even buy it directly on Amazon. They can also explore new products based on interests they identify when first setting up (similar to how Twitter will suggest accounts to follow when you first sign up).
This allows users to crowdsource feedback on new purchases and share their opinions.
With 92% of people believing reviews from their friends or colleagues over brands, this activity is extremely valuable. Plus, this enables people to develop an influential voice around their interests or areas of expertise through reviews.
Even if you personally don't end up using the platform, others undoubtedly will, which means you need to know and understand it.
How to Use Amazon Spark
To set yourself up on Amazon Spark, open up your Amazon App and click on the left hand menu.
Once the menu opens select "Programs and Features" and then "Amazon Spark."
You'll then be walked through a set-up process similar to other Social Networking sites like Pinterest, where you select topics that interest you. You're required to choose at least five but can select as many as you'd like.
From there you edit your name, add a profile photo, and then start exploring!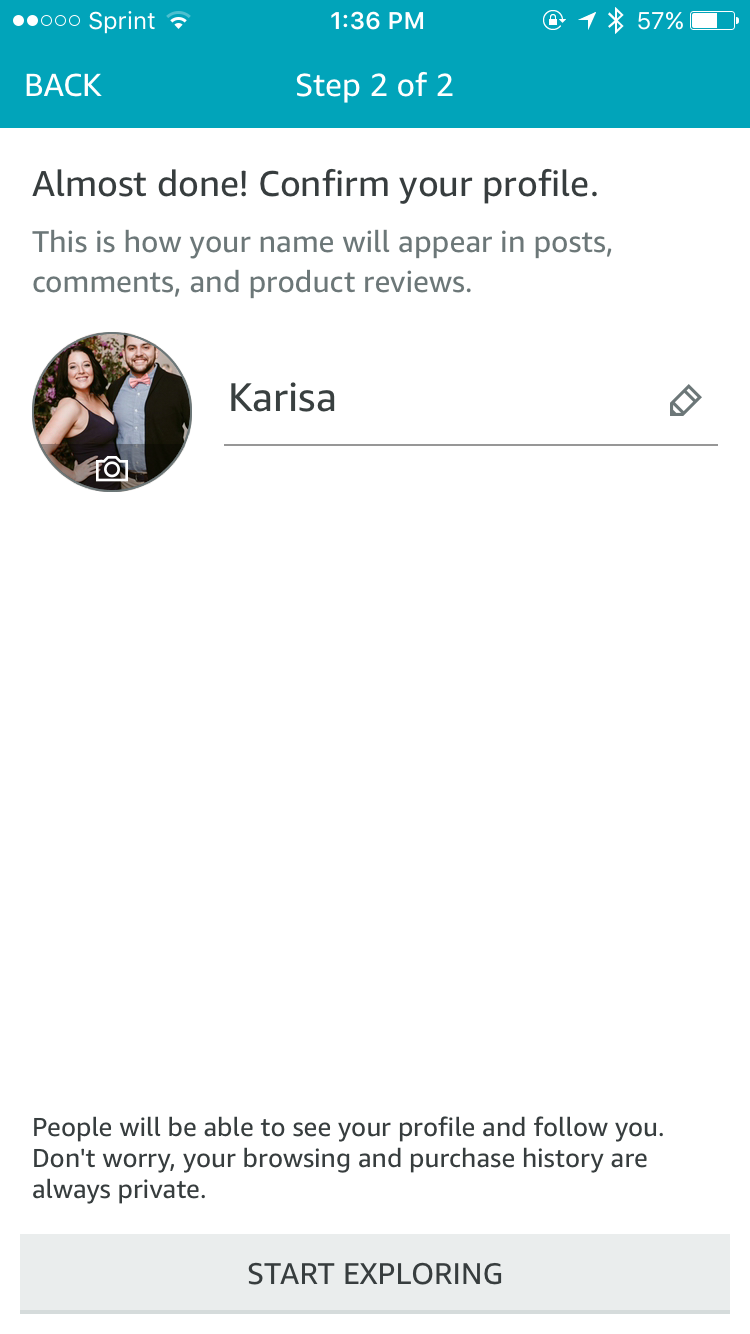 You'll see a stream of users sharing photos of a product with their thoughts or ideas about it within the caption.
The stream feels like a mix of Instagram and the product reviews section of Amazon and is built off the interests you selected during the setup process rather than those you choose to follow like Facebook or Instagram. It also makes use of hashtags.
If you like something someone in your stream has posted you "Smile" at the post, which saves it in your account activity. This way you can look at the products you've previously liked, much like saving something to your Amazon Cart.
One catch - if you don't pay for a Prime subscription you're unable to like or comment on anything, but you can look as much as you'd like.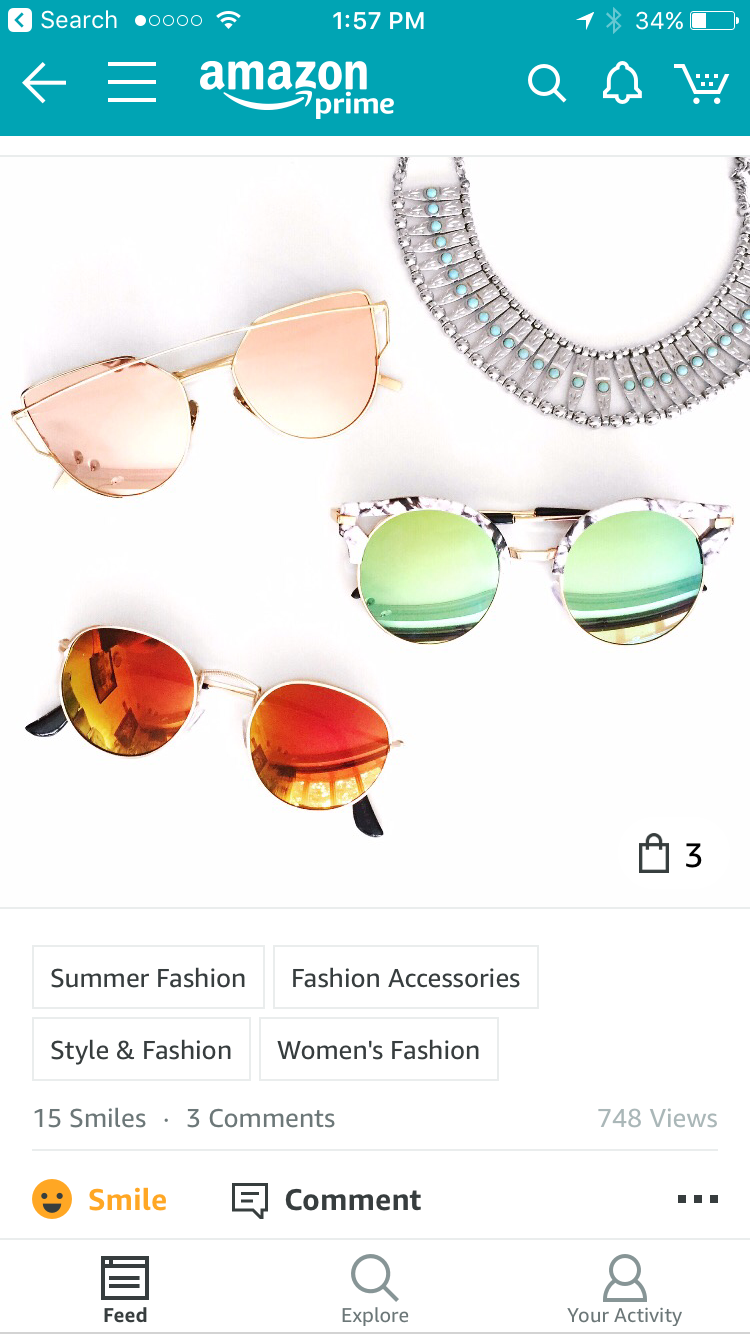 How Can I Use Amazon for My Business?
If you're an eCommerce or B2C business then Amazon Spark can become one of your best friends. As long as you have Prime, you'll be able to use Spark to post about your product and link directly to the Amazon purchasing page so people can take action immediately.
When creating posts it's important to choose high-quality, eye-catching, and flattering images that show your product at it's best.
Just like on your website, stay away from stock photos of a product similar to yours because those clicking your posts may be thrown off as to why the actual product is different from the original post.
By using original photographs, you're able to set realistic expectations for your product and what it will actually offer to the buyer, which helps build trust.
You'll also be able to see reviews and images from others actually using your product.
Look at these reviews with an open mind! Make sure you thank users who leave good reviews and reach out to those who leave poor reviews to see what could been done better.
For those that leave good reviews or ideas use those to improve not only your product, but also its messaging. It they say it solves a certain pain point for them, for example, that may be a key point you need to add to your product page. Let other potential buyers know that your product will be able to solve XYZ to help make their life easier.
But What About B2B Marketing on Amazon Spark?
To be quite honest, this social network most likely won't directly benefit your B2B service or SaaS company, but that doesn't mean it can't be useful.
B2B marketers can use Spark to find influencers in areas related to their field.
Find users who are getting a lot engagment through "smiles" and comments on their posts. Reach out to them via Spark and let them know you'd like to feature them in one of your blog posts, get their feedback, or ask if you could feature one of your posts on their blog.
Spark is also a great way to complete research on products in your space. See what others are looking for, asking questions about, what their needs are, and if those needs may need a new solution.
It also gives you a new way to study buying patterns. Do people make more impulsive purchases when it's so easy to connect? If someone likes something are they more likely to buy it? While this information won't be readily available, Amazon will surely do reports on how users are interacting with Spark and how it affects their buying patterns.
Spark of Genius?
With Amazon now having a spot in the social networking space it'll be interesting to see where they end up. Will they shoot to the top and be major competition with Pinterest and Instagram or will it be a flop like Google+? Do you think it could be valuable to B2B marketers in a way we didn't suggest? Let us know in the comments!
Join the IMPACT coaches for a deep dive on a new topic every month in our free virtual event series.
Register Here
Join the IMPACT coaches for a deep dive on a new topic every month in our free virtual event series.
Published on August 1, 2017