"Influencer Marketing:" The IMPACT Show Ep.9 [Show Notes]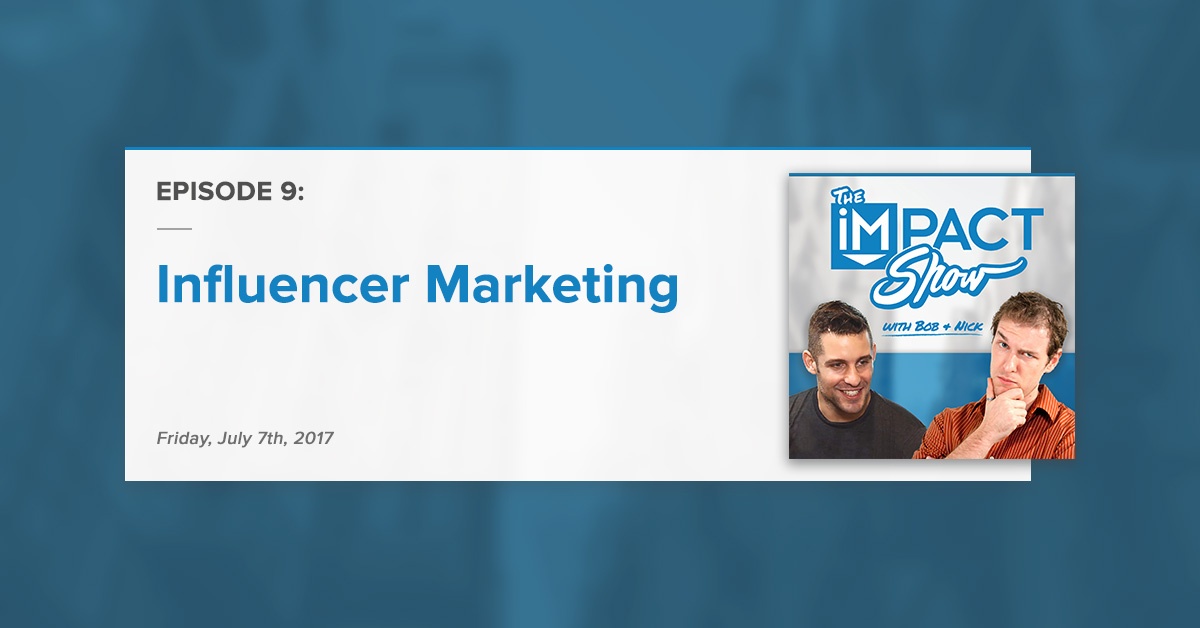 What do the movers and shakers in your industry have to say about your brand?
This week, Bob and Nick took to Facebook Live to discuss influencer marketing and the role it can play in the growth of your organization, as well as exciting updates regarding what's happening at IMPACT, "creepy" Facebook ads, Google's fines in the EU, and and what you should know about IMPACT Live 2017.
Just in case you missed us live (or if you want to relive the magic), you'll find the episode's show notes below as well as the recording.
Enjoy and make sure to share with your peers!
Like what you saw? Make sure to subscribe on iTunes and give us a review.
Have feedback or questions? We'd love to hear it. Comment on this blog or email us at show@impactplus.com
A two-day event in Hartford, CT on August 1-2nd, 2017.

An intimate group of experienced, dedicated marketing and sales leaders.

NEW LOWER PRICING:

We want you to go and, we don't want pricing to be the hurdle stopping you so now you can get your general admission ticket for just $999 or VIP access for $1399.

Speakers include Marcus Sheridan, Tara Robertson, Mike Volpe, Mark Roberge, George B Thomas, Paul Roetzer, and more.
Exciting Updates:
IMPACT joined forces with Quintain Marketing, a Platinum HubSpot Partner. Learn more about it here.
We're always asked about books that have helped us and our agency grow. So, we published a post outlining 43 marketing books you should read -- consisting of marketing and business.

Phase 2 of The IMPACT Show is under way! We're not going to announce what those changes are, but in the next couple of episodes, we'll be trying different things that will allow us to continue expanding our reach.
Facebook Ads Are Getting Even Creepier
Marketers can now target entire households.

The idea behind this is that members of a household could provide information and be influential regarding purchase decisions; discuss things at dinner, etc.
Could be great for gift recommendations. (Facebook knows who your mom is > when her birthday is > what she likes > here is an ad for it.)

Currently available in the U.S.
Can opt out of household based ads by removing yourself within Facebook's ad preferences (Settings > Privacy > Advertising).
EU Fines Google a Record $2.7 Billion
Last week, the European Union slapped Google with a record $2.7 billion fine due to an antitrust violation -- stating that Google favored their own digital services in search results.
When you dominate search like that, you need to be fair to those individuals that pop up in search results.
As marketers, we need to keep in mind that Europe does business differently -- particularly data and marketing.
Keep this in mind...

When conducting buyer persona interviews with companies and individuals in Europe.
If you have a website in Europe or Europeans visit your website, you need to post a message on your site about cookies.
Retrospective
How do you prep your leadership team for a buyer persona interview style type meeting?

We recently revamped the style of our all-hands/leadership team meetings based on what Bob experienced during a HubSpot leadership team meeting he was invited to.

We invite a customer in and allow the leadership team to ask questions that

dig deeper into how the company can be better and whether they're continuing to be customer centric.

In terms of prepping the team for this meeting, it wasn't that hard, while it's not a core value, everyone at the company is very curious and inquisitive. I did prep them by telling them who was joining the meeting and asking them to think about questions you'd want to know, how we could solve some of our problems, grow our business, what services could we offer someone like you, how could we improve an event to make it more worthwhile for you, etc.
Also, our goal is to learn more about our guest -- their problems and what we could to help them succeed.
Main Topic: "Influencer Marketing"
If you're just starting out with inbound marketing, you might realize you have low brand awareness, no following, and you're having a hard time growing your brand and its reach.

In order for you to effectively generate an audience and capture leads and customers, you need people to read the content you're producing.

Influencer marketing is the quickest route to success.

Influencer marketing is finding where the audience you're trying to attract already hangings out and being able to leverage that channel in the form of a partnership in some way that you have access to that community where they're aware that you exist.

How should you approach an influencer you want to build a relationship with?

The first step is consuming their content -- reading their book or content, watch their content, follow them on social media. In order to be interesting to them, you need to be interested in that individual or brand.

What can you put in front of them that will be worth their time?

These people care about their audience and they want to deliver value to them.

Reach out to them in person -- approach them at industry conferences and events.
Don't start too high when reaching out to larger influencers. Start small with your inner circle of influence -- employees, family and friends, your best customers, and even vendors.

Also, focus on building a network of micro-influencers.

Make sure that you have something your audience and influencers will want to share.
How we've made relationships with influencers:

David Meerman Scott: We initially met at INBOUND. We knew of him for years and we approached him at a book signing and we started talking, which eventually led to areas where we can help each other.
When we first started with HubSpot, we created an infographic regarding, "What is Inbound Marketing?" and since we had relationships with members of HubSpot's marketing and sales team, they added the infographic to their blog and it ended up giving us a ton of awareness. We even got our first 5 inbound clients from that infographic.
Books/Resources:
Next Steps:
Get your tickets to IMPACT Live 2017 to meet David Meerman Scott, Mark Roberge, Marcus Sheridan, and dozens of other experts in-person this August!
We would love your comments! Feel free to send us an email or comment on the facebook thread.
If you really liked it, please give us a 5-star review on iTunes. Review offer: We have a special price for the first 10 people to leave us reviews on iTunes (hopefully 5-stars). After you do, send us an email at show@impactplus.com so we know it's all set.
Join Us Next Week! Topic:

The Content Marketing Playbook for Success
We'll be back again next Thursday, July 13th at 1:00 PM ET. Want to get reminded? Drop us your name and email address below and we'll make sure you're notified before the broadcast every Thursday!
Free Assessment:
How does your inbound marketing measure up?
Take this free, 5-minute assessment and learn what you can start doing today to boost traffic, leads, and sales.
Get Started
Free Assessment:
How does your inbound marketing measure up?
Take this free, 5-minute assessment and learn what you can start doing today to boost traffic, leads, and sales.
Published on July 7, 2017