Content Creation Bootcamp: Who should really be attending?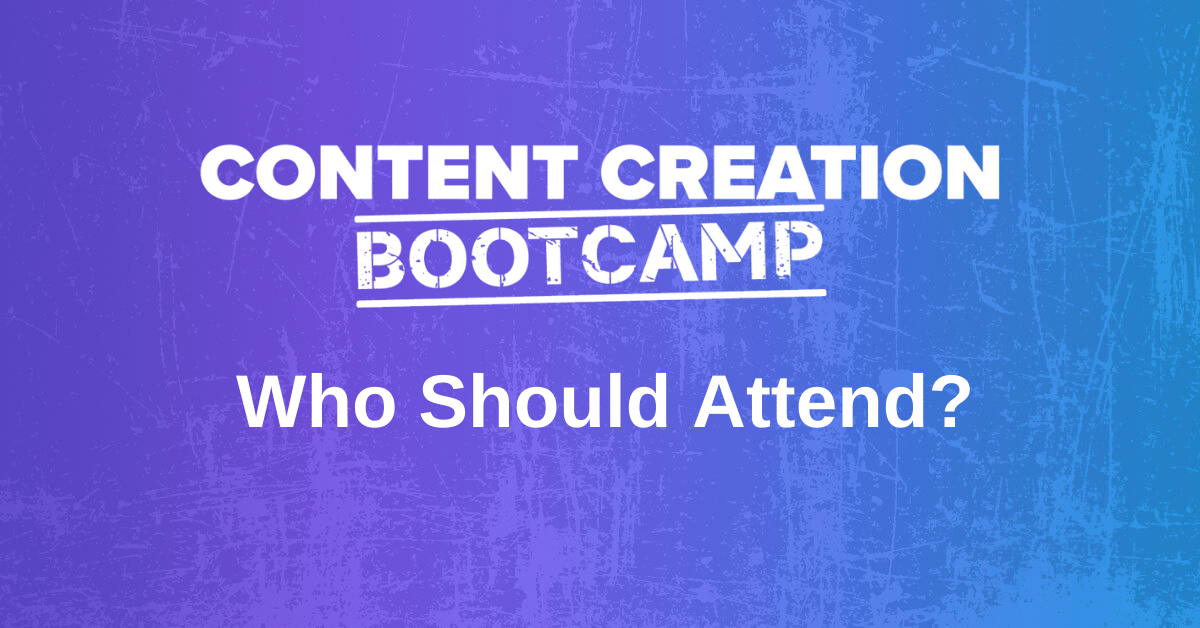 Creating content is hard.
There's no way to sugarcoat it.
Whether you are just now considering creating content or you have been trying it for years, it can feel impossible to maintain long term.
There are a lot of factors that can lead to this too. Your team may not be bought in on the strategy. You could be generating the wrong content that isn't driving results, or perhaps there's never actually been a strategy for your content at all.
No matter which one it is, they all present a daunting task for creating content — but you still believe in it and you should.
You believe that creating content will bring people to your website, get them hooked on working with you, and make them a customer.
Companies who are embracing creating content are seeing stunning results.
All the potential to create great content is right in front of you and you need tactical training to make it happen.
Introducing Content Creation Bootcamp
Content Creation Bootcamp on November 10th is a full day of training that will help you discover the topics your customers want to read about, identify the keywords your ideal customers are using, and provide you with the tools, strategies, and techniques to get your whole company behind it.
A ticket to Content Creation Bootcamp will start at $299. Now I know that sounds a bit steep, however, think about what you get when you go to other conferences or webinars. You get high-level discussions that are designed to capture as many people as possible, lack tactical advice, and often feel too broad to actually be applied to your specific situation.
Instead, Content Creation Bootcamp is a focused, specialized, and tactical day full of content creation strategies that are guaranteed to bring you results.
(Super secret code: Use CONNOR at checkout and get your tickets for just $250)
With skilled instructors and industry-leading thought leaders, this bootcamp is built to drive value and success. Sounds amazing, right? I agree, however, this bootcamp is not designed for everyone.
Who should attend Content Creation Bootcamp?
If you have a strategy in place that is successfully delivering traffic, leads, and sales for your company, this bootcamp is not for you.
If you are looking for someone to do the content for you or would prefer to outsource your content, this bootcamp is not for you.
Assuming that neither of these is the case, should you attend?
Pay particular attention to the upcoming headers. If you read them and say "Yes, that is me to a tee," then you should seriously consider attending Content Creation Bootcamp.
"I'm new to creating content."
You are new to the inbound methodology or you have heard of it and understand that creating content is at the core of a successful inbound strategy. Everyone says that creating inbound content works and that if you aren't doing it, you need to get started right now.
While excitement is high, that first step can feel more like a blind leap than a calculated approach. Even more frightening, creating content might be something that got tossed in your lap with the message, "Figure it out."
If this is you, then you need a strategy for discovering the topics you need to write about, a process for generating that content, and a plan for maintaining a steady flow of content long term.
In Marcus Sheridan's opening workshop at Content Creation Bootcamp, he will show you why the methodology shared in They Ask, You Answer should be at the core of your content strategy and why becoming the most trusted voice in your space is required in order to find success in your content efforts.
On top of that, Marcus is going to lead a guided brainstorm on using The Big 5 to discover the questions your customers need answered in your content so you always have something to be writing about.
"I'm creating some content but haven't gone all-in."
Creating content has never been you or your company's priority. It's always been an "if we have time" sort of activity, which is the same as saying "I'm always busy so this can wait."
Or, perhaps, you really want to be creating more content but are running up against a team that doesn't see the same vision you do for your content strategy.
Unfortunately, when you don't get your team bought in on content (especially your sales team), your company's once steady flow of leads will dry up and suddenly they're all looking at you to change that.
If this is you, it means that now's the time to get everyone bought-in on the content strategy your company needs so you can generate real results.
In Maximizing Your Subject Matter Experts To Drive Your Content Strategy, IMPACT's Kevin Phillips and John Becker are going to share how to get buy-in at your organization and best practices for working with your company's subject matter experts.
In order to get your team bought in, you will have to start with getting your subject matter experts on board. Your subject matter experts can come from all different parts of your organization, especially your sales team. Once you start working directly with them and are seeing the results that your content is bringing, they will not only be bought in, they will be asking for more!
"I have a content strategy in place but am not getting results."
You may have read books like They Ask, You Answer or done your research on how to create great inbound content, but what is said in the books and the research just don't seem to be delivering in the real world.
Your boss is demanding results for the investment they are making in content creation.
This is frustrating and there is a lingering doubt whether or not this whole writing content thing is actually worth the time and effort you are putting into it.
Without the right content being created, these same results are going to continue happening.
If this is you, you need to find the gaps in your keyword research and ensure each of our articles has one goal in mind: educate and build trust with your customers so they have no doubt you are the right choice for them.
Our friends at SEMrush will take a deep dive into the value of keyword analytics and how you can find the exact questions and phrases your customers are searching to fuel your content strategy.
After this session, you'll have a refined approach to your keyword strategy so that you can guarantee your content gets in front of the right customers every time they search.
Couple that with Liz Moorehead's Content Compass, a tool that is guaranteed to make every one of your articles drive results, and you will have a match made in heaven: a content strategy that will generate more impactful, inspired, and revenue-driving content.
No matter what situation you are in, the solution is creating great content
It doesn't matter which of these situations you are currently in. What matters is that you keep your eyes on the prize and create great content that your customers will care about and benefit from.
In order for your company to succeed, you need an effective content strategy paired with strong data, a bought-in team, and a process for making it happen.
It's time to end the fear and frustration that has come with trying to create content in the past. You've believed that creating content will bring people to your website, get them hooked on working with you, and make them a customer. Now it's time to make it a reality.
Attending Content Creation Bootcamp is going to give you the proven strategies, tools, and techniques we've used at IMPACT for both ourselves and our clients that you need in order to be successful with your content creation and to drive results for your organization.
Let's start creating game-changing content!
Free Assessment:
How does your sales & marketing measure up?
Take this free, 5-minute assessment and learn what you can start doing today to boost traffic, leads, and sales.