11 Books Every Black Sales and Marketing Professional Should Read in 2022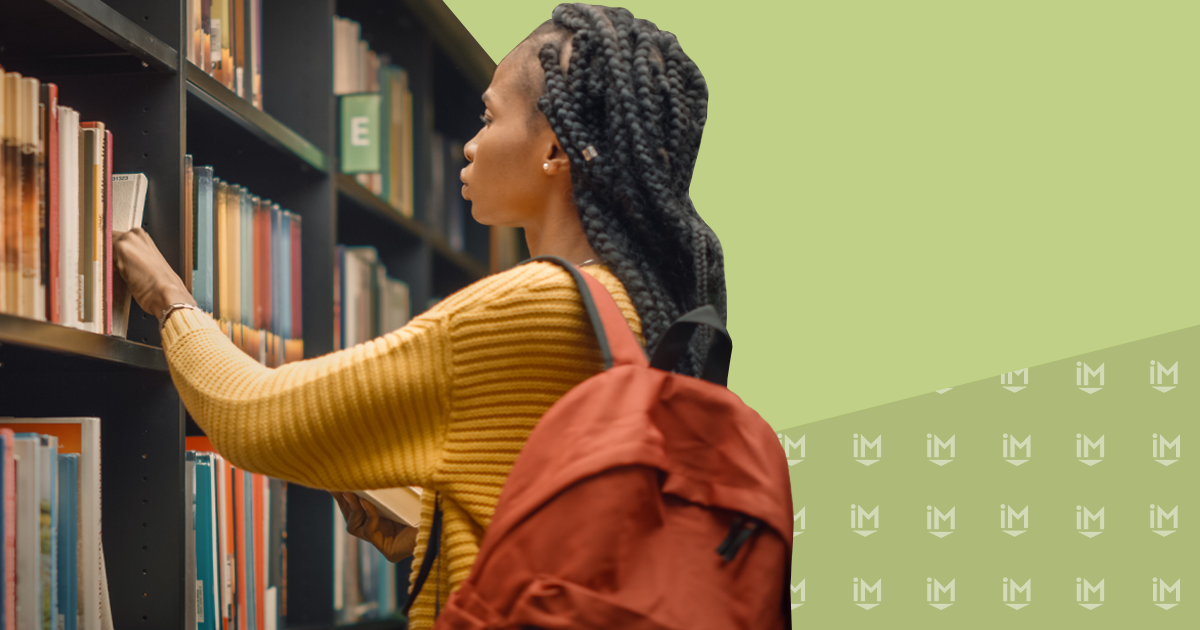 11 books every Black sales and marketing professional should read in 2022
Gap Selling by Keenan
They Ask, You Answer by Marcus Sheridan
The Advantage by Patrick Lencioni
Building a StoryBrand by Donald Miller
The Wealth Choice: Success Secrets of Black Millionaires by Dennis Kimbro
The Visual Sale by Marcus Sheridan and Tyler Lessard
Measure What Matters by John Doerr
Never Lose a Customer Again by Joey Coleman
Year of Yes by Shonda Rhimes
StrengthsFinder 2.0 by Tom Rath
Dotcom Secrets by Russell Brunson
Like most of my teammates at IMPACT, I'm an avid reader. In fact, reading is one of my favorite ways to expand my knowledge and grow professionally and personally.
This kind of growth is especially important to me working in an industry where Black men and women are immensely underrepresented.
Last year, a report by ANA and ANA's Alliance for Inclusive and Multicultural Marketing (AIMM) found that only 6.6% of marketing and sales professionals identify as Black (with nearly 70% identifying as White).
This number is actually up from the year prior, but there is still a huge opportunity for members of the Black community to grow and have an even larger presence in the industry.
With that in mind, I wanted to share 11 books every Black sales and marketing professional or entrepreneur should read.
For each title, I will:
Summarize what the book will teach you.

Share why you should read it.

Share a link to where to get a copy.
Let's get started.
First off is a title my IMPACT teammates rave about.
Gap Selling by Keenan shares a game-changing approach to selling that shreds traditional misperceptions about sales such as price being the main reason you lose deals and people only buy from people they like.
In his signature bold and unapologetic style made popular in his LinkedIn videos, Keenan breaks down these old sales myths and reveals a powerful new way to connect with buyers.
Keenan believes success at sales requires more than a set of tactics. He argues that salespeople need to understand how sales works and what the buyer is going through emotionally as they make the decision to buy or not to buy.
Only then can you have immense influence at every stage of the buying process and shorten your sales cycles, increase revenue, elevate deal values, and so much more.
When you read Gap Selling, you will learn:
How to understand your buyer's current state or problem.

How to discover your buyer's desired end state.

How your product or service is the bridge to get them from A to B.
Now, I know what you're thinking — of course, IMPACT is going to recommend They Ask, You Answer. Their partner wrote it. But honestly, even after reading dozens of other renowned marketing and sales books, I'd still say They Ask, You Answer is a must if you want to separate your organization from the competition.
The way people buy has fundamentally changed. Pre-internet days, sellers had all the informational power. If people wanted to know about options, product features, and more, they had to walk into a store or pick up a phone to connect with a salesperson.
With search engines like Google, it's never been easier for consumers to find the information they want all on their own.
They Ask, You Answer shows how businesses — Black-owned or otherwise — can transform their marketing strategy by obsessing over the questions, concerns, and problems that their customers have and, in doing so, get found in search engines.
You'll learn:
Why answering your buyer's questions no matter how uncomfortable it might be (specifically

The Big 5

) can drive bigger revenue gains.

Why it's so important to address these things honestly and completely to build trust.

How to always be unbiased in your writing.

How to use assignment selling to create more educated and qualified customers and disqualify bad-fit prospects.
They Ask, You Answer is different from traditional marketing books because of how actionable it is. Most books on inbound marketing present a lot of theory without concrete steps on what to do after reading them.
They Ask, You Answer lays out a clear plan for implementing the methodology in your business over the next 12 months so you can start making moves right away.
Great businesses look for a competitive advantage — that special something that will put them ahead of the competition. Great Black-owned businesses should be no different.
In his book The Advantage, Patrick Lencioni argues that the most powerful competitive advantage isn't a superior strategy, constant innovation, or smarter employees, but how healthy an organization is.
"An organization is healthy when it's whole, consistent and complete, when its management, operations, strategy, and culture fit together and make sense," he writes — and healthy organizations will outperform their non-healthy competitors all day, every day.
This is because a healthy organization is generally free of politics and runs on clear communication throughout all levels of the business. This allows the business and the people within it to operate at their fullest potential.
By reading The Advantage you'll learn:
Why organizational health is a crucial factor in the success of a business.

How to create a healthy organization using The Four Disciplines model (Building a cohesive team, creating clarity, over-communication of clarity, and reinforcing clarity).

The steps you can take to bring The Four Disciplines to life to achieve organizational health.
While this book is traditionally seen as something that an executive team would read, I would argue that every department of an organization should read and implement the steps it outlines.
This will give Black professionals and those of all backgrounds some insight into how to look at their company as a whole, rather than just their specific role.
If you're a marketer, you're likely not doing this work by yourself. You probably work with a team of other marketers. Therefore, you and your team would greatly benefit from reading this book together and figuring out how to become the most healthy marketing team around.
Check out this book if you want to find your competitive advantage!
With all of the content being uploaded and published to the internet every day, it is becoming increasingly more difficult to get your message to stand out and be understood by your audience.
Building a StoryBrand by Donald Miller offers a way to help you clarify your message, connect with your audience through storytelling, and turn eyeballs into customers.
The StoryBrand Framework uses the seven universal elements of storytelling to help business leaders and marketers clearly communicate to their customers about the products and services they offer. This way, they can help each customer understand how certain products and services can help solve their problems so they can achieve their goals.
This book gives you a powerful framework for how to create consistent messaging for your products and services that can be used across all your communications channels.
From your website to emails to social media posts, having clear and consistent messaging about your products and services and how they benefit your audience will establish trust and reliability.
Overall, by reading Building a StoryBrand you'll learn:
The seven universal elements of storytelling that all humans are wired to be drawn to.

The reasons why customers buy.

How to clarify your message so that your audience resonates with it and wants to do business with you.
Note: I also highly recommend reading Miller's Marketing Made Simple to learn how to practically apply and implement everything you learn in Building a StoryBrand.
Want to learn from the success of other accomplished Black professionals?
In this book, author Dennis Kimbro examines the habits and actions of some of the wealthiest Black millionaires who have made it big over the past 10 years (including Spike Lee, Steve Harvey, and Herman Cain), and describes how others can follow in their footsteps.
Through these stories, Dennis Kimbro teaches you how to:
Develop a wealth-generating mindset.

Commit to lifelong learning.

Craft goals that match your passion.

Make short-term sacrifices for long-term gain.

Take calculated risks when opportunity presents itself.
6. The Visual Sale by Marcus Sheridan and Tyler Lessard
As more and more people prefer to consume content in the form of video, this book is a must-read for Black marketing and sales professionals to understand how to harness the power of video in their organizations.
In 2020 the COVID-19 pandemic forever changed the way we do business. Many companies were forced to digitize their businesses or face extinction. Sales teams that were used to selling in person had to quickly learn how to sell virtually.
The Visual Sale is the step-by-step handbook to help businesses do this. In it, Marcus Sheridan and Vidyard's Tyler Lessard show you how to use video holistically in your business across all the different stages of the sales funnel.
From attracting new eyeballs to helping customers decide on which solutions will meet their needs to meeting follow-up, video content will help you improve communication and build stronger human connections.
By reading The Visual Sale you'll learn:
How to use video to engage your audience, increase sales, and keep your business relevant in an increasingly virtual world.

The 4 Es of video (the key characteristics that every video needs to attract, convert, and retain your audience and customers).

The videos to create ASAP that will have an immediate impact on your sales and closing rates (also known as

The Selling 7

).
Measure What Matters made it on my list because a big part of being a great marketer is being able to set and achieve goals. This book walks readers through the system that helped Intel, Google, and even music legends U2 reach massive success.
Measure What Matters is written by venture capitalist John Doerr. In 1999, Doerr invested $12.5 million in Google and helped founders Larry Page and Sergey Brin focus their resources and efforts so they could stay on track and achieve their massive goals.
Doerr taught Page and Brin how to implement the objectives and key results (OKR) goal-setting system. This system helps you map out how you will achieve your objectives by making them specific, measurable, and time-bound.
Now, there are plenty of books on the market about goal setting, but what makes Measure What Matters different is that it lays out how this system has worked for very different organizations and goals.
As a Black marketing and sales professional, you may have some unique and exciting goals that other popular goal-setting systems may not seem like the best fit for. The OKR system is a versatile and proven technique that may just be the perfect match.
By reading this book you'll learn:
How Google, Bill Gates, and Bono used OKRs to accomplish their goals.

How to create OKRs for your organization.

How to measure and assess your OKRs.
As marketers and sales professionals, it's critical that we understand our customer's entire journey so that we can deliver the greatest experience at each stage.
While we may not be directly responsible for the service experience people receive after becoming our customers, we can play a part in creating content for the sales and services teams that create a delightful customer experience.
In Never Lose a Customer Again, Joey Coleman discusses the importance of the first 100 days of a customer's relationship with your business. In those first 100 days, customers experience a wide range of emotions, from excitement to anxiousness to wondering if they've just made the biggest mistake of their lives.
If businesses fail to understand and address those clients' needs and emotions when they arise, the chance of that customer making another purchase drops by 20-70%.
To combat this, Coleman offers a blueprint for businesses to increase customer retention, thereby increasing revenue.
According to Coleman, the key to customer retention and loyalty is meeting the customer's emotional needs across eight different phases over the customer's first 100 days after purchase using a combination of touchpoints (email, video, gifts, etc.) designed to deliver an unforgettable customer experience.
Everyone talks about acquiring a customer, but we often forget that the easiest person to sell to is an already happy customer. Never Lose a Customer Again is different because it takes the guesswork out of designing a customer experience that will encourage life-long loyalty.
By reading this book you'll learn:
How customers decide whether or not to purchase from a business again after the first 100 days.

The eight phases that all customers go through after purchasing a product or service regardless of industry.

How to design your customer's first 100 days to keep buyer's remorse away and turn customers into raving fans.
While Rhimes isn't a businesswoman in the traditional sense, this television producer, screenwriter, and author (best known for her hit series "Grey's Anatomy" and "Scandal") has seen immense success across many areas of the entertainment industry. She's also experienced a great deal of inspirational personal growth along the way.
In her memoir Year of Yes and her popular TED Talk "My Year of Saying Yes to Everything," Rhimes shares her journey from being a shy, nervous introvert who would constantly turn down opportunities to becoming a confident speaker and connector who began saying "yes" to anything that came her way.
Now, I can't specify what you'll personally get out of this book, as Year of Yes is learning through Rhimes' life experience. (This is also what makes this book different.) However, Rhimes's story is motivational for anyone looking to get out of their shell and out into the world, especially Black professionals.
Strengths Finder 2.0 is a unique recommendation on this list because it's part book, part assessment, but I believe that it is incredibly useful for anyone in business to read.
We spend the majority of our waking hours at work and yet research shows most people are unengaged and dissatisfied with the work that they do every day.
Author Tom Rath would argue that this is due to people being unable to do work that aligns with their natural strengths. If we want to do our best work and be our happiest, then we must know what our strengths are and how to capitalize on them.
In this book, Rath seeks to help people discover their hidden potential by discovering these natural strengths.
The first part of the book helps readers understand the importance of being engaged with the work that they do on a daily basis by utilizing their strengths.
Then, the second part is meant to be used as a reference guide that explains each of the 34 strengths in detail so that after taking the assessment, the reader can dive deeper into understanding what their strengths mean and how to best utilize them. (Note: The book includes a code to take the assessment.)
In StrengthsFinder 2.0, you'll learn:
Why the majority of the current workforce is unhappy and unengaged with their work.

How knowing your strengths can lead to more fulfilling work and greater satisfaction.

What your top 5 strengths are and how to maximize them so that you can live to your fullest potential.
Last but not least we have Dotcom Secrets. With every day that passes, and every new advancement in technology and the internet, more and more businesses are moving online. Even businesses that most people would consider to be brick and mortar are having to change their business model to figure out how to serve their customers in this digital world.
If you're one of them, look no further. Dotcom Secrets is essentially a handbook for internet marketing.
Most businesses have misdiagnosed the reason why they're not generating more sales on their websites. They believe that they have a traffic, lead, or conversion problem, when in reality, the issue that these businesses have is a funnel problem.
Your "funnel" is the process that people go through with your business in order to become customers. If you want more customers, sales, and revenue, then you need to create an online funnel that hooks people, gives them a reason to engage with you, and easily allows them to become a customer. This book will show you how to do just that.
Dotcom Secrets is different because every tip, trick, and hack in the book is exactly what the author used (and continues to use) to create a $100 million business.
Everything in this book has been tested and proven by the author and the thousands of businesses that he's helped. Dotcom Secrets will teach you everything you need to know about creating funnels that will help your business grow and thrive online.
In Dotcom Secrets, you'll learn:
How to assess whether your funnel is broken and what you need to do today to fix it.

How to attract your dream customers and repel bad fits.

How to "stack" your funnels to increase the amount of revenue generated from each customer at every sale.
Grow your career and business
Knowledge is power and with these 11 books in hand, whether you're a member of the Black community or not, you will be well-equipped to not only grow your career in sales and marketing, but your business as well.
Want to learn even more about how to grow your business through inbound marketing? Get your free copy of our guide, "The Ultimate Inbound Marketing Strategy Playbook 2022," to dive into the seven principles you need to embrace to drive unmatched results from your inbound marketing.
Free Assessment:
How does your sales & marketing measure up?
Take this free, 5-minute assessment and learn what you can start doing today to boost traffic, leads, and sales.