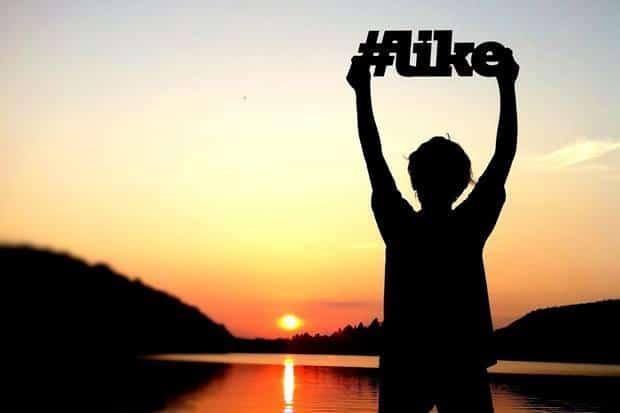 Facebook hashtags, are they just an additional stream your social media manager now needs to monitor?




It could be, but your company might also stumble upon the opportunity to insert yourself into your target audiences conversations.




According to a recent study, 71% of people on social media actually use hashtags.




Hashtags turn topics and phrases

Free Course: Fundamentals of Social Media Marketing

into clickable links in your posts on your personal timeline or page, helping people find posts about topics they're interested in.


Are you utilizing the benefits of hashtags?



The Unveiling of Facebook Hashtags
It's about time.
Facebook finally announced that they were rolling out hashtags.
This feature was long awaited by social media managers.
One of the many benefits of using hashtags is to follow your interests. Approximately, 34% of social media users use hashtags to follow categories and brands of personal interest.
According to a recent article by HubSpot, "this feature now allows brands to unify their promotions across social media networks, can help increase the discoverability of their content, and centralize engagement with certain content, promotions, events, etc."
Who wouldn't want to give users a broader scope of what's going on and what people are talking about? It's a great way to
Ways your brand can implement hashtags:
Add hashtag to cover photo
For now, #hashtags are only clickable to those on their desktop. In the future, Facebook will extend this feature to mobile users. Don't miss the opportunity to conduct competitive research and identify key influencers through hashtags developed from industry keywords and
8 Brands Actively Using Facebook Hashtags
Even though hashtags have not been rolled out to everyone, mainstream companies and brands are implementing hashtags throughout their social media marketing campaign for Facebook.
Upon scouring the social media giant, it didn't take me long to find these 8 incredible brands actively using hashtags.
You don't only have to use hashtags for industry keywords. It's a great way to promote an upcoming event.
It's highly likely that you've already been using the hashtag on Twitter. And now you can promote your event even more by utilizing that hashtag on Facebook. you're already developing other relevant content. Facebook's hashtags make it easier for you to unify your promotions.
HubSpot is a great example of brands implementing Facebook's hashtags into their existing campaign. The hashtag #INBOUND13 is a great way for HubSpot and their audience to engage and interact about their upcoming conference in August.
[display_fullsize]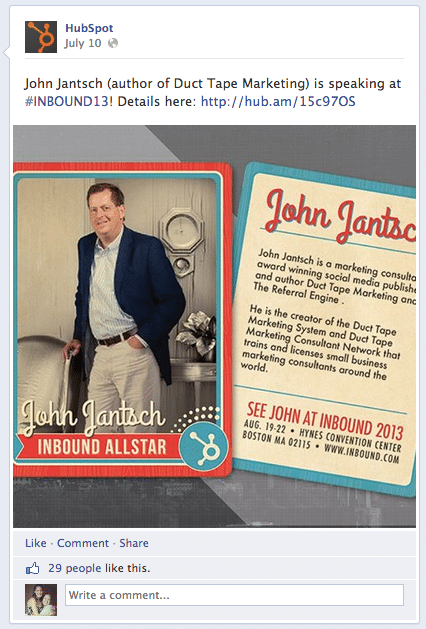 [/display_fullsize]

[display_mobile]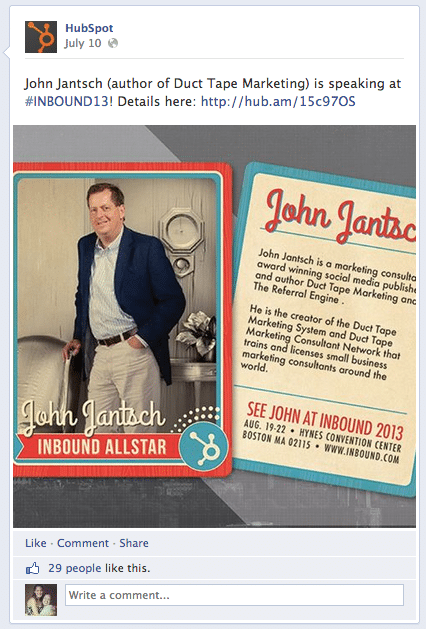 [/display_mobile]
Not only are they using the hashtag to get people to register, but they're using it to promote the wide range of speakers that will be attending the conference.
The best part is that, like Twitter, hashtags are a great way to join conversations with your fans and followers. In HubSpots case, people can tell HubSpot which speaker they're excited to see and how pumped they are to attend INBOUND.
You have probably seen their lastest campaign, #WINFROMWITHIN and one more, which have taken off like crazy.
Looking through the feed for the hashtag, you will immediately notice that the posts aren't just from Gatorade. Fans and followers are using the hashtag to ask questions and they're posting inspirational photos.
Gatorade has been able to develop this community among Gatorade users and fans.
[display_fullsize]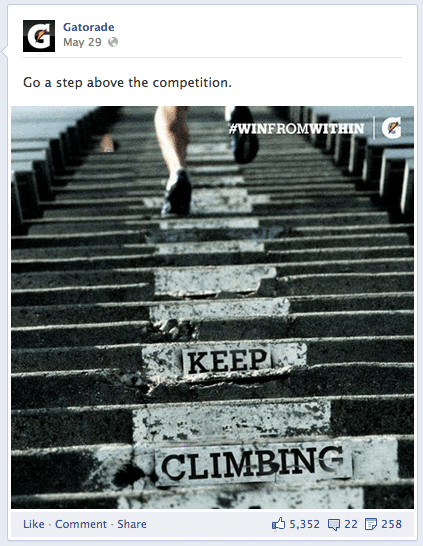 [/display_fullsize]

[display_mobile]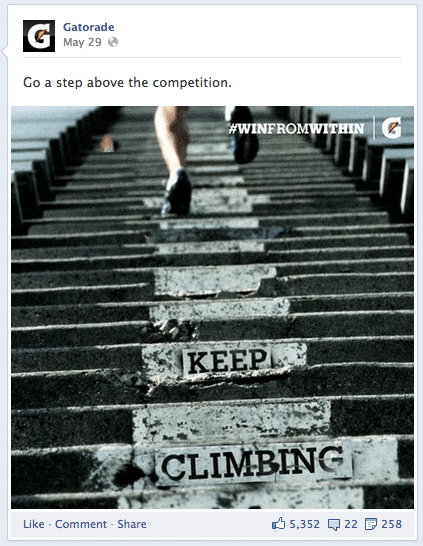 [/display_mobile]
Target
You know the retail giant by their slogan, "Expect More, Pay Less." But they are also on top of using Facebook's hashtags to promote their summer savings and getting ready for back to school.
Target teamed up with Chaos Comedy, an improv company based out of Los Angeles for Target's #bullseyeU a streaming dorm experience feature all of the hottest dorm trends for this up coming school year. Are you tuned in for their live stream?
[display_fullsize]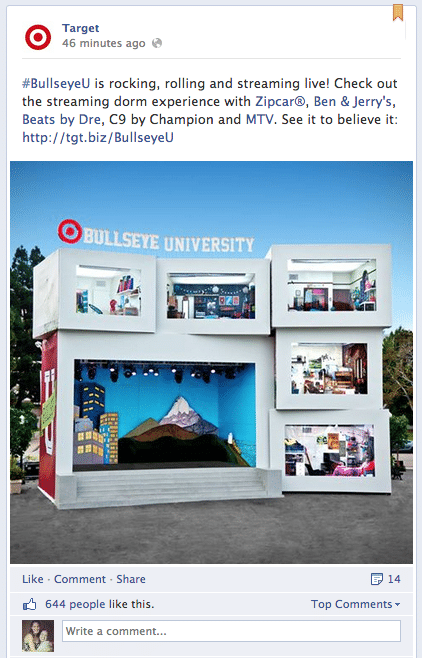 [/display_fullsize]

[display_mobile]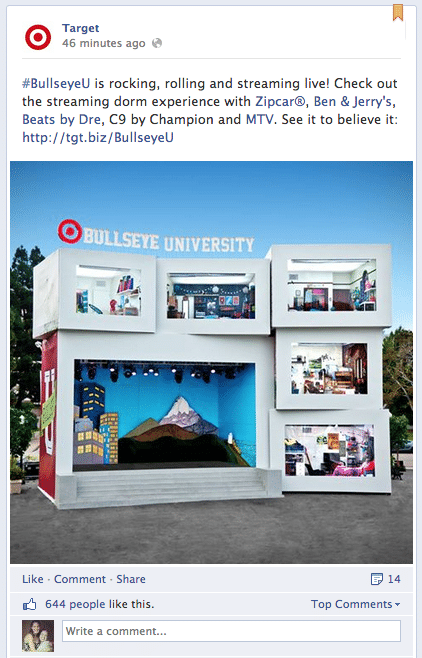 [/display_mobile]
Hashtags are a great way to promote a content. I absolutely love American Express' campaign #PassionProject.
Everyone is passionate about something. This is true about entrepreneurs and small business owners. American Express wants to know what you're passionate about and you might end up with a $2,000 American Express Rewards card.
When implementing a hashtag into your content, don't let the hashtag be a standalone strategy or tactic. The hashtag should be one element of your campaign to generate buzz.
[display_fullsize]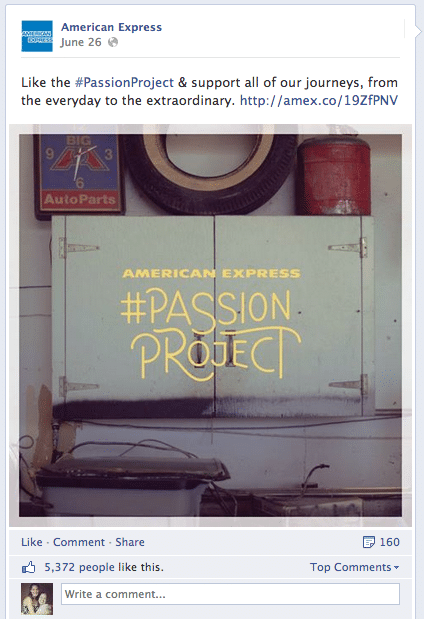 [/display_fullsize]

[display_mobile]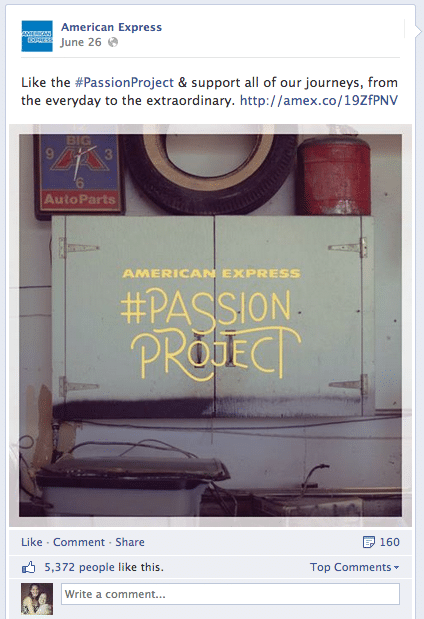 [/display_mobile]
Have you ever thought of using a hashtag to increase awareness about a campaign?
That's exactly what Starbucks did with there #treatreceipt campaign. I don't know about you, but on a hot day like today, I definitely would love a $2 drink in the afternoon.
For the next month, when you bring in your receipt from your morning coffee any time after 2PM you can get a $2 grande drink.
[display_fullsize]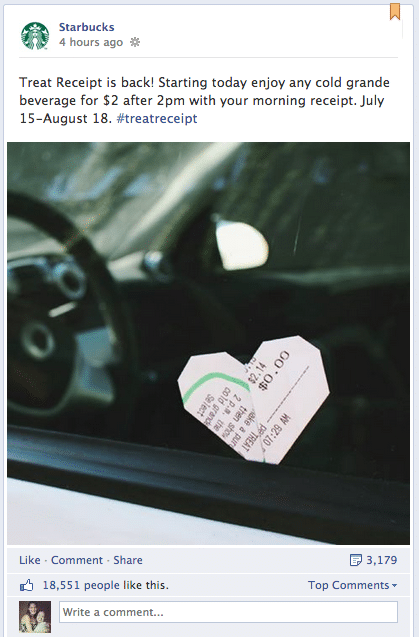 [/display_fullsize]

[display_mobile]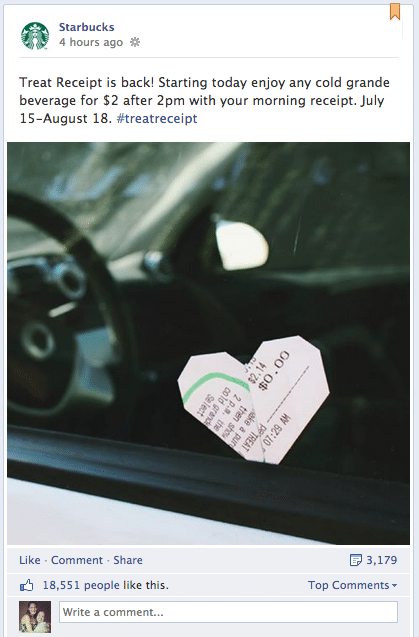 [/display_mobile]
Last month, Starbucks used the hashtag #pickmeup to promote half off refreshers after 3PM. Or you can use a hashtag to just develop conversations with your fans and users, like #strawsome.
Who doesn't love Summer? Well despite the humidity, almost everyone. Being able to spend your free time at the beach and relaxing poolside.
And Kohl's took advantage of this favorite time of year, by promoting all of your summer assets, to ensure that you're staying cool with #JoysOfSummer.
Product promotion is one of the most common uses for hashtags by some of the biggest name brands.
[display_fullsize]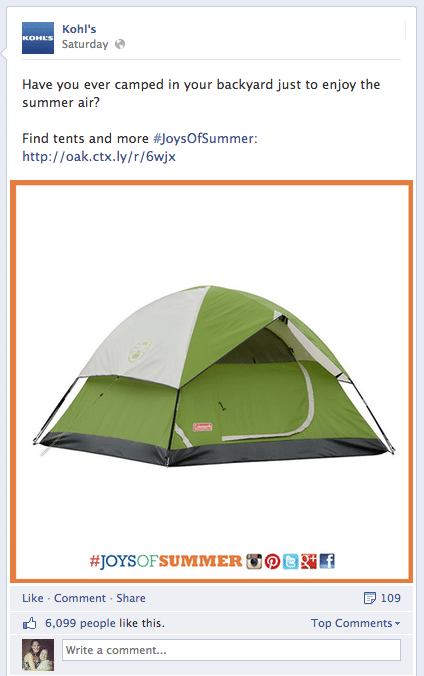 [/display_fullsize]

[display_mobile]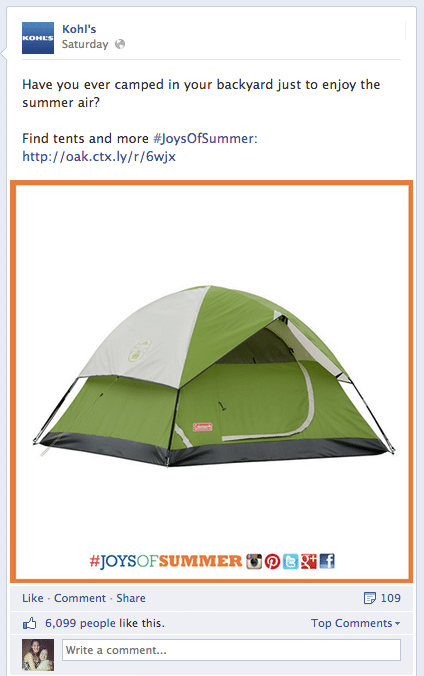 [/display_mobile]
Are you including your hashtag in your cover photo? If not, you are missing the opportunity to catch your fans and followers attention.
Many brands were including a hashtag that they use in their cover photo and images before Facebook introduced the feature. With Dove's hashtag #DoveHairAffair, they played off of the idea that girls cannot live without their Dove hair care products.
[display_fullsize]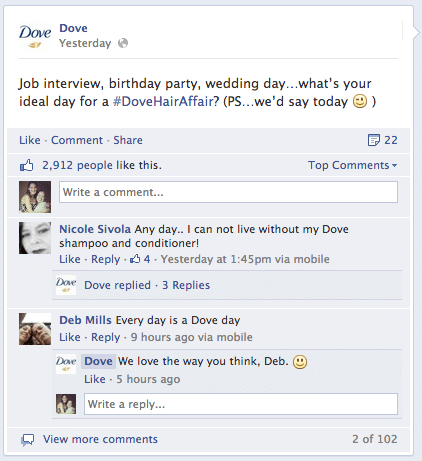 [/display_fullsize]

[display_mobile]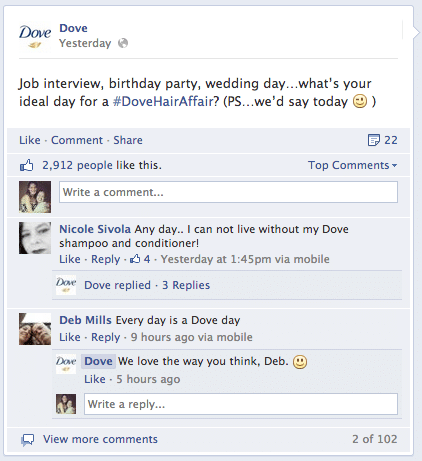 [/display_mobile]
If you're a huge Big Brother or Criminal Minds fan, you know how often CBS implements hashtags into their social media marketing campaigns. And there is no exception when it comes to their Facebook page.
Not only can you use the hashtag #BB15 to talk about your favorite moments from this season, but CBS has also used the hashtag #BigBrother to tell you about their app where you can catch up on all those episodes you've missed.
[display_fullsize]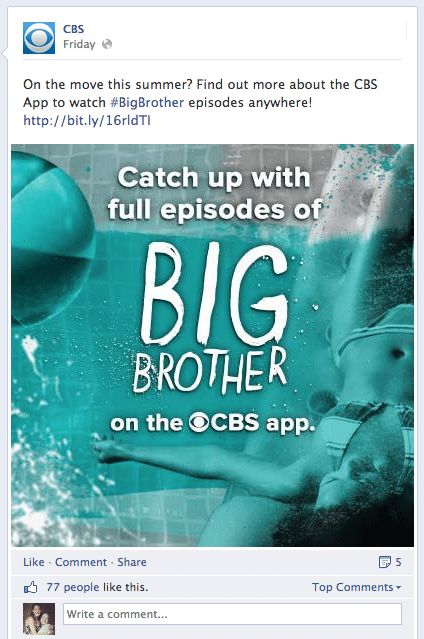 [/display_fullsize]

[display_mobile]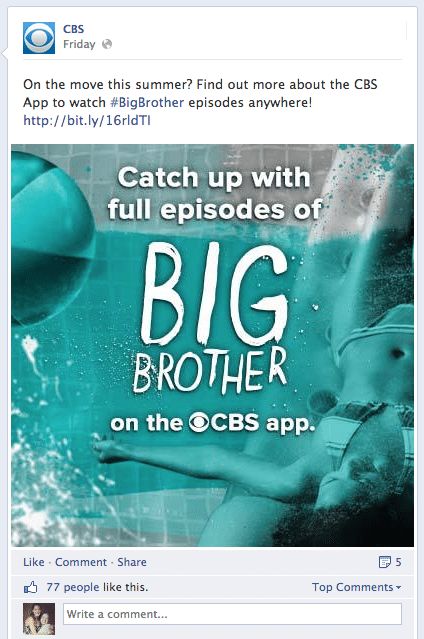 [/display_mobile]