Facebook users can soon broadcast their Messenger Rooms via Facebook Live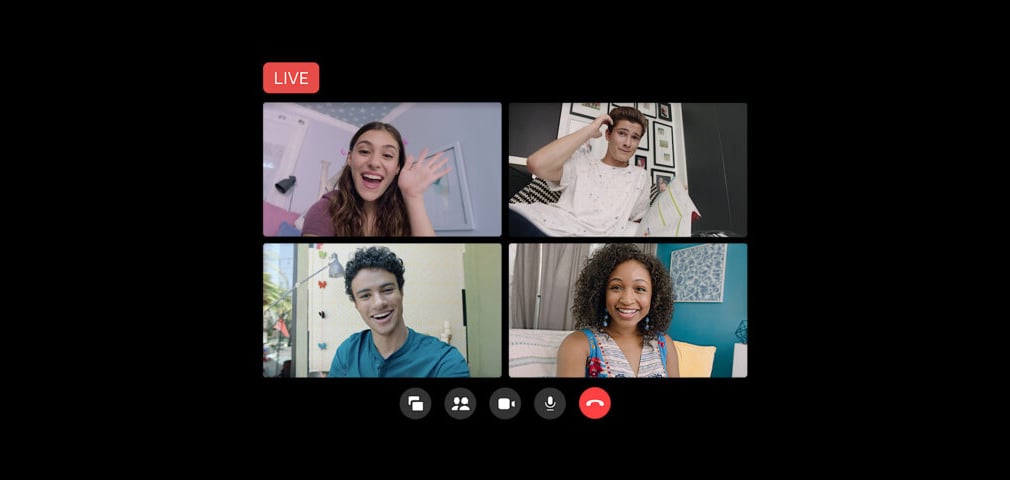 With more people wanting to connect via video during the COVID pandemic, Facebook is now enabling users to broadcast their Messenger Room via Facebook Live.
For those who don't know, Facebook Live is a feature that allows users to broadcast real-time video on the social media platform. When you broadcast live on Facebook you can decide who on Facebook can see your video and can use the content to engage your audience.
Now, Facebook has connected its popular Messenger Rooms feature with Facebook Live to offer new functionality to users.
Early on in the pandemic Facebook "felt the demand for real-time video." According to a press release, more than 700 million Facebook users were participating in calls on the platform each day:
"In many countries, video calling on Messenger and WhatsApp more than doubled [during the pandemic], and views of Facebook Live and Instagram Live videos increased significantly in March. But there's more to do to make real-time feel real."
Seeing this trend in usage, Facebook created a new product called Messenger Rooms.
Introducing Messenger Rooms
Messenger Rooms is a video chat room where users and 49 of their friends can chat. While there is a limit to the number of people, there is no limit to how long you can chat — and you don't even need to have a Facebook account to join.
Some other features of Messenger Rooms are:
The room can be locked or unlocked once a call has started
The room creator can remove any unwanted participants
Any participant can leave as they choose
While this new feature has been popular and allows people to stay in touch and have small virtual gatherings, Facebook has also seen an increase of live broadcasts.
Looking back at June 2019 and comparing it to June 2020, live broadcasts have almost doubled since the shelter-in-place has been implemented in many locations around the world.
With the increase in live broadcasts, this has put the limitations of Facebook Live on display. Facebook Live only allows two accounts to stream together, and it is not easy for a group of people to broadcast live together just using Facebook Live.
The only way you can is if you are using another software that connects to Facebook Live. Until now.
Drumroll...
Introducing Messenger Rooms via Facebook Live
Facebook has taken both Messenger Rooms and Facebook Live and brought them together — announcing recently that you can now broadcast live your Messenger Rooms.
This now allows you to expand your audience and get more of your content out there and have an even bigger group discussion.
As the moderator of the room you can broadcast your room to a profile, a page, or a group and invite people to tune in. You can also invite or remove participants.
Live viewers will not be able to join the room, but they will be able to comment and watch via the regular Facebook Live tools.
What does that mean for me as a marketer?
While Facebook Live allows you to broadcast live with two accounts, you couldn't do more than that. If you had in-person events coming up and wanted to host panel discussions or interviews with more than two people, it wasn't possible.
Instead, people had to use a subscription software (like Zoom) that allows you to have multiple people on a call — and then stream to Facebook Live.
Now with Messenger Rooms you can accomplish this without having to pay for services through another platform. You can bring your in-person events to a virtual platform, host panel discussions, interviews, smaller events, AMAs and much more, and all while practicing social distancing.
Using Facebook's reach, your broadcast could be seen by a lot more people. Social Insider's study says that live-streams see higher levels of engagement than pre-recorded videos.
People around the world are having to shift from working in an office to working from home, going from in-person networking events to virtual events, changing from in-person consultations to virtual consultations, and much more. All of this is leading to a proliferation of video calls and virtual events.
It is great that Facebook is adjusting to trends that are happening now to make such things easier for people. It will be interesting to see how this new feature performs. If it does really well Facebook may decide to increase the number of people who can join a room.
Or, will Facebook make it possible to also stream to Instagram Live from Messenger? Only time will tell, but I am looking forward to seeing what is next for this feature.
Free Assessment:
How does your sales & marketing measure up?
Take this free, 5-minute assessment and learn what you can start doing today to boost traffic, leads, and sales.