Our 8 Favorite Marketing Tools (and What They Can Do For You)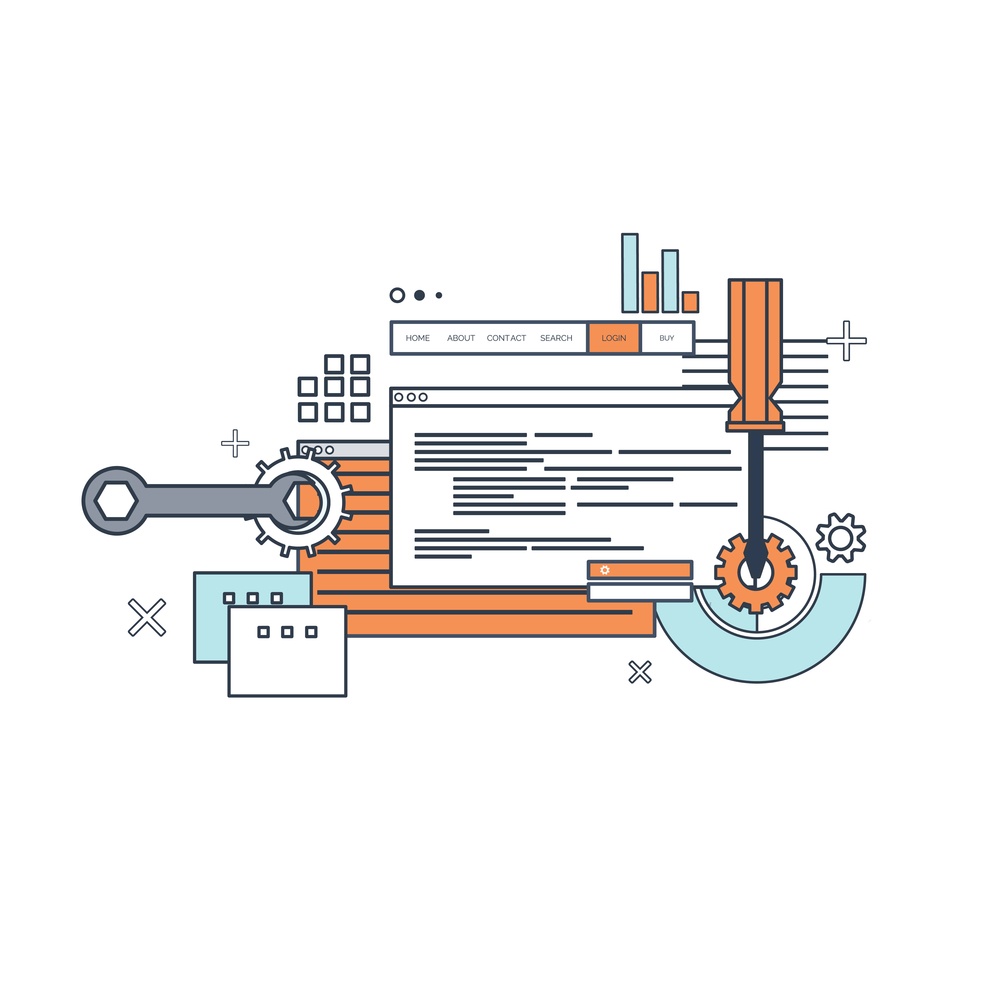 As a digital marketing agency, we're always looking for and testing new marketing tools to not only grow our marketing results, but to help our clients grow as well.
Over the years, we've tried more tools than I can count on both hands.
Some for capturing net promoter, A/B testing, customer relationship management, social publishing … the list goes on.
While not every tool is going to be the right fit for every company, the ones shared below are some we've found to be tried and true!
As one of the most powerful conversion rate optimization (CRO) tools available to marketers, you'll find that Hotjar is your solution to analyzing and testing the effectiveness of your marketing efforts -- and it's also a tool we use regularly for ourselves and clients at IMPACT.
Through the combination of heat maps, session recordings, conversion funnel tracking, form analysis, feedback polls, surveys, and user testing recruitment, Hotjar is an all-in-one tool for identifying and tracking how users interact with your website.
Here's a deeper look into its features:
Heatmaps: With the use of heatmaps, you're able to get a visual representation of your audience's clicks, taps, and scrolling behavior.
Session Recordings: Wouldn't you love to know how your audience maneuvers through various pages of your website? By recording a visitor's behavior on your website you're able to quickly identify any usability issues they might have and get some insight into the typical user's journey.
Conversion Funnel Tracking: Interested in knowing where your visitors are dropping off? The funnels work by mapping out a visitor's journey through your website from landing on your homepage to filling out a form. This can help you figure out where you're losing people so you can identify why.
Form Analysis: Gain a better perspective on the performance of your landing pages and forms by identifying which fields take too long to fill out, which ones people are leaving blank, and why users drop off and fail to submit the form.
Feedback Polls: Want to know exactly what your visitors are thinking? By adding polls (or creating surveys) that pop up from the bottom of their browser, you can get first-hand feedback into what's preventing them from signing up and what they're looking for.
With Hotjar, you get incredibly accurate feedback on the biggest and even the smallest details, so you know exactly what areas of your website you should be improving and which areas are performing extremely well.
By capturing that information, you're able to understand what brings people to your website so you can improve their journey and eliminate any barriers that might cause them to leave, making it easier (and more likely) that future prospects will convert.
While YouTube is the largest and most widely-known video network, the video hosting and analytics company, Wistia, has proven itself to be the premier choice for inbound marketers.
While YouTube is ideal for reaching a wider audience, Wistia is ideal for easy, high-quality embedding, generating new leads, improving your search engine optimization (SEO), and seeing how users interact with your video content.
The analytic capabilities are far beyond what you could do with YouTube or most other free hosting platforms.
The premium features of Wistia include a customizable high-resolution video player (up to 4K), analytics with heat maps, engagement graphs, SEO, calls-to-action (CTAs), and email opt-ins.
Here's a deeper look into their features:
CTAs: Generate leads by attaching clickable calls-­to­-action to the end of their videos
Customize Your Player: Unlike YouTube where you can't customize and change the color of your video player, Wistia lets you make yours a bit more on-brand. Also, if you've embedded the video on the your website and decided to update your customizations, it will automatically save and update on your website -- no need to update any code.
Engagement Graphs: Through engagement graphs, Wistia is able to compile all of your audience behavior and break it up into sections, such as: rewatches, drop-offs, and interactions. By capturing all of that data in one place, you're able to identify which videos are more successful and improve your strategy.
Video Heatmaps: Just like Hotjar, Wistia is able to use heatmaps to show you exactly which parts of a video individual viewers have watched, re-watched, or even skipped over.
Video SEO: Wistia is able to automate video SEO by injecting JSON-LD metadata onto your site's page through its embed codes. With that metadata, your Wistia videos will be indexed by search engines which in turn will send visitors from organic search to the videos on your website, rather than YouTube.
By aggregating this type of data, your business has the ability to better understand viewing trends, and refine its video marketing strategy with the help of Wistia.
The only way you can improve your marketing and its results is by testing and constantly updating and engaging with your audience's changing behaviors.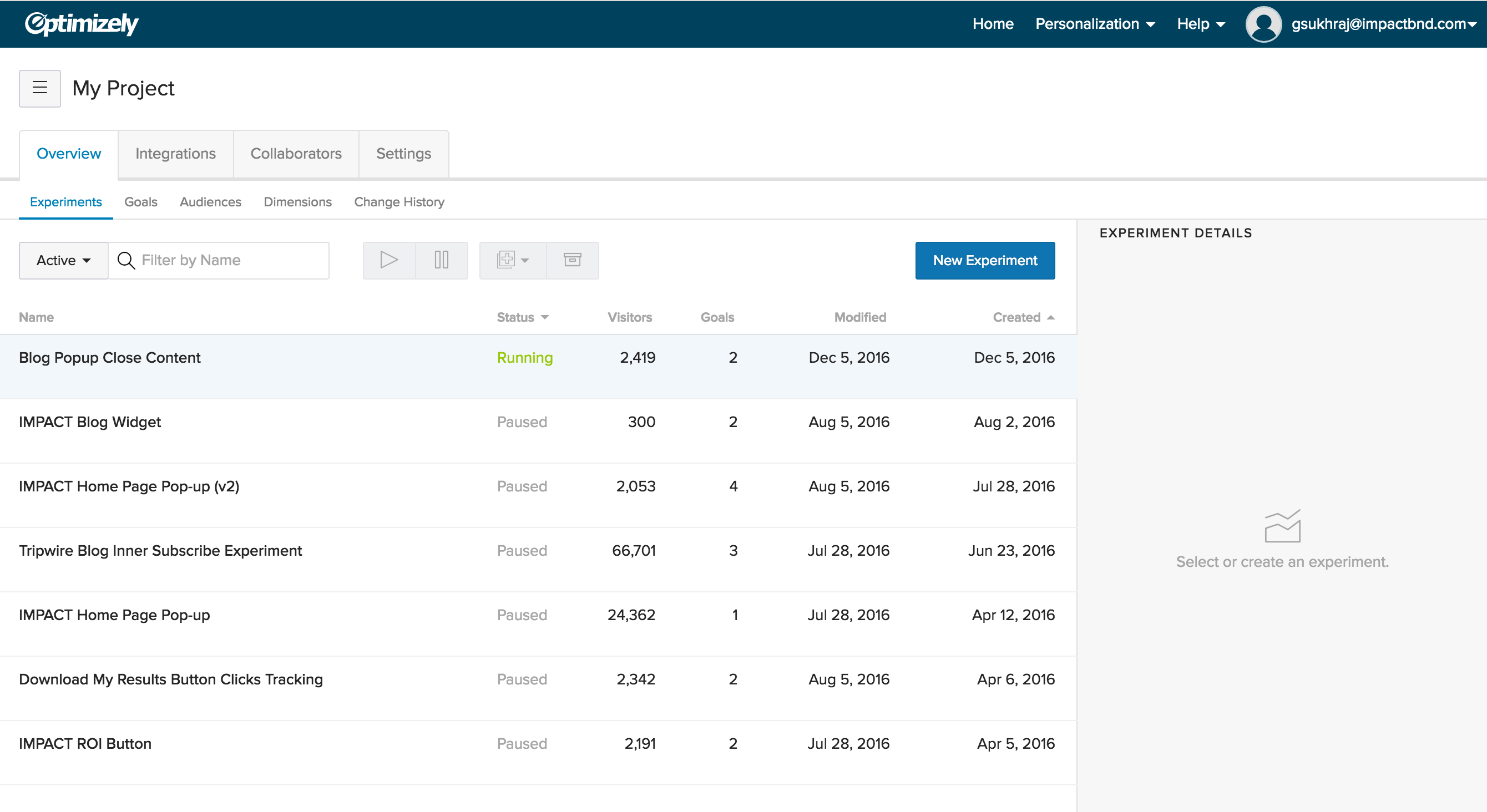 Optimizely allows you to do this through A/B testing. Using Optimizely you can test and analyze the performance of copy, button text, and color, as well as many other elements across multiple variations of a page. The platform is extremely easy to use and includes features such as:
A/B and multivariate testing
Funnel testing Personalization that allows you to deliver targeted content in real-time
All desktop and mobile browser support, as well as iOS and Android apps
Geotargeting
Time of day targeting
By using Optimizely, you're able to capture insightful data directly from your existing users to ensure that you're making smart improvements to your site that are in line with their behaviors.
When you think about marketing today, it doesn't consist of one tactic or strategy, but rather it has a little bit of everything.
With HubSpot, everything you need to be successful is integrated into one place. HubSpot makes your job a little easier, allow you to both execute on your strategies and see you a holistic view of how each one interacts with the others and affects your bottom line.
HubSpot's features consist of:
Blogging
SEO
Reports/Analytics
Landing Pages
Forms
A/B Testing
Email Marketing
List Creation & Segmentation
Keyword Analysis & Tracking
Social Publishing & Monitoring
CRM
Marketing Automation
Clearly, HubSpot is very comprehensive. In addition to its marketing tools, you can also host your entire website on the platform, which we can even help you with.
Debating HubSpot for your organization? Read this candid list of pros and cons before making your final decision! If HubSpot isn't for you and you'd rather build your own "Frankenspot", you can learn more about that here.
Many companies are still treading water when it comes to social publishing and content distribution.
They may feel their social media reach, whether through Facebook, Twitter, or LinkedIn, is too small to yield significant results, but GaggleAMP changes all that.
GaggleAMP is an application that allows you to utilize a larger network of people – co­workers, colleagues, or business partners – to generate brand awareness and drive traffic to your website by publishing content to the big three social networks.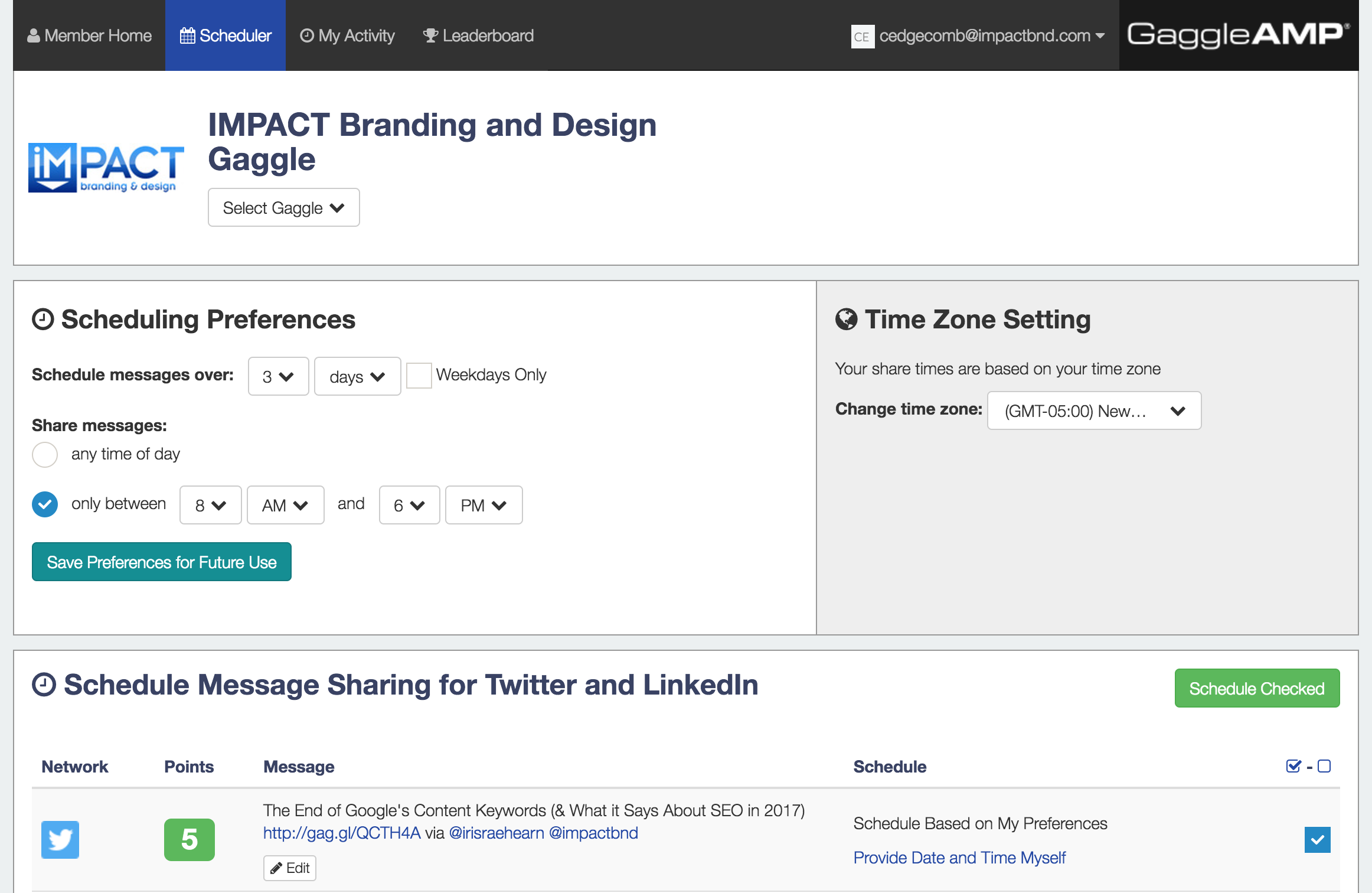 This tool helps you use your team members' existing networks and connections to expand the reach of your content without any extra effort on their parts. All you have to do is draft a message and Gaggle will trickle it out to the networks of everyone on your team.
While GaggleAmp isn't free, it's certainly worth the investment in order to generate measurable results from your social media marketing strategy.
Measuring the effectiveness of digital marketing is still a huge feat every marketer faces.
Whether you're using HubSpot or some other marketing platform, Google Analytics is an amazing supplement for measuring crucial website metrics, analyzing its performance, and gaining audience insights.
In fact, even if you are using another tool, you may still want to use Google Analytics as it goes even more in-depth regarding traffic metrics, categorizing all visitors by traffic type, and even segmenting visitors by country as well.
The best part: it's free.
With so many CRMs out there, it can be hard to find the right one for your company. Now, we might be a little biased, but with it's easy to use interface and free price tag, the HubSpot CRM is a must-mention. Here's a deeper look at why we made the switch to it from Salesforce.
With the HubSpot CRM, it's easy to organize, track, and grow your contact list and sales pipeline.
With the it, you can:
Create and measure email templates
Get real-time notifications
Place calls from inside the CRM
Book more meetings with a shareable link that syncs with your calendar
Plus, if you're looking for even more capabilities you can access HubSpot's Sales Tools for a monthly fee and give your team more insights into the buyer's journey.
The HubSpot is CRM for all, even non-HubSpot Customers. Can't argue with that!
Want to know what your site is like from the user's point of view?
If so, UserTesting is a great tool that will help you get direct feedback on the user experience of your website or even mobile app.
Instead of simply looking at analytics or reports, UserTesting records people actually walking through your website. You'll be able to listen to and watch people them use your website and app and her their thoughts and opinions along the way.
With UserTesting's basic plan, you're able to select users from their panel and have them test anything you want. You can select some of UserTesting's most popular tasks or even create your own. Just describe the tasks you want users to complete. For even more capabilities you can upgrade to their pro plan.
With UserTesting you even have the ability to test your Facebook Page, prototypes, reactions your audience has to photos, your landing pages,or even have them do a direct comparison to your competition. The insights it can uncover are invaluable.
What Tools Do You Love?
These are just a handful of our favorite and most frequently used marketing tools. What tools do you love and recommend? Let us know in the comments section!
Free Assessment:
How does your inbound marketing measure up?
Take this free, 5-minute assessment and learn what you can start doing today to boost traffic, leads, and sales.
Get Started
Free Assessment:
How does your inbound marketing measure up?
Take this free, 5-minute assessment and learn what you can start doing today to boost traffic, leads, and sales.
Published on December 14, 2016