How to Minimize Buying Pain to Maximize Sales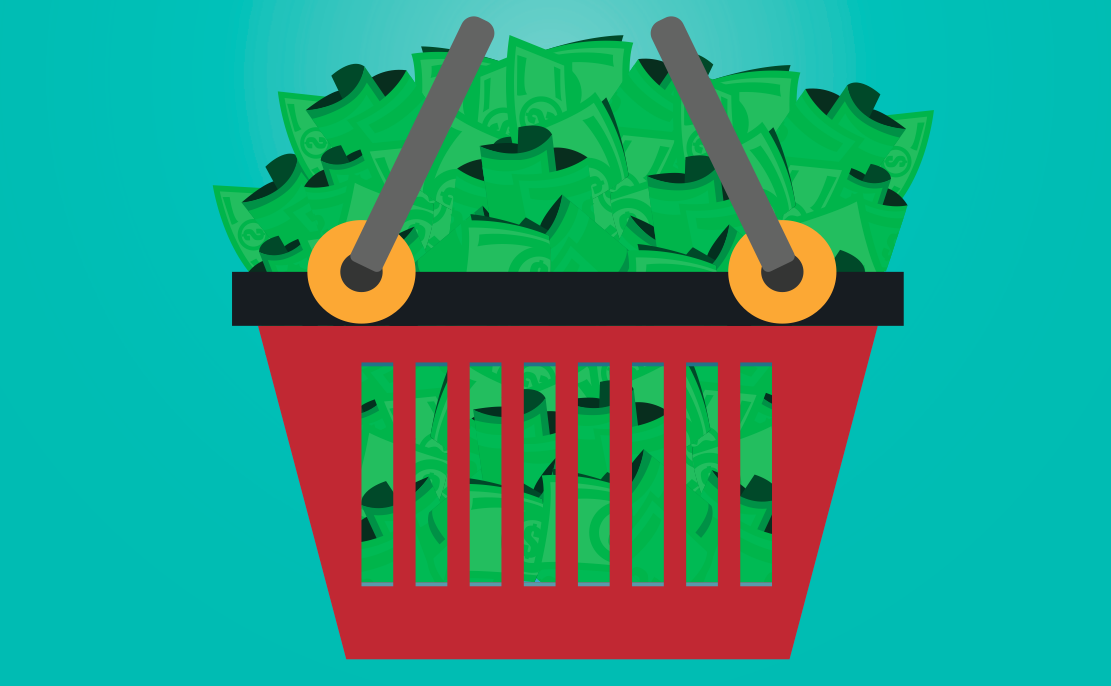 Gaining trust is tricky.
While I'm sure we all wish that our potential customers would willingly throw money at us like something you'd see in a rap music video, it's safe to say that'll only happen in our dreams.
You see, persuading a prospect doesn't come easy. In fact, it requires a careful understanding of their needs and behaviors, as well as a great deal of patience.
In order to position your product or service in the most attractive terms, your focus has to be on understanding the psychology behind what goes into making a purchasing decision.
Below you'll find a breakdown of the three most common types of buyers, along with the advice you need to persuade even the most frugal of buyers to take action.
The 3 types of buyers
According to research from Scott Rick, Cynthia Cryder, and George Lowenstein, there are 3 types of buyers: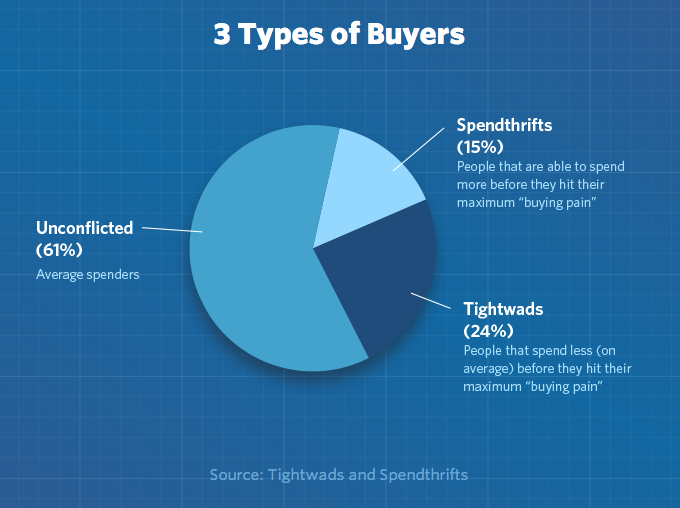 1) Tightwads: People that spend less (on average) before they hit their maximum "buying pain." (24%)
2) Spendthrifts: People that are able to spend more before they hit their maximum "buying pain." (15%)
3) Unconflicted -Average spenders. (61%)
Who is the most difficult to sell to?
According to Help Scout, tightwads are the most difficult type of buyer to convert. Making up nearly a quarter of your audience, it's important that you work to generate not only an understanding of the way tightwads think, but also a plan for alleviating their buying pain.
To help inform your efforts, we've provided three tips on how to effectively approach selling to tightwads:
Focus on functionality
According to a study by the CMU researchers, tightwads prefer a practical approach above all else.
The researchers offered the tightwads a $100 massage, however they framed it in two different ways to reveal their preferences. The first approach was in utilitarian terms, as they explained the massage would resolve back pain. The second was presented in hedonic terms,as they explained that the massage would be a pleasurable experience. As a result, tightwads were 26% less likely to buy the hedonic massage than the spendthrifts, however the were only 9% less likely to buy the utilitarian one.
Point being, when it comes to positioning your product or service, focus on practical functionality. Tightwads aren't drawn in by bells and whistles, but rather they prefer to learn about the nuts and bolts of your offering. What purpose does it serve? Is it useful?
Redefine the value of your offering
The fast food restaurant, Wendy's, rolled out their "Right Price, Right Size" menu to redefine the way customer perceive value.
While most fast food restaurants have a value menu in place already, Wendy's wanted to provide their customers with more than just cost value. In doing so, their new menu allows customers the freedom of choice. Over a dozen different choices in combination with low prices in turn creates a sense of value that is more impactful than just affordable pricing.
If you're struggling to reach tightwads, you'll want to be sure that you're committed to conveying the greatest value upfront. For example, while the items on Wendy's menu range from .99 cents to $1.99, the value of choice offsets the fact that some of the items may come at a higher price than those list on let's say, the value menu at McDonalds.
Leverage the "f" word
People love the word free.
Getting something for free works to activate a response that is much different than the response we feel when we carry out a traditional business transaction. Essentially, we feel better when we spend nothing and still get something.
According to research, 60% of ecommerce companies cited "free shipping with conditions" as their most successful marketing tool. Why? Quite simply, the concept of something being free positively lends itself to our purchasing process and the way in which we rationalize our purchases.
Buyers, especially tightwads, are easily turned off by extra fees. In order to persuade them to make a purchase from you, it's important that you lower the barrier by eliminating unnecessary charges and focus on being transparent about your pricing.
Free Assessment:
How does your inbound marketing measure up?
Take this free, 5-minute assessment and learn what you can start doing today to boost traffic, leads, and sales.
Get Started
Free Assessment:
How does your inbound marketing measure up?
Take this free, 5-minute assessment and learn what you can start doing today to boost traffic, leads, and sales.
Published on December 15, 2014