8 HubSpot Integrations Your Customer Support Team Will Love Using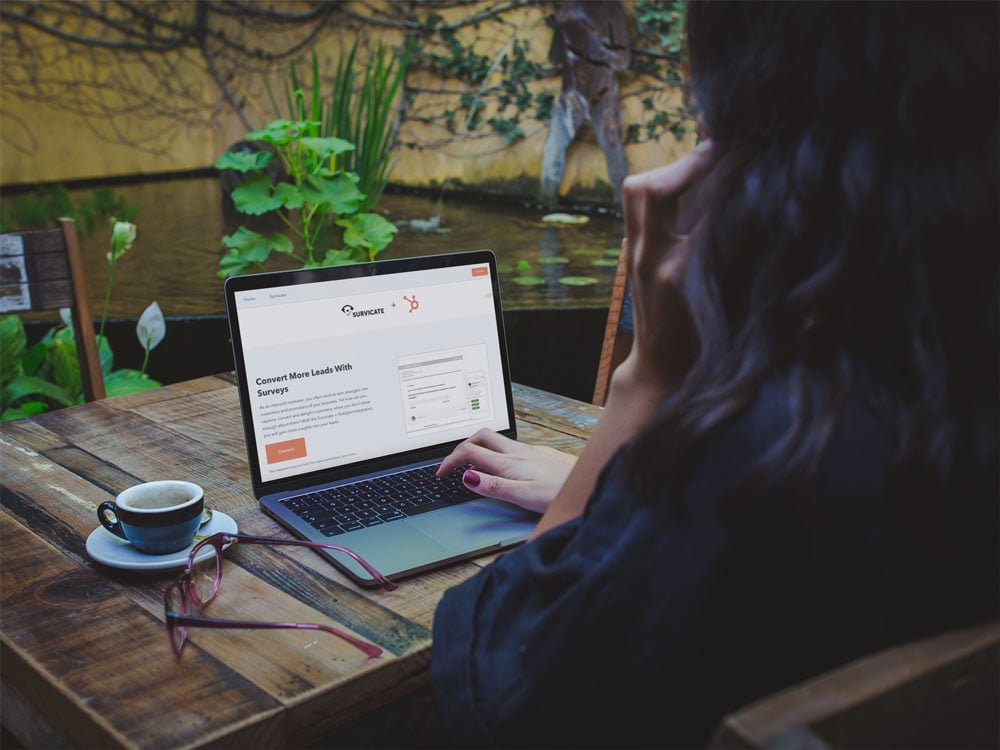 Let's face it – being great at customer support (CS) (or maintaining your well-earned CS stardom status) is no walk in the park.

It takes determination, around-the-clock work, and countless attempts to create impeccable processes and experiences. And even then, when things seem to be perfectly in order, flaws and mistakes do happen.

So what can you do to make your customer experience strategy more versatile and bullet-proof?

Few solutions are as equally cut out for the job as HubSpot.
From customer data management and automation of support tickets to chatbots and setting and tracking goals, HubSpot is the ultimate business partner to boost your customer service effectiveness and pave the way towards high customer satisfaction.
Luckily for all of us who like to use multiple tools or constantly experiment with new things, it's also heavily integrated with hundreds of other software.

With the recent announcement that the HubSpot Connect program has now reached over 300 official integration partners (including Survicate!), this calls for a breakdown for all you customer support folks out there.

Without further ado, let's see how you can get even more out of HubSpot with these eight HubSpot Integrations for customer support teams!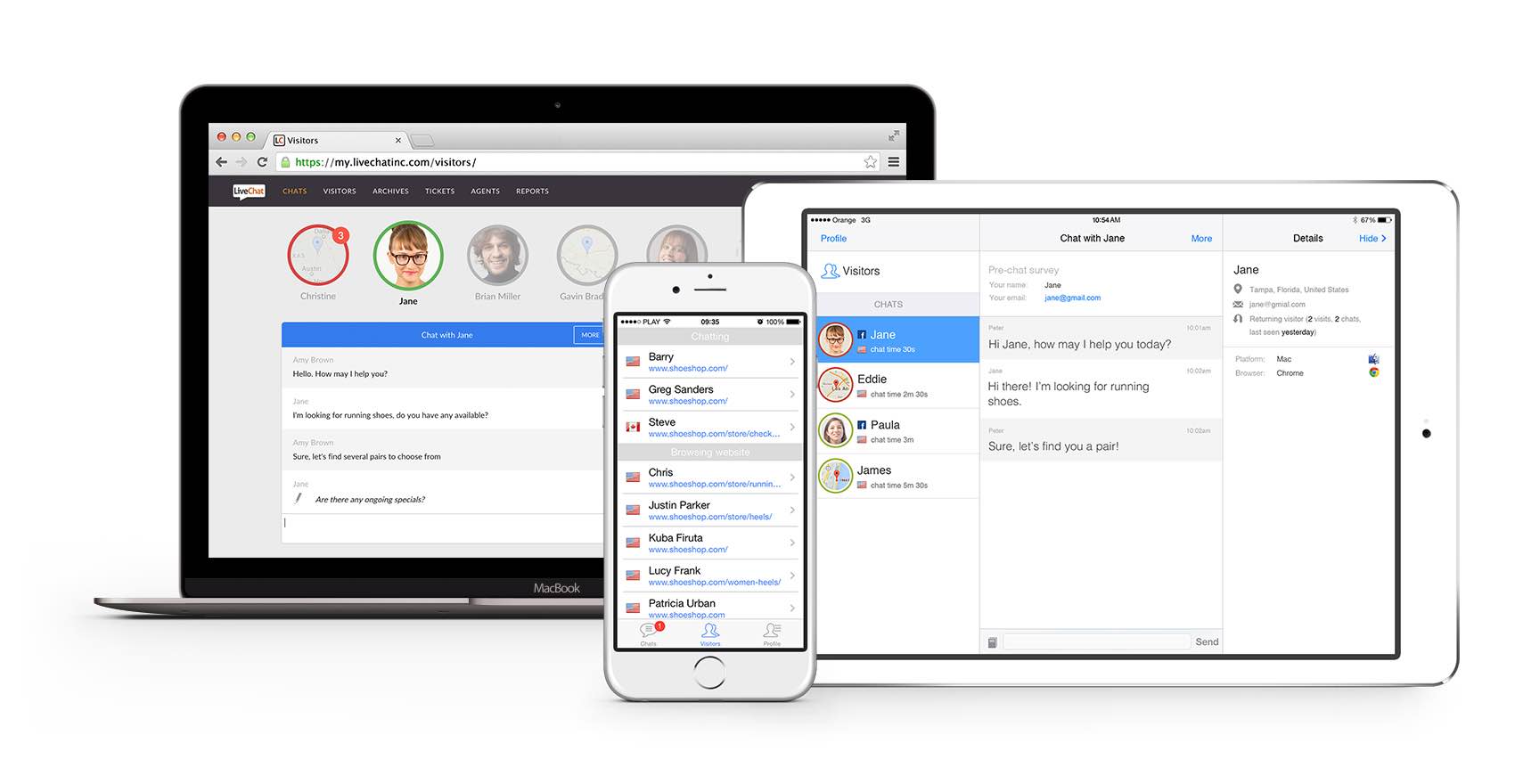 LiveChat is the messaging tool-of-choice for more than 27,000 customers worldwide, including Adobe, PayPal, and Acer -- and for good reason!
The software offers a whole array of features that let you sweep the board in online customer support excellence.
Firstly, the intuitive interface makes prioritizing customer communication a breeze. Secondly, it works on all types of devices, making it convenient for agents to stay in touch with clients anywhere, anytime.
With the LiveChat-HubSpot integration, all your customer data is synced (i.e.chat transcripts) are automatically recorded within your HubSpot CRM contacts.
Your support team can also access all customer contact information (collected both in LiveChat and HubSpot) within seconds, right in the chat dashboard.
This means more time for handling customer requests, and less time spent on administrative tasks and cross-research.
Learn more about the LiveChat HubSpot Integration here.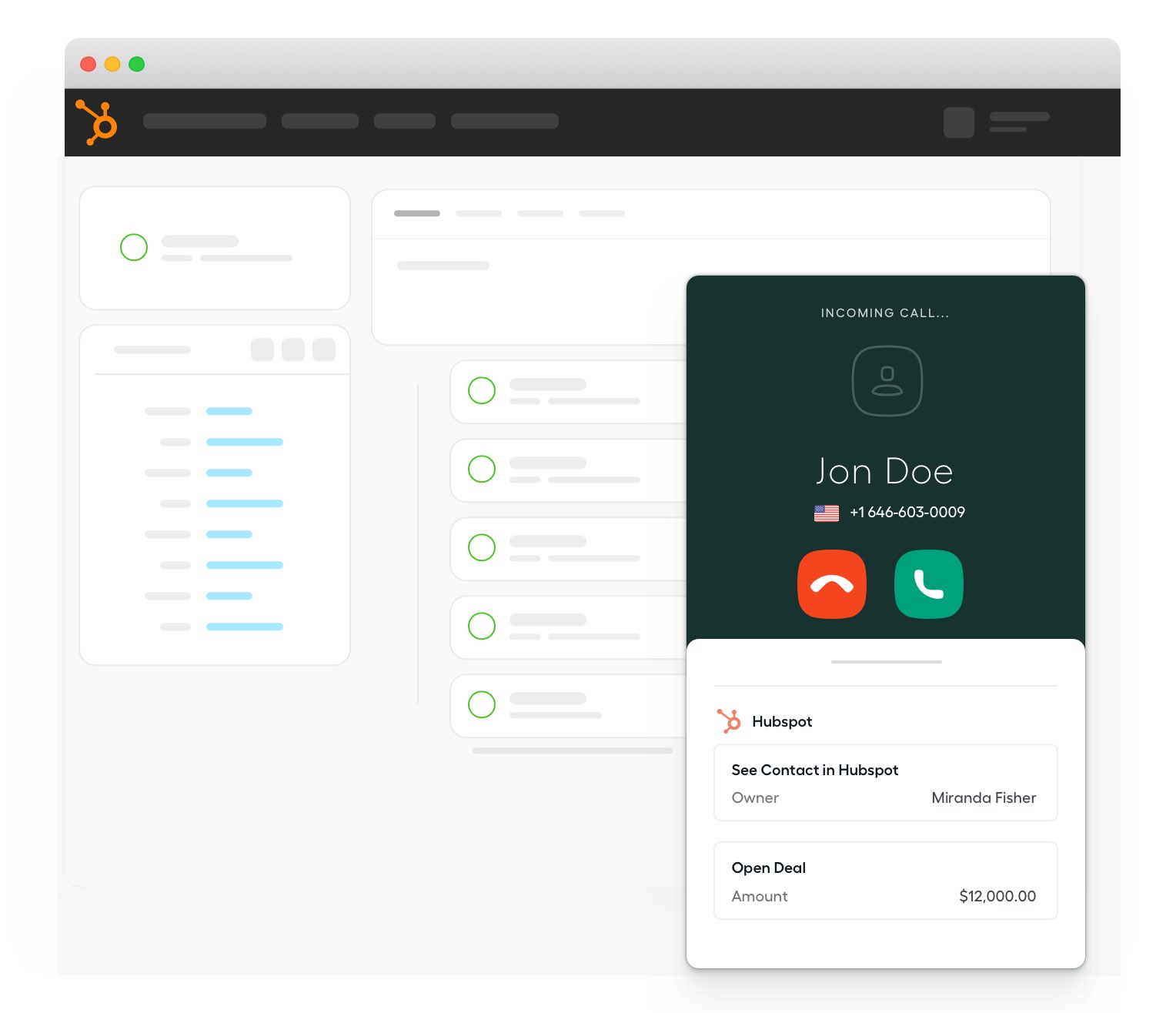 Now, here's one for all the support teams that communicate with clients over the phone.
As aptly (and simply) put by its creators, "Aircall is the phone system for modern businesses."
Why is it so great?
For starters, all of your team members are given unique, local phone numbers, which translates to higher company credibility and customer trust.
Depending on your strategy, calls from a given client can be routed to the same person every time (to aid in relationship building), or randomly distributed among the team.
Not to mention, your entire interaction history is conveniently displayed on-screen even before you hit that "Answer" button!
The tool sets up within minutes and all you need is a computer, headset, and an internet connection. It fits directly into your existing processes.
The Aircall–HubSpot integration empowers agents to streamline their workflows, maximize their productivity, and dive deeper into their customer's history by integrating the call directly into HubSpot, so you don't have to switch back and forth between tools.
With every phone conversation automatically logged in HubSpot, your CS team will avoid entering any call information manually, saving time and effort.
Agents will be able to focus more intently on the conversation at hand while still capturing the conversation to analyze for deeper insights at a later time.
It also creates a record of everything that's been discussed. This means that you'll never have to ask your clients to remind you where you last left off!
Thanks to Aircall you can focus entirely on delivering a comprehensive, professional support experience in the moment – and forget about the fear of missing out on any customer data.
Learn more about the Aircall HubSpot Integration here.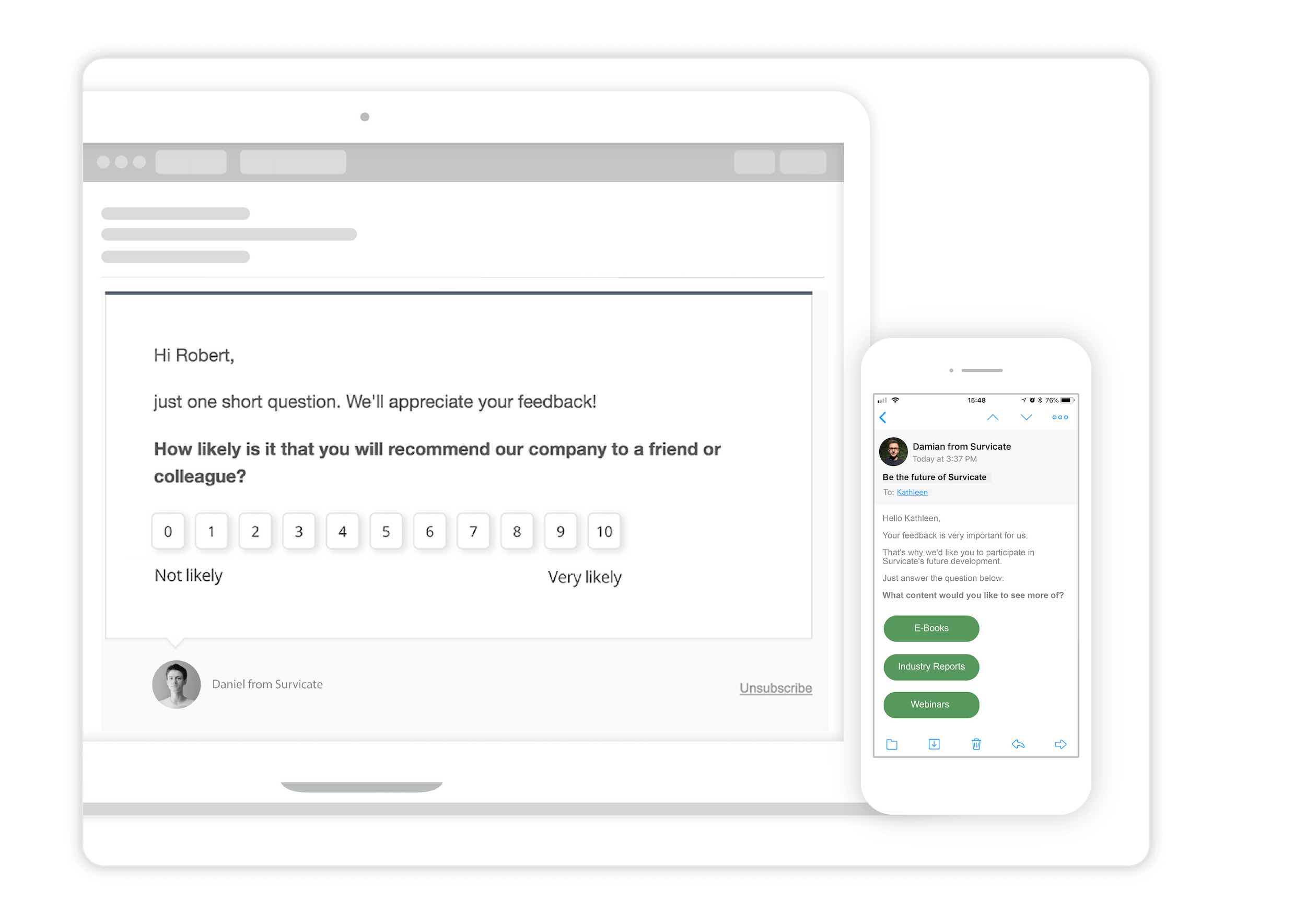 Ok, we may be a little biased, but as a HubSpot user, I know you'll absolutely love where Survicate can take your CS quality.
For starters, it's a leading customer feedback solution used by support teams to collect, manage, and analyze user insights from various digital touchpoints, including website, app, and email.
With it, you can easily monitor customer satisfaction metrics like net promoter score (NPS) and Customer Satisfaction Score (CSAT), evaluate the effectiveness of support agents, and – in the long run – boost user retention and client lifetime value.
It's truly one of the fastest and most effective ways to run surveys people can relate to (and actually want to respond to).
The Survicate-HubSpot integration let's you get even more out of these features by enriching your customer profiles with your survey data.
You can choose, on a question-level, which responses get sent to HubSpot and you can even create new HubSpot properties directly in your survey editor, without the need to jump between the two tools.
These, among other features, can be leveraged by customer support team's for better customer segmentation and ticket prioritization.
Sounds intriguing? Sign up now to redeem a special 30% discount for the first three months on Premium plans.
Learn more about the Survicate HubSpot Integration here.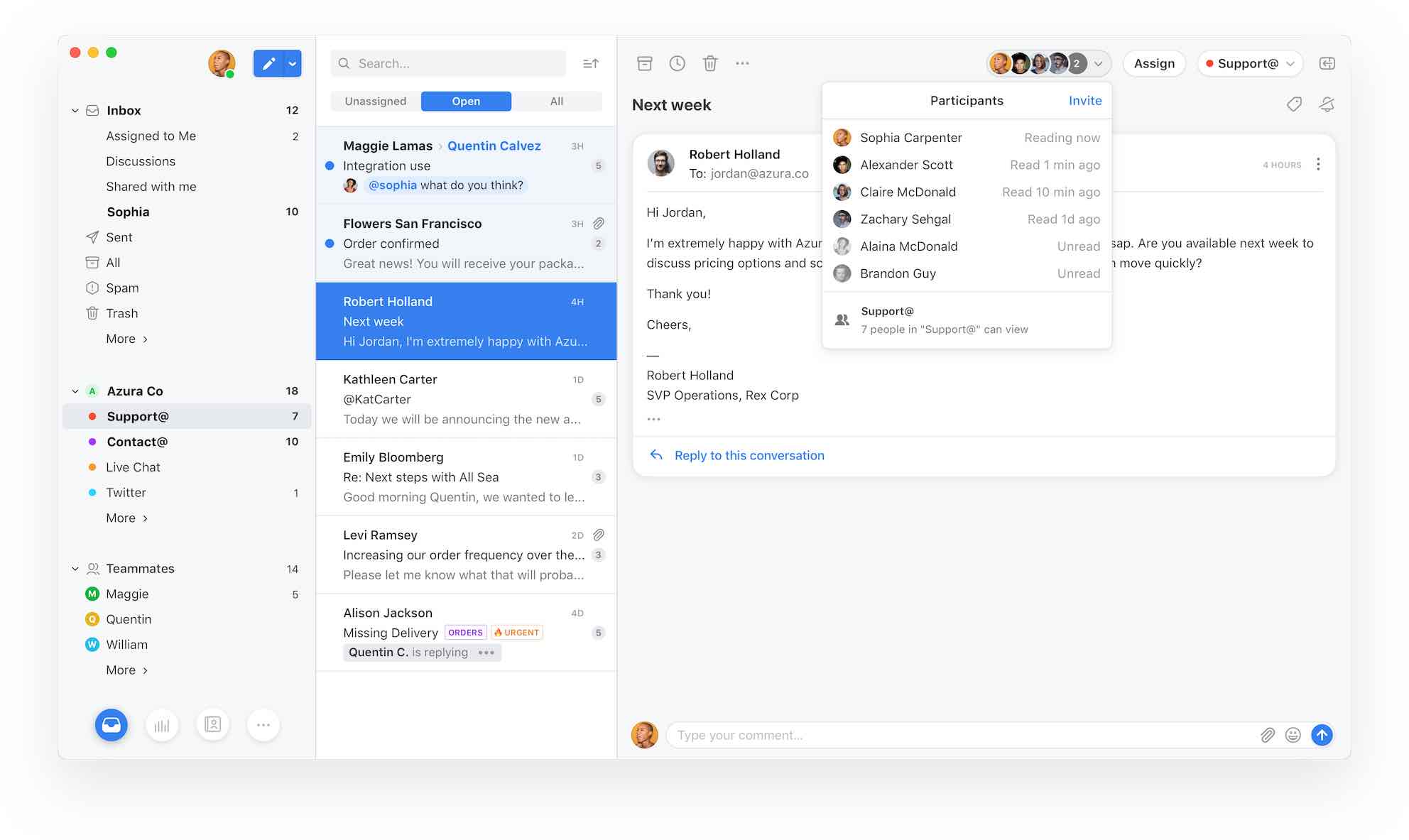 Image source
Is monitoring messages from multiple communication channels giving your CS team a headache? Here's a real life-saver.
Front is a solution for customer support teams who want to deliver personalized experiences and get back to customers faster, without ever having to jump between communication channels.
The software serves as a collaborative inbox that brings all your emails, chat, text messages, and apps into one place. As a result, you can coordinate work with your team better – write internal comments, assign messages to specific teammates, and co-author customer communication, among others.
With the Front-HubSpot integration, customer-facing teams can access all their client history and information stored in HubSpot directly in their inboxes. It also lets you create new CRM contacts, companies, deals, or activities and edit them in real-time on the platform, without having to log in to HubSpot.
Now, imagine you're about to have a conversation with a very disgruntled user who's about to churn, and you need to understand and address their concerns right away.
You may want to check if a problem a user told you about is an isolated incident, or has also been reported by others. Front gives you access to more company-wide documents to investigate this.
With Front, all of this is a click away, as your agents have access to every conversation your team has ever had with a customer, over any channel.
Learn more about the Front HubSpot Integration here.

While customer gifting may seem trivial, it's a tried and true practice (who doesn't like receiving a complimentary gift card or box of chocolates, right?).
Sendoso is a sending platform that uses the classic art of giving to help you build long-lasting relationships with clients. In the words of Dylan Max, Sendoso's Head of Growth Marketing, "it's gifting to say "You're welcome" and "I'm sorry."
Sendoso also takes away all the mundane logistics you'd normally have to coordinate, such as storing, managing, and shipping gifts to customers thanks to their warehousing system and cooperation with major courier and parcel companies.
(Now, how cool is that?!)
Here's the best part:
With the Sendoso-HubSpot integration, you're able to create workflows that automatically trigger Sendoso eGifts and physical gifts.
Just imagine not having to worry about sending "I'm sorry" chocolates to clients who gave you poor feedback in a recent NPS survey, or shipping company swag to your biggest promoters!
With Sendoso, you can track your sends through an analytic's panel and see when packages have been delivered for follow-up.
All-in-all, it's the perfect kit for teams who care about customer experience from start to finish!
Learn more about the Sendoso HubSpot Integration here.

While most customer support teams rely heavily on online communication, SMS and MMS messages still remain a must for certain industries.
Text messages, in particular, can frequently be used to communicate if everything is on track, safe, and taken care of by customer service.
Just think of it from the customer's point of view and conveniently getting a tracking code as soon as your order is shipped, receiving a hotel booking confirmation for your upcoming holiday, or logging in safely from a new device via two-factor authentication all directly on your phone.
Sounds like you're with a company that's secure and caring, right?
SalesMessage lets you create these and other customer experiences by leveraging text and picture messages.
All communication is sent to your customers from a real-life phone number. You can choose to automate messages based on specific triggers or send them manually whenever needed.
The SalesMessage–HubSpot integration lets you incorporate phone communication directly into your HubSpot CRM.
You can automate messages based on existing workflows, store them as activities, and personalize their content with merge fields.
Learn more about the SalesMessage HubSpot Integration here.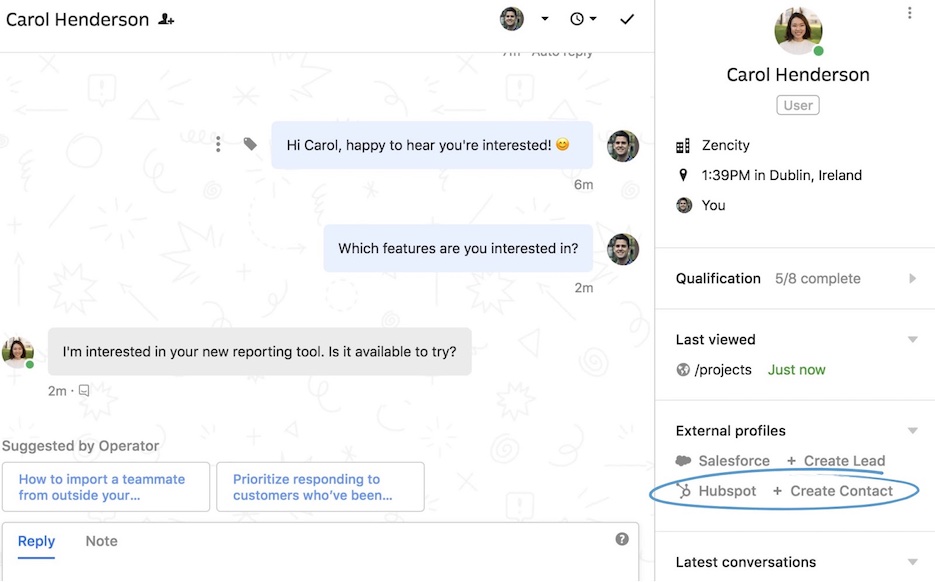 Image Source
I wouldn't be able to sleep at night (or would at least get nightmares), had I not included Intercom on our list.
In all honesty, can there be anything more powerful than connecting these two world-leading systems?
The freshly-revamped copy on Intercom's website says it all: "Come for our chat. Stay for our everything else. "
HubSpot definitely helps you capitalize on the "everything else" part.
While the official integration description focuses on the benefit of capturing more leads via Intercom chat, it's also amazing for giving your CS team access to a complete conversation history – the key to personalizing future communication with an understanding of a specific users' past experiences, goals, and challenges.
Also, when you chat with your clients via Intercom, your conversations are automatically stored in their timelines in HubSpot and yes, you've guessed it – you can also see what questions, concerns, and goals your users had back when they were still prospects and first interacted with your sales team.
All in all, the HubSpot-Intercom combo is the perfect solution for CS teams who want to implement the most effective, intuitive CX processes.
Learn more about the Intercom HubSpot Integration here.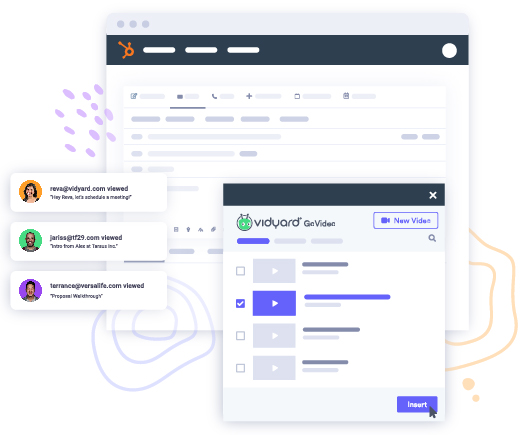 Image Source
Vidyard, already lauded as a valuable marketing integration, is equally packed with benefits for customer support teams.
In a nutshell, the software enables you to record personalized, high-quality videos that can be used as an integral part of your communication with clients.
Your CS team can leverage Vidyard to create:
welcome messages for new customers,
personalized videos from dedicated support agents/account managers (so, humanizing the support process),
onboarding video tutorials that make learning the ins and outs of your product a breeze,
step-by-step walkthroughs for clients who couldn't find their way in the user panel.
Pretty cool, right?
And it gets even better once you connect with your HubSpot account.
First off, the integration enables you to set triggers and send videos to clients automatically.
Also, your CS team can easily check if the videos sent have been played, and if so, whether customers had watched them from start to end. This will provide better insight into how to proceed in troubleshooting any issues.
Learn more about the Vidyard HubSpot Integration.
Explore The Possibilities
While these are just some of the HubSpot integrations we can wholeheartedly recommend at Survicate, there are so much more for you to explore!
Check if the tools you're already using are part of the Connect program, or go for a stroll in the official catalog here.

Special offer! Sign up to Survicate and redeem a 30% discount for the first three months on Premium plans.
Free Assessment:
How does your sales & marketing measure up?
Take this free, 5-minute assessment and learn what you can start doing today to boost traffic, leads, and sales.