Subscribe
Join 40,000+ sales and marketing pros who receive our weekly newsletter.
Get the most relevant, actionable digital sales and marketing insights you need to make smarter decisions faster... all in under five minutes.
Thanks, stay tuned for our upcoming edition.
HubSpot vs. Drift, Featured Snippets, and More from Bob and Kyle (The IMPACT Show Ep. 52)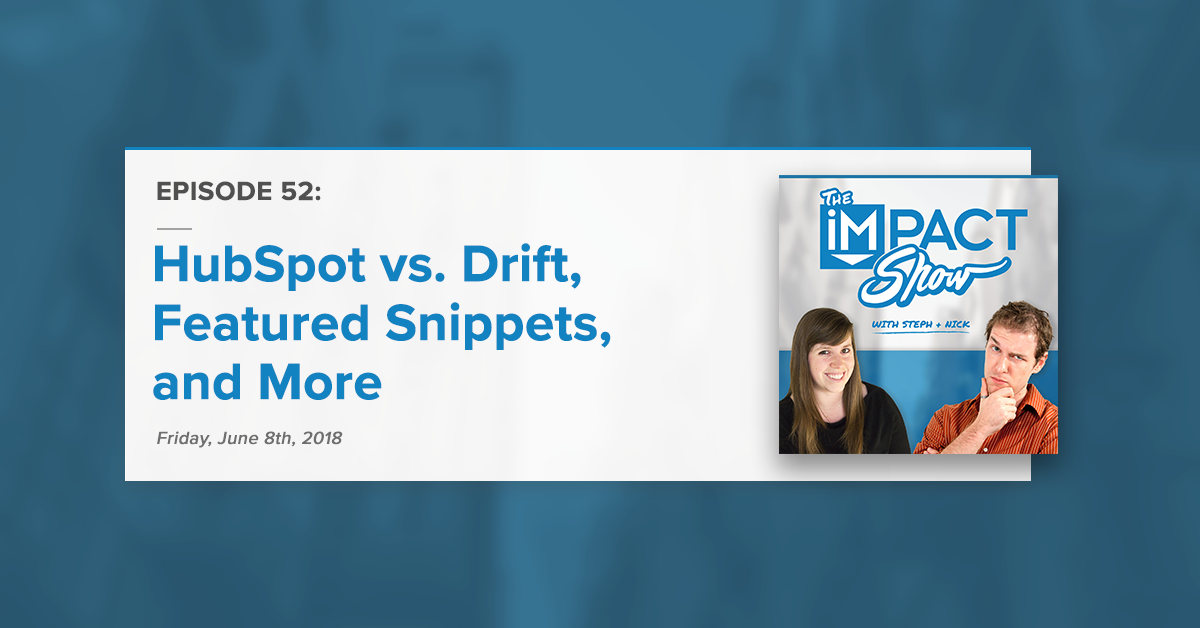 In this week's episode of The IMPACT Show, Bob is back and he brought special guest Kyle Bento along with him.
There are some fun facts scattered throughout this week's episode, including:
what to do when you work yourself out of a job,

how to crush it at deep-sea diving, and

the truth behind a crowd-surfing bear.
Just in case you missed us live (or if you want to relive the magic), you'll find the episode's show notes below as well as the recording.
Enjoy and make sure to share!
Like what you saw? Make sure to subscribe to email reminders and give us a review on iTunes.
Have feedback or questions? We'd love to hear it. Comment on this blog or email us at show@impactplus.com
IMPACT Updates
Getting to Know Kyle Bento
You've probably seen content Kyle has produced, but you may not know his full IMPACT journey. Kyle came to IMPACT three years ago as a Business Development Rep. He admits to having built enough efficiencies using HubSpot to reduce his workload. The coolest thing he built using the HubSpot CRM? A lead-scoring model to identify leads that were not only interested in what IMPACT had to offer, but were a good fit.
With his automation working behind the scenes, Kyle's next move was to Behind the Screens, building out IMPACT's video brand and setting up the in-office studio.
These days, Kyle is the emerging technology guru who keeps all of us in the IMPACT community on the cutting edge.
You can meet Kyle in person at IMPACT Live (in Hartford, CT, August 7–8), since he's both the production manager and a speaker. (There's a crazy amount of tech happening at IMPACT Live, you'll have to check it out!)
Happy Birthdays!
Not only is it a birthday weekend for both Bob and Kyle, but we've got several Gemini birthdays to celebrate this month in the community. Happy birthday to Emma Sepke and Frances K Bowman!
HubSpot Partner Day in Australia
Bob is speaking at Partner Day in Australia! This is a new program HubSpot is rolling out, with the Global Partner of the Year (that's IMPACT!) speaking in Dublin and Sydney for their International Partner Days.
Bob will be leading sessions on "What They Never Taught You about Growing Your Agency" and a fireside chat with Adam Steinhardt, CEO of The Kingdom.
What Marketers Be Talkin' 'Bout
Where we go over what you're saying in IMPACT Elite.
IMPACT Elite crossed 3,000 members! We took a little time to celebrate. Check it out in IMPACT Elite.
Know someone who would like IMPACT Elite? Invite them!
Our Third Community Hangout
We had our third community hangout last Friday where we talked about all things agile marketing. We talked about scrum, transitioning to agile, productivity and more. If you missed it, you can join us again next Friday at 2:00PM ET. We'll be talking about what to do when you fall behind in your marketing.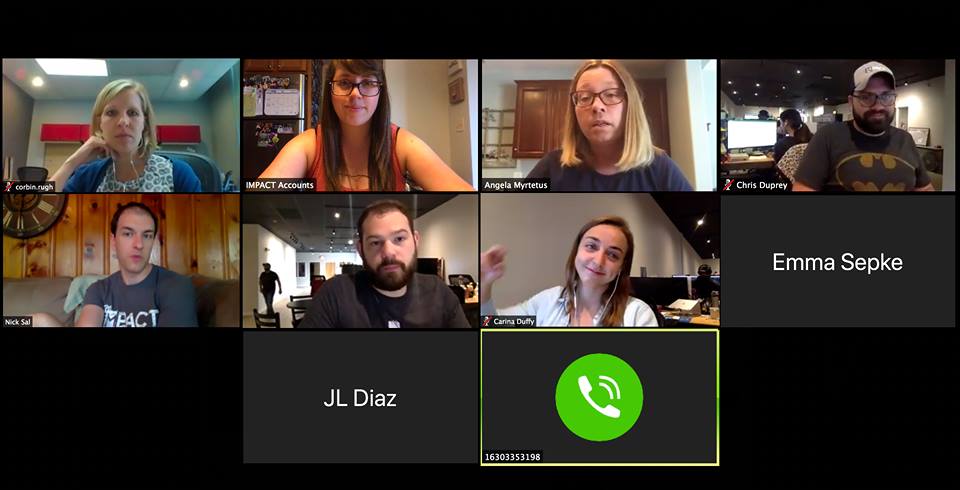 What's Crackin' in Elite
Elite Member: Devon Leah Hicks posted, "Just booked my tickets, flight, and hotel for Impact Live 2018! Anyone else from Indianapolis going?!"
Will we see you at IMPACT Live this August? Let us know in Elite! If there's anything keeping you from going, let us know! We'll help. We want you there!
Inbound

in the Trenches
This is where we talk about what we're doing and what we've learned lately right here in the trenches.
HubSpot vs. Drift: Conversational Marketing
Kyle shared that comparing these two systems is like comparing a Lamborghini to a Ferrari—they're both incredible. It's really about what is going to work best for your specific needs. IMPACT has used both Drift and HubSpot Conversations. (Right now, we're using Drift.)
Here's what Kyle loves about Drift:
A top-notch user experience. When we're talking about conversational marketing and creating ChatBots, it's all about how that bot communicates with the person on the other end. Drift is optimized for solving for specific product use cases and by doing so, it creates a high-end experience for your customer.

The development pace is insane.

Individualized targeting. There are limitless options in terms of who gets shown what and exactly how the bot talks to different people. With conversational marketing, the goal is to create unique 1:1 experiences, and Drift does this extremely well.

Drift has announced an integration with Vidyard. If you're chatting in Drift, you can record a video in Vidyard and then drop it right into the chat. Live video takes live chat to the next level.
And here's what he loves about the HubSpot product (which is in Beta right now with a release date of August:
As you might expect, it's incredibly well-integrated with everything else in HubSpot. If you're already using HubSpot, this is going to fit so nicely into your toolkit.

The product is super flexible from a mod-building standpoint.

HubSpot is rolling out a product called InBox, which is more than just a live chat tool on the web. It's a global communication center that allows you to manage messages and communication across different apps.
Bob summarized that we should all be using messenger bots — period. If you're already using HubSpot and want to get started with conversational marketing, HubSpot's product is going to be your best option. If you're a conversational marketing power user and you need more advanced features, then you might want to go with a HubSpot Connect Parter, like Drift, and then integrate it into HubSpot.
Facebook Is Removing Trending Topics
Facebook said, "We're removing Trending soon to make way for future news experiences on Facebook. [...] It's currently only available in five countries and accounted for less than 1.5% of clicks to news publishers on average."
Bob shared that Facebook will most likely come out with a solution that will both let users see what's trending while keeping them on the Facebook platform.
What does this mean for marketers? Facebook and Google no longer want to be a channel that drives people to your website. They want to keep you on their own platforms. You see this with video, where native video is far out-performing YouTube videos shared on Facebook.
Featured Snippets
Bob and Kyle shared that IMPACT has seen its volume of monthly visits decrease. As we've been digging into this, we've found several reasons, but featured snippets seem to be the biggest "culprit."
Featured snippets are those "answers" in position zero on a Google search — those descriptions in a little white box at the top of your search that will give you an answer without the need to click away from Google.
Not only is this pushing our results down on the page, but it keeps people from clicking into an article to get their answers (these are called "no-click searches").
Kyle shared that while IMPACT may have been ranking first for a keyword, other articles that are now better optimized for featured snippets are getting that prime position and pulling traffic away from us. It's up to marketers to start optimizing for featured snippets and paying close attention to how this affects traffic.
Kyle did point out there's good news: in just the past few weeks that we've dug into this and started optimizing for featured snippets, we've seen some significant (and positive) changes to the way our articles rank. We'll be sharing the solutions and strategies we've found in our upcoming content and at IMPACT Live.
We would love your comments. What did you think of the show? Let us know in Elite. Make sure you never miss a show or update by subscribing at impactplus.com/show.
Join Us Next Time!
Next week, we'll see you on the third community hangout on FRIDAY, June 15, at 2:00PM Eastern.
We'll be back in two weeks for the IMPACT Show live on Friday, June 22, at 11:00AM ET.
Until next time...get out there and make it happen!
Free Assessment:
How does your sales & marketing measure up?
Take this free, 5-minute assessment and learn what you can start doing today to boost traffic, leads, and sales.