"Make Inbound Work For You:" The IMPACT Show Ep. 34 [Show Notes]
Ramona Sukhraj also recommends this free guide: The Ultimate Inbound Marketing Strategy Playbook 2022.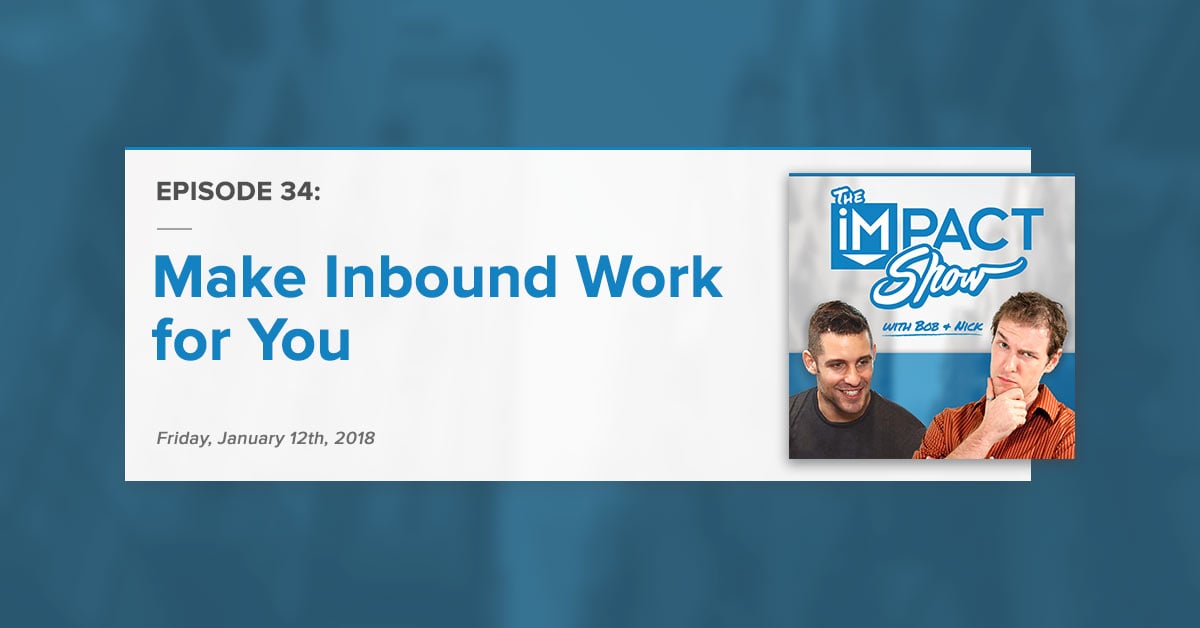 If you want an agency to shift and make inbound work, you really have to think about the greater purpose, your company's values, and the company's 3 year vision.
In this week's episode of The IMPACT Show, Bob and Nick talked visual search, communicating authentically, and their main topic of the day, how to make inbound work for you.
Free Guide: The Ultimate Inbound Marketing Strategy Playbook 2022
As a reminder, we're here to help growth leaders overcome common obstacles and create breakthroughs.
Just in case you missed us live (or if you want to relive the magic), you'll find the episode's show notes below as well as the recording.
Enjoy and make sure to share with your peers!
Like what you saw? Make sure to subscribe to email reminders and give us a review on iTunes.
Have feedback or questions? We'd love to hear it. Comment on this blog or email us at show@impactplus.com
IMPACT Live
Early bird pricing for IMPACT Live ends on 1/17/18

All Inclusive: $99 (going up to $169 after the 17th)
VIP: $399 (going up to $499 after the 17th)

IMPACT Live 2018: Join over 500 members of the IMPACT Elite community in person for our very special 2-day event. Speakers include Dharmesh Shah, Ann Handley, David Meerman Scott, Marcus Sheridan, and more still to be announced.
Event Date: August 7th and 8th
What Marketers Be Talkin' 'Bout
Where we go over what you're saying in IMPACT Elite.
IMPACT Elite is a community of passionate marketers looking to help other marketers succeed. We'd love for you to join us! Go to impactplus.com/elite or just search the IMPACT Elite Group on Facebook and request to join.
Exclusive with Rebecca Corliss

Key Learnings:

The first thing they worked on was personas, first few months were mostly interviews.
How important it was to have both in-house marketers and people in the company with extensive networks.
Beta group for feedback and product improvements
When launching it was important to have PR
Traffic and brand awareness are one of their core metrics
State of Remote Working report

Ismail Aly asked: "How often to run NPS surveys with your customers?"

Bob:

It depends on the business, but as an agency, we ask once every 2 weeks and we just ask at the end of the client calls: "How are you feeling, 1-10, and why?" - we document the responses on a Google Form.

Michelle Loughry:

We do it monthly with our clients. We have in-person or video calls for reporting metrics reviews. We have great relationships with our clients so if there are issues they're more than willing to let us know right away. We also have weekly touch points

to update them on current activities and planned activities and they communicate satisfaction that way.

The key, I think, is asking but also letting them know WHY you're asking and what you do with that info. I've been on teams where the number is tracked and then....nothing. It's just like "Ok, this is good to know." I like to create little "conflict reports" if there are issues so we can keep track of that just like a metric.

Kristen Traynor asked: "Does anyone know of an app that integrates with HubSpot for collecting business cards/lead info at a tradeshow?"

Caitlin Shanly: Neat Scanner. Also, some trade shows allow you to pay to rent a badge scanner, so you can scan the badges of everyone who stops by your booth. Then at the end of the show, you will

receive an Excel file of the leads that you can import into HubSpot, and you can make a note that those leads came from a particular show.

Andy McCormick: HubSpot app has the ability to scan cards one off and add them as a contact.
Chris Higgins: Akkroo. I've used it extensively, and it's fantastic. They even have a service that will transcribe the details on any business cards that you scan, plus an integration with HubSpot so that your data syncs directly into your contact database.
Digital Marketing News
Where each week, Nick and Bob share one thing from the world of digital marketing that caught their eye.
Columnist Kristopher Jones talks visual search - its current state, its implications for the future and strategies for SEOs looking to capitalize on this evolving technology.
The arrival of the Pinterest Lens and Google Lens has ignited a battle for visual search engine supremacy. Beyond opening up a new revenue stream for e-commerce stores, visual search could completely alter consumer habits and purchasing decisions.
In a world driven by instant gratification, visual search can open the door towards "snap and surf" purchasing, streamlining the search interface. This provides a promising outlook for e-commerce stores that develop their product listing ads and online catalogs for the visual web.
While still in its infancy, optimizing for visual search could greatly improve your website's user experience, conversion rate, and online traffic.
There are three types of visual search:

Traditional image search (relies on text)
Pixel by pixel image searches that enable "snap and search"
By image or parts of the image

How these tools can identify objects in a larger picture, connect them to online stores or locations where a purchase can be made.
Potential Strategies:

It's important that images are displayed clearly and free of clutter so that visual applications have an easier time processing them. Beyond this, you should stick to the basics of image-based search optimization.

Add descriptive alt-text to images for indexation
Submit images to an image sitemap
Optimize image titles and alternative attributes with targeted keywords
Set up image badges and run them through a structured data test.
Optimize for ideal image size and file type
Utilize appropriate schema markup for images and content pages
Optimize images to render on mobile and desktop displays
A rare moment of sincere emotion from Richard Yu, CEO of Huawei's consumer products division, went off script at the end of his CES keynote to express his "quiet anger" at AT&T pulling out on a deal to sell Huawei's Mate 10.

Reports published via NY Times indicate the carrier's decision by political pressure within the US, with apparent concern about Chinese espionage and Huawei's particular role in that underlying the whole thing.

Derrick Weiss's take on this: carriers shouldn't have the right to influence the phones we use. We pay for the service ALREADY. If they want to make more by choosing certain phone manufacturers over others, they will lose customers. I'll switch to a carrier that lets me do what I want.
How to Make Inbound Work for You
From Nick Bennett:

"How do you start the cultural shift to an inbound business model?" The business in question has been email blasting purchased lists and cold calling for years. It is all they know. They have purchased HubSpot software on a recommendation but do not utilize it because it takes too long to produce results. They thought it was a one and done situation.
You need to pull out all the stops for this one! How do you get them to see sales and marketing through your eyes?


My recommendation is to start at the core of the business.

And, what is making your team aligned?

The most important part of this question is the business model.

It's the way that we do business. At IMPACT, it's not about the agency services, but helping people.
Fulfilling a greater purpose as an agency.
If you really want an agency to shift, you really have to think about the greater purpose, values, and vision of the company 3 years from now.
Next Steps:
We would love your comments! Feel free to send us an email or comment on the Facebook thread.
If you really liked it, please give us a 5-star review on iTunes.
We're going to IMPACT Elite to ask what you want us to talk about, so jump in on the post there.
Join Us Next Week!
We'll be back again next Thursday, January 18th at 1:00 PM ET.
Until next time... get out there and make it happen.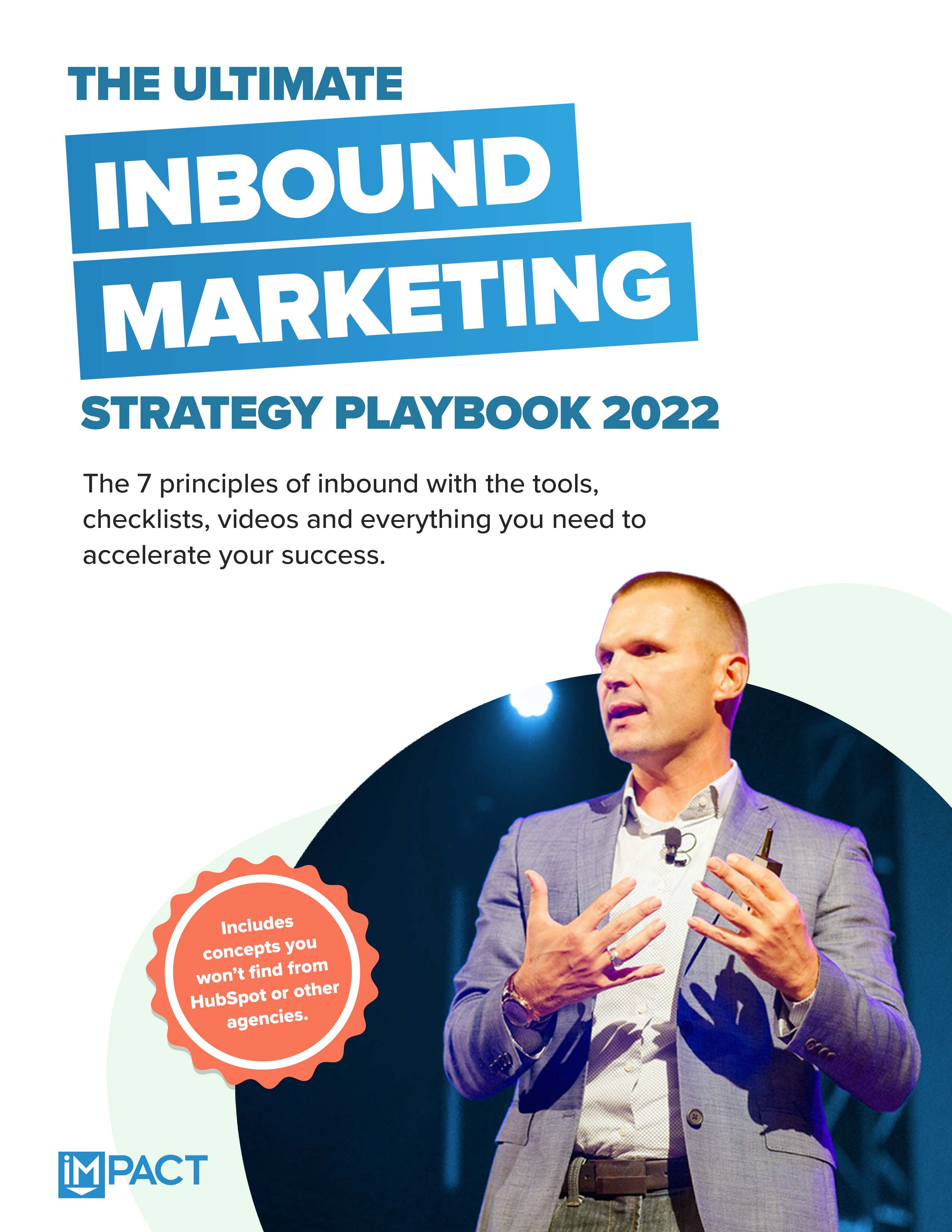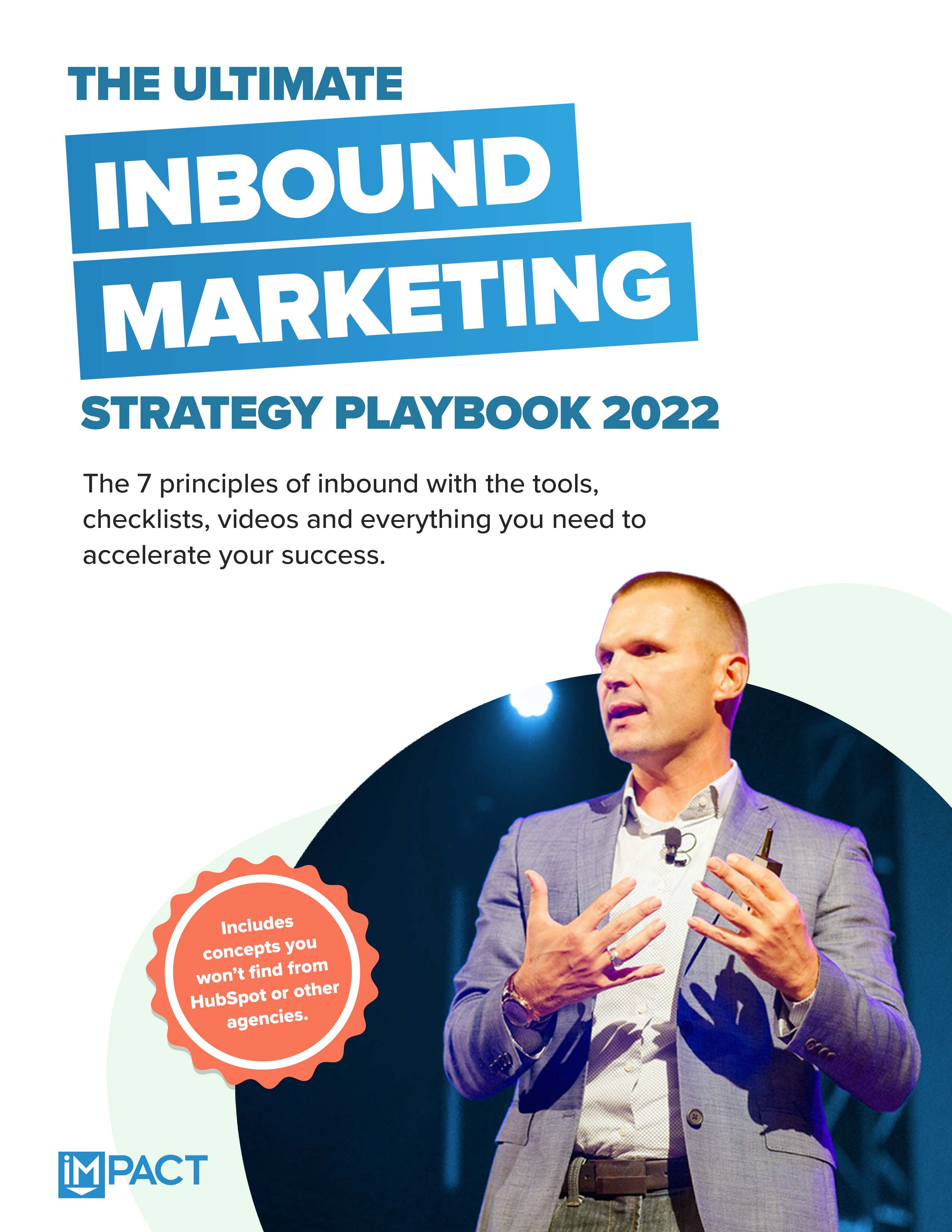 Free Guide:
The Ultimate Inbound Marketing Strategy Playbook 2022
Take your inbound strategy to the next level
Master the 7 principles of highly effective inbound marketing
Dramatically improve your inbound sales
Get more buy-in at your company
Published on January 12, 2018