"This Won't Work at My Company:" The IMPACT Show Ep.1 [Show Notes]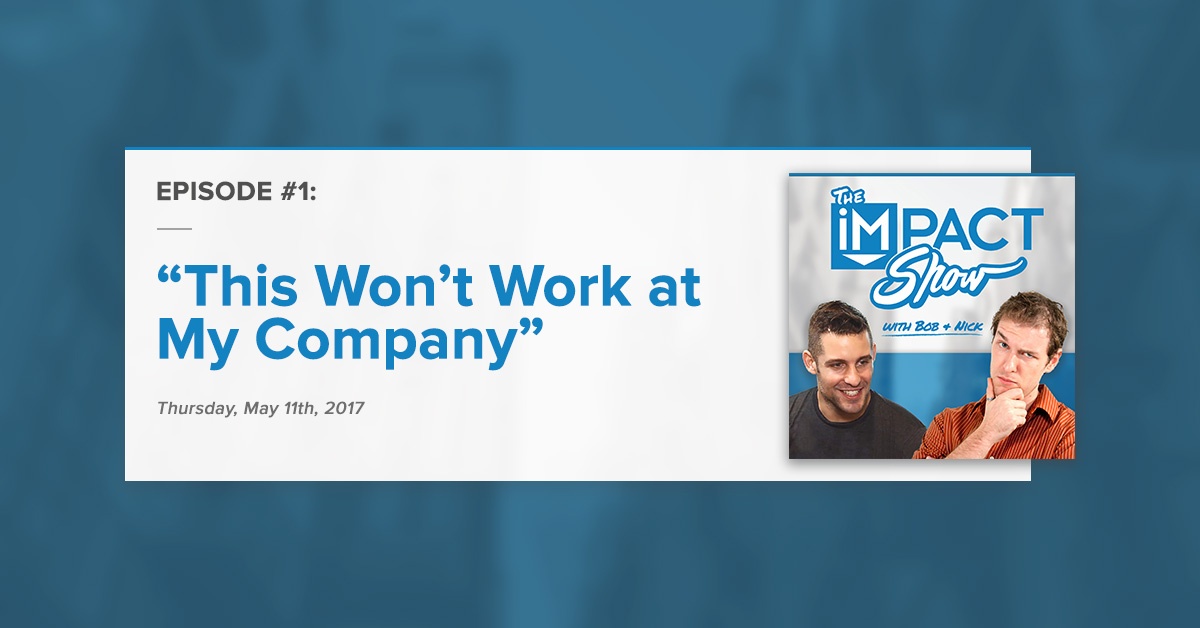 Pop the champagne and let's celebrate!
In this inaugural episode of The IMPACT Show, Bob and Nick quickly shook off some tiny tech issues to talk IMPACT Live, industry changes that are keeping CMOs up at night, DigitalMarketer's Value Journey Canvas, and our main topic for the day, the age-old excuse, "This won't work at my company" and how to combat it.
Just in case you missed us live (or if you want to relive the magic), you'll find the episode's show notes below as well as the recording.
Enjoy and make sure to share with your peers!
Like what you saw? Make sure to subscribe on iTunes and give us a review.
Have feedback? We'd love to hear it. Comment on this blog or email us at show@impactplus.com
Review us on iTunes: The first 5 people to review us will be entered to win a special prize. Once you review us, shoot us an email!
Meet Your Hosts:
Bob Ruffolo, Founder & CEO of IMPACT
Nick Salvatoriello, Inbound Marketing Strategist at IMPACT
Iris Hearn, Junior Inbound Marketing Consultant at IMPACT is monitoring your engagement on social and will be relaying any questions or comments at the end of the show.
Two-day event in Hartford, CT on August 1-2nd, 2017, with workshops on July 31st.

This is invite-only so we can keep it an intimate group of experienced, dedicated marketing and sales leaders.

Get an extra 25% off with the promocode: IMPACTSHOW
Customer Value Optimization (Value Journey Canvas)
Digital Marketer and Ryan Deiss have updated the

Customer Value Optimization

(CVO) System with the Value Journey Canvas.

Update is the "love child" of the CVO and the Inbound Marketing Methodology.

Applies the 12 Stages of Human Intimacy to marketing to fill some of the gaps left in the conventional methodology.

Read more about it here from IMPACT's Brie Rangel.
5 Industry Changes Keeping CMOs Up at Night
This article from Jami Oetting was originally published in 2014 by HubSpot, but more relevant than ever. Read it Here.
Ever-evolving Job Description
As the industry advances, what marketing and sales leaderships are responsible for does as well.
Changing Definition of "Modern Marketing"
There's no perfect model for success and the tools and tactics are always changing.
Becoming Harder to Reach Buyers at The Right Time
Marketing Activities Moving In-House
Someone in the organization needs to own marketing for them
Struggle Between Data & Creativity
Need to strike a balance between your gut instinct about experience and the data
Main Topic: "This won't work at my company"
People are seeing the success of others and are feeling frustrated that they're not doing the same. Wondering what can they be doing to get there?
9 Things Growing Companies Do/Are:
Hyper-focused on Customer Success

They are Data-Driven

They Work Their Leads Quickly

Entire Sales Process is Measurable

They're Educational by Nature

They're KNOWN for Great Content
There's a face behind it, they have a relationship with those creating it.
They Know the LTV (Lifetime Value) of Their Customers
They're Fully-Invested in Sales & Marketing (Both Mentally and Monetarily)
Everyone is Invested in the Growth of the Company
Invest in understanding of audience

Define and track kpis in real-time

Have a process for getting data where it needs to be
Everyone is following it!

Make sure it's accurate
Define sales and marketing SLA
How the leads are managed
Invest in creating the most persona-centered content long-term
Can get fast results but need to invest long-term

It compounds
As a leader, you can't accept those excuses
It's the leader's responsibility to make it happen.
Define Plan for Growth

Get Your Team Aligned

Everyone needs to believe in the vision to see results

Start with WHY it'll work, show them who has done it, ask questions, etc.

Develop the systems and processes for your team to operate in

Sayings & Rewards

Use positive reinforcement to help make it a part of your culture

Don't Be Afraid to Make Talent Changes

If you have people who won't or can't help you grow, they may not be right for their role.

Consider Outside Help
Hire a consultant, an agency who has experience with your challenge and can help you overcome it more quickly
Resources:
Article: How I Got My Entire Team to Create Content (Without a Fight!)
"How to Turn Sales Team's into Raving Fans for Inbound" Session by Marcus Sheridan:
Book: The Sales Acceleration Formula by Mark Roberge
Book: The 4 Hour Body by Timothy Ferriss
Broadcasting Tool: OBS
Email Us: show@impactplus.com
Next Steps:
Make the mental shift! Ask yourself, "are you ready to accept that 'this won't work at my company' is just a myth?"

Check out the resources above.
Join Us Next Week! Topic:

Planning Vision for Growth
We'll be back again next Thursday, May 18th at 1:00 PM ET. Want to get reminded? Drop us your name and email address below and we'll make sure you're notified before the broadcast every Thursday!
Free Assessment:
How does your sales & marketing measure up?
Take this free, 5-minute assessment and learn what you can start doing today to boost traffic, leads, and sales.