Inbound Marketing vs. the Value Journey Canvas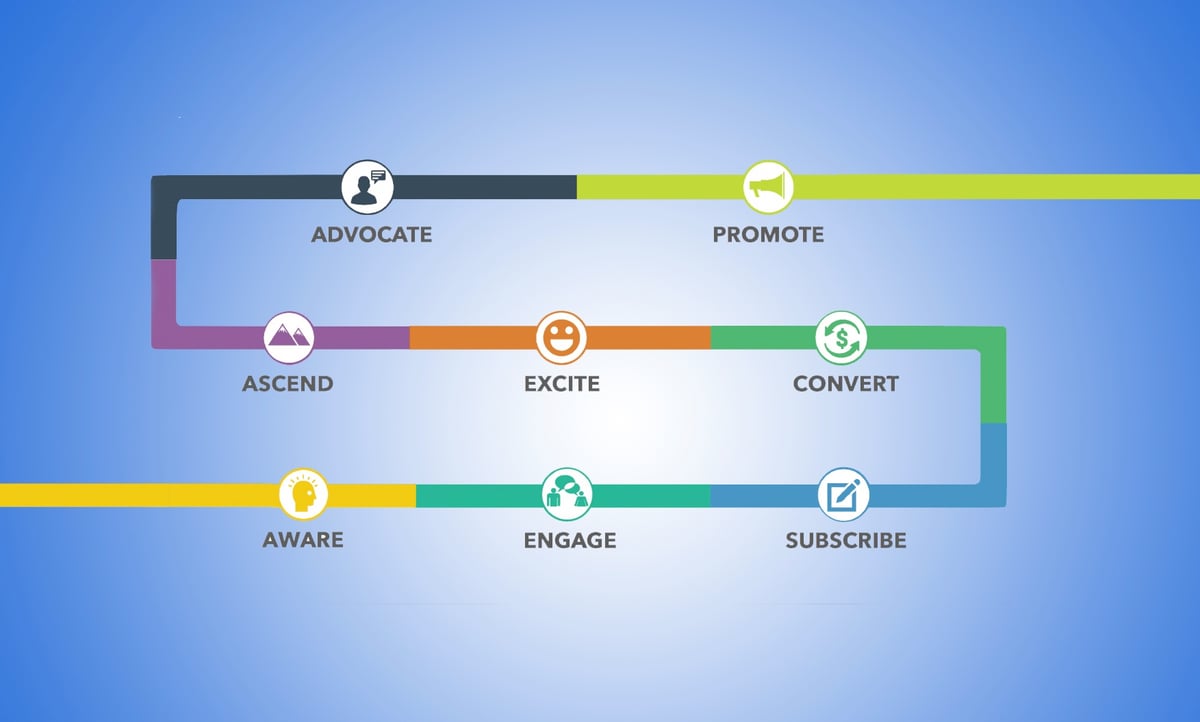 The four-step framework we've outlined above—which turns complete strangers into passionate defenders of your brand, if you do it right—is powerful and effective, but it's just one way that companies conceive of the inbound marketing process.
Thanks to the team at DigitalMarketer, we also have an alternative way to think about inbound that we turn to at IMPACT, the Value Journey Canvas.
This framework is modeled on the 12 Stages of Intimacy, a concept for human interactions by zoologist and sociobiologist Desmond Morris.
Just like it would be highly inappropriate to say hello to new acquaintances by touching their hair, you can't assault your prospects with heavy sales pitches right off the bat.
That's why you need to make people feel comfortable around you (or your brand) before they're ready to move to the next stage (in this case, making a purchase.)
Why You Should Seriously Look Into the Value Journey Canvas
The goal of the value journey canvas was to build a universal framework for transforming strangers not just into customers, but into rabid buyers and raving super-fans.
Before I get into the actual model, I want to explain why we are even talking about this new model, which we mentioned on the first episode of The IMPACT Show, some core relationship principles it's built off of, and how this relates to the inbound marketing methodology.
HubSpot has built a wealth of knowledge around the inbound marketing methodology. It's a simple, but powerful illustration in how to convert a stranger into a promoter and to be clear, there's nothing wrong with it. It very much applies to the Value Journey Canvas.

It can, however, feel a little too simplified. Like our clients, you may have more questions on how this works when you have multiple products and how you can prioritize your resources when there's so much to do.
To help supplement our (and our clients') knowledge, we began to refer to DigitalMarketer's Customer Value Optimization model, mentioned above.
Customer Value Optimization

In each stage of this model, we break down what the traditional "funnel" actually looks like for a prospect and how we can maximize the value of each customer.
You can see through the use of a lead magnet and a tripwire, there is more breakdown of what "convert" actually means and how we can work beyond "delight" to continuously maximize the value of a customer through a return path.
When DigitalMarketer first built the Customer Value Optimization framework, it was a different era of inbound marketing.
Before it became a more widespread practice, it was much easier to attract someone and get them to immediately convert on your site with a lead magnet. However, with the plethora of content available today, much of it being low-quality and ruining it for the good guys, we have to add a level of sophistication to our approach.
We need to up our game. We need a deeper explanation of how we can execute inbound marketing effectively and continue to grow our businesses.
The 12 Stages of Intimacy
Enter the 12 stages of intimacy.
As the team at DigitalMarketer researched how to iterate their original model, they began to realize, at the end of the day, we are all people marketing to other people.
This isn't a kumbaya statement either. It's just reality.
When thinking about how you build relationships with other people in real life, there are certain steps we all go through as we get to know each other, build trust and decide if commitment is a good thing. These are the 12 Stages of Intimacy.
In looking at our marketing through the 12 Stages of Intimacy, you can better understand where we're falling short. Just consider the first couple of stages:
Eye to buy: one human sees another and likes what it sees.

Eye to eye: We made eye contact and are more engaged.

Hand to hand: We are talking, shaking hands and becoming more engaged.

Hand to body: We're comfortable enough to give each other a pat on the back.
What's interesting is the speed at which two people go through the 12 Stages of Intimacy is irrelevant to their success.
What matters is they don't rush through the steps. If you meet someone and they immediately caress your face, that's pretty awkward and you'd probably never speak to them again.
We do this with our marketing every day because we're trying to skip straight over to convert or close before our prospects even know who we are, but more than likely that doesn't work. It just scares people off.
The Value Journey Canvas: Applying the 12 Stages of Intimacy to Marketing
Taking the 12 Stages of Intimacy and the previous Customer Value Optimization model, the DigitalMarketer team created the new Value Journey Canvas, which is comprised of 8 steps we, as marketers, must facilitate if we really want to grow our businesses.
As with the idea of intimacy, you must not skip more than one step. You also shouldn't think your job is over once someone becomes a customer.
I would get pretty upset with my husband if he stopped taking me out because we're already married. Your customers feel the same about you when you pass them off after the close and move on to the next hot lead.
Let's take a deeper look into each of the stages of the Value Journey Canvas: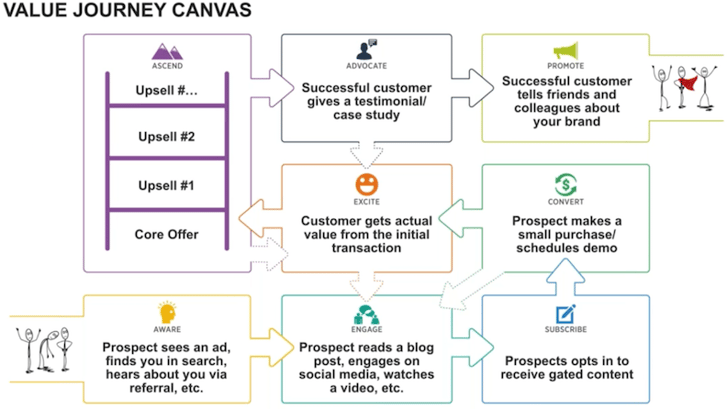 Image provided by DigitalMarketer Lab
1. Aware
A prospect has some kind of trigger that prompts them to find you or become "aware" of your brand. They now know you exist from either your social media channels, a referral, or your website.
2. Engagement
Now this prospect is beginning to engage with you through your content; perhaps by reading a blog or watching one of your Facebook Live videos. They want to understand if your content helps solve their problem.
3. Subscribe
The prospect has decided your content resonates and would like more from you. This could be in the form of a blog subscribe or content download, but don't let the word, "subscribe" fool you. The main idea here is they are willing to provide their real information to interact with your content, whether that's a literal subscribe to your blog or a free whitepaper download.
4. Convert
Here, the prospect is making a commitment of time (i.e. watching a webinar or engaging in a free consulting session) or a small commitment of money (i.e. $7 report). This is an early entrypoint offer (similar to the Tripwire from the original system) that signals they are more engaged.
5. Excite
If the prospect doesn't get excited about what they converted on, they won't move forward. In fact, the dotted arrows in the graphic show how some prospects may fall back a couple steps, like a game of Shoots and Ladders. In this situation, you can then try to offer value again with something better or with something more relevant to their challenge.
In addition to your convert offer being of quality, you also need to make sure your prospect actually consumed it and enjoyed the experience. Follow up with nurturing series to check-in and provide a bridge from excitement to your core offer.
6. Ascend
A prospect has seen value in your content and they are excited to work with you. In addition to your core offer, this is the time to offer additional product and/or service add-ons to ensure they get the most value from them.
7. Advocate
Now that your prospect is a happy customer, they are speaking positively of your brand. At this point, marketing should reach back out to acquire case studies and testimonials.
This goes right back to forgetting to date after you get married and hits on the delight phase of the inbound marketing methodology. There's still support needed there and your job is to turn your advocates into promoters.
8. Promote
An extremely happy customer will actively and willingly promote your brand without your additional nurturing. You can set up referral or affiliate programs to enable your promoters to work a new prospect through the Value Journey Canvas.
How the Value Journey Canvas Informs Your Marketing Strategy
Back to the inbound marketing methodology, you can see in the graphic below how the Value Journey Canvas breaks down its variation of attract, convert, close, and delight stages and the typical tactics you use in each step.

Image provided by DigitalMarketer Lab
When looking at your metrics, analyze where you're causing friction in this journey.
Are you struggling to get website visitors? Focus on awareness. Are you getting a lot of marketing qualified leads that never move further down their buying cycle? Focus on your convert and excite stages.
Rather than thinking in blanket statements that "We need more traffic" or "We need more leads," use this model to dive deeper into where you're actually falling short.
If you're not sure how to execute some of these tactics, this model can pinpoint where you should spend more time training yourself and your team. I also know a pretty good marketing agency that can help. ;)
Tell us what ideas you have from learning about the Value Journey Canvas? If you've already started using it, share your successes or challenges in the comments below!
Free Assessment:
How does your sales & marketing measure up?
Take this free, 5-minute assessment and learn what you can start doing today to boost traffic, leads, and sales.