Use ALL the HubSpot Tools (The IMPACT Show Ep. 69)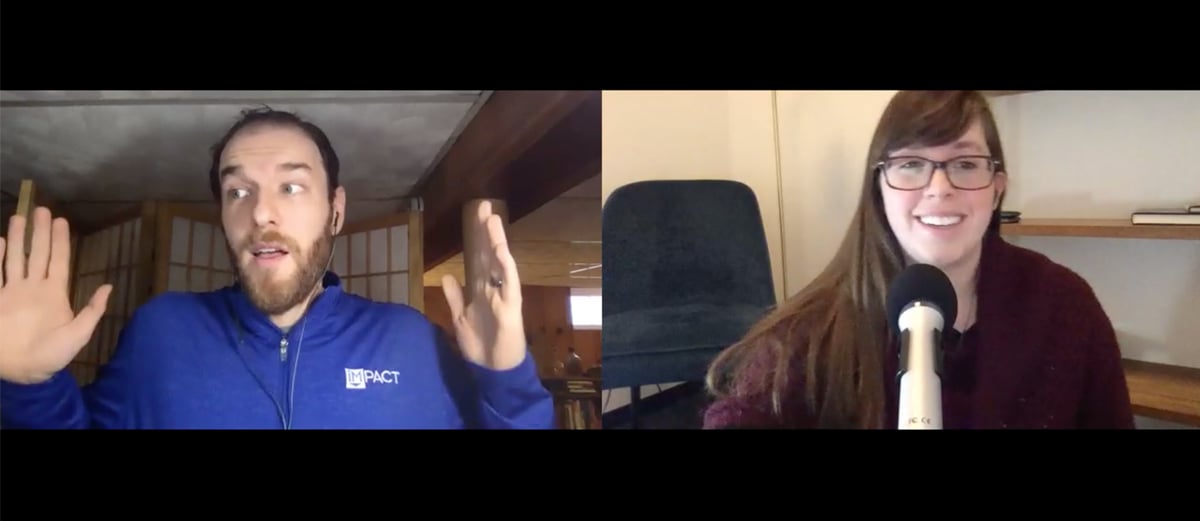 In this episode of The IMPACT Show, Nick and I discuss content that caught our eye this week, how we're using the HubSpot sales tools and CRM, our transition from Drift chat to HubSpot Conversations, and more!
Check out the video recording below as well as the show notes. Enjoy and let us know what you thought in IMPACT Elite.
Like what you saw? Make sure to subscribe to email reminders and give us a review on iTunes.
Have feedback or questions? We'd love to hear it. Comment on this article, hit us up in Elite, or email us at show@impactplus.com
The LATEST
Where we share updates from IMPACT that you need to know!
What is Point Pricing and How Does It Work?
Nick went over some content that caught his eye this week including this article about point pricing - a value-based pricing option that has been adopted within the inbound marketing community (and what IMPACT uses). The article discusses an overview of point pricing and how it brings greater transparency, value, and performance to clients in the management of their inbound marketing activities, deliverables, and budget.
The Problems with Working with a HubSpot Agency
Another article that caught Nick's eye this week was this one on the problems with working with a HubSpot agency (like IMPACT). Why would we write an article like this? Well, if you've read They Ask You Answer then you probably know. If not, Nick explains why it's important content for your business.
Implementing More of the HubSpot CRM + Sales Hub
Nick went on to share what he's been up to including speaking at The Startup Code at MIT about implementing the HubSpot CRM and Sales Hub. He also talked about how he volunteered to be his team at IMPACT's "HubSpot CRM/Sales Hub Tzar" AKA the person who "owns" things like custom deal properties and deal stages, required fields in the CRM, keeping track of all the properties used, and more. He's been cleaning up some things in our CRM and making it more helpful for the whole team.
Transitioning from Drift to HubSpot Conversations
As promised, I gave an update on our transition from Drift to HubSpot conversations which began just over a month ago. We're learning new things every day about HubSpot Conversations. While the tool does meet our needs (for the most part... still waiting on the ability to use GIFs, HubSpot!) we've definitely struggled setting it up and have run into a number of issues and black holes. The HubSpot team is making changes and updates constantly though. My advice is to keep a close eye on the knowledge base articles for very important yellow boxes like these:

The Marketing Conference Survival Guide
ICYMI Liz Murpy took over an edition of THE LATEST last week to bring us a much-needed 2019 Marketing Conference Survival Guide. It includes articles on how to not work at marketing conferences, INBOUND vs. IMPACT Live, and hacks to make marketing conferences more affordable. Yeah, I wrote about INBOUND vs. IMPACT Live - it was an adventure!
The IMPACT Community
Where we go over what you're saying in IMPACT Elite.
MPACT Elite is a community of over 4,400 passionate inbounders looking to help each other succeed. Join us in IMPACT Elite.

IMPACT Elite Member of the Week!
Melissa Thompson Currier is our Elite member of the week this week.
She's been sharing great resources and starting interesting conversations around it. On a recent post she said: "great resource for content creators AND a perfect example of selling through content." That's the kind of thing I love seeing in Elite!
Pillar Content of Way Back When...
Mia Charette posted in Elite "Random question for any IMPACT employees in here. I saw a pillar page on your site that works more like a chapter book, with each "section" being its own "page" rather than having it be one fluid page (as previously recommended).

This method looks really effective from an SEO perspective, based on the ability to have numerous H1s, title tags, URLs, etc. Would you still refer to this as a pillar page? I personally really dig the UX over a reaaallllyy long page. But I'm curious about the impact on SEO?"
Our pillar content go-to Liz Murphy responded with some interesting insight. She said: "OK, so you found a nugget of IMPACT history's past! This is an early experiment with pillar page layout and setup, which we tested up against different types of pillars. …. it performed OK. Not great. Just OK. Even though Google claims to the contrary, we've seen with ourselves and with our clients that collapsed or "hidden" content undermines the potential of organic growth of a page. Additionally, we found that this style of pillar didn't yield as much engagement as other versions of our pillars that are more dynamic, visual, colorful, etc. On top of that, there are no conversion opportunities on this pillar."
Check out the full discussion on pillar content and SEO in Elite.
Guest of the Week
This is where we pick someone from the community who we feel like you need to know about.
Our guest of the week is someone making great moves in their campaigns, have leadership lessons we can learn from, or are just overall awesome people you should make it a priority to get to know.
Myriah Anderson - Customer Success Specialist
This week we interviewed IMPACT Customer Success Specialist Myriah Anderson.
We had a great chat with Myriah about how she's using video for sales, working with me on HubSpot conversations, and overall what her role entails and how she balances everything.
As always, we wrapped up by sharing our final thoughts. You'll catch those in the episode so give it a listen!
We would love your comments. What did you think of the new format of the show? Let us know in Elite. Make sure you never miss a show or update by subscribing at impactplus.com/latest.
Join Us Next Time!
We'll be back again next week (and every week!). Until next time...we'll see you in Elite!
Free Assessment:
How does your sales & marketing measure up?
Take this free, 5-minute assessment and learn what you can start doing today to boost traffic, leads, and sales.