Video Intros, Facebook Watch, & WeWork's Interesting Acquisition (The IMPACT Show Ep. 42)
Stephanie Baiocchi also recommends this free guide: The Ultimate Inbound Marketing Strategy Playbook 2022.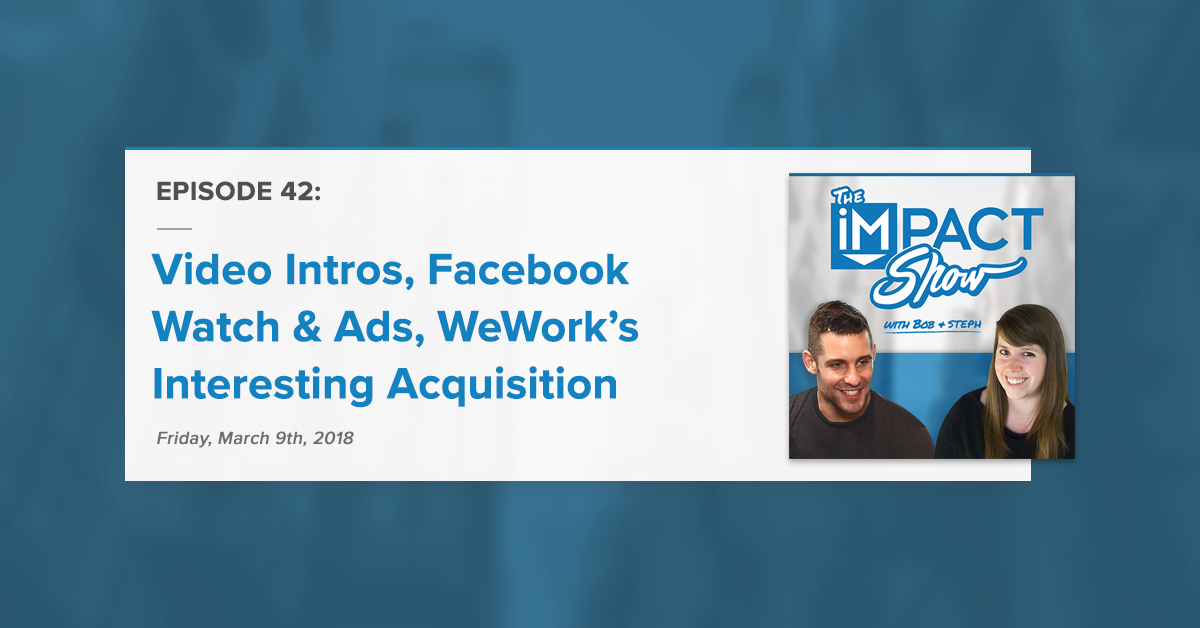 In this week's episode of The IMPACT Show, Stacy and I discussed video intros, Facebook Watch and ads, WeWork's acquisition, International Women's Day and more.
Free Guide: The Ultimate Inbound Marketing Strategy Playbook 2022
Just in case you missed us live (or if you want to relive the magic), you'll find the episode's show notes below as well as the recording.
Enjoy and make sure to share!
Like what you saw? Make sure to subscribe to email reminders and give us a review on iTunes.
Have feedback or questions? We'd love to hear it. Comment on this blog or email us at show@impactplus.com
IMPACT Updates
We're hosting an exciting webinar with Peep Laja, founder of CXL, on Tuesday, March 13th at 11:00AM ET.
Learn how to get people to take action on your website without using words through the power of persuasive web design. Register for the webinar now.
The DARCI Accountability Grid
Liz Murphy wrote a great post about the DARCI accountability grid and how it can help your next project. Kathleen liked it so much she shared it in Elite! We discussed our experiences with using DARCI and why it's useful.
What Marketers Be Talkin' 'Bout
Where we go over what you're saying in IMPACT Elite.
IMPACT Elite is a community of over 2,300 passionate inbounders looking to help other marketers (and sales and customer success people) succeed. We'd love for you to join us! We'd love for you to join us! Go to impactplus.com/elite or just search the IMPACT Elite Group on Facebook and request to join.
Elite member Ryan Litwiller posted: "Looking for recommendations… I've read books like Same Side Selling, The Challenger Sale, and Sales Shift, but they are all focused on B2B. I am open minded and can relate many of the concepts to B2C, but am looking for similar sales resources focused specifically to B2C. Any suggestions?"
John McTigue suggested: What's the Future of Business by Brian Solis. Not really B2B or B2C, not really sales or marketing. Interesting read.
Daniel J. Sullivan suggested: Jacques Werth. High probability selling.
Chris Handy suggested: Scientific Advertising - Claude Hopkins will teach you more about Direct Response (Inbound isn't new) Almost a hundred years old. "Salesmanship in print."
Stacy shared how she always goes back to "good 'old branding" when she's thinking about either marketing or sales - and straight back to her favorite MBA textbook: Marketing Management by Kotler & Keller. It's not sales-specific but building a brand encompasses both sales and marketing.
I shared a few Daniel Pink books including To Sell is Human and When: The Scientific Secrets of Perfect Timing.
Share your recommendation in Elite.
So what else is happening in Elite?
Elite member Joe McNamara posted: "Hey everyone, with all the new changes coming to facebook ads, and the transparency associated with being able to keep tabs on your competition and the ads they're running to their different audiences, do you think we'll see a pull back or double down on facebook as an ad platform?"
We pulled in Ali Parmelee who shared a few thoughts including how the algorithm changes are really perfect for inbound marketing. Facebook is trying to force brands to be better and to produce better content to share while trying to block the people who are trying to scam the system.
There was another great post by Elite member Andrea Funk who originally posted asking for suggestions to clean up a list of emails that potentially had a lot of bad data. She posted a follow up saying: "Thanks to everyone who help me with my new email list I created. I did run the list through an analyzer and it deleted 13% of the bad address. I sent a new email to those on that list and had a great response rate. 50% open rate, 9% click through rate and 1% contact lost rate. I consider those decent number! As always, this group rocks."
We love that she found helpful information and followed up with the group! Check out her post in Elite.
Elite member Matthew Tringali posted "Anyone have an example of an intro and outro for videos that they are proud of that they can share? We are working on redesigning ours right now and need some inspiration."
A few members weighed in with their suggestions and Stacy noted how she thinks it's important to keep it simple and set the tone and then get into the content quickly.
Digital Marketing News
Where each week, we share one thing from the world of digital marketing that caught our eye.
recode.net: WeWork is Acquiring Digital Marketing Startup Conductor
Conductor is a platform that provides audience, content and SEO insights to help you optimize your content to your audience. Tagline is "help your marketing deliver true customer value"
Stacy noted how this is another interesting move by WeWork who recently also acquired FlatIron school.
WeWork acquired Conductor after using the product quite successfully for 2 years. Talk about an in depth M&A discovery process! They clearly see a lot of value in digital marketing and audience insights specifically as a solid long-term business play.
This one isn't exactly "new" news but we wanted to discuss a few things about Facebook Watch! What was previously launched as a place for high quality video is looking more and more like YouTube with more user-generated content. Publishers that aren't being paid by Facebook can now take advantage of Watch by posting their existing shows there.
Facebook watch began in August of 2017. Even back then, Mashable had a post titled "Facebook Watch will overtake YouTube as the biggest video platform."
In the post they highlighted its features such as the discovery page, show-specific Facebook groups, and more. Probably most importantly, Facebook users are logged in which gives them a better understanding of what viewers want to watch. This helps Facebook provide a better experience for everyone with more relevant video.
The Next Web: 4 New Features (Possibly) Headed to Instagram
Universal Portrait Mode - already what the Google Pixel 2 uses (which is the phone I have!) and is really ideal for photos - much better than square.

Cinemagraphs - think of iPhone "live" photos or Google "burst" or "animations."

Organize Your Conversations - we will be able to "star" a conversation to keep it at the top

Download Your Data - just like Facebook lets you. This is partially in response to GDPR, unsurprisingly.
International Women's Day!
What caught Stacy's eye: brands that are showcasing their own powerful women!
What caught my eye:
Next Steps:
We would love your comments! Feel free to send us an email or comment on the Facebook thread.
If you really liked it, please give us a 5-star review on iTunes.
We're going to IMPACT Elite to ask what you want us to talk about, so jump in on the post there.
Join Us Next Week!
We'll be back again next Thursday, March 15th at 1:00 PM ET.
Until next time... get out there and make it happen.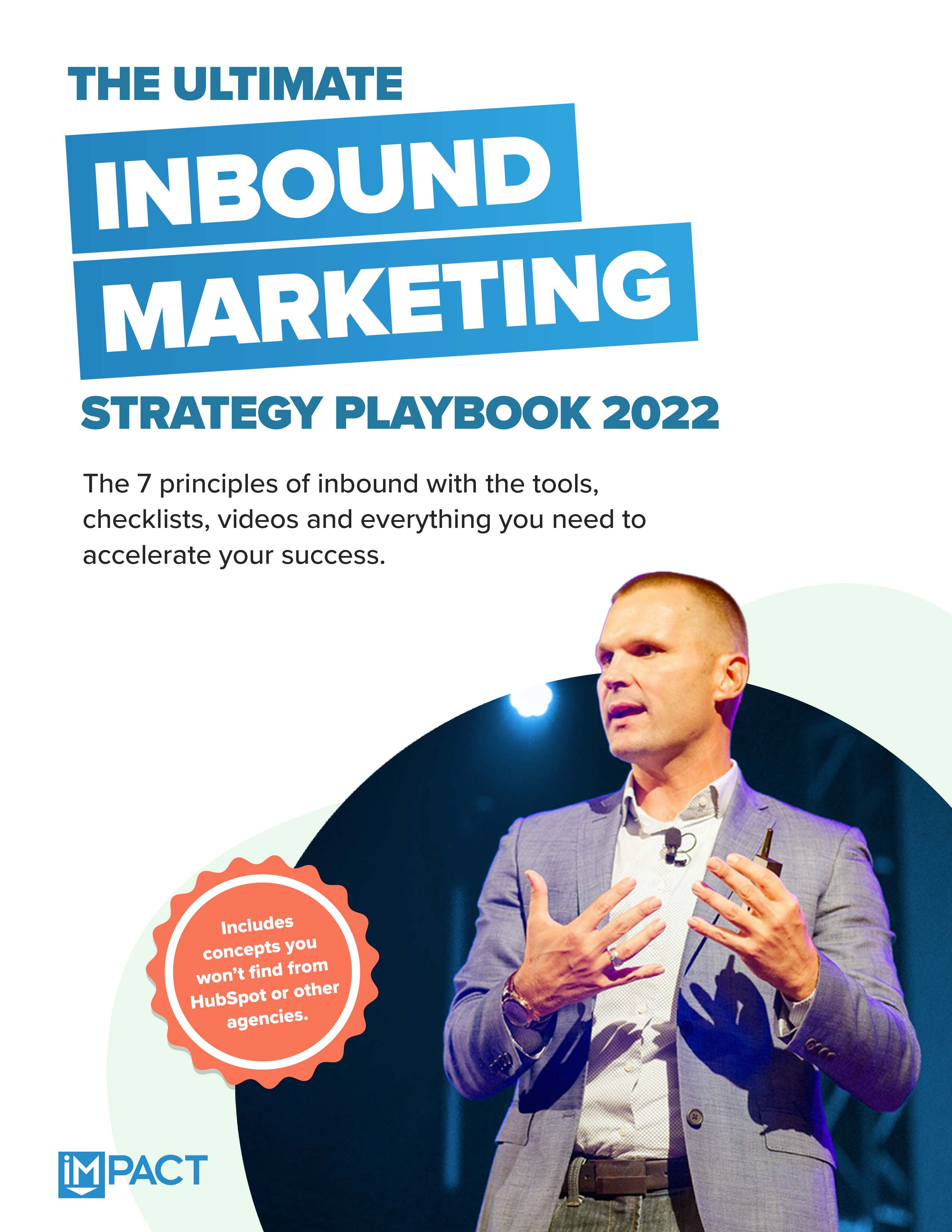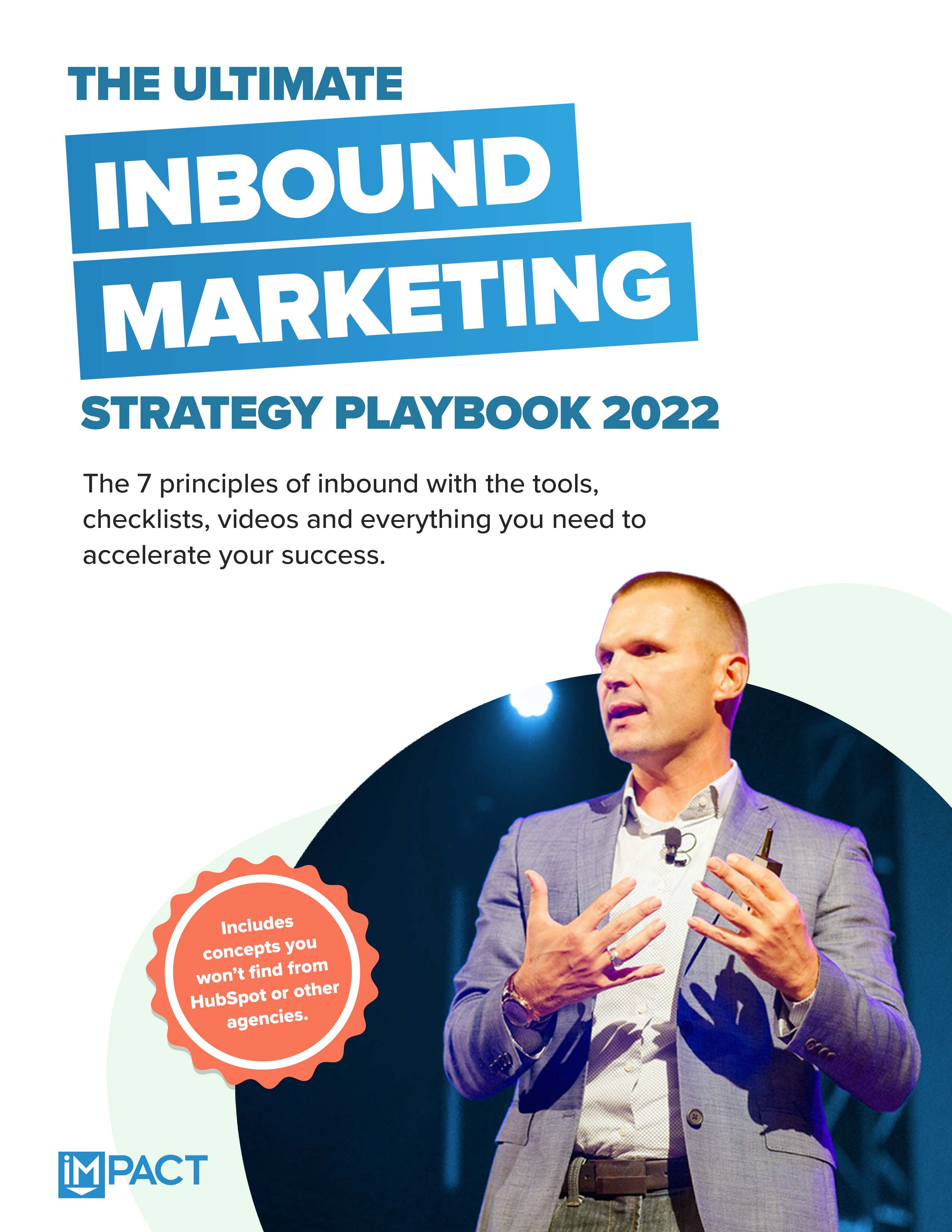 Free Guide:
The Ultimate Inbound Marketing Strategy Playbook 2022
Take your inbound strategy to the next level
Master the 7 principles of highly effective inbound marketing
Dramatically improve your inbound sales
Get more buy-in at your company
Published on March 9, 2018