10 Thoughtful Ways to Thank Your Clients and Customers this Year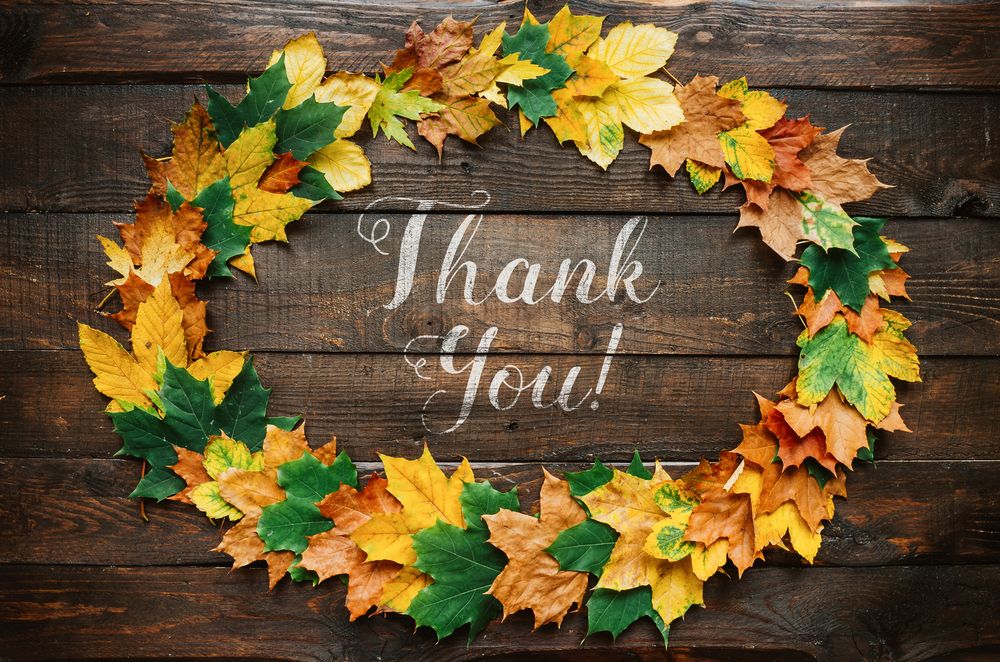 It's amazing how far a simple "thank you" can go.
Research shows that customers spend more, employees accomplish more, and vendors are more likely to pay on time, if they receive regular gratitude.
Unfortunately, when considering how to express your appreciation to B2B clients and customers, it can be challenging to find the right balance between staying professional, but still creating a personal connection.
When simply saying "thank you" just doesn't feel like enough for some of your best clients and customers, try these 10 thoughtful and creative ways to really show how much you appreciate their business and the relationship.
1) Send a Handwritten Note
Yes, call me old fashioned, but what better way is there to show your customers how much you care than with a personalized, handwritten note?
When crafting your thank you note, try to be focused and specific.
Rather than just saying, "Thanks for your business," it would be more effective to say something like, "Thank you for being our partner, working with such a committed company has taught me the importance of staying accountable and communicating proactively throughout the process."
When you find a specific way to recognize how this customer has influenced you or include details of your relationships, it will make your message more meaningful and will likely increase motivation to work with you again.
2) Invite Your Client to an Industry Event
The end of the year is usually a time for holiday celebrations and other related end-of-the-year events.
Do you know of any upcoming industry events that you could invite one of your customers to as a thank you?
This is a great way to bond and spend time getting to know your client in a different environment outside of work. It also gives you and your client the opportunity to network and learn from like-minded people.
On the other hand, maybe you would prefer to throw your own party or event.
You can create a VIP experience with an invitation-only party. Introduce them to newly-launched products or services and let them try them out while providing hors d'oeuvre and drinks for a relaxed "after-hours" feel.
To go above and beyond, you could create an even more memorable setting by getting a local musician to play during the event to entertain your guests. When the event is over, they'll be no doubt in your customers' minds that they are valued and appreciated.
3) Send a Personalized Gift
Everyone enjoys getting a personalized gift; what makes your customers any different?
If you want to express your gratitude with a gift, go beyond the ordinary and think outside the business box to reach them in an emotional and personal way, not just a professional one.
Know some of their hobbies or interests? Use those to find a gift that is unique and heartfelt. When your customer realizes that you've truly listened and heard what they said from both a business and personal point of view, they will be touched.
Here's a few ideas to spark some inspiration:
Wine glasses

Wine bottle with a custom thank you note

Beer mugs or glasses

Laptop case

Briefcase

Gift Basket of their favorite treats (i.e. cookies, brownies, fruit, etc.)

Luggage tag

Notebook

Coffee mug
4) Make Them Laugh
Laughter is the best medicine -- and when it comes to the workplace, it's absolutely necessary for the well-being of all.
According to research from institutions as serious as Wharton, MIT, and London Business School, every giggle has business benefits. Laughter relieves stress and boredom, boosts engagement and well-being, and spurs not only creativity and collaboration but also analytic precision and productivity.
Some businesses may not be in a position to utilize humor in their favor, whether that's due to the nature of their industry or they just don't have an employee with the creative resources to create a funny and personalized gift.
If you don't think your client will find it funny then chances are you should rethink your approach, but for those customers who love a good laugh, here's a few ideas to help get you started:
Record a video that pokes fun at the stuff your client is worried about and then show them how you typically help them combat these worries

Use Photoshop to create custom movie poster that incorporates your client. Think of a clever way to rename the famous movie poster, and voila, you've got a creative way to say thank you while adding humor.

Create a cartoon, or share a funny cartoon you've seen and you know your client will relate to and laugh at.
5) Help Them Learn Something New
You can take 'lunch and learns' to a whole new level. Introduce your clients to a variety of experts around the industry by capturing their valuable input and sharing it with your customers.
The more educated your customers become, the more they will appreciate you, which in turn makes them an extremely valuable asset to your business.
In business, use your blogs, webinars, whitepapers, and other free offers to help people make the most of your product or service. Two huge benefits come from thanking customers this way: customers trust you and they have a greater appreciation for your products.
6) Pay It Forward with a Great Book
Consider the books that have been most influential to you and your company. Are there any that have guided the direction, values, and vision of your company? Send your customer a copy!
This gesture offers customers insight into your company culture and opens the lines of communication for future discussion.
When you give your customer or client a book, make sure to write a personalized note explaining the value it can add to their personal and professional lives. This touch also lets the customer know this is a thank you meant just for them.
In our training sessions, we regularly recommend and give away copies of some of our favorite books, to name a few: Traction, Built to Last, Good to Great, and How to Win Friends and Influence People. This is a way for us to say thank you, but it also gives our client insight into our methodology and process in terms of how we established our core values and company mission.
7) Reward the Socially Savvy
Loyal customers and social followers deserve recognition and thanks. This is especially true as social media becomes an increasingly powerful form of communication.
Consider creating a direct way to reward your customers engaged on social media with special announcements, exclusive promotions, or a unique freebie.
Once you really start gaining followers and picking up momentum, then you could also create a social media loyalty program where you reward points for various activities. For instance, points could be awarded when a customer writes a review, shares positive feedback via Twitter, or contributes a post to your LinkedIn group.
The key here is to maximize your social followers. They are eager and willing to give you feedback, so make sure you take advantage of this opportunity to collect feedback and reward your customers for it.
8) Remember Your Long Distance Relationships
If you're like a lot of companies in today's business world, your customers are spread out all over the country, or even the world. Because of this, opportunities for getting together are usually few and far between, but don't let that stop you from cultivating your long distance business relationships.
When you know you'll be traveling to an area where your customer lives or works, then look them up and offer to get together for a coffee, lunch, or dinner.
Since it's their home turf, let them guide you to a favorite local spot. Going out of your way to check in with a customer and spend quality time while you're on the road creates a lasting impression for both of you.
On the other hand, if you know you won't be traveling to your client's location anytime soon, then try to make an effort in a different way by sending them a gift card to their favorite coffee or lunch spot with a personal note saying something like: "Just wanted to say thanks again for being a trusted business partner and even though I can't make it to you for a visit this quarter, have lunch (or a coffee) on me!"
9) Offer an Upgrade
Customers want to see that you're constantly working on taking your products and services to the next level. They want to work with a company who strives for innovation and continuous improvement.
That's why when it comes to delivering on client expectations, the element of surprise is a powerful tool to go beyond what was expected and truly delight your customers. You can do this by taking the opportunity to thank your customers with a free, spontaneous upgrade.
Select clients at random, or make a list of your most loyal customers and send the upgrade to your top 5-10. A bonus to this approach is receiving feedback from your most trusted clients so that you can understand what other adjustments you can make to create an even better product or service.
10) Refer Customers
While all of the above ways of saying thank you are thoughtful, there may be no better way to thank B2B customers than by sending more business their way.
Look for opportunities to refer your customers to each other. You know their business, their goals, their challenges, so you have greater insight into how each of your clients could benefit from each other.
When you work with great companies, you want to be an advocate.
Consider creating an 'Affiliate' or 'Partner' page on your website that lists all of your clients with a link back to their website. This provides you with an opportunity to thank your customers by recommending their product or service and helps increase traffic to their website.
Success is Having an Attitude of Gratitude
Saying thank you is a excellent way to not only express your appreciation, but also keep the line of communication open between you and your client while keeping your name/company top of mind.
While the return on investment of acts of kindness like some of the ideas shared above aren't necessarily measurable, they are easy yet effective ways for you to reflect on each customer and really assess how you can continue to build a mutually beneficial relationship and continue to add value at every step of the way.
So as Thanksgiving approaches and you're struggling with how to say thank you to your customers, remember these ideas and to keep your approach personal, specific, and sincere.
Free Assessment:
How does your sales & marketing measure up?
Take this free, 5-minute assessment and learn what you can start doing today to boost traffic, leads, and sales.