11 Things that Make Marketing in 2017 Different From 2007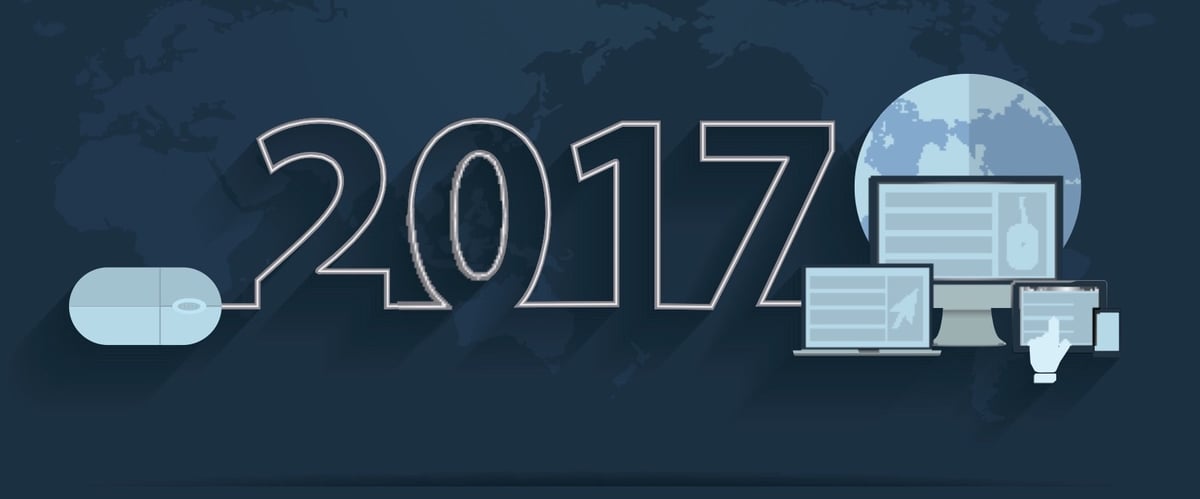 With 2017 now upon us, you've probably promised yourself that you were going to make a few changes this year to better yourself. You've probably promised to change your marketing for the better too. New year, new marketing strategy, right?
With every year the marketing industry changes and grows. If you look back 10 years ago to marketing in 2007, what do you remember about it?
Join the IMPACT coaches for a deep dive on a new topic every month in our free virtual event series.
Maybe you think about sending thousands of brochures for your business through the mail or reserving a spot for your ad on the back of your local paper. Whatever comes to mind, I can almost guarantee it's dramatically different from the way things are today.
To help put it into perspective, we've highlighted 10 of the most significant changes to marketing from 2007 to 2017:
1.
Mobile Usage
In 2017, you can't go anywhere without seeing someone on their phone texting, playing a game, or keeping up with what's going on in the world through social media. With 80% of internet users owning a cell phone it's become the norm to see people always on their phone.
Back in 2007 smart phones were just becoming a thing.
The first iPhone was just introduced and still quite elite. People weren't using their cell phones as their main source of technology or information, but all that has changed.
Now that everyone is always on their cell phone and almost every cell phone is smart, marketing had to adapt to become more mobile-friendly. 55% of people open emails on their mobile device while only 16% of people open their emails on desktop.
Creating offers, emails, sites that are all mobile friendly are a huge part of 2017 while they were merely a prediction back in 2007.
2.
More Interactive Content
As technology enables more interactive features (i.e. touch, VR, etc.), marketers are able to create more unique offers in 2017 than they could in 2007. For example, take quizzes, generators, and calculators.
In 2007, usually only big brands with large budgets could build fun, engaging tools like these, but thanks to apps like PlayBuzz and Ceros, smaller marketing teams can create them on their own.
3.
eCommerce
Online retail sales are expected to approach $440 Billion for 2017, while in 2007 online retail sales reached only $175 Billion. eCommerce is huge now. With online retail giants like Amazon offering everything from clothes to car parts in one easy place it's easy to see why it's taken off.
In 2007 online shopping hadn't taken off like it has today. Almost every big name has a virtual store where users can shop from almost anywhere in the world, and it's with good reason.
As mentioned earlier, the modern consumer is always on their phone; their lives are digital and eCommerce offers a convenience that traditional retail stores never have. They allow people to "visit" multiple stores without moving an inch and take action instantly.
With eCommerce options, brands have a whole new avenue to market and behavior to take advantage of.
4.
Social Media
It's no secret that in recent years social media has taken the world by storm and it's only expected to grow in 2017.
In 2007 only 15% of adults were using social media now 78% of people have at least one account.
Companies are now creating their own pages on and profiles on platforms like Facebook, LinkedIn, and Twitter to better reach and engage with their audience through content.
Social media has created a platform for brands to speak directly to their consumers that they never had before. It has also created a place for buyers to publicly express their opinions or concerns and have the potential to reach a wide audience.
Since 74% of consumers rely on social media to making a buying decision it's important to make sure you're paying attention to what's being said about your brand on social media by others and on your own account.
5.
Storytelling
Content is delivered very differently today than it was in 2007.
Rather than focusing on just getting as much information out there as possible (as you would with most traditional methods), modern marketing now focuses on telling a story. You want to create a story for your leads that pushes them to learn and discover more about your company.
People are no longer buying any random product nowadays because they have so many options. Instead they look to connect with a brand based on the story they tell. They don't just want to buy a product; they want something that they can relate to personally. If they feel emotionally connected to the brand or what it stands for, they'll want to be a part of it.
Make your visitors feel that connection with your brand by telling them a story that relates to them and their pain points. Doing this will get you ahead of the of other competitors trying to steal your customers.
6.
Inbound Marketing
Did you know what inbound marketing was in 2007? Neither did we.
HubSpot and inbound were still in their early states back then and all of the focus was still mainly on print advertising and being in your customers faces with commercials or billboards.
As you (hopefully) know, with inbound marketing things are different. Instead of trying to fight for people's attention, in inbound, your leads find you, then you nurture them through the buyer's journey to making a purchase.
10 years ago people would create websites just to have an online presence, but now that everyone is online you need to make your site found above the others. Through inbound and Search Engine Optimization (SEO), your target audience can find you through all of the online clutter.
Along with SEO, inbound marketing completely changed the way we connect with potential customers by helping to guide the switch in focus from print to the online world. It helped bring light to a new focuses like email, blogging, landing pages, and so much more! All of these tools fit exactly with how people are making purchases online in 2017.
7.
Shorter Attention Spans
Everyone is always on-the-go these days. Everything needs to be quick, attention grabbing, and able to move with the buyer or it'll get lost in the crowd.
People no longer have the time to sit down to watch your 10 minute long video on why your company is right for them. They want a quick one minute video that gives them everything they need to know or a summary in 140 characters or less.
Make sure you're focusing on the new way of thinking and know that buyers today have a much shorter attention span that they did 10 years ago.
8.
User Experience
In 2007, user experience was something we mainly only heard web designers and developers talk about. Today it should be one of the biggest focuses of both designers and marketers.
In 2017, everything is being positioned to be intuitive for the user, helping them easily guide through you site.
Rather than just buying from any-old company, people want a more personalized experience. Companies now have real people answering your questions via a live chat button or even text message making sure you unique needs are being met. Websites greet you by name and remember things you might have done the last time you visited.
Apple, Google, and Amazon even have voice interfaces that allow you to really connect with the company via their virtual persona.
In 2017, it's important to create these memorable experiences for your potential customers to help them connect with your brand. If you haven't already you need to focus on creating a strong user experience.
9.
Heavier Design Role
Today, people want to be visually stimulated. With phones and social media pushing everything to be more visual-based, it's crucial to have design play a key role in your marketing strategy.
Whether you're creating an offer or designing a page on your site, you need to make sure it's designed to convert the leads you want.
People are no longer satisfied with just a bunch of content on a page; they want something that visually excites them.
Luckily tools like Canva, Invision and YouTube allow you to really capitalize on this; making it easy to create the graphics or offers that people actually want to see. Utilize these tools to help ensure that everything you release not only looks good, but also performs well.
In 2017 it's important to not only stay on top of the marketing trends, but also stay up-to-date with the design trends that go with them.
10.
More Focus on Informative Blogging
Back in 2007 blogging for business was still young. Business blogs were primarily used as a way to promote your company's products or offer updates, but in 2017, they're used as a way to show your expertise in the field and educate people, not push your product.
Blogs today are filled with more informative, helpful articles that answer visitors' questions and offer true value.
You should no longer be using them as a place to solely discuss your product, but as a valuable resource for sharing your knowledge and unique perspective.
11.
Increase in Video Marketing
Video marketing has taken a big leap forward since 2007.
In 2007, video was more of luxury than a requirement when it came to branding. When we thought of a "brand video," it usually meant a television commercial, but that's no longer the case.
With a constant stream of video accessible in our pockets between Snapchat, YouTube, and Facebook's push for Live, video is quickly becoming one of the most sought after mediums of content.
From creating promotional materials for your product or a behind-the-scenes series to a stronger connection to your customers, video is powerful tool that people have come to expect from marketers.
Key Takeaway
As technology advances and buyer behaviors keep changing, marketing trends will always be updating. As you make plans for the new year remember how important it is to always do research to make sure your marketing strategy is aligned with these changes.
Let us know what new marketing trend you're most exciting to try this year!
Join the IMPACT coaches for a deep dive on a new topic every month in our free virtual event series.
Published on January 6, 2017