Getting on Camera, Getting Creative, and Getting Sponsors (The IMPACT Show Ep. 71)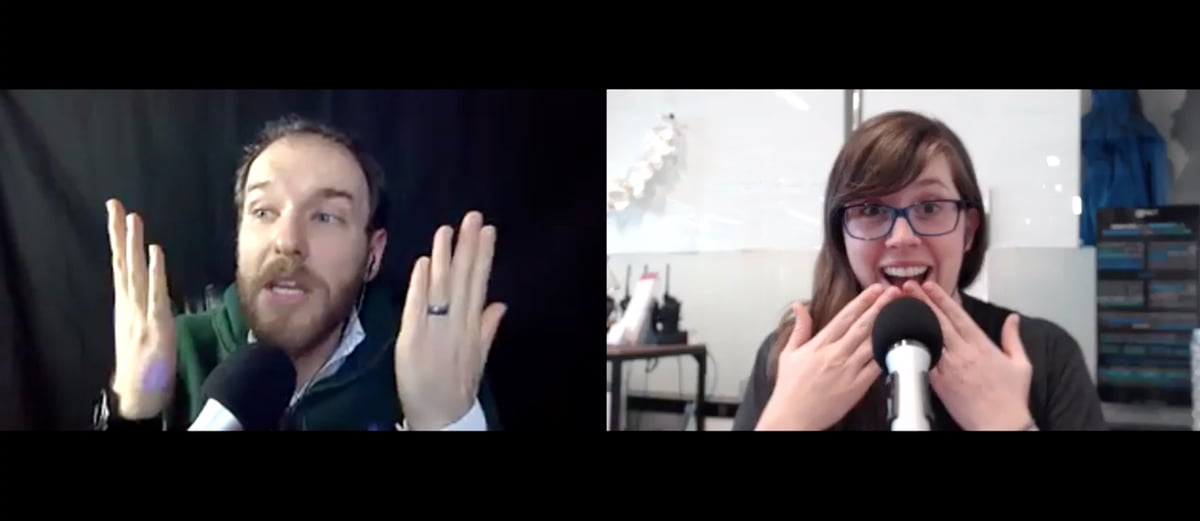 In this episode of The IMPACT Show, Nick and I discuss an honest review of HubSpot Video, dealing with creative block, getting sponsors for your event, and more.
Check out the video recording below as well as the show notes. Enjoy and let us know what you thought in IMPACT Elite.
Like what you saw? Make sure to subscribe to email reminders and give us a review on iTunes.
Have feedback or questions? We'd love to hear it. Comment on this article, hit us up in Elite, or email us at show@impactplus.com
The LATEST
Where we share updates from IMPACT that you need to know!
From THE LATEST
This is our nod to IMPACT's newsletter which is the most honest, relevant, and actionable marketing content hand-curated and delivered to your inbox 3x a week. Subscribe to THE LATEST now.
Marketers, Stop Asking for Email Addresses
No email addresses? What ever will marketers do? Nick dives into what he loved about this article by John Booth on why he's a marketer and he doesn't want your email address. Check out the full article by John.
An Honest Review of HubSpot Video
I wrote an article this week about HubSpot Video because I love learning everything I can about new HubSpot tools. Though HubSpot Video isn't actually a tool - it's more of a set of features that, collectively, "videofies" HubSpot. My honest review of HubSpot video dives into both the marketing and sales features. Here's my honest thoughts on HubSpot Video.
The IMPACT Community
Where we go over what you're saying in IMPACT Elite.
MPACT Elite is a community of over 4,600 passionate inbounders looking to help each other succeed. Join us in IMPACT Elite.

IMPACT Elite Member of the Week!
Joana Rodrigues and Ashlee Rolkowski are our Elite members of the week this week. (Sorry, Ashlee, for missing the K in your last name!)
They had a great conversation in Elite where Ashlee answered Joana's question and added some more helpful information. Joana then came back and thanked Ashlee for her comment. This is exactly what I love to see in Elite!
This is also a great reminder that you're not alone - if you have a question (even if you think it's silly) someone else probably has or has had it as well!
Dealing with Creative Block
Christine Coco posted "has anyone dealt with or is dealing with creative block? How do you overcome it and where do you turn for inspiration/motivation? Thanks!"
I loved seeing the clarifying questions on this thread as well as seeing IMPACTers, like Jessie-Lee, jumping in to share information. (Reminder: we have a podcast just for this called Creator's Block!)
There were so many great, in-depth responses to this post that we're working on a roundup of responses from this post as well. I am so impressed by the truly helpful and quite lengthy answers from members on this post! Great work, Elite. Check out the full thread and share your thoughts.
Guest of the Week
This is where we pick someone from the community who we feel like you need to know about.
Our guest of the week is someone making great moves in their campaigns, have leadership lessons we can learn from, or are just overall awesome people you should make it a priority to get to know.
Vin Gaeta, Director of Sponsorships and Partnerships at IMPACT
This week we interviewed IMPACT's sponsorship guy, Vin Gaeta.
As one of the first employees at IMPACT, he's held a variety of positions where he has developed a deep understanding of the full scope of the client agency relationship, and what it takes for the entire team to be successful.
Vin is currently working on finding great new sponsors for IMPACT Live and shares with us how he goes about finding event sponsors, what kind of questions sponsors ask him, and more.
We would love your comments. What did you think of the new format of the show? Let us know in Elite. Make sure you never miss a show or update by subscribing at impactplus.com/latest.
Join Us Next Time!
We'll be back again next week (and every week!). Until next time...we'll see you in Elite!
Free Assessment:
How does your sales & marketing measure up?
Take this free, 5-minute assessment and learn what you can start doing today to boost traffic, leads, and sales.