Google's May 2021 algorithm update is a very, very big deal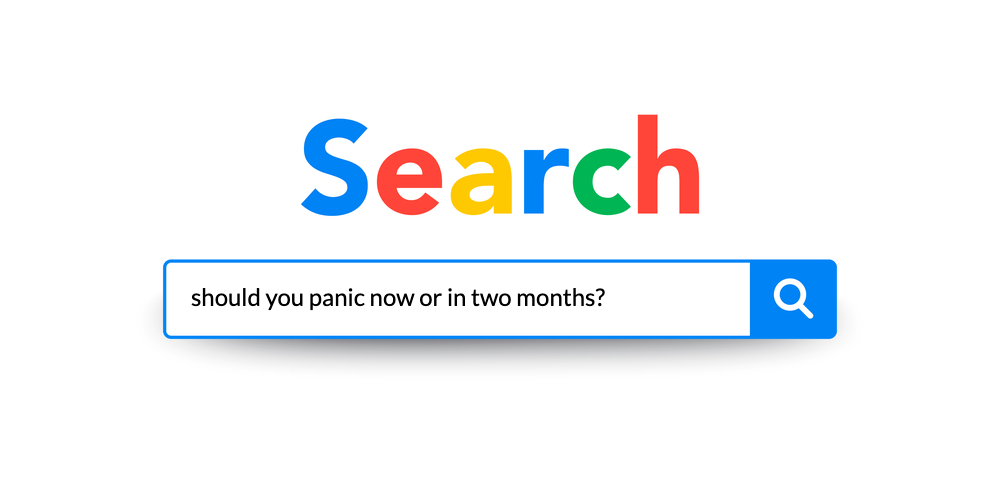 "That's a problem for Next Week Liz."
I tell myself that a lot, whenever I kick a proverbial can down the road. For example, when I punt project deadlines until after a big vacation that's coming up because, as an act of self-care, I decide that I need to be "more realistic about what actually needs to get done before I leave."
Of course, the outcome is always the same.
I come back to an absolutely terrifying mountain of work-shaped poop, which is then inevitably followed by me unleashing a gushing waterfall of muttered expletives and other colorful descriptors directed solely toward Pre-Vacation Liz's complete lack of foresight.
I mention this unfortunate habit of mine because I want to prevent you from falling into the same trap about a looming Google search algorithm update slated for rollout in May 2021 that has massive implications for website owners just like you.
You may have forgotten about it, since it was announced way back in May of last year and then again in November...
We're announcing that page experience ranking signals for Google Search will launch in May 2021. This will combine Core Web Vitals and previous UX-related signals.

Learn more: https://t.co/OrrR8LDl1a

— Google Search Central (@googlesearchc) November 10, 2020
...if you even remember hearing about it at all.
On top of that, you may not have even realized it was such a big deal considering you need a master's degree in Google Buzzwords and Product Terms to understand what the announcement even says.
So, this is your heads up that the May 2021 Google algorithm update is something you need to care about today – not tomorrow or next week.
Now, let's talk about why.
What you need to know (the short version)
All online searchers want one thing – a great page experience from the websites they land on from search results.
In response,

last year

Google added new metrics measuring page experience to Core Web Vitals for website owners, noting "an upcoming Search ranking change" in future, taking those into account.
Well, the time has come, and these "page experience signals" will be rolling out in May 2021 as part of an algorithm update, meaning how well you measure up against these page experience factors will positively or negatively affect your rankings after this update takes effect.
Now is the time to take action against any page experience metrics in Core Web Vitals where you're falling short. Do not wait.
What you need to know (the long version)
When it comes to a business website, page experience is a big deal to your ideal buyers – and likely you, as well, when you're off-the-clock, roaming the internet as a private citizen and money-spending consumer.
And when I say "page experience," I mean that literally:
How quickly a website page loads once a link is clicked on from search results.
How seamless user interactivity is – for example, with no delays in button-tapping and site response or desired action.
How stable page content is as it loads for a user on the screen.
That's why Google announced last April that they were introducing three metrics specific to page experience into Core Web Vitals addressing site speed, interactivity, and stability.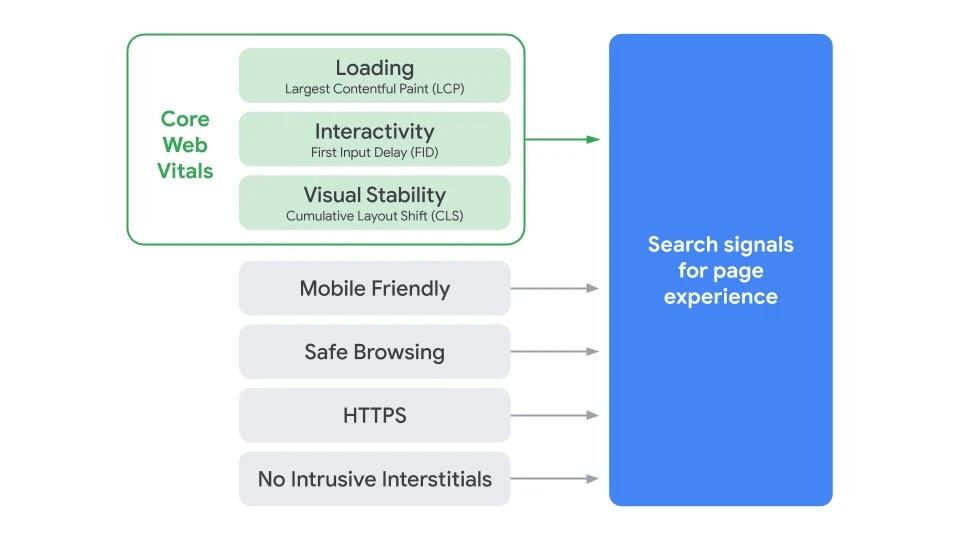 Prior to that update, Google was already measuring websites for responsive design, safe browsing, security, and intrusive pop-ups as a means to properly rank website content in search results, with only the most relevant sites (with the best page experiences) rising to the top.
What does all that Core Web Vitals jargon even mean?
Think about your business website like a patient in a hospital.
Your Core Web Vitals from Google are simply measuring the "vitals" (à la Grey's Anatomy) to determine its health, from a page experience and rankings standpoint, in the following categories:
Site speed and page load time
Site design across devices (smartphone, tablet, computer)
How safe and secure your website is
Ease of use and interactivity (e.g., are there UX glitches or delays?)
Visual stability of your website content
Presence of annoying pop-ups or things that block primary page content
All together, these metrics form a scorecard that tells you how great your website is (or isn't ¯\_(ツ)_/¯) from a user-focused page experience perspective. And, the lower your scores are in these key areas, the lower your business website pages will rank starting in May 2021.
Why in May 2021 and not before now?
Us digital marketers and business website owners love to cry foul about how we're always being personally victimized by Google whenever they make an update to their core algorithm.
To be fair to Google, however, the search engine giant does not like to make massive changes (like this one) without lots and lots of advanced warning. That's why they mentioned it last spring and then again in the fall, the latter of which included the May 2021 timeline for rollout.
This change, in particular, has been handled with great care and understanding on the part of Google, due to the COVID-19 pandemic and the added strain that has placed on business owners and leaders who have been scrambling for the past year trying to adapt to a new virtual-first digital sales and marketing landscape.
In a May 28 statement, the Google team noted:
"We recognize many site owners are rightfully placing their focus on responding to the effects of COVID-19. The ranking changes described in this post will not happen before next year, and we will provide at least six months notice before they're rolled out.

We're providing the tools now to get you started (and because site owners have consistently requested to know about ranking changes as early as possible), but there is no immediate need to take action."
Well, that was true back then.
But, as I mentioned at the start of this, now is the time for Next Year You to take action on the thing Last Year You didn't need to worry about.
That's because, sometime in May, all of these disparate page experience metrics are now going to be rolled out with this approaching update as a bonafide ranking signal in Google's core algorithm.
How to prepare for this Google algorithm update
1. Accept that this is a big deal (and plan accordingly)
Before I tell you what you need to do, I need to be very direct with you about one important thing.
If you do not directly oversee maintaining and updating your business website, you will almost certainly need to call on the support of your in-house or third-party website developers for assistance with setup, access, and any required actions as a result of your findings.
This is not negotiable.
While you may be tempted to throw up your hands because this is just a bunch of "technical stuff" that "probably" isn't really that big of a deal, trust me when I say you need to make this a priority for yourself and with your website development resources, because this is a big deal.
(That's why I said so in the headline of this article.)
2. Follow my Google Update Doomsday 2021 Checklist
OK, with that bit of housekeeping out of the way, your Google Update Doomsday 2021 Checklist is fairly straightforward.
FIRST, you need to get your butt into Core Web Vitals, which you can find in your Google Search Console under the "Enhancements" menu on the left: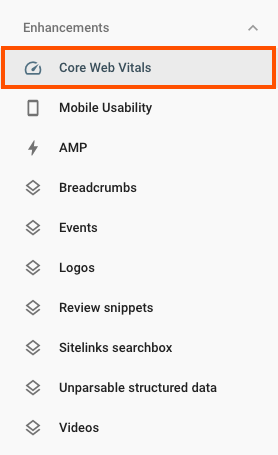 ...if you don't already have Google Search Console set up, then uh... yeah, do that step first and then load up Core Web Vitals.
SECOND, you need to take a look at your Core Web Vitals to see how they match the Good, Needs Improvement, and Poor ranges: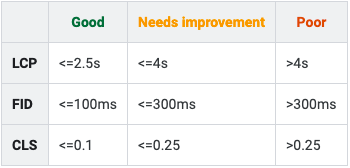 Source / Google
What the heck do these scores mean? Great question...
LCP stands for "largest contentful paint" and it measures your site speed and page load times.
FID stands for "first input delay," and that measures your site interactivity and how quickly it responds to user action.
CLS stands for "cumulative layout shift," which measures the visual stability of your website.
When you look in the backend of Core Web Vitals, it'll look something like this: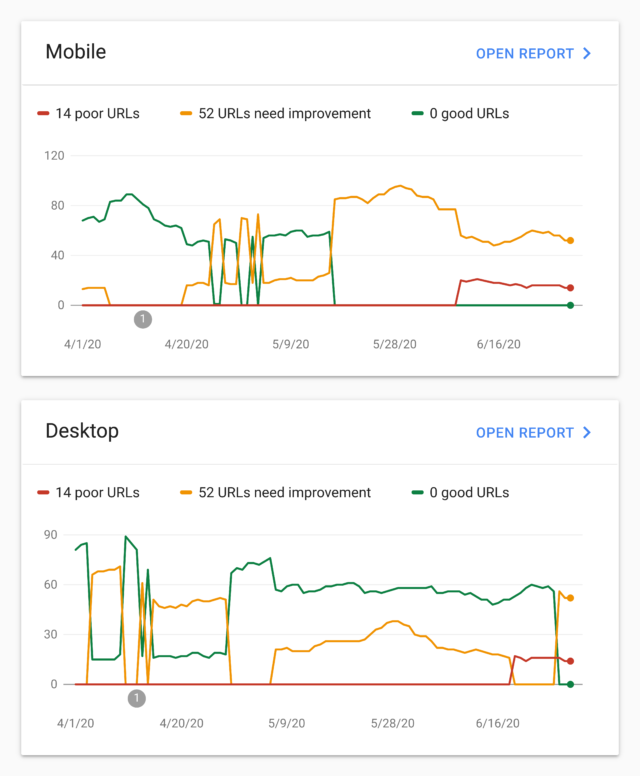 Source / Backlinko
THIRD, take action on scores where you ranked as "needs improvement" or "poor." By the way, if you've made it this far on your own, this is where you may need to call in the website development calvary to make the backend and technical SEO changes you need to bring those scores up.
By the way, your content still can't suck
Yes, this update will undoubtedly create thousands (if not millions) of very definitive website traffic winners and losers, as soon as it's released.
That being said, don't let this other absolutely mission-critical nugget from Google slip by unnoticed:

In short, substance will always trump style:
Some sites will outrank others that have a better experience if they publish the best content/information.
Having a great page experience will not mask the fact that your content sucks. Your content has to be relevant and good.
That means you still need to be creating content that answers the most pressing questions of your buyers and making that information easily found on your website. That means building a peak-performing business website laser-focused on the needs and wants of your buyers, instead of around your own self-serving priorities.
Free: Assessment
Does your website build trust with buyers and bring in revenue?
Take this free 6 question assessment and learn how your website can start living up to its potential.