HubSpot Service Hub vs Zendesk Support: Which Is Right for You?

Are you looking for the right software to help your customer service team complete support requests and become more efficient?
Without a process or software in place, your team might feel overwhelmed with the number of customers to respond to daily. When your team has the tools and resources they need, their jobs become simplified and most likely more enjoyable.
You can increase productivity, boost team morale, keep your team organized, track the results of your efforts and much more by finding a customer service software that fits your team's needs.
Purchasing a service-focused software like this is a big decision. It's important to assess what tools would actually enable your team to do their job better and more efficiently.
---
We will compare the features of two of the top tools in the industry, Zendesk and HubSpot Service Hub, to help you along your journey.
But first, how did get HubSpot started in the service industry?
HubSpot, previously a tool that was mainly used by sales and marketing teams, only entered the customer service industry with Service Hub back in 2018.
HubSpot leaders came to the realization that:
"People have changed. Today, we're less patient and less willing to spend significant time on phone support, and instead lean-into online experiences and chat. In addition, today we trust friends and reviews over marketing. This change is exactly why leaning into your customer's success can help you grow."
Since Service Hub's initial launch, HubSpot has become a popular customer service tool and is often compared to industry leader Zendesk Support when vetting platforms.
Let's dive into the features of both HubSpot Service Hub and Zendesk Support to determine which option is best for your team.
HubSpot Service Hub Features
The Service Hub offers four different plans for different budgets and team sizes. Below are the features available with each different plan and their prices.
Free
If you're a small customer service team and don't need the same functionality as a large team, HubSpot's Service Hub Free is a great place to start.
With access to HubSpot's CRM, tickets, and more, you can get your feet wet in using HubSpot's Service Hub and really determine if its a good fit for your team and its processes.
Below are all of the features available:
HubSpot's CRM (customer relationship management) allows you to manage relationships with new and existing customers in one place. You can access information about individuals through a contact record.
Customer support issues can be tracked as tickets and assigned to a specific team member to prioritize and complete.
Live chat allows you to interact with customers directly from the website in real time.
The Conversations inbox lets you see all of your communication in one place. In other words, it shows all messages sent to your team via email inboxes, live chat, forms, Facebook Messenger, etc.
Service Hub Free is limited to one inbox.
Calling lets you call a contact directly from HubSpot and track that call on the contacts record.
Service Hub Free is limited to 15 minutes.
Service Hub Free has limited features.
Team email allows you to connect a single email address that your whole service team uses to your Conversations inbox and even creates a ticket automatically.
Customer service teams often use the same responses for certain questions. Canned snippets allow you to save those responses and easily insert them into an email.
Service Hub Free is limited to five snippets.
Similar to snippets, you can save an email that you often send to customers as a template.
Service Hub Free is limited to five templates.
By creating a custom link in HubSpot that includes all of your available meeting times, you can then send that link to customers to easily schedule a time to talk.
Service Hub Free includes one personal meeting link.
Reports

HubSpot offers a reporting dashboard that displays metrics on tickets closed, representative productivity, and time-to-close on each ticket.
Service Hub Free includes one standard customer service report dashboard with the data above.
If you are sending emails through HubSpot, it will track information like when someone opens that email and will then send you a notification.
Service Hub Free is limited to 200 notifications.

Like snippets and templates, if you often send a PDF or Word Document with information to your clients you can easily attach it to a conversation in HubSpot.
Service Hub Free is limited to five documents.
Starter
The starter plan includes everything in the Free plan, plus:
Service Hub Starter is limited to one inbox.
Service Hub Starter is limited to 8 hours.
Service Hub Starter has limited features.
Service Hub Starter is limited to 1,000 snippets.
Service Hub Starter is limited to 1,000 templates.
Service Hub Starter includes 1,000 personal and team meeting links.
Service Hub Starter includes one standard customer service report dashboard with metrics on tickets closed, representative productivity, and time-to-close on each ticket.

Email tracking and notifications
Service Hub Starter includes unlimited notifications.
Service Hub Starter is limited to 1,000 documents.
Let's say you have a handful of emails that you send one after another depending on specific variables, the Sequences tool allows you to piece those emails together and send them automatically based on the specified criteria.
Service Hub Starter includes 1,000 sequences and 150 daily enrollments
Email scheduling saves you time by setting a specific date and time that you'd like an email to be sent out at.
This tool allows you to set up rules for when a new conversation comes in. A good example is that you can automatically assign them to a team member.
HubSpot Service Hub Starter prices begin at $50 per month or one user.
Professional
The Professional option includes all of the features available with the Starter package, in addition to:
Conversations inbox

Service Hub Professional includes different 100 inboxes.

Calling

Service Hub Professional includes 33 hours of calling.

Conversational bots

Service Hub Professional offers additional features not available with Free or Starter.

Multiple ticket pipelines

If you have several customer service teams that work on different products or services, you may want to set up multiple pipelines for your tickets to easily manage the tickets.
Service Hub Professional includes 50 pipelines.
This tool allows you to turn your most frequently asked questions into a resource center of documents and articles that is available to customers.

1:1 video creation and hosting

Sending a video instead of an email is a great way to make the customer feel special. You can record a video of yourself explaining the issue and send it directly to the customer through HubSpot.
You can send out net promoter score (NPS) surveys through HubSpot to understand a customer's satisfaction level and track the results.
Similar to NPS surveys, you can send out a survey asking customers to rate their recent customer service experience.
You can also send out surveys that ask customers about their recent experience working with your service team.
Like the reporting dashboard, you can access important insights from one easy to find page.
There may be additional metrics that are important to your team or company leaders. You can create a custom report that pulls in that information.
Service Hub Professional includes 20 custom reports.
Ticket status, ticket routing, task automation

Ticket status displays what stage the ticket is in, routing shows the rules specified for the tickets, and task automation allows you to automate tasks like sending an internal email or turning a chat into an email.
Service Hub Professional includes 300 workflows.

Teams

Having multiple customer service teams using the same inbox can be confusing. You can assign certain people to a specific team to keep things more organized.
Service Hub Professional includes 25 different teams.
Some companies use Salesforce as their CRM, so HubSpot offers an integration with Salesforce to push information from one system to the other.
This tool allows you to make and track phone calls to your team from within HubSpot.
You can assess customer happiness by sending out different surveys that can improve your customer service process.
If you work for a global company, you may have several currencies that you need to track.
Service Hub Professional is limited to 30 currencies, however.
This tool lets you take a sequence that you have created and enroll one or multiple customers all at once. You can still personalize emails by using this tool.
Contact scoring may come in handy if there is a certain type of issue that takes higher priority than others. You can assign the contact record related to this issue a specific score.
Service Hub Professional is limited to one scoring property.
Customer service automation
There are certain conversations or tasks that can be automated by setting up a detailed workflow and can save your team time.
Service Hub Professional includes 300 workflows.
HubSpot's Slack integration works in many ways, but the most useful integration for customer service is by creating a Slack message into a conversation in HubSpot.
HubSpot's Professional plan starts at $400 per month for five paid users.
Enterprise
The Enterprise option offers all of the features available with Professional, in addition to:
Service Hub Enterprise includes a standard customer service report dashboard that includes metrics on tickets closed, rep productivity, and time-to-close and 25 custom dashboards.
Service Hub Enterprise includes 500 custom reports.
Service Hub Enterprise includes 200+ teams and hierarchical teams.
Service Hub Enterprise includes 200 currencies.
Service Hub Enterprise includes 25 scoring properties.
Customer service automation

Service Hub Enterprise includes 500 workflows.

Playbooks

Service Hub Enterprise includes 1,000 playbooks.
If you are calling a customer from HubSpot, this plan allows you to access the call's transcript directly from the contact's timeline.
When setting up your teams in the Enterprise plan, you can create a team hierarchy and make a team a child of an existing parent team.
When adding your team members, users with admin access can customize permissions for new and existing users in your HubSpot account.
Single sign-on allows you to create one account for all team members.
When using a workflow, you can insert a webhook to send information from one web application to another after an action is completed in either system.
Calculated properties allow you to set up number-based calculations on an associated record. For example, you can use minimum, maximum, count, sum, or average value.
Let's say your team members need to speak to 25 customers a day. You can create user-specific goals to track activities.
The calling API lets users to integrate their own calling system from within HubSpot.
If you are hosting an event, you may want to send registration or attendance information to a contact's record. This API allows you to track that information from HubSpot.
The Enterprise plan begins at $1,200 per month for 10 paid users.
Zendesk Support Features
Like HubSpot, Zendesk Support offers multiple plan levels depending on how large your service team is, what functionality you need, and your budget.
With Zendesk Support, you have the option to test out a free trial to see if it is the right platform for you. All Support plans also come with lite versions of Zendesk's Chat, Talk, and Guide tools.
Essential
Zendesk Support Essential is the most basic version of the platform and includes:
Zendesk Support lets your customers contact your agents through web or mobile, email, Facebook, Twitter, or basically any other channel you use.
The mobile SDKs and Web Widget feature allows you to respond to customers chats and tickets directly from your website or native app.
Pre-defined business rules
By setting up triggers and automation, like HubSpot, you can assign a ticket to a specific agent by creating a rule.
Similar to HubSpot's contact record, Zendesk's essentials card displays interaction and event history from previous conversations with a customer.
By viewing the essentials card, you can get more context about a customer's needs by looking at interaction history like previous tickets submitted.
Zendesk Support Essential starts at $5 per agent, per month.
Team
Zendesk Support Team includes all features available through the Essential option, plus:
Like the Essential plan, there are certain rules that you can set up. With the Team plan, you can customize the rules to whatever action you need.
These dashboards give you insight into things like ticket volume, agent performance, and other key support metrics.
Zendesk Support offers over 100 API integrations that let you customize the platform to fit your team's needs.
You can sign up for Zendesk Support Team for $19 per agent, per month.
Professional
With the Professional version, you have access to all the features provided through Essential and Team, in addition to:
If you work in a global industry you may need to speak to customers in different languages. Zendesk Support offers over 40 languages to choose from.
This tool tracks customer's satisfaction ratings by providing to answer after a conversation with an agent: "Good, I'm satisfied" or "Bad, I'm unsatisfied."
Zendesk Support Professional starts at $49 per agent, per month.
Enterprise
With the Enterprise option, you will have access to all of the features included in Essential, Team, and Professional; in addition to:
Multiple ticket forms allow you to create different sets of ticket fields to easier identify what a customer needs help with.
Similar to the business rules, skills-based routing lets you assign the right ticket to the right agent, or start a ticket workflow based on certain criteria.
You can also create contextual workspaces to show ticket form and macros that are relevant to a ticket and easily display any apps you are using.
Satisfaction prediction uses machine learning to determine whether your customers are satisfied with their support or not.
You may have multiple ways that your customers can reach out for support like support emails or a Help Center. Multi-brand support allows you to set these up separately and easily track what channel the conversation came from. All other plans set your channels up as one brand.
The Launch program gives you access to a team of experts to help you customize the tool to your team's needs.
The Enterprise plan begins at $99 per agent, per month.
Elite
Elite is the most robust option for Zendesk Support provides. By choosing this plan, you have access to all previously mentioned features, plus:
A light agent has limited access to the tools, but can stay up to date on tickets and even add private comments on tickets. The Elite plan gives you an unlimited number of light agents.
With the Elite plan, you can receive a 99.9% uptime Service Level Agreement. This means that if the service goes down for some reason, you will receive 99% credit usage to your account.
1-hour service level objective
By setting up objectives based on SLAs, you can stay on top of your goals by setting a policy to ensure a 1-hour service level objective.
Zendesk Support Elite offers advanced encryption and security to ensure your customer's information is kept safe by backing it up daily.
This feature allows you to choose the location where your account data is hosted but is only available in the U.S. or EU.
As the plan with the most options, Zendesk Support Elite starts at $199 per agent, per month.
Now… Which is Right for Your Team?
Now that we've gone through all of the features for the two platforms, you're probably wondering which platform is best for your team.
While both platforms are great options, the factors below can help make your decision easier:
Team Size
Smaller Service Team
If you currently only have 1-3 customer service team members, you most likely don't need something as robust and expensive as HubSpot Service Hub Enterprise or Elite. HubSpot Free or Starter are ideal for smaller teams because the platform offers more services than Zendesk's Essential package.
With HubSpot, you also get access to a free CRM that allows you to easily access and manage information about a customer or company that has reached out to you.
NOTE: HubSpot Free, HubSpot Starter, and all of Zendesk's plans only include one user.
Larger Service Team
Teams that are large, but only need their platform for a select few tools should look into Zendesk Support.
Since you may not be using as many features as HubSpot offers, this is a more cost effective option to managing your customer service tasks.
For teams that are larger and need access to more tools, custom reporting and helpful productivity tools for example, HubSpot is a better option.
As you saw above, there are many more tools offered through HubSpot Professional and Enterprise that will allow your team to cover all of your bases.
NOTE: HubSpot Professional includes five users, HubSpot Enterprise includes 10 users and all of Zendesk's plans include only one user.
Budget
You may have noticed that Zendesk is more affordable compared to HubSpot, but HubSpot offers more at the basic levels than Zendesk does.
This is probably the most important thing to consider. Would you prefer a tool that is less expensive with minimal tools, or a more expensive tool that has everything you need?
NOTE: If you're using HubSpot CMS, Marketing, and Sales you can get the Growth Suite for 25% off. We all love a good deal right?
The rest of the things you should consider depend heavily on your actual customer service processes:
Productivity Tools
If you're an efficiency nerd like I am, you'll want your customer service tool to be up to speed with you.
One of the best parts about the HubSpot Service Hub tools are the templates, snippets, and sequences offered.
By saving documents that are frequently sent, snippets of text that you use often, templates of emails, and even email sequences if you choose the Starter plan, your team can save a ton of time and respond back to more customers than before.
Using the automation tools available in both HubSpot and Zendesk will keep your team organized and save a ton of time. Routing requests to specific team members and automating your conversations will give you more time to talk to other customers and increase your overall productivity goals.
You may also want to consider setting up integrations with other platforms, like Slack. These integrations save time by allowing your team to use only one platform for requests instead of having to switch back and forth between multiple screens.
Customer Satisfaction Tools
While both HubSpot Professional and Zendesk Professional offer NPS survey tools, Zendesk offers customer satisfaction prediction with their Enterprise tier.
This prediction tool allows you to predict bad satisfaction ratings before they even happen. This seems like a useful tool to have when trying to better understand your customer's habits!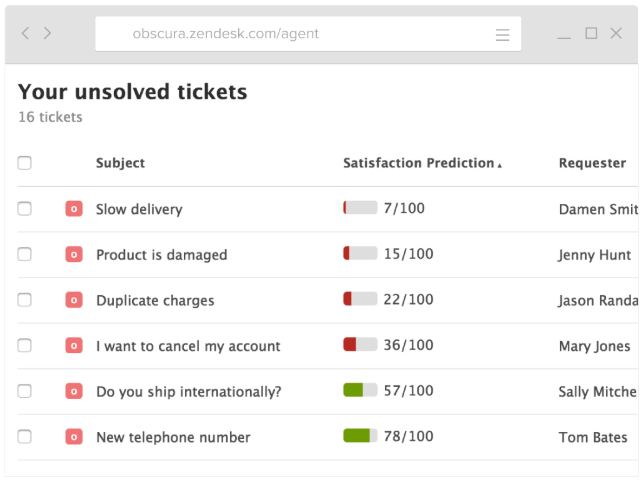 If you currently monitor NPS and are looking for ways to make this process more efficient, Zendesk Enterprise may be the best option for you.
Multi-Channel Connectivity
Some industries, especially B2C businesses, have a huge social media audience where customers may reach out with support questions.
One of the coolest parts about Zendesk is that it integrates with platforms like Facebook and Twitter to show all messages from your social media channels in one easy to find place.

Anyone who uses social channels to respond to customer service requests should seriously consider Zendesk. This feature is even available with their Essential plan.
Service-Level Agreements
Unlike HubSpot, Zendesk Professional, Enterprise, and Elite allow you to manage your service-level performance to make sure all issues are being resolved.
The tool even highlights tickets that do not meet service level targets to help you quickly identify the issue.
So, What Are Your Next Steps?
Ok, we've covered a lot of information here and compared some of the most important differences of both HubSpot Service Hub and Zendesk Support.
The most important takeaway is to make a list of all of the tools your team needs in order to succeed, prioritize them based on level of importance, then see which plan best addresses those priorities.
Still have questions? Contact HubSpot's sales team or Zendesk's sales team to dive deeper into your needs.
Free Assessment:
How does your sales & marketing measure up?
Take this free, 5-minute assessment and learn what you can start doing today to boost traffic, leads, and sales.