[Free Template] Identify Your Best Sales Leads & Ops With This Prospect Fit Matrix
"Is this prospect actually a good fit for us?"
It's a simple but challenging question that becomes a repetitive, internal dialogue as sales reps evaluate whether or not the prospect they're speaking with is the right sales opportunity to pursue.
In the agency world or selling a service, navigating to the right answer regarding the question above involves answering a myriad of ancillary questions around things like:
Do they have the budget?

Do they need the services we're best at delivering?

What country is their target market in?

Is their leadership team bought in?

Do their core values match our own?

Would their team's personality align with our own?
With so much to consider, deciding to move forward with a prospect that isn't a good fit has the ability to wreak havoc deep within your organization, well beyond the sales department.
IMPACT's sales team has been and will continue to address these types of questions every day.
So, we knew we needed to create a tool to help us navigate the "no," "maybe," and "best" fit prospects for our organization.
Before we dive into the solution, however, let's first understand the "why" behind it.
The Second and Third-order Effects of Working Poor Fit Sales Opportunities
Many of you reading this post are part of growing organizations.
Attracting and retaining net new logos (and quickly) is your path to hiring more people, developing your new product, or any number of other objectives that define success.
Over the years, we've learned a TON (the hard way) as one of those growing organizations, but perhaps one of the greatest is understanding the pursuit of a poor fit prospect, and on-boarding them as a client can be as detrimental (or worse) to an organization as making a bad employee hiring decision.
Here are just a couple of the things that can happen when sales reps decide to move forward that may not be a good fit, long-term:
Scenario 1: Unnecessary Meetings
Because sales reps have a tendency to sense if a prospect may not be a good fit, they might ask for multiple meetings outside of the actual process of the sale.
This means pulling in a sales leader (to get the go-ahead or not), and potentially pulling services folks away from other clients for input as well.
Typically, these meetings take a few hours and conclude with a general consensus of everyone still not being sure.
This end-result is a much more costly sales process that, when multiplied across many deals, has a dramatic effect on the "cost of sale" line item on a P&L.
Scenario 2: Low Team Motivation & Poor Output
In this scenario, suppose a prospect that is headquartered outside of your typical service area has progressed through the entirety of your sales process, becoming a client.
Suppose also that their timezone is exactly 12 hours ahead of your own and requires multiple team members of your organization hosting meetings at either 6 am or 8 pm to accommodate the client.
As one could imagine, a meeting at this time may cut into a morning routine or interrupt family time.
Situations like this are demotivating stressors that will most certainly affect the output of the meeting and the follow-on work for a client, eroding team-client trust and potentially the relationship altogether.
In either of the above scenarios (and we've seen them both), the end result is a higher cost of sale, a slower sale, and a potentially less productive team.
Making it Easier to Identify Your Best Sales Leads and Opportunities
Up until quite recently, IMPACT's ideal or best-fit prospect criteria lived in the brains of myself and a few others who are long-time IMPACTers.
However, as our sales team was growing, it was important that we aligned on what those criteria were so we can avoid scenario 1 or 2 or 37.
Enter: The Prospect Fit Matrix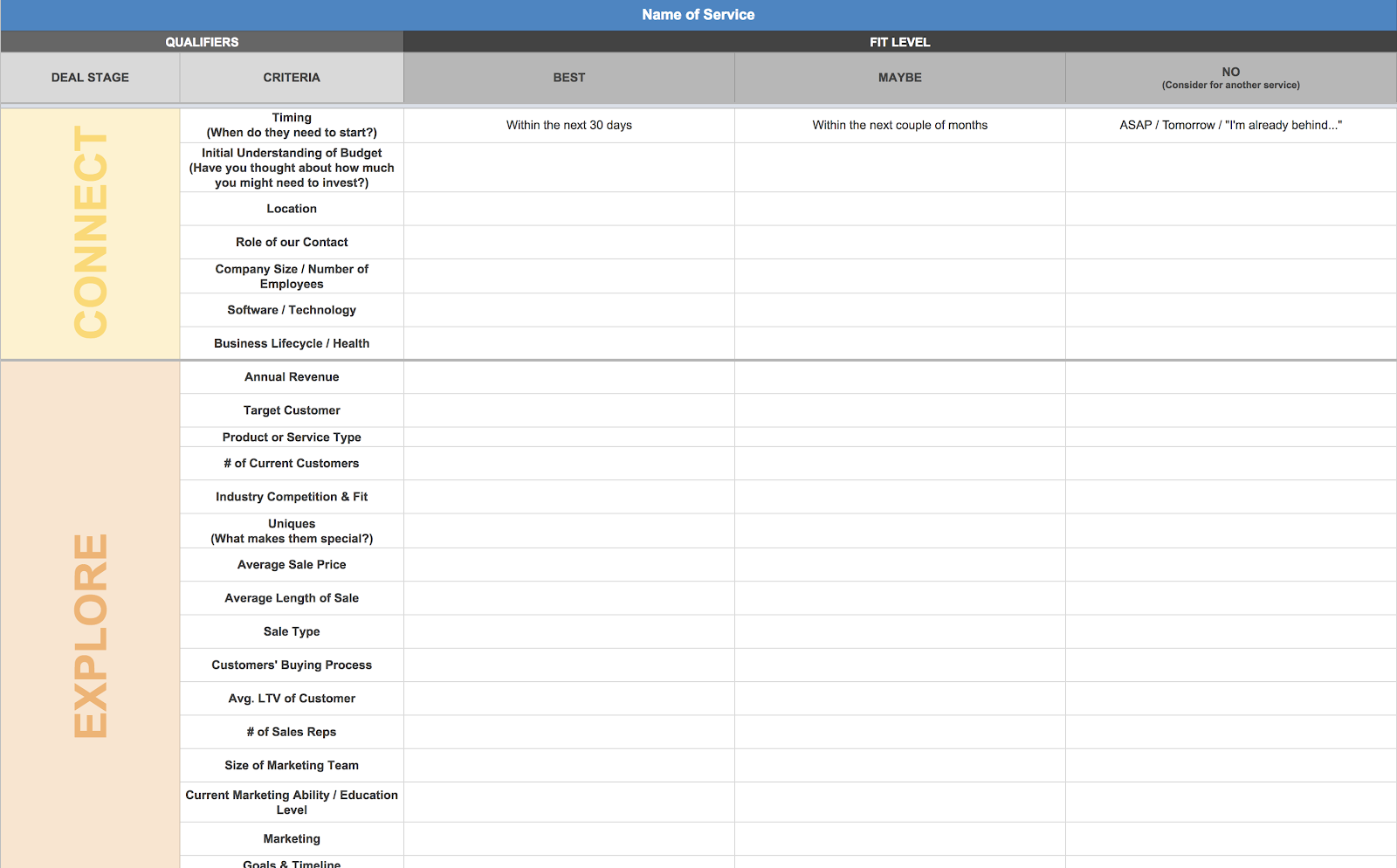 The Prospect Fit Matrix is our organization's documented guide for identifying the leads we should be working with, and creating the best possible outcome for IMPACT and Client, together.
Note: You can get your free customizable version of this matrix here!
Using the Prospect Fit Matrix for Your Organization
The beauty of this template is that it can be customized to fit any sales process or qualification criteria.
In it, you'll notice the following:

Along the top is a blue bar with the name of the Service, indicating that everyone below is best fit for a particular area of business.
The name of the service also corresponds with sheet (located on the tab at the bottom).
It's designed in this way because many organizations offer multiple services, each of which may have different qualification criteria around the budget, timing, etc.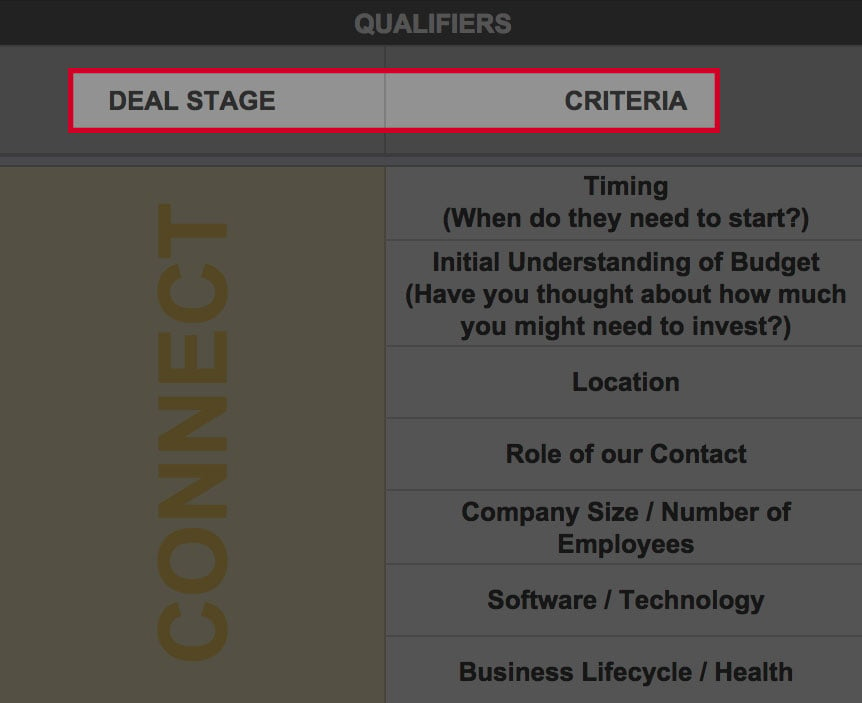 The initial two columns make up the "Qualifiers." Qualifiers are leveraged in two ways.
First, the "Deal Stages" of the sales process need to be identified, then, the "Criteria" that should be evaluated within a specific deal stage.
When using this template, review and customize the criteria you look for when evaluating which prospects to work with and adjust at which stage of the sales process you look for it.

The final three columns represent the "Fit Level" of the prospect.
It's important to note that it is built for flexibility by having "Best," "Maybe," and "No" designators.
In some instances, you may find that there is a single answer for both "Best" and "Maybe."
In other instances, you may find that some criteria for "No" is not a deal breaker and carries over into "Maybe."
For example, in the case of IMPACT, "# of sales reps" is one the criteria we evaluate during the "Explore" part of our sales process. A finding of "1+" overlaps both "Best" and "Maybe," while "0" is a "No."
Finally, note that underneath the column heading "No," there is a comment reminding the viewer that although the prospect may not fit specific criteria within a service, it doesn't mean they're a poor fit for other services you offer.
Putting The Prospect Fit Matrix Into Practice
The Prospect Fit Matrix is designed to be used before and during every stage of the sales process - from lead qualification to the first conversation to the closing presentation.
Now that you know how it's setup, here are two examples of how it might be leveraged when assessing the viability of a prospect or sales opportunity.
Example 1: Database Prospecting
Organizations with a healthy database of contacts that are looking to drive more sales conversations proactively (outbound approach), might consider allocating a substantial amount of a Business Development Representatives (BDR) time to culling through those contacts, looking for the right people to reach out to.
When doing so, however, efficiency and timing are the top priority.
Databases can consist of hundreds, thousands, or even hundreds of thousands of contacts. Even at the smallest numbers, BDRs must have clarity around what makes a contact worthy of outreach in order to narrow their focus.
In the context of this particular example, the matrix assumes you're using a tool like HubSpot to collect and store lead intelligence on each contact.
Designing the Matrix

In this situation, under the "Deal Stage" (or "Stage" if you'd like to include pre-sales activities) heading, you might use the term "Identify" to label the database prospecting part of the process AND to group together a number of qualifying criteria used when evaluating leads that have converted on your website.
In the next column to the right ("Criteria"), you'll want to list out the things you know, if they fulfill the "Best" or "Maybe" column, will give you the highest response rates to your outreach.
These criteria might include:
Time Last Seen on Website

# of Pages Viewed

# of Conversions

Company Size

Role of Contact
You'll then need to further clarify what a "Best, Maybe, or No" fit level looks like. Using the example, "Time Last Seen on Website," it might break down as follows:
Best: Within the last 30 minutes

Maybe: 30 minutes - 2 days

No: 2 days+
Even with the simple qualifying criteria and descriptions above (as an example), a BDR can quickly isolate a handful of contacts from a list of thousands and dramatically improve the return on their time investment.
Example 2: Actively Listening & Staying Organized
In many cases, salespeople may not have the lead intelligence necessary to disqualify an opportunity before entering a conversation with them (Think: a friend of the organization referring a lead).
In others, they may have qualified an opportunity enough to believe they're worth the conversation, but aren't positive they may be a good fit to continue.
In either event, the Prospect Fit Matrix can be used during your conversations (perhaps open on a second monitor) to actively confirm the prospect your speaking with is "checking the boxes" within the "Fit Level" columns.

This gives you the ability to stay organized during your call to make sure you cover the must-have criteria before advancing the prospect to the next stage of the process.
An added benefit of this approach is an improvement of the salesperson's talk track.
By understanding the outcomes (the criteria that need to be met), they can focus on the articulation of key questions and keep the conversation flowing more naturally.
Eventually, they'll become more efficient by consolidating multiple questions into one in order to get the prospect to open up regarding certain criteria.
An example of this might be asking, "Can you walk me through a typical sales process from start to finish?" instead of "How long does it usually take to close a deal?" and then "Do you sell directly or through a distribution channel?"
Next Steps
Hopefully, by now, this article was helpful in identifying how important it is to document the qualifiers that make a prospect or sales opportunity a "best fit" for your organization AND how you can get started in scaling that knowledge with the rest of your team.
Download the FREE Prospect Fit Matrix Template here to get started.
Free Assessment:
How does your sales & marketing measure up?
Take this free, 5-minute assessment and learn what you can start doing today to boost traffic, leads, and sales.