Instagram Stories vs Facebook Stories: When Should Marketers Use Them?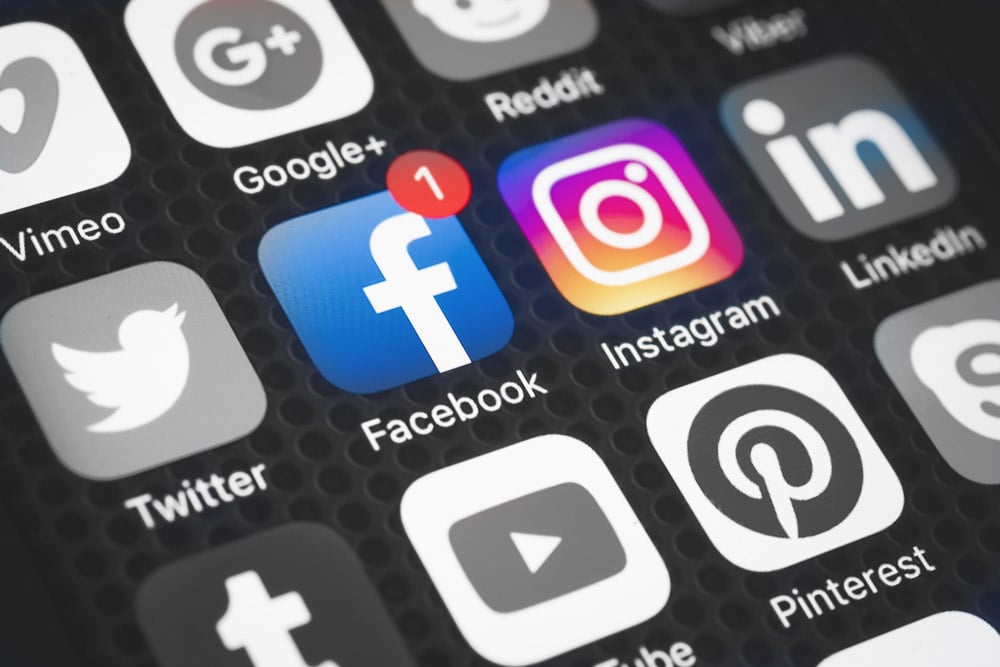 When I think of the relationship between Facebook and Instagram, I can only describe it as a sibling rivalry.
They're both owned by the same company and answer to many of the same people -- but they just can't seem to get along all the time.
Facebook is older and technically has a bigger audience, but thanks to data privacy scandals and fewer flashy features, Instagram is arguably the more likable of the two social networks.
In other words, if the internet was a 1980's high school, Facebook would be the class nerd, while Instagram is the most popular guy in school.
This claim is only made stronger by recent news that Instagram use is trending upward among adults, while Facebook's (and Snapchat's for that matter) is declining.
This is a trend that has been prevalent with Gen Z for quite some time, but the shift by older audiences is pretty telling of the platform's current state.
One area of particular friction between Facebook and Instagram is stories.
Facebook is touting stories as the future and supposedly, both currently boast 500 million daily active users, but they are dramatically different in their audiences and use-cases.
That being said, as a user, choosing between the platforms is pretty low-risk, but professionally, as a marketer, brand, or influencer, there's much more to consider.
Honestly, these tools are becoming more and more robust every day, so my goal here is to summarize some of the most prominent elements of them to help guide your organic strategy.
This piece doesn't take into account paid advertising, which can be a game changer on either platform.
So, let's start with a little background information.
Instagram launched its version of stories first, in 2016, to many accusing it of copying Snapchat -- and in several ways it was.
Both catered to vertical video/photos, included augmented reality filters, and could only be viewed for 24 hours, but, as history shows, it didn't take long for Instagram to surpass Snapchat, welcoming twice as many daily active users as its predecessor in just eight months.
Noticing this popularity, Facebook launched stories in 2017. It mimicked its little sister's interface almost perfectly, but without many of the extra "stickers" and filming options that have made it a hit among younger users.
What Are the Differences Between Instagram Stories and Facebook Stories?
Today, like any good siblings, Facebook and Instagram stories still look very similar (see the images below) but with many distinct differences.
| | |
| --- | --- |
| The Instagram Story Camera Interface | The Facebook Story Camera Interface |

Facebook stories a bit more streamlined including the following:
Frame Formats: Text Status, Normal, Live, Video, Music, and Boomerang which was just added
Stickers: Location, Timestamp, Temperature, GIFs, Music, Mentions, Feelings, Polls, and other visual graphics
Augmented Reality Filters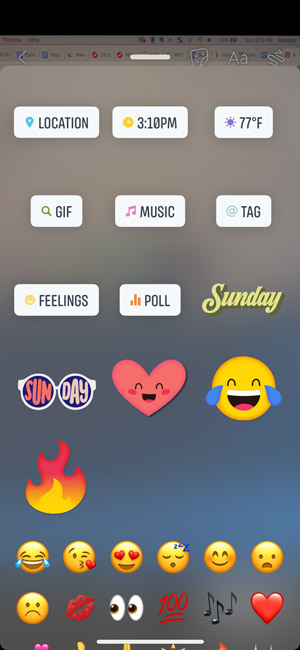 The sticker style and variety available in Facebook stories
Instagram stories, have almost all of the above (minus frames) and expands further to include more frame formats and stickers:
Frame formats: Superzoom, Focus, Rewind, Hands-free
Stickers: Hashtags, GIFs, Music, Emoji Polls, Questions, Quizzes, Countdowns, Temperatures, Donation Links, Shopping/Buy Now stickers for brands.
Note the wider assortment of stickers available in Instagram stories
Instagram also includes the popular ability to add past posts to "Highlights" which breaks the traditional 24-hour lifespan of most social stories and allows the posts to live as long as you want at the top of your profile.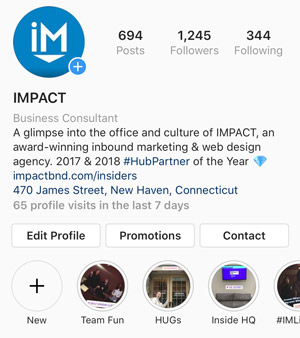 Here you can see some examples of "Highlights" featured on IMPACT Instagram profile
The platform also works hand-in-hand with IGTV, Instagram's home for long-form video content to help creators share even more in-depth material with their audiences.
Despite these differences, it's important to note that the platforms' stories are somewhat integrated.
Currently, you can share from your Instagram story to Facebook or set up your account to automatically publish to both platforms at the same time from Instagram.
You cannot share from Facebook back to Instagram, however.
(Why? My guess is Facebook wants to use the popularity of Instagram to boost its own performance but doesn't want to encourage further growth on the other end. That sibling rivalry still at work, you know.)
So, when should you use one platform over the other?
When You Should Use Facebook Stories
To be fully transparent, I'm fiercely #TeamInstagram.
Professionally and personally, its stickers and filming options offer far more opportunities to grow and engage a following (which I'll get into later) and just get more creative with your posts, but that doesn't mean I can't recognize Facebook story's pluses.
Your brand should opt for Facebook stories...
If You're Targeting An Older Audience
According to Statista, the most popular age group on Facebook in 2018 was between 25 and 44, while more than 60 percent of Instagram users were between 18 and 34.
This may be slowly changing, as mentioned above, but if you're targeting a slightly older audience and find they are active on Facebook, Facebook stories may still be your best bet to reach them.
This is especially true since Facebook stories bypass the platform's notoriously selective algorithm by being placed at the top of the app (and sidebar on desktop) before any other posts.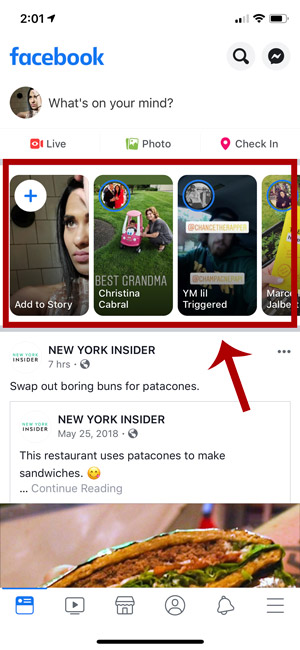 A screenshot from the iOS Facebook App shows that Facebook stories
are given top billing when you first open the app.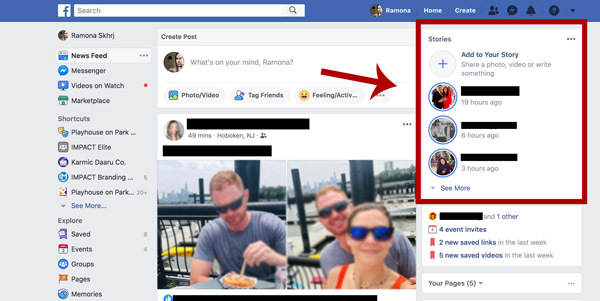 Facebook stories are given similarly prominent placement on Desktop as well.
If You're Using Facebook Events
Despite a slow decline in overall usage, one feature that remains popular on Facebook is events. In fact, this is one of the things the social media giant is focusing on with its latest redesign.
Aside from making all essential event information easily accessible, when you create an event on Facebook, you also automatically get a dedicated Facebook story for anyone who marks themselves as "interested" or "going" to access.
This collaborative story creates an exclusive environment that only attendees can participate in and view.
It, like your in-person event, becomes a shared experience and memory for the limited number of people who attend to bond over. It creates a sense of community and camaraderie not only amongst each other but with your brand.
And we all know this kind of closeness is a powerful force in creating brand loyalty.
This story also capitalizes on user-generated content to showcase your in-person event which acts as much more authentic and trustworthy proof of what you offer than your own promotions.
If your business uses a lot of Facebook events, this is a use-case you shouldn't ignore.

The same can be said...
If You Have a Facebook Group
Though they've been around for a while, Facebook Groups have also been experiencing a bit of a renaissance the past few years, making them yet another great opportunity for stories.
Similar to events, Facebook automatically creates stories that only your group members can view and contribute to when visiting.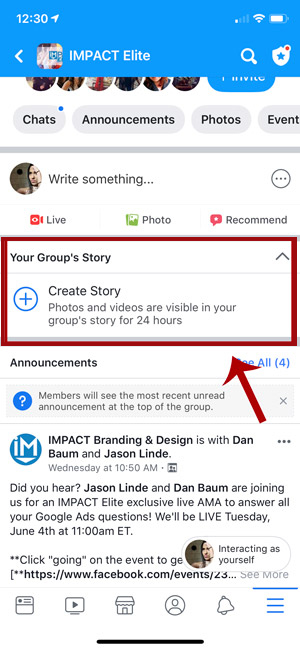 Again, this story helps create a sense of community among members and also one of exclusivity since it's hidden behind the walls of your group.
Bottomline: Use Facebook to Delight Your Audience Already Using The Platform
Overall, I'd recommend using Facebook stories if your goal is to reach an already existing and engaged audience on the platform.
With its integration with groups and events, ability to game the Facebook algorithm, but lack of search or engagement elements, Facebook stories are designed to foster bonding with audiences (regardless of age), not necessarily getting found.
(That, of course, can be changed thanks to Facebook Advertising, but that's a whole other topic.)
When You Should Use Instagram Stories
Now, you should opt for Instagram stories...
If You're Targeting a Younger Audience
As mentioned earlier, Instagram's audience tends to skew more toward the younger, "key demographic" of 18-34 than Facebook.
If you're trying to reach this group, you'll likely find more qualified consumers on Instagram than on Facebook. Plain and simple.
If You're Looking to Expand Your Reach & Grow Your Audience
Probably the biggest benefit of Instagram stories is that it has several tools to help you boost your brand awareness by getting found by new people.
For example, just like posts in your feed, you can use hashtags, mentions, and locations in your stories.
Hashtags and locations set you up to get found when people are searching for them in particular, while mentions allow you to engage users who may, in turn, re-share your story and expand your reach further.
If You Want to Boost Engagement
Mentions and location tags aside, Instagram stories also equip you with more interactive features than Facebook.
For example, you can use polls and quiz stickers to seek your audience's opinion on different topics, while questions actually enable you to elicit longer, more detailed and personalized responses.
| | | | |
| --- | --- | --- | --- |
| Instagram Poll | Emoji Poll | Quiz | Question |

Furthermore, the use of countdowns gives users the opportunity to follow and stay up to day on your progress toward a specific event.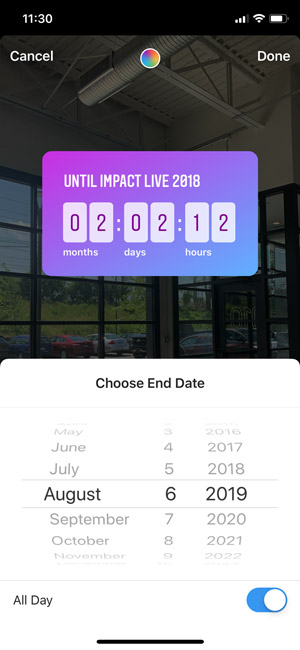 An example of an Instagram Countdown Sticker
If You Want to Nurture Your Audience

Several of Instagram stories engagement features also let brands nurture their audience's attention into profitable action.
For example, take their new "shop now" and "donate" stickers. Brands or non-profits can use these to guide viewers to a page to purchase a product featured in their stories or to contribute to a cause.
Furthermore, if your Instagram account has over 10,000 you can also add links to your stories that people can use to visit your site simply by swiping up.
All of these features give viewers an easy way to take their engagement with your brand a step further down your marketing/sales funnel without needing to hunt for it.
Bottom line: Use Instagram to Grow & Nurture Your Audience
Overall, Instagram stories offer a more versatile and dynamic platform for engaging and nurturing both your existing and future audiences.
With all of its creative and engagement features, Instagram gives brands more flexibility to create story content that is more entertaining, expressive, authentic, and in turn, more human than Facebook's to not only delight your current fans but attract new ones.
Uniting & Conquering
In the end, like so many things in marketing, the choice between Instagram stories and Facebook stories comes down to your goal and your audience.
If you're just getting your feet with social media and stories and do not have a substantial audience on either platform, I highly recommend that you get started by creating stories on Instagram then sharing them to your Facebook stories.
This will help you start building your audience in both places and also evaluate how people respond to the content you're posting.
Long-term, you want to create original content for every social media network, but if you're new to the medium, this first step will help provide insight into what your audience really wants to see and help you refine your strategy as your story (be it on Instagram or Facebook) unfolds.
Free Assessment:
How does your sales & marketing measure up?
Take this free, 5-minute assessment and learn what you can start doing today to boost traffic, leads, and sales.