3 Steps to Take When Launching Your Next Sales Training Program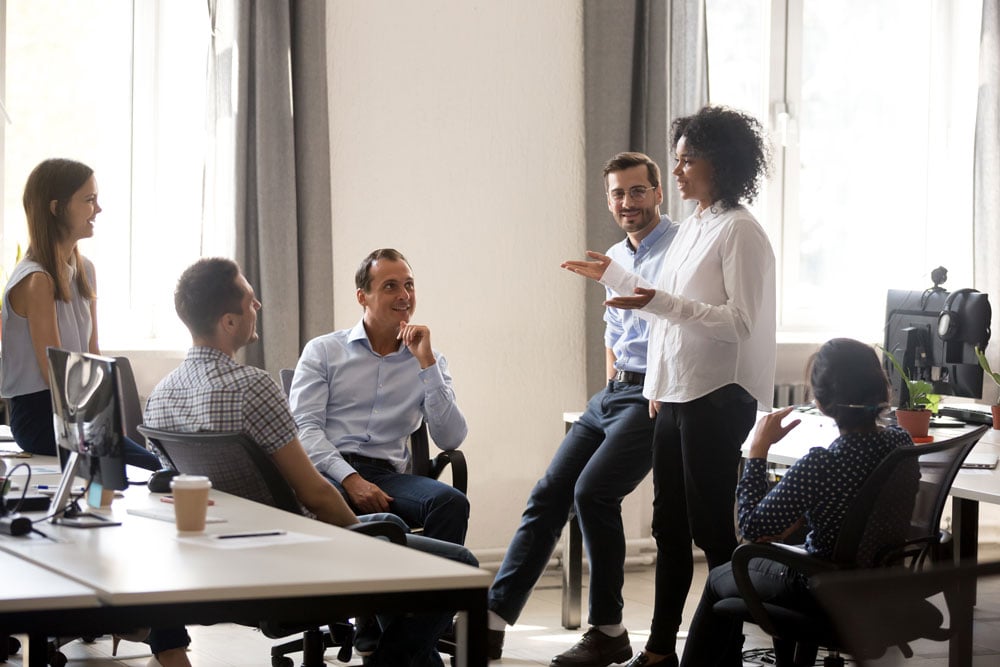 What's the best way to launch a sales training program?
As an experienced sales trainer, I'm always looking for new and improved ways to do this.
The launch is the most critical aspect of the training because it sets the stage for the entire program and experience.
When I think of how to effectively launch training, I think about other professionals who are dedicated to excellence in performance. For instance, professional athletes, the military, musicians, artists, etc...
They all share a common bond around delivering high performance, and they do it through a commitment to continuous training and development that's ongoing, focused, and supported by a coach.
At DMTraining, we strive to replicate that commitment to continuous training among sales professionals, and it all starts with a flawless launch.
If you're considering investing in a sales training program, there are three steps you can take to make sure your next program launch is a success:
1. Preliminary Due Diligence
Due diligence refers to the research and information gathering that needs to be completed in advance of building a sales training program.
The goal of this step is to make sure your trainer has a deeper, more comprehensive look at your people, processes, and product positioning, from various perspectives: the key stakeholders, managers, and the sales reps.
Each group requires a different conversation and line of questioning, but in all cases, the focus of this step is on ensuring your trainer/coach understands your perspective.
This step is your trainer's opportunity to ask all the questions they need to know in order to personalize the training content and delivery experience.
The can collect this information in a variety of ways such as online surveys/questionnaires, in-person meetings, video chats, or phone calls.
It doesn't matter so much about how the information is collected, the important part is having the conversations.
Now let's take a look at what each of these conversations should look like:
Key Stakeholders
In this conversation, your stakeholders need to share information with the trainer that will help him understand the motivations of the company as a whole.
It's important that they highlight company goals, priorities, challenges, and opportunities in this discussion.
For instance, a few questions you should be prepared to answer are:
Is there a new initiative this year?

Did you launch a new product/solution?

Did last year highlight some weaknesses in your sales process?

Why are you bringing in training now?
Sharing this information acts as a GPS for the trainer. It guides decisions about who needs to be trained, what content to focus on, and how the training should be delivered for maximum impact.
Sales Managers
From a sales manager's point of view, what can they tell your trainer that will help them help your team?
They need to help shed some light on the current state of your sales team.
What are they doing well? Where do they need to improve? What do you think they need to change?
In addition to providing an assessment of your team, you'll also need to provide an assessment of yourself as a sales coach.
How frequently are you coaching your team? What gets in the way when you can't coach as frequently? What do you focus on during your coaching sessions?
With your input, it enhances the training content and aligns efforts across the trainer and the team.
Sales Reps
There are a few different things to cover in conversations with individual contributors, or sales rep, account executive, business development rep, etc. You can call it whatever name you prefer but we will use 'sales rep' for our purposes.
Typically, the trainer should speak with a handful of sales reps.
This is for a variety of reasons like getting different perspectives or input from various experience levels but also for the purposes of training different teams who either sell different solutions or sell into a completely different market or vertical, then these should be separate conversations.
That will help paint a more comprehensive picture for the trainer while letting participants feel heard and their input valued.
In addition to the general feedback, this is the time when the trainer should go through a demo or listen to a sales pitch.
This is essential to the learning process as a trainer because it identifies real-time needs, which can then be incorporated into the training curriculum.
Another area that should be explored at this time is a review of the follow up emails and phone calls the sales reps are sending/making.
Due diligence is a critical step in making the launch of any sales training a success because it helps the trainer learn the ins and outs of your organization from every point of view, builds rapport with the people who will be trained, and provides additional insight and ideas to build upon.
Ultimately, allowing the trainer to help your business navigate the competitive landscape more strategically.
2. Communication from Key Stakeholders to Participants
In this step, communication refers to how you position the training program to the participants.
"The single biggest problem in communication is the illusion that it has taken place." – George Bernard Shaw
I've seen it time and again. The launch of a sales training program fails due to little or no communication from the leaders of the organization.
This step in the process may seem like more of a formality, but it's actually a pivotal point of the launch. It identifies whether the training will be seen as a priority or just a pain in the butt.
Stress the importance of this initiative to your employees. Explain why this is an investment in them and their professional development.
This type of communication should convey three things:
1. Why you invested in the training
2. How it will benefit them
3. What success looks like
As a key stakeholder and leader, you need to understand that people resist change for a reason. They do it because they become familiar and accustomed to the current environment.
While this may not be a good thing in your eyes, it's something you must recognize and address in order to influence the change you want.
You can do this by emphasizing what will stay the same and using effective change management.
Let's say the end goal of your training program is to completely change your sales culture.
That's a big, scary goal, especially at the manager and sales rep level.
They may start feeling uncertain about their abilities and fear for the security of their job. They may also be concerned that the company they've come to know and love won't be the same.
Reduce these anxieties in your communication by hitting on things like:
While the stages of our pipeline and sales process are changing, our commitment to delivering a quality solution and ensuring the success of our customers is not going to change.

We are changing the structure of the sales organization, but we aren't changing the core of what we do and who we are. That will always remain the same.

The way pipeline review meetings are conducted will change, but what will never change is our support and skill development of our managers and sellers.
Leaders need to communicate an appealing vision of change in combination with a vision of continuity.
"Effective change leadership has to highlight continuity — how what's central to "who we are" as an organization will be preserved, despite the uncertainty and changes on the horizon."
To help your organization launch a successful training program and embrace change, you have to communicate, communicate, and then communicate some more. It's this part of the launch process, done right, that either ignites resistance or inspires excitement.
3. Kickoff Sessions
The kickoff session is the starting point of the program. It's the event that puts everything in motion and have three purposes:
To set expectations

To explain how the program will work

To excite and motivate the participants
The best way to conduct this step of the launch process is to host separate kickoff sessions for the managers and participants.
We recommend separate kickoff sessions for managers and sellers because they have different roles to play, which requires setting different expectations and a slightly different explanation of how the program will work. While managers and sellers share the same goal, to hit the sales target, the activities required to achieve the goal is very different.
Managers are responsible for managing and coaching the team to hit sales targets. Sellers are responsible for building and maintaining new or existing relationships to hit sales targets.
Ultimately, this requires different training and a unique kickoff message.
When setting expectations for managers, stress the importance of their involvement and participation. The more they put in, the more they will get out. Tell them exactly what they need to do for the training to be effective and efficient. Managers must act as an extension of the training by helping to reinforce and support the training.
On the other hand, when setting expectations for sales reps, focus on simplicity and the importance of having an open mind.
Keeping instructions concise and straightforward will minimize resistance and encourage participation. Explain to the sellers exactly what the training will include, how and when it will be delivered to them, and most importantly, the benefits and value they will get from the training.
The kickoff is essential in making a sales training successful because it eliminates uncertainty about both the details of the program and who will be delivering it. That way, when the time comes for the live training event, the team will already feel like they know the trainer and what to expect from the program.
Are You Ready to Launch Your Sales Training?
As you consider your next sales training program, think about the steps we've outlined here and keep in mind the importance of launching your initiative in a way that sets everyone up for success.
It requires proper due diligence when planning, involvement and communication from key stakeholders, and the right expectations between manager, sales rep, and the trainer.
Once you've launched, now the fun begins! Tune in to our upcoming webinar 'How to Run the Perfect Pipeline Review Meeting' to see a sample of what you would learn during the training.
Free Assessment:
How does your sales & marketing measure up?
Take this free, 5-minute assessment and learn what you can start doing today to boost traffic, leads, and sales.