3 Big Reasons Your Team Resists Sales Training & How to Overcome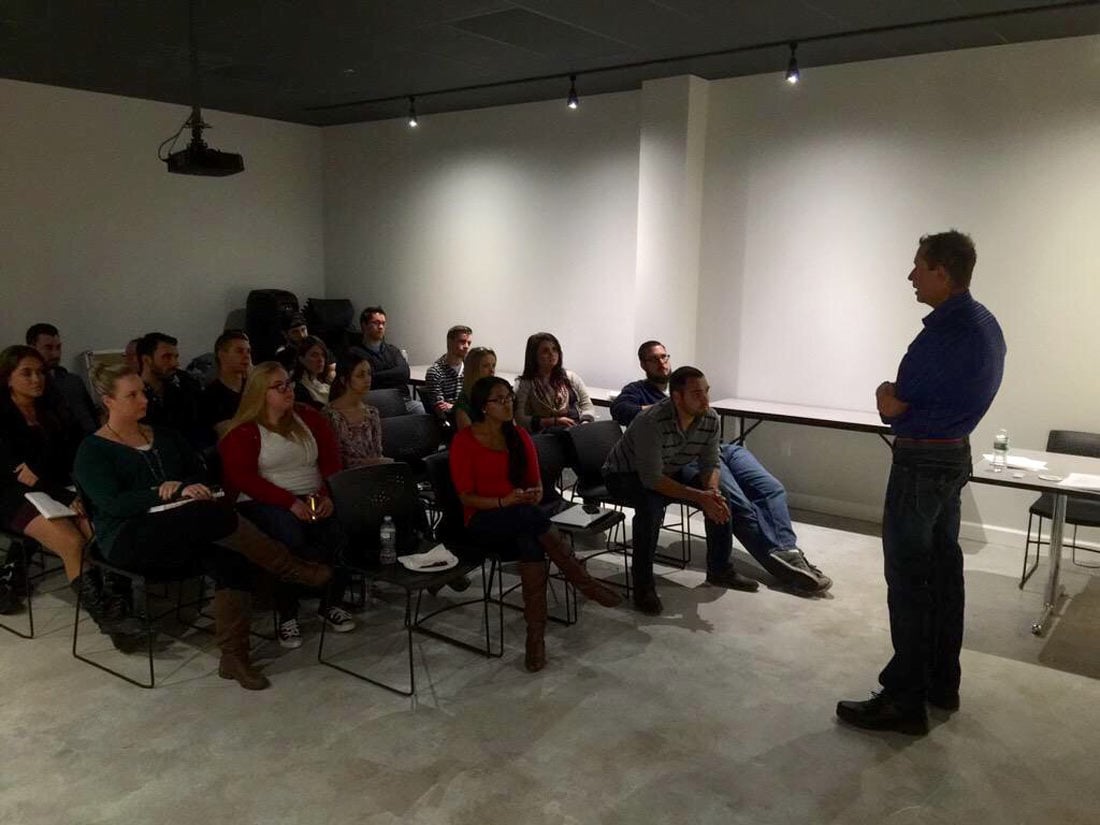 This study from Duke University found that up to 45% of all our daily behaviors are automatic. In other words, you spend about 1 out of every 2 minutes doing something that you're not even aware of. This is our brain's way of saving energy.
Now, while saving energy and being efficient is good, there are some things you don't want to do on autopilot.
This can sabotage your chances for learning, growth, and development, all of which we know are integral to improving personally or professionally.
Take sales for example. Training is essential to sales success, yet it often gets a bad rep.
Join the IMPACT coaches for a deep dive on a new topic every month in our free virtual event series.
As sales professionals, what comes to mind when you hear the words "sales training?"
Personally, I commonly hear reactions like:
I've done that already

It's a waste of my time

I already know what works

Changing something now would be bad luck

I'm already hitting my quota

Training takes me away from selling

What could I possibly learn from an outside trainer?
Resistance is hardwired in us and stems from fear of change, or fear of the unknown, but you can't let that get the better of you.
You're up against a rapidly evolving business landscape and an even more competitive sales and marketing environment.
Buyers are more connected, informed, and much further along in the sales process before they engage with a rep.
The tools, technologies, and techniques that were the 'big shiny object' a few years ago are either outdated or no longer relevant because let's face it, sales has changed and we can no longer be creatures of old habits.
In our experience at DMTraining, clients typically view training as a change initiative.
We work with them to identify the sales behaviors, activities, and results they want to change and then we create a training and reinforcement plan to align with those goals.
While I'd like to tell you change is easy and every training program works 100% of the time, that's just not the case.
I will tell you we've learned a lot along the way and have uncovered 3 common hurdles that impact the success of training and how you can overcome them.
Hurdle #1: Cognitive Resistance
We may speak the same language, but everyone interprets things differently.
Cognitive resistance to change doesn't necessarily mean you disagree, it means you lack knowledge or information about what will happen next, which could be a result of how the initiative was communicated.
For example, if you want to roll out a training program to your entire sales force but don't provide any context or explanation about why the organization is doing it, what the expectations are, and how the training will roll out, then you're setting everyone up for failure and confusion.
People tend to function best in situations when they are fully prepared and well-informed.
As a salesperson, how can you overcome this?
It's easy to get caught up in chatter among co-workers, but you have to keep an open mind.
Instead of entertaining negative comments about training from people who have already "been there, done that," talk to your management team.
Ask them questions and voice your concerns. You will only gain clarity by making an effort to understand what's happening and why.
As a sales manager, how can you help your team overcome this?
First, you have to believe in the change yourself. If you don't, you won't inspire anyone else to follow.
In times of change, people want a leader they can trust. That means engaging in authentic communication and being completely transparent about what each member of the team needs to do differently today to make the desired changes. Be really specific.
As a trainer, how can we help you overcome this?
Communicate. Communicate. Communicate. And then communicate some more.
In all seriousness, this is the number one thing a trainer can do to help ease uncertainty, fear, and resistance.
Typically, we do this in three ways:
Leadership Involvement

: Engaging with key stakeholders and members of the leadership team is a great way to gain buy-in. When the entire organization knows the leadership team is sponsoring an initiative, it's taken more seriously. Communication around this will also be viewed as more important or with higher urgency.

Communication Templates:

Clarity and simplicity are the keys to communicating about training. Deliver information about how and when the training will roll out in bits and pieces so you don't overwhelm the participants with too much information. This way, you can provide specific and timely information about each step of the way. Added bonus if your sponsor or internal coach from the leadership team sends the communication.

Kickoff Meeting: The kickoff meeting has two parts. The first is to introduce who we are, how the program works, and what the intended outcomes will be. The second is to motivate and inspire the team about why training will help them be more successful. This helps create a level playing field for all participants and informs them about the training directly from the source.
Bottom line: This hurdle can be overcome through clear communication, a specific plan of action, and ongoing reinforcement.
Hurdle #2: Motivational Resistance
The term motivation refers to the things that make us take action or encourage us to commit to a certain goal.
Motivational resistance to training comes down to understanding and answering these questions: Why should I do this? What's in it for me? Will it be worth it?
The most powerful motivation is usually intrinsic. We are all motivated and inspired by something that comes from within, which influences our behaviors, actions, and beliefs.
For example, if you're resistant to training because you don't understand how you will get a return on investment or how you will apply the training, then you won't be motivated to do it.
However, if you go into training with the idea that you want to learn, then you will be more motivated to listen, learn, and then leverage at least one new thing.
As a salesperson, how can you overcome this?
I don't want to sound cliche, but to get over this hurdle you've got to do some soul searching.
What are you passionate about?
Perhaps it's traveling the world and you would love to save up enough money to go on a multi-week adventure. Use this as sales fuel.
You may have a quota to hit for your company and team, but that doesn't have to be your only source of motivation. Identify a goal that excites you and makes you want to learn, grow, and improve.
As a sales manager, how can you help your team overcome this?
When it comes to sales training and behavior change, you can't expect salespeople to change if what they're currently doing feels good and they don't see the point.
Get to know your people more and understand what makes them tick. Find out what they like to do, what motivates them, and then align the desired changes with those goals and aspirations.
If you ask your team to attend sales training without giving them a reason, they're less likely to go along with it, but if you understand what they want (i.e. to win more deals), you can demonstrate how and why the training will help improve certain skills or develop new ways of thinking.
As a trainer, how can we help you overcome this?
Training is personal and should be highly goal-oriented.
Trainers must help salespeople and managers see training and behavior change as an ongoing process rather than an end game. This will help minimize frustrations as well as the inevitable mistakes and backtracking that comes along with change.
We set this expectation by helping sales teams and individuals develop a personal and professional sales development plan.
We build the plan in a collaborative effort that includes assessment testing, questionnaires, live and online training delivery, 1-on-1 and team coaching sessions, as well as ongoing support and reinforcement.
When the training is divided and delivered in this way, it creates a more impactful and personalized experience for the trainees and the trainer.
It allows the trainee to stay focused on the goals they've set and helps the trainer keep the trainee accountable and motivated.
Bottom Line: This hurdle can be overcome through understanding what makes you and your team excited on a personal level, explaining how and why training will cause improvement, and building a personal and professional sales development plan to set improvements in motion.
Hurdle #3: Time
Whether it's because there are competing priorities, limited time and resources, or a lack of budget, training is generally an initiative that gets pushed to the backburner.
Most people are so caught in the daily grind, they barely feel like they have time to take a walk at lunch let alone dedicate a few hours or an entire day to training.
For example, if you opt out of attending training because you are busy and don't have the time, what you're really saying is that you don't view training as essential or important to improving your daily workflow. But what's the alternative?
If you don't break away from your daily grind, how will you generate new ideas or learn new skills?
Mastering new skills and knowledge demands developing the right mindset. A mindset geared towards learning and growth. All of which takes time, patience, and support.
As a salesperson, how can you overcome this?
This hurdle can be addressed through proper planning and scheduling. Whether it's daily, weekly, monthly, or quarterly - the point is to block out the time for training and commit to it.
You can always find an excuse, but at what cost?
Your work and to-do list will still be there waiting for you. While it may feel counterproductive in the moment because you're stepping away from the work you need to complete, looking at the same problem or project with fresh eyes will help you see things in a new way or uncover an entirely new solution.
As a sales manager, how can I help my team overcome this?
Great managers know and understand their team has limits. They also know a major part of their responsibility as a manager is to help elevate each member of the team to their greatest potential.
A simple, yet effective way for managers to help their team overcome this training obstacle is to leverage teachable moments. These are moments before or after a big presentation or meeting where you can seize the opportunity to provide real-time feedback and encouragement.
As a trainer, how can we help you overcome this?
Many organizations invest heavily in sales training (Training Industry reports $300 billion is spent globally on training programs and activities, with $161 billion spent in the U.S. alone) -- but are these organizations spending their time and money on the right training?
There are many intricacies to developing and managing an effective sales training program for sales talent across various age and experience levels.
While one training session may hit the mark with one team, it can fall completely flat with another. To make the most of your training time and investment, consider a few best practices from our playbook:
Create Homogenous Training Groups:

This means dividing the team up based on their role, experience level, or vertical they sell to. When you conduct training in this way it creates a tailored experience for the participants and ensures all the training material is relevant and immediately applicable. It also helps create a safe environment that fosters sharing and meaningful conversations.
Online Reinforcement & Microlearning:

We are living in an always "on" and connected world, training shouldn't be any different. This means delivering on-demand, mobile-accessible training material that allows participants to access the material when and where it works best for them. To take it a step further, create bite-sized, micro-training material to increase retention and engagement. We keep our training videos under 20-minutes (because that's about all our brains can handle before tuning out!) and create 'grab and go' checklists and tip sheets to ensure the main ideas are highlighted for reinforcement.
Connect the Dots:

Training may provide employees with new skills or knowledge, but if they don't know how, when, or why to use that new information, they won't. Too often training omits the why. "Oh, you mean you want me to to do X, Y, or Z differently? That's news to me!" Salespeople need the right knowledge, skills, and attitude to succeed. Setting clear expectations, connecting the dots, and helping the team translate the information into their own workflow and daily activities so they know exactly what they are supposed to do and why.
Bottom Line: This hurdle can be overcome with the simple act of scheduling training time far in advance. That means setting time aside at every level - for sales reps, managers, and the leadership team. Fostering a culture of learning and development takes time and resources, but if you focus on delivering training that's easily accessible, bite-sized, and immediately actionable to homogenous groups, then you're well on your way to overcoming any resistance you might get.
What Now? Fight The Resistance!
Training can be intimidating. You wonder: How will this help me succeed? What happens if I fail? Do I really have time for this?
However, training isn't about success or failure; It's about learning, sharing, and leveraging new information and ways of thinking.
Training helps you think differently about the process you follow on a daily basis. It helps you consider new perspectives and point-of-views and break bad habits. Training helps you practice and prepare more effectively.
If you want less resistance when it comes to your sales training, then you have to change your team's thinking first.
People don't resist change that they believe is in their best interests. People resist change when they don't understand why or how it will help them.
But changing this mindset with the right tactics, like those above, and your team and organization will be transformed.
Still questioning whether you should invest in sales training? Check out our eBook and consider three of the most important questions you should ask before making a decision.
Join the IMPACT coaches for a deep dive on a new topic every month in our free virtual event series.
Published on September 25, 2018