Subscribe
Join 40,000+ sales and marketing pros who receive our weekly newsletter.
Get the most relevant, actionable digital sales and marketing insights you need to make smarter decisions faster... all in under five minutes.
Thanks, stay tuned for our upcoming edition.
10 Ways to Screw Up Your Inbound Marketing Campaign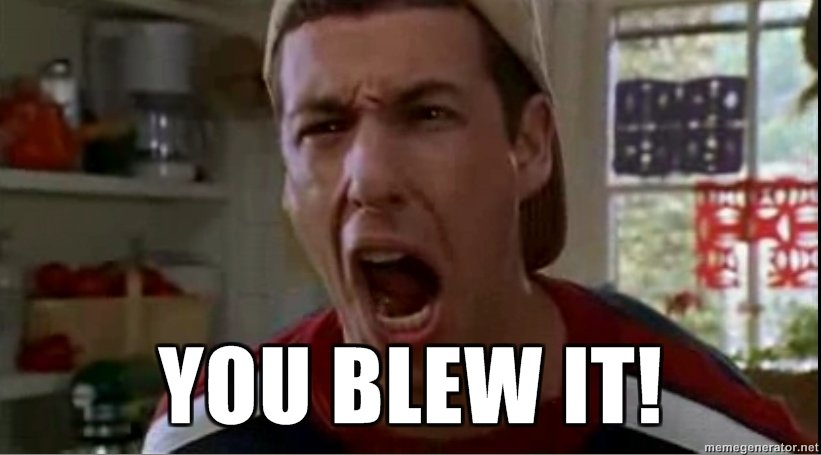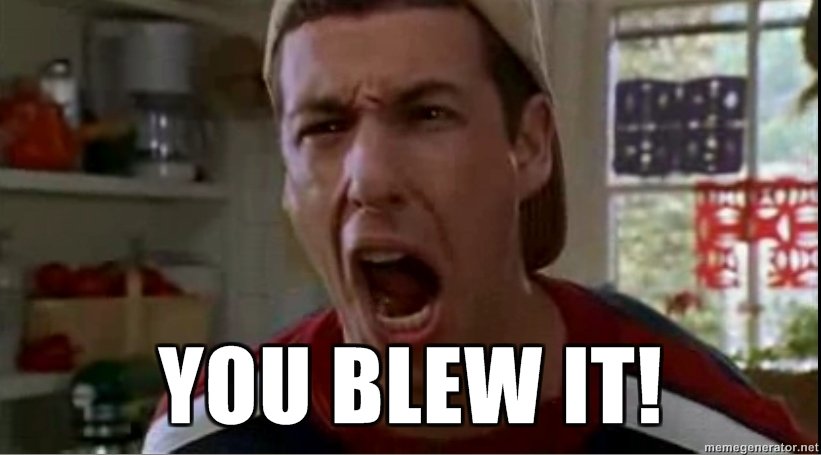 Remember that horrible little league coach who was sure to remind you "not to screw it up" right before your big at bat late in the game?
What a stressful moment for everyone. It upset your parents...I mean, was there anything more awkward than those parent/coach confrontations in the parking lot? (I don't know about you, but my mom has a pretty mean right hook.)
But you know what...the only thing running through your head wasn't how hard the pitcher was throwing. Who was on second base. It was..."I better not screw this up."
Did it make us better? Absolutely not. But at least we were more conscious about doing a better job.
Same goes for your marketing; I'm here to be that little league coach, suggesting ways you could be screwing up your inbound marketing campaign while reminding you not to blow it.
And please..tell your parents I mean no disrespect.
Also, be sure to check out our brand new ebook, "26 Ways to Generate More Inbound Customers in 2013" for more ways on how not to screw up your marketing campaign.
10 Ways to Screw Up Your Inbound Marketing Campaign
1. Weak Value Proposition
Oh...so your homepage reads like a Dickens novel? What are your visitors supposed to take from this?
If you haven't clearly conveyed your value proposition – how your product/service benefits your prospect – in about three seconds, well...then you're up a creak without a paddle.
And I don't know about you, but that sounds like a helluva lot of work to me. I mean...can you imagine? Up creek. Without. A. Paddle.
Instead, clearly define the value your brand offers in headers, subheads, and bullet points. Instead of reading like a page out of the Illiad, you want to present your value proposition in such a way that's easy to identify while also being easy to scan.
2. Unclear Goals
So you'd like more traffic, leads and sales?
You know who else does? Everyone.
That's not an exaggeration; even the Girl Scouts want more leads and sales. But you know what? They have a plan. Send adorable little girls to your door with delicious cookies. And you know what...it works. I mean...I've got a drawer full of Samoas right now. (Or a mouthful...don't judge.)
Get specific. The next time you reach for the Thin Mints in your 'fridge, remember dreams do come true.
3. No Quality Lead Identification
If your sales and marketing teams haven't discussed and clearly identified what makes a lead qualified for your company, than everyone's wasting their time.
Marketing doesn't have a clue who to tailor the content to. And sales is on the phone with people who are asking questions like, "so what is it you guys do again?"
This is every marketers worst nightmare; wasted efforts. Much like Paris Hilton's attempt at music; it's a lose-lose for everyone involved.
Prior to the execution of any marketing campaign or activity, it should be clearly established what makes a lead qualified.
Consider:
4. What's a Buyer Persona?
"Hello?! McFly?!"
A buyer persona is only a detailed profile that describes your ideal prospect. This makes it much easier to both market and sell to these people.
If you're marketing without clearly defined buyer personas, you might as well be practicing archery blindfolded. Maybe you'll hit the target...maybe you'll puncture someone's big toe.
Is this a chance you're willing to take?
I surely hope not.
Instead, get to know your target audience better. Between form fields, interviews, surveys, and social media crowdsourcing, you have all you need to craft a pretty detailed representative of what your ideal prospect looks like.
5. Weak SEO
Remember when people used to use the Yellow Pages to find a business or service?
Well...for the most part, they don't anymore. Google has positioned itself as the new Yellow Pages, where online consumers conduct product research.
So if you have no strategy for ranking higher in search results, or just as bad, a poor strategy – like keyword stuffing – you'll find yourself getting picked last at the playground.
Use keyword tools like HubSpot's to perform keyword research and analysis, identify your opportunities to increase your visibility, and start optimizing your website the right way and as a result, rank higher.
6. No Calls-to-Action
Along with a strong value proposition, you should also be providing your website visitors with some direction quickly upon visiting your website.
Otherwise, everyone is strolling around aimlessly like a middle school dance.
Nothing is more effective at providing direction than a visually attractive call-to-action that drives visitors to your landing pages. What are the challenges facing your ideal prospects? (Now that you have clearly defined buyer personas, you should know this.)
Address these with offers, and just as important, great CTAs that drive your visitors to this helpful premium content.
It's 2013, if your website is still static (meaning no CTAs, and no lead generating opportunities), than your much like Austin Powers coming out of a 20-year cryofreeze; absolutely clueless to the times.
7. No Lead Nurturing
Anytime a lead downloads an offer from your website, they should be followed up with relevant, automated emails promoting other content of interest.
if you're not doing this, than you've left the door wide open for your leads to download an offer...leave...and never come back.
Unless that's all part of your plan...in which case..uuh...congrats?
But if you actually want your leads coming back to reengage, implement a lead nurturing campaign that features auto repsonders in the form of 'Thank You Emails' as well as other relevant content that helps to push them further down the sales funnel.
8. Blogging Without a Strategy
Are you blogging without an audience in mind?
Blogging irregularly?
This may be okay for a college hipster...but since you're not blogging about indie Vinyl...this won't work for you.
Develop a blog editorial calendar that'll keep you consistent...and tailor your content to speak directly to your buyer personas.
Too much intro level content and you'll have too many unqualified prospects. Too much advanced content? And you're driving away potential prospects. The key is striking the right balance.
9. Lazy Social Media Strategy
Haven't discovered the value in social media marketing yet?
That's okay, your competitors are doing it for you.
Social media platforms like Facebook, Twitter, LinkedIn, and Pinterest are saturated with members of your target audience. The best part? It's free.
But keep it engaging. Social media shouldn't be a one way street. Ask questions. Have fun with it. Remember...give your followers a reason to 'like' your page or follow you.
10. No Sales & Marketing Alignment
This is critical, as if your sales and marketing teams aren't on the same page, you'll always hear the following complaints:
Marketing: "Why are none of my leads closing? Is sales sleeping?"
Sales: "All these leads suck! What is marketing doing?"
Going back to my point earlier, if sales and marketing clearly identifies what makes a qualified prospect, marketing can more effectively appeal to them, and sales will have more qualified, sales-ready leads on the phone.
Free Assessment:
How does your sales & marketing measure up?
Take this free, 5-minute assessment and learn what you can start doing today to boost traffic, leads, and sales.