"Advice for Young Leaders" The IMPACT Show Ep. 22 [Show Notes]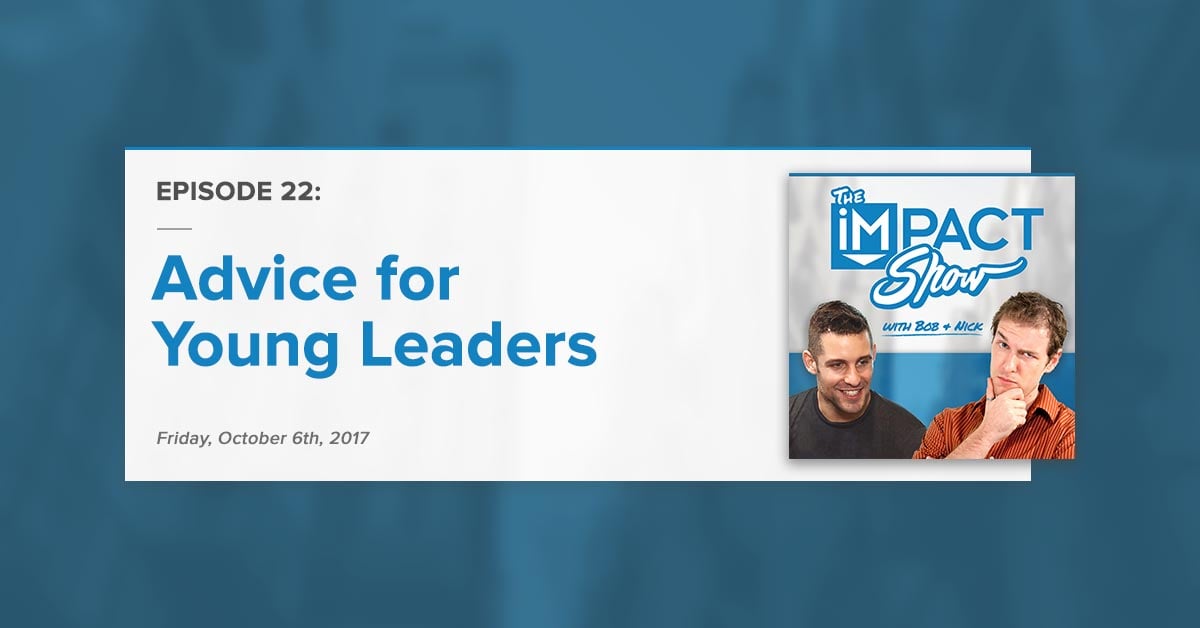 Being successful in your career doesn't happen overnight, and frankly, it takes a lot of hard work.
So, in this week's episode of The IMPACT Show, Bob and Nick had a lot of cover. They reveiwed HubSpot's product updates, what's happening in the world of social media, as well as the advice they have for young leaders.
Just in case you missed us live (or if you want to relive the magic), you'll find the episode's show notes below as well as the recording.
Enjoy and make sure to share with your peers!
Like what you saw? Make sure to subscribe for email reminders and give us a review on iTunes.
Have feedback or questions? We'd love to hear it. Comment on this blog or email us at show@impactplus.com
We mixed up the show a little bit this week, and we're going to be focusing on some big INBOUND updates as well as a ton of industry news that was released this week.
IMPACT Updates
IMPACT was recognized as HubSpot's Partner Agency of the Year. And, this was an emotional journey for us and something we worked extremely hard for.
We sponsored a booth at INBOUND. This was our second year. And, we wanted to differentiate ourselves and we did that by hosting personal website throwdowns for attendees. And, we filled up all 150 of our time slots during the event, and we're still hosting throwdowns for those who couldn't get a time slot.
Last weeks episode, we were able to do a recap of INBOUND with Marcus Sheridan, Ryan Deiss, and Kipp Bodnar. And, we want to send a huge thank you to them.

When we did the show last week, INBOUND wasn't finished yet, and believe it or not,

John Cena gave the best keynote in INBOUND history. Obviously, John Cena has done a lot in his career. But, the reason he was successful, was what he shared. How to be a model employee, how to propel yourself to the top of an organization and through hard work. We're waiting for INBOUND to release the keynote.
Hopefully, Bob will be able to do the show next week. But, Bob will be having minor back surgery on Monday. His advice, watch how much you deadlift, cause you might herniate a disk.
IMPACT Elite
Great convos going on there right now
IMPACT Elite is our Facebook group where our audience can interact and get feedback from IMPACT and other members of the group.
There are great conversations going on right now, such as next year's IM Live keynote speakers, the use of messenger bots, members share really great content.
Join our group here!
Digital Marketing News
Where each week, we share one thing from the world of digital marketing that caught their eye and found interesting to share.
HubSpot Product Updates
What we didn't talk about in last weeks episode was HubSpot's product updates. Here's a look at what they released during INBOUND:
Changes to the COS

One thing that isn't on their web page is the changes they're making to the COS. The biggest areas they're focusing on are SEO, speed, and security.

HubSpot Sales Professional

Releasing the all-new HubSpot Sales Professional, this product is for sales organizations. And, There will be more tools added.

HubSpot Conversations

They're also introducing HubSpot Conversations, a free tool, where you can connect all of the areas where your customers are connecting with you through in one inbox.

Motion.AI

HubSpot acquired Motion.ai, which is a tool for creating messaging bots.

Customer Hub

The last tool is their Customer Hub, which will allow you to manage your whole customer journey.
The Future of Social Media
China makes and puts to good use more smartphones than any other country
Many leaped from the pre-web era straight to the mobile internet, skipping the personal computer altogether. About half of all sales over the internet in China take place via mobile phones, against roughly a third of total sales in America. In other words, the conditions were all there for WeChat to take wing: new technologies, business models built around mobile phones, and above all, customers eager to experiment.
A single platform to access the web, a single digital identity.
e-mail never took off on the mainland the way it has around the world, mainly because the internet came late; that left an opening for messaging apps.

How they rose so fast: When Tencent launched the new app, it made it easy for QQ's users to transfer their contacts over to the new app.

Another stroke of brilliance came two years ago when the service launched a "red packet" campaign in which WeChat users were able to send digital money to friends and family to celebrate Chinese New Year rather than sending cash in a red envelope, as is customary. It was clever of the firm to turn dutiful gift-giving into an exciting game,

Challenging all users to shake their phones during a live event to win a prize!

$$: They earn revenue from games played off their platform, e-commerce transactions and sending money, advertising. (More transactions on there than average Americans spend on plastic)
The lesson: For Western firms, the most telling lesson from WeChat's success is that consumers and advertisers will handsomely reward companies that solve the myriad problems that bedevil the mobile internet. The smartphone is a marvelous invention, but it can be frustrating. In much of the world, there are too many annoying notifications and updates and the proliferation of apps is baffling. WeChat provides an answer to these problems.

WeChat has flourished for simple, commercial reasons: it solves problems for its users, and it delights them with new and unexpected offerings.

A comment posted by readers: The reality is that mobile computing in the west is far more complicated than it needs to be with users constantly having to switch between multiple ring fenced apps to meet their daily needs.




In addition, many of these apps essentially offer what are now commodity services. Consolidation is coming and in the future, there will be one winner who cleans up and runs the daily life OS. Apps will still exist but only for novelty or to test genuine innovation.
Main Topic: "Advice for Young Leaders"
Every week, we pick one topic and go deep on it, and today's topic is Advice for Young Leaders.
Before we dig in.. start thinking about how the things we're talking apply to your company. If you have any challenges or questions that you want us to address, leave a comment or send us an email to show@impactplus.com. We'll get to as many as we can either at the end of the show or during next week's episode.
Why?
AT IMPACT, we give out raises twice a year (in the spring and in the fall).

We recently did raises… and it leads to interesting conversations... How to get to the next level?
Advice for Younger Employees Looking to Advance
You need to know your job (this came directly from John Cena's keynote).

If you don't know them, you need to ask.

Get your expectations in writing.

People need to know what is expected of them.

Not the things to be done but the outcomes you need to create.

You have to love your job (passion).

We have a core value of passion, and if you're not passionate about what you're doing and the industry you're in, you're not going to be successful.

It's your responsibility to advance, not your company's responsibility to advance you (take control of your career).

Your resume is what you accomplish, not your job title. You don't realize that until you're in the middle of your career.

Don't focus on your peers, focus on you. The grass isn't always greener.

Need to be optimistic, bring a smile with you.

Quote by Jim Rohn: "Don't wish things were easier, wish you were better."

Don't complain, it's easy… the company doesn't need more complaints, it needs more solutions.

(Sensitive subject) - If things outside of work are affecting your work… how to handle them.

If things aren't improving and you're really that unsatisfied, move on.

Never burn a bridge. Leave right.

Coaching and listening.
Advice for First-Time Managers
Set clear expectations for your reports.

Make your employees the stars, not you.

Stay consistent with your one-on-ones.

Be careful with perceived favoritism.

No sugar coating, be direct.

See what's not being said. Identify your regular behavior (stress), probe, remove impediments.

Recognize publicly and often, Criticise privately always.

Managing people is not for everyone / individual contributor.
Next Steps:
We would love your comments! Feel free to send us an email or comment on the Facebook thread.
If you really liked it, please give us a 5-star review on iTunes. Review offer: We have a special price for the first 10 people to leave us reviews on iTunes (hopefully 5-stars). After you do, send us an email at show@impactplus.com so we know it's all set.
Join Us Next Week! 3 Types of Inbound Marketing Programs
We'll be back again next Thursday, October 12th at 1:00 PM ET. Want to get reminded? Drop us your name and email address below and we'll make sure you're notified before the broadcast every Thursday!
Until next time... get out there and make it happen.
Free Assessment:
How does your sales & marketing measure up?
Take this free, 5-minute assessment and learn what you can start doing today to boost traffic, leads, and sales.