20 ways to boost your energy and productivity at work [infographic]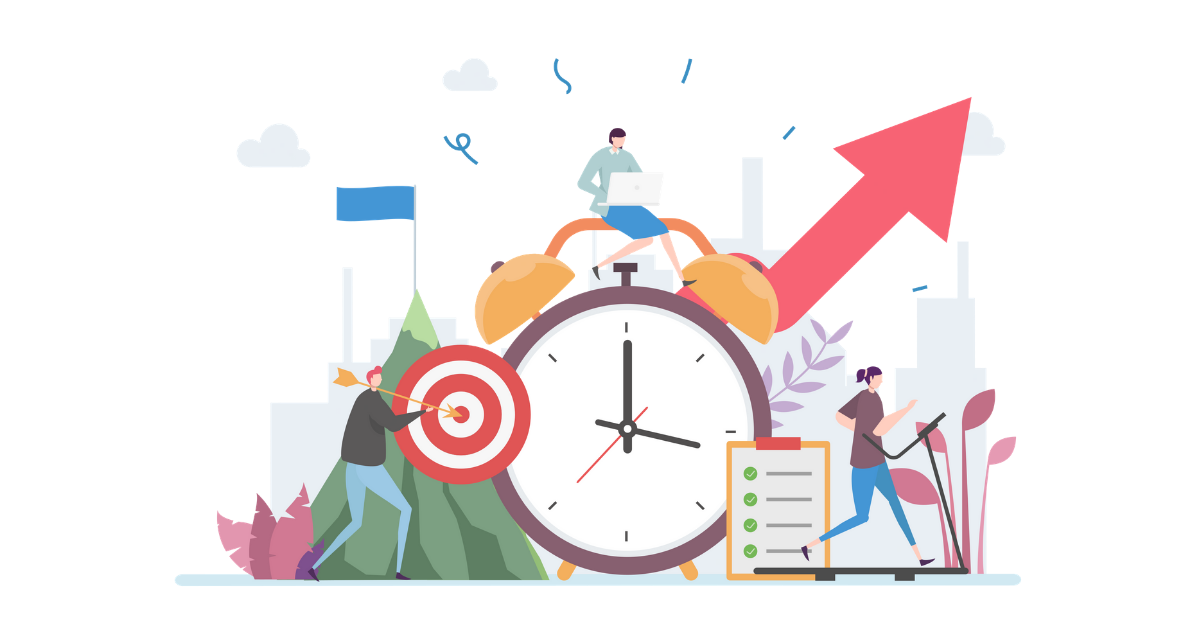 Whether you're a night owl or an early bird, it's common to have your energy levels dip throughout the day.
Many of us immediately reach for our afternoon cup of joe or even tea or diet coke for the non-coffee drinker.
It doesn't matter if you're working at home or at the office, the dreaded afternoon energy slump is always looming around the corner.
For many, it usually strikes between 2 and 4 pm.
The most common causes for your energy levels dipping include having a carb-heavy lunch, being dehydrated, a drop in body temperature, or you've simply been sitting for too long.
Join the IMPACT coaches for a deep dive on a new topic every month in our free virtual event series.
Now, while a quick nap is probably your first instinct, that isn't always an option.
Thankfully there a number of ways that you can give yourself a much-needed energy boost. GetVoip shares an infographic with some ideas below.
Identifying your chronotype
For those of you who enjoy enneagrams, you will enjoy chronotypes.
Chronotypes look at your personality as well as your sleep patterns, to identify times when you're most productive as well as productivity tips.
To put it simply, chronotypes are a classification system to help you better understand your sleep and productivity schedules.
The classifications are broken down into four types; dolphin, lion, bear, and wolf:
Dolphin
Go to bed at: 11:30 pm
Wakes up at: 6:30 am
Most productive between: 3:00 pm and 9:00 pm
Personality traits: introverted, intelligent, anxious, detail-oriented
Productivity tip: Take mental breaks throughout the day to rest and recharge
Lion
Go to bed at: 10:00 pm
Wakes up at: 5:30 - 6:30 am
Most productive between: 8:00 am to 12:00 pm
Personality traits: diligent, optimistic, athletic, overachiever, charismatic
Productivity tip: Know when to sign off for the day and take time to do something for yourself. Whether that's exercising or spending time with family and friends.
Bear
Go to bed at: 11:00 pm
Wakes up at: 7:00 am
Most productive between: 10:00 am to 2:00 pm
Personality traits: extroverted, social, happy, always hungry
Productivity tip: Be sure to schedule any meetings in the morning. If you find yourself in the afternoon slump, as an extrovert that feeds off of others' energy, schedule a coffee chat with coworkers, or join someone in an afternoon walk to help maintain your energy.
Wolf
Go to bed at: 12: 00 am
Wakes up at: 7:30 am
Most productive between: 5:00 pm and 12:00 am
Personality traits: introverted, creative, emotionally intense
Productivity tip: While starting the day can be difficult, if possible, schedule your meetings in the afternoon and try to get ahead of work at home after hours while you're feeling the most awake.
By identifying what chronotype you associate with, not only will you learn when you're most productive but what things you can do to boost your energy.
You might also find that your sleep schedule isn't conducive to your internal clock and actually doing you more harm, especially when it comes to how productive you are.
20 tips to boost your energy while at work
If you find your energy levels dipping and you're struggling to stay alert or even productive while at work, here are some things you can do to kickstart your day and push past the afternoon slump.
1. Stay hydrated
While drinking water has numerous health benefits, not drinking enough water is one of the top causes of feeling tired.
Try to keep a water bottle at your desk to remind yourself to drink more throughout the day. Don't be afraid to have fun with it.
Know someone else on the team struggling with hydrating? Hold each other accountable and see if both of you can finish 60 oz or more before the end of the workday.
2. Head to the gym or squeeze in a walk
Many people tend to head to the gym before or after work. Consider squeezing in a workout or even a brisk walk during your lunch break.
It's a great way to keep you energized for the rest of the afternoon, and won't have to worry about heading to the gym after work.
That feeling of a "runners high" doesn't stop the moment you step out of the gym, but the increased heart rate and blood flow will help improve your mood and energy for several hours after the workout.
You might also find yourself making healthier choices for lunch and dinner, which is an added bonus.
3. Stay away from carb-heavy lunches
Carb-heavy lunches can have similar effects to eating a ton of turkey on Thanksgiving.
When eating carb-loaded foods such as white bread, pasta, white rice, and even chips, the simple carbs cause a spike in your blood sugar which eventually leaves your feeling tired.
Instead try adding energy-boosting foods such as salmon, kale, avocados, bananas, nuts, brown rice, wheat bread, and pumpkin seeds.
4. Listen to your favorite music
Not only is music great for boosting your mood, but it can also help improve your energy levels.
According to GetVoip, science shows that our favorite songs trigger a rush of dopamine in the brain, which results in making us more productive.
Grab those headphones and hit play on your favorite playlist or check out these genres some popular ones include classical, nature, and songs between 50 and 80 beats per minute.
5. Tidy up your desk
You'll be surprised by how effective taking just 10 minutes to tidy up your desk can have on your mood.
Decluttering your space will help you from feeling overwhelmed, disorganized, and even stressed.
In a study conducted by Harvard University, it was found that those working in a clutter-free workspace are able to work for 7.5 minutes longer without losing focus.
By also allowing yourself to focus on something that's not on your computer, you're letting your eyes take a break.
6. Take a moment to laugh
Laughing is good for the soul. It's great for boosting your mood and reducing stress.
Consider spending a couple of minutes watching a funny scene from your favorite show or checking out America's Funniest Home Videos Instagram page.
You may want to set a timer for 10 minutes so you can get back on track and finish the workday strong.
Be sure to check out GetVoip's infographic below to see what other tips you can implement to boost your energy and make you more productive.

Join the IMPACT coaches for a deep dive on a new topic every month in our free virtual event series.
Published on June 13, 2020