"The Pain of Outlining & an Airing of Grievances" with Kali Greff & Alexa Baray of Verblio (Content Lab, Ep. 33)
You guys are in for a treat because, apparently, something magical happens when you get three super passionate content nerds in one virtual room.
Blogging works better when you write about topics your buyers care about.
This week, I had the distinct pleasure of having Head of Content & Marketing Manager Kali Greff and Manager of Operations Alexa Baray of Verblio (formerly Blog Mutt) on the Content Lab to talk about one of the most unpopular blogging and general content marketing tasks in existence -- creating outlines.
We were forced to do them in grade school, and even though content is now my career, I still haven't gotten over that trauma.
I mean, really. You force me to do an essay as a sixth grader -- which is awful enough -- but you're also going to make me do a bunch of extra work by creating an outline in advance that will be graded as a separate assignment?
Obviously, the pain is still very close to the surface for me.
Yet outlining still matters a lot in content marketing projects. But because so many of us get downright hostile at the idea of outlining, it's become this thing no one talks about.
So, Kali, Alexa, and I decided to rip off the band-aid this week to help transform outlining from an activity many of us activity dislike into a strategic brainstorm that excites and leads to better content.
Oh, I also may or may not have went off on a rant about why I really, really do not like the traditional inbound approach to buyer personas. In that, I think they're useless 99% of the time.
Enjoy!
Listen to the Episode
Content Lab Exclusive from Verblio!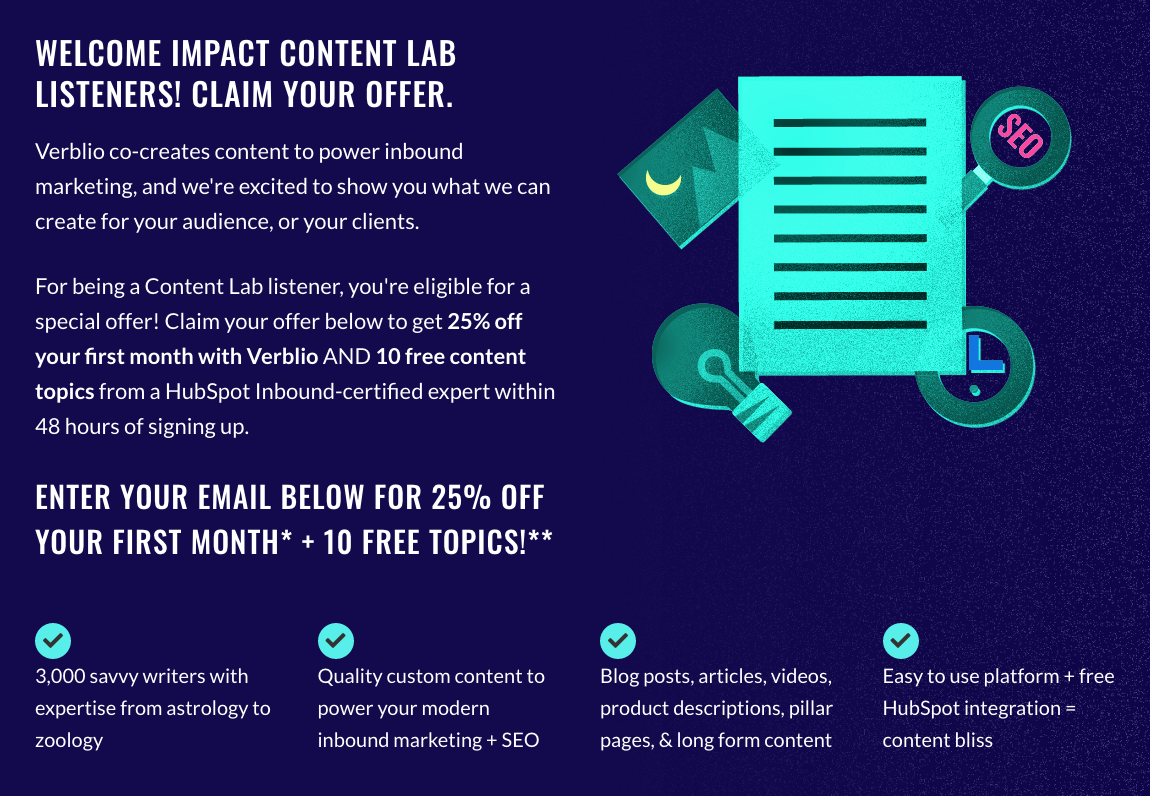 Learn more about this Content Lab EXCLUSIVE offer from Verblio!
Connect with Content Lab
Okay, first, you've gotta subscribe to Content Lab on Apple Podcasts. That way you'll never miss an episode!
Or you can email me directly at lmurphy@impactplus.com! I'd love to hear from you.
Published on May 31, 2019