Coordination and Communication Lessons (The IMPACT Show Ep. 45)
Stephanie Baiocchi also recommends this free guide: The Ultimate Inbound Marketing Strategy Playbook 2022.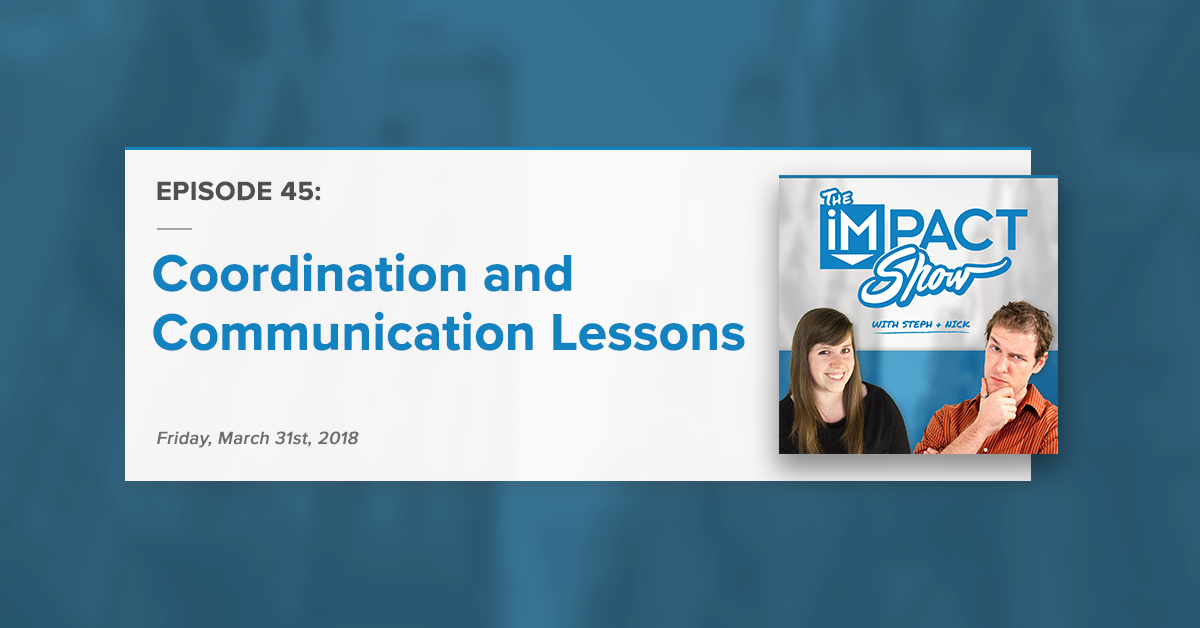 In this week's episode of The IMPACT Show, Nick and I talk about our time together at IMPACT HQ, all these live broadcasts we've got going on and how we do it, what's goin in in Elite, and so much more.
We went live at our NEW time this week on Friday at 11:00AM ET. Next week we will actually be live on Friday at 12:45PM ET (yes, different again) so mark your calendars and let us know what you think of the new day and times.
Free Guide: The Ultimate Inbound Marketing Strategy Playbook 2022
Just in case you missed us live (or if you want to relive the magic), you'll find the episode's show notes below as well as the recording.
Enjoy and make sure to share!
Like what you saw? Make sure to subscribe to email reminders and give us a review on iTunes.
Have feedback or questions? We'd love to hear it. Comment on this blog or email us at show@impactplus.com
IMPACT Updates
Reflecting on our time together at HQ
Now that we're back from our team week in the office we took some time to reflect on how it went and what we learned. If you're part of a remote culture, want to be, or want to build one - here's what we thought.
Shout out to Natalie and Carolyn on our team who helped plan activities and meals throughout the week. They made sure these things were on our calendars and we had all the information we needed to make these events fun.
We had a great time but Nick and I also discussed how trying to squeeze this week in created some tension. Trying to balance getting your necessary work done while still having fun is hard. It's also tough to balance the "purpose" of the week between spending time together as a team and strategizing (which sometimes creates more work!) and spending time having fun getting to know each other.
Shout out to Zach Basner and George B Thomas for the amazing video workshop they hosted during our team week!
My key takeaway from our team week was that a week is surprisingly LONG at the end. I think if we shorten it to a couple of days and condense what we're doing we might be a little more productive. The team put a TON of work into preparing for this week, gathering feedback, and making adjustments. And we sure do appreciate that!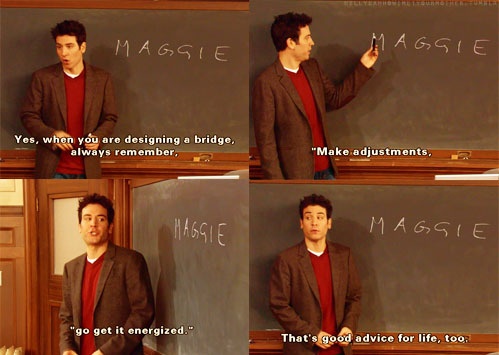 "Make adjustments. Go get it energized.
That's good advice for life, too" - Ted Mosby
How are we coordinating all of these live broadcasts we have scheduled?
From webinars to scheduled shows to surprise Facebook live broadcasts - we've got a lot going on. While using our content calendar in HubSpot is great, for production management I knew I needed something more to keep myself on track. As I'm scheduling some more live conversations in Elite I needed to be able to glance at what we already had booked and when. I created an event calendar - I just knew it was what I needed so I did it and shared it with the team. It's that moment of knowing you can't wait for someone to do something for you - if you need it done then make it happen.
I was just re-reading Kaitlyn Petro's post on "23 Marketing & Sales Leaders Share the Best They've Ever Gotten" and I read one by Ann Handley. She said:
The best bit of advice I ever got was from my driving instructor (Henry) when I was 16 and learning to drive. He told me "Poke you nose out. No one's going to invite you."
This is exactly what I mean. Don't wait for things to come to you - make them happen!
Remote Life: Video Tech Update - Nick and I wanted to share our tech setup since we get a lot of questions about how we do what we're doing live.
Kyle Bento helped me get set up with some great new gear including two Emart table top photography studio LED lights with tripods with Haoge 7" 180mm soft white diffusers. I also have a Logitech HD C920 pro webcam on a Neewer 14 inches mini travel tabletop tripod. Microphone update to come next week!
Nick shares his lighting setup, microphone on an arm, and the fact that he's still sticking to the good old Mac built in web cam!
Lessons from Our Latest Webinar
We got our webinar follow up out via a HubSpot email this week! I think this will make the experience feel more like IMPACT and as we progress we'll be optimizing this more and more. I'm so proud of the team for hustling to get that change made in time. If you got that email let us know what you thought.
Our webinar was with Oli Gardner and he talked about 3d (Data-Driven Design) which was a fantastic presentation.
Our next webinar is on April 12th with Larry Kim who will be talking about hacks to master chatbot marketing! Save your seat today:
HubSpot User Group Updates! (HUGs)
This week we hosted the New Haven and Chicago HUGs on Wednesday and Hartford on Thursday! Marcus Sheridan spoke at the New Haven and Hartford HUG meetups and we did something similar to Website Throwdowns at the Chicago HUG.
What Marketers Be Talkin' 'Bout
Where we go over what you're saying in IMPACT Elite.
IMPACT Elite is a community of now over 2,500 passionate inbounders looking to help other marketers (and sales and customer success people) succeed. We'd love for you to join us!
Go to impactplus.com/elite or just search the IMPACT Elite Group on Facebook and request to join. Plus, join us LIVE and in person this August at IMPACT Live 2018.
Elite Member Mia Charette posted: "We get a ton of flack from our sales team when a prospect gets an email noted as "irrelevant" to them, but it isn't 100% marketing's fault. For example, someone downloads an ebook intended for personas a,b,c, but they are clearly persona d. they haven't provided us with enough information yet to say they are certainly persona d, so they automatically get enrolled in a workflow for persona a. [...] I swear some people just don't know how to fill out forms. Does anyone else run across this? How do you handle it?"
There's a great discussion happening on this post about sales and marketing alignment, setting expectations with your team, powerful automation and more. Check it out and add your thoughts in Elite.

Elite Member Andrea Funk posted in Elite about personalized search results: "We have two cellphones next to each other googling the exact same search word. We get totally different results. On one phone we were first and on the other phone we were third. So how can I ever know what my Google ranking for a particular key word is? Do I only know in aggregate from Google Consel? Is Google showing me something different than someone else based on my what?"

Of course there's a ton to unpack here and the Elite members are doing a great job of doing so on the post including Nick Sal's great response. Check it out in Elite.
Elite Member Highlight!
Shout out to both Kaitlyn Casso and Chris Marr who posted videos to Elite this week and took a step outside their comfort zones! Way to lead by example! Also, let's give a warm welcome to our 2,500th Elite member: Emma Sepke!
Shout out to Christine who answered Matt's question during the broadcast. Matt Golueke asked: "Hey guys, are you using BeLive.tv with custom format and/or graphics or a different live broadcast platform?"
Christine replied and said:
Inbound in the Trenches
This is where we talk about what we're doing and what we've learned lately right here in the trenches.
The Sales Corner
Nick talked about how IMPACT is balancing wrapping up the quarter with how to translate legacy sales goals with some newer and more flexible metrics around new revenue streams as well as retention. We know there's value in relationships but we haven't necessarily had that as a goal that's part of how we're measured for success. So Nick is excited about that!
In my work lately we have been working on cleaning up our database. This includes needing mailing address information for Enthusem and other campaigns we're doing, contact data so we can register our leads with HubSpot, implicit information so we can segment properly, job titles to help with our personas, and so much more. I've spoken with 9 or 10 data enrichment solutions this week and have yet to find the perfect one!
Next Steps:
We have a very exciting IMPACT exclusive live conversation with Rob Dube on Tuesday at 11:00AM ET. Rob is the president of imageOne and author of "Do Nothing - The Hardest Leadership Challenge You'll Ever Take." He is also a mindfulness expert, EOS practitioner, and his company uses HubSpot. We'll also be giving away 3 copies of his book LIVE during the broadcast! Mark your calendars!
Don't forget to save your seat for our webinar with Larry Kim on April 12th!
Next week...Nick will be live from PAXEast! We'll also talk about our all hands. that will be that morning. We'll be live at 12:45PM ET next week - this cadence will continue for now so let us know what you think!
Most Fridays will be at 11:00AM ET and once a month when we have our all hands calls in the morning we'll bump the show to 12:45PM ET and do a little bit of a monthly recap.
We would love your comments! Feel free to send us an email or comment on the Facebook thread.
If you really liked it, please give us a 5-star review on iTunes and subscribe to updates for the show.
We're going to IMPACT Elite to ask what you want us to talk about, so jump in on the post there.
Join Us Next Week!
We'll be back again next week at another *NEW* date and time: Friday, April 6th at 12:45PM ET. Mark your calendars!
Until next time...we'll see you in Elite! Don't forget to stick your nose out there.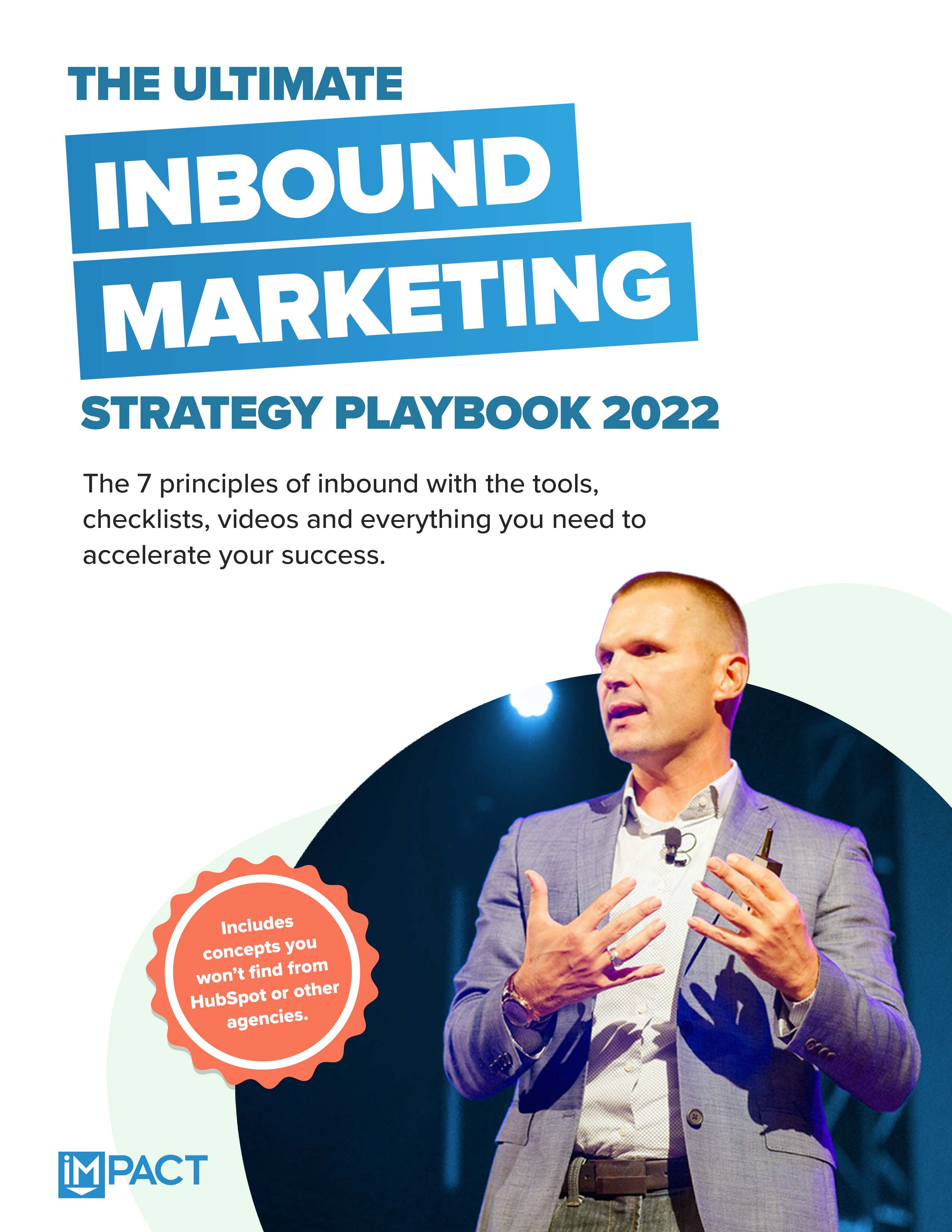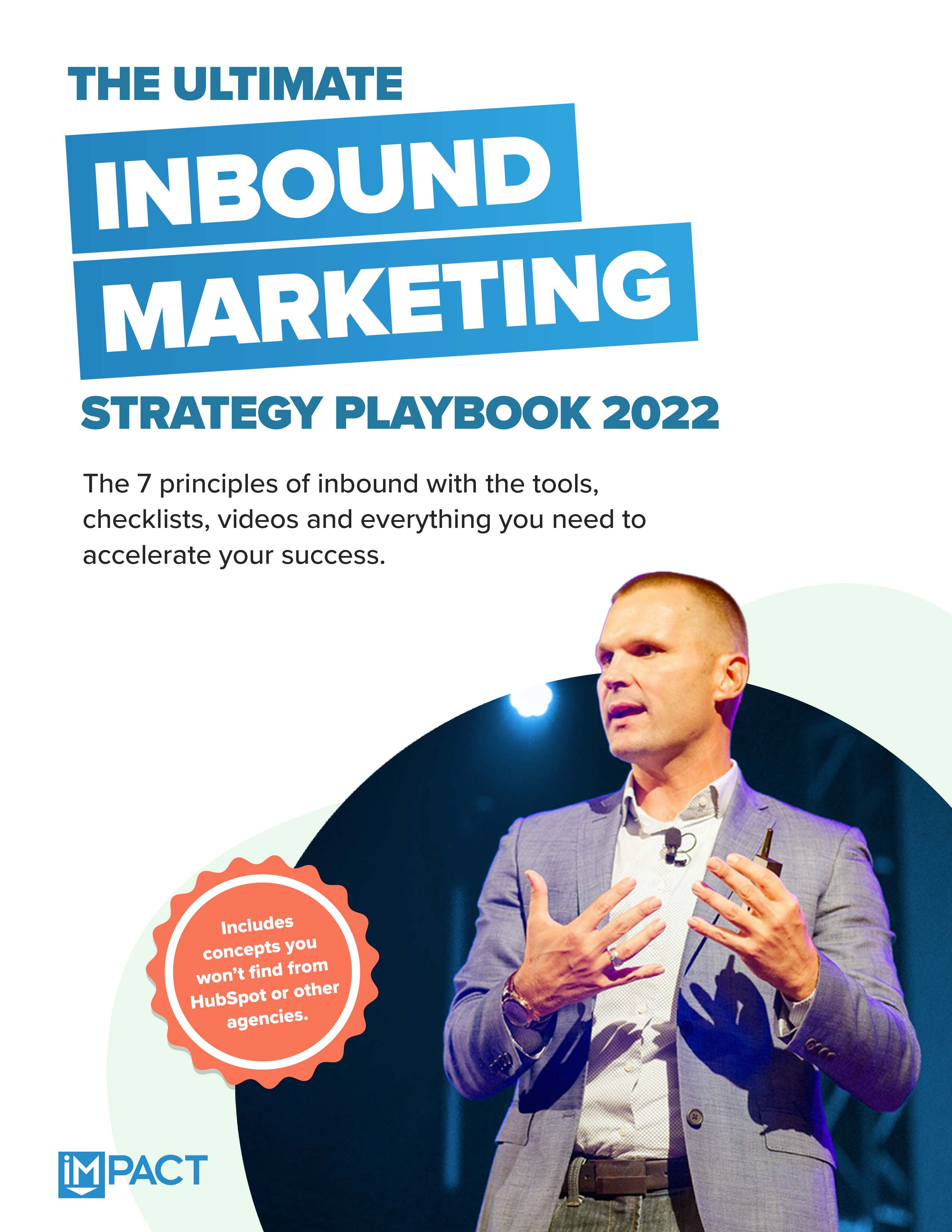 Free Guide:
The Ultimate Inbound Marketing Strategy Playbook 2022
Take your inbound strategy to the next level
Master the 7 principles of highly effective inbound marketing
Dramatically improve your inbound sales
Get more buy-in at your company
Published on March 31, 2018