Customer Loyalty, Marketing Mistakes, and Introducing: Community Hangouts (The IMPACT Show Ep. 49)
Stephanie Baiocchi also recommends this free guide: The Ultimate Inbound Marketing Strategy Playbook 2022.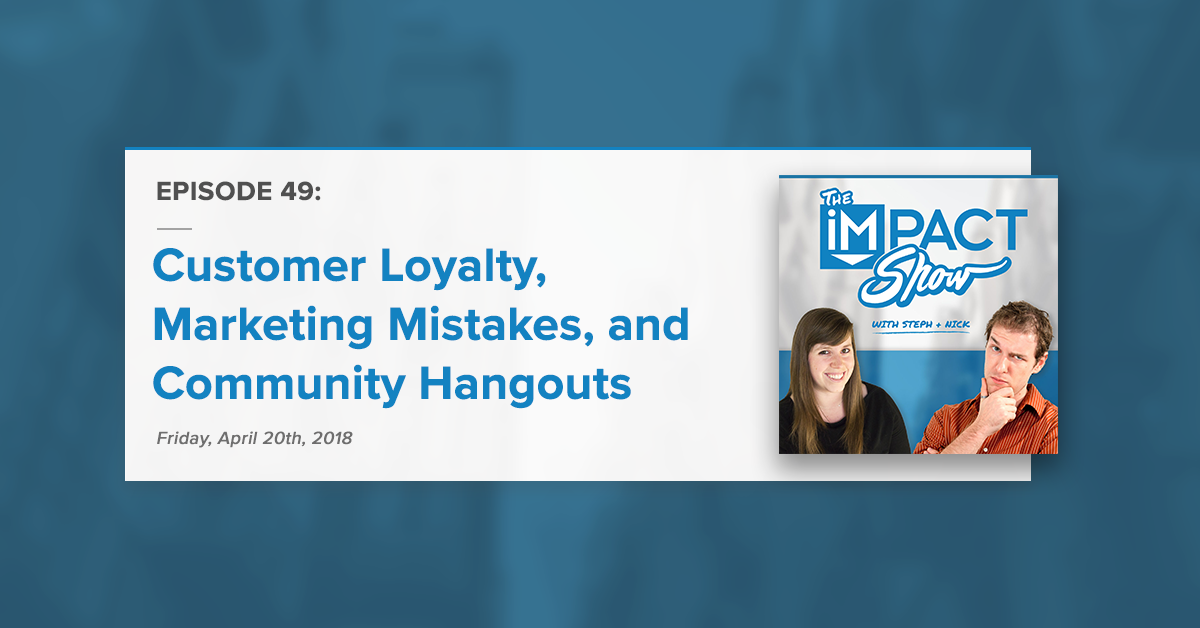 In this week's episode of The IMPACT Show, Nick and I talk about customer loyalty, cringe-worthy marketing mistakes and the lessons learned from them, community hangouts, and a whole lot more.
Free Guide: The Ultimate Inbound Marketing Strategy Playbook 2022
Just in case you missed us live (or if you want to relive the magic), you'll find the episode's show notes below as well as the recording.
Enjoy and make sure to share!
Like what you saw? Make sure to subscribe to email reminders and give us a review on iTunes.
Have feedback or questions? We'd love to hear it. Comment on this blog or email us at show@impactplus.com
IMPACT Updates
Lessons from our recent webinar with Joey Coleman
We had our webinar with Joey Coleman last week on how to never lose a customer again. We've been sharing lessons we've learned throughout doing our last few webinars and, after a huge team effort, we nailed it this time. Joey was a fantastic presenter who also helped with some really authentic, fun promotion. He also was great at wrapping up the webinar with a recap instead of just ending on a question. We loved this idea (we may steal it for future use!).
Some key takeaways:
- Do a dry run. Practice and be prepared.
- Give yourself enough time to promote well.
- Work with guests who are excited to work with you!
We also just love the content of the webinar! Have you read Joey's book? Did you watch the webinar? Let us know your thoughts - keep the conversation going in Elite. Have questions about our webinar process? Ask us in Elite or share your tips!
As for our next webinar - it's coming up on May 10th!
What Marketers Be Talkin' 'Bout
Where we go over what you're saying in IMPACT Elite.
IMPACT Elite is a community of over 2,700 passionate inbounders looking to help other marketers (and sales and customer success people) succeed. We'd love for you to join us!
Go to impactplus.com/elite or just search the IMPACT Elite Group on Facebook and request to join. Plus, join us LIVE and in person this August at IMPACT Live 2018.
Being a Marketer of One
Elite member Kaitlyn Casso was featured on an episode of MarketHer this week! She talked all about getting out of your comfort zone and she mentioned a quote that I just love. It was: "perfection is the enemy of authenticity." I love that so much. Check out the episode of MarketHer to hear more about what Kaitlyn had to share.
Elite member Juan Jose Bello shared a super vulnerable but great post in Elite: "Once, I accidentally spent $23,900 in Google Adwords in a single day. I thought that the currency was in Colombian Pesos, NOT US Dollars. In the end, everything was solved, thankfully. I almost died. What has been the worst mistake you've done in digital marketing?"

We love that Juan shared this! We all have experiences like this and it's great that we can share these stories so we know we're not alone but we also learn the lessons from each other. I love the topic so much that I'm turning this into a blog post. So, if you have a story to share please let me know in Elite!
Want to come together in PERSON? LIVE? Join us at IMPACT Live 2018!
Inbound in the Trenches
This is where we talk about what we're doing and what we've learned lately right here in the trenches.
This week Nick and I talked about the fact that we've both been accepted to speak at INBOUND again this year! Some things we think helped make our submissions great include:
- Pick something you're passionate about
- Get feedback on your topic and submission
- Put yourself in the shoes of the attendees and think about what you'd want
- Get some experience! Speak at smaller events, attend events you want to speak at, etc.
Nick's topic is "Become and Inbound Sales Ninja: One Team's Ultimate Playbook for Success with HubSpot Sales Pro."
Stephanie's topic is "5 Steps to Future-Proof Your Marketing Skills Against the Rise of the Robots."
Speaking of the rise of the robots... as Nick and I prepped for this episode of the show, there were some people setting up a virtual reality happy hour at my co-working space. It was such a cool experience! We did everything from games to a Google Earth experience, to virtual tours of the new living spaces opening in our building.
This is part of why I'm so passionate about my INBOUND topic - it's easy to get afraid of new technology but, if we can embrace the future of marketing technology, we can do a lot with it. So, I'm stoked to speak at INBOUND about how we can leverage marketing technology and future-proof ourselves as marketers.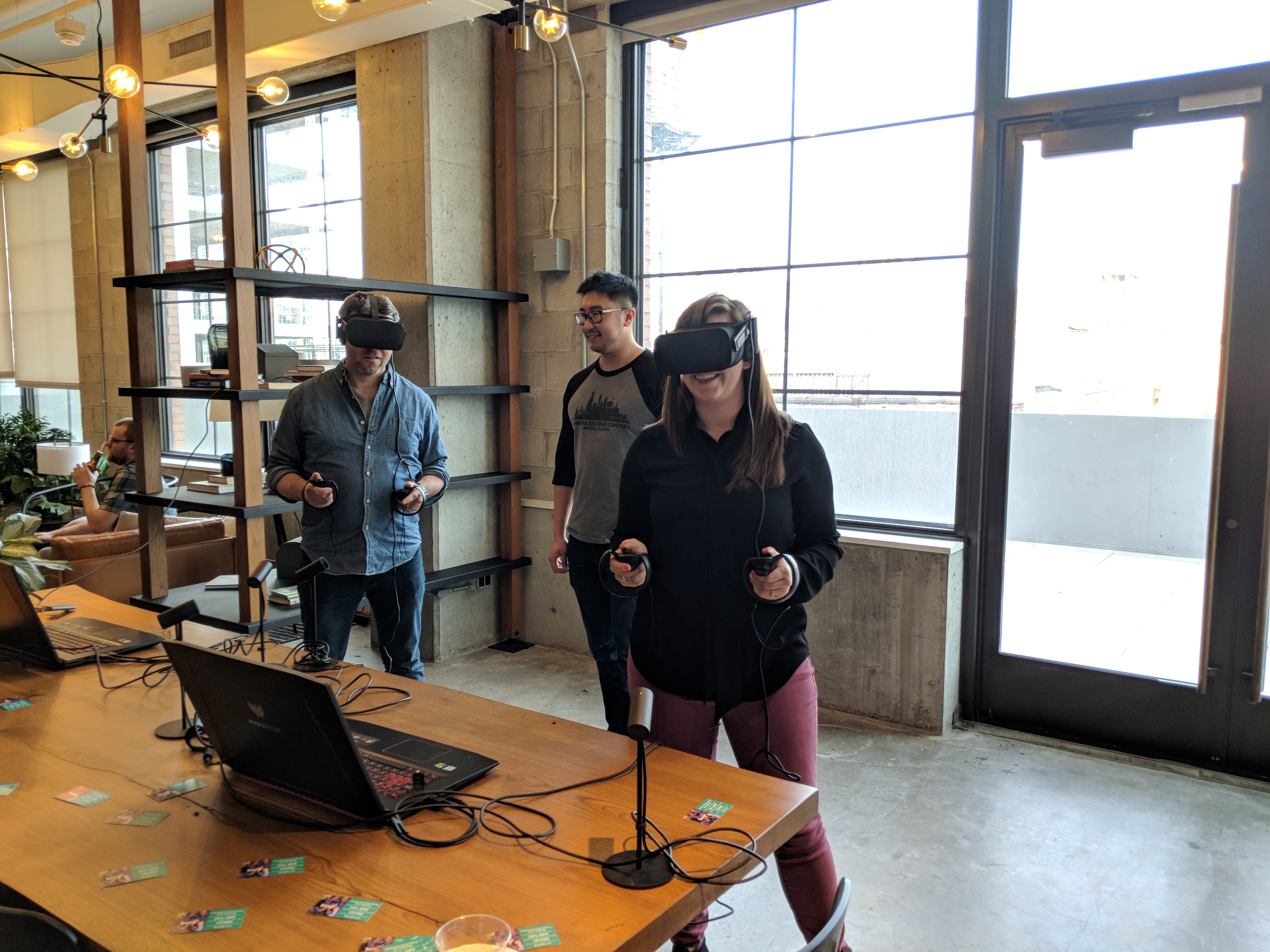 Next Steps:
The IMPACT Show will now be every other Friday! So, we won't have an episode next Friday but we will have something brand new: a community hangout! This is where we can come together on a Zoom video call and actually chat in person! Each week that we do this will have a theme. You can only get the link to join if you're in Elite so if you're not already in Elite - now is the time to join!
Nick will be speaking at the Boston HubSpot User Group on May 17th and Stephanie will be at the Digital Innovator Summit in Chicago on the same day. Will you be at either event? Let us know in the comments or in Elite!
We would love your comments. What did you think of the show? Let us know in Elite. Make sure you never miss a show or update by subscribing at impactplus.com/show.
Upcoming Webinar: 3 Ways to Predict Your Marketing Future Using Machine Learning & AI with Christopher S. Penn on Thursday, May 10th at 2:00PM ET.
Join Us Next Time!
We'll be back again next in TWO weeks on Friday, May 11th at 11:00AM ET. Mark your calendars!
Until next time...we'll see you in Elite!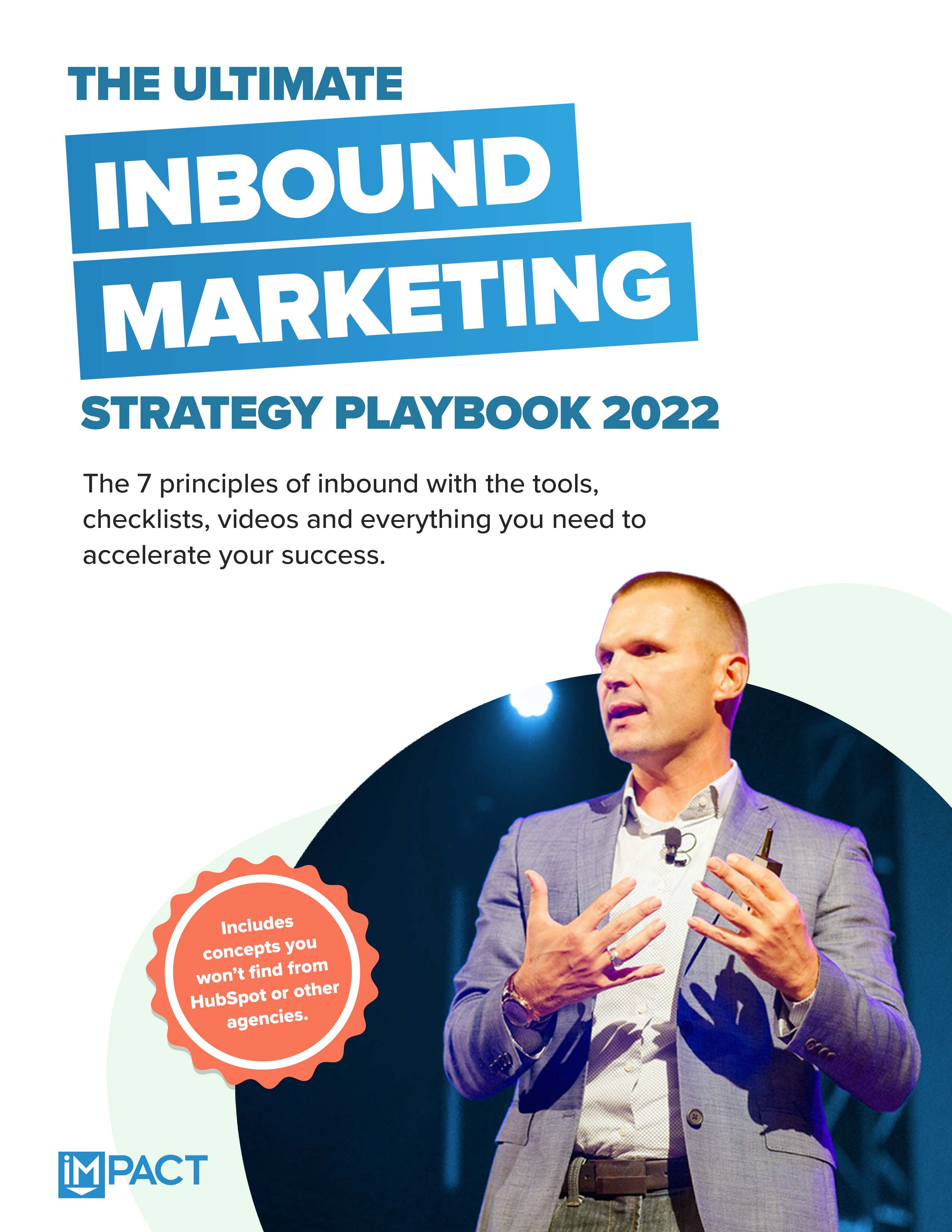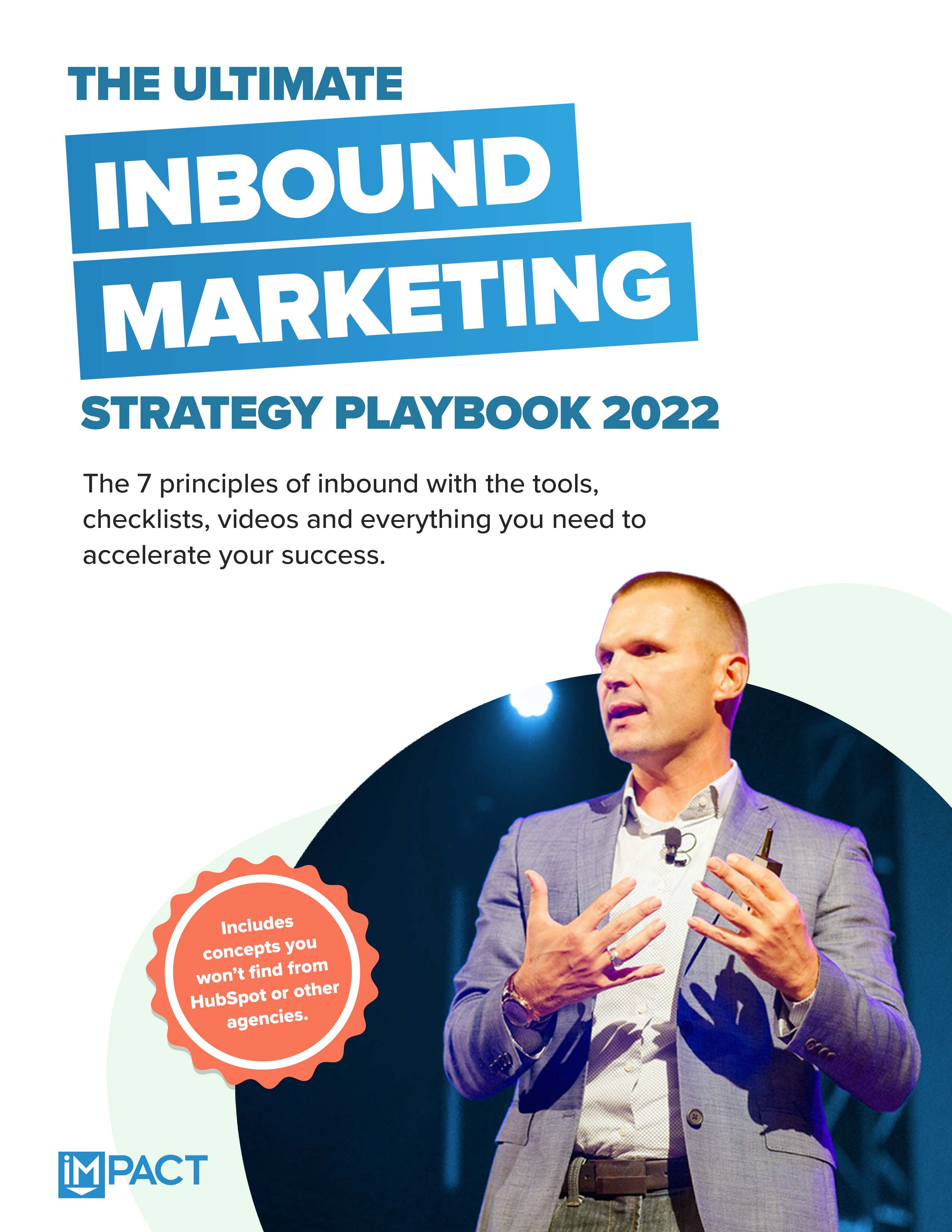 Free Guide:
The Ultimate Inbound Marketing Strategy Playbook 2022
Take your inbound strategy to the next level
Master the 7 principles of highly effective inbound marketing
Dramatically improve your inbound sales
Get more buy-in at your company
Published on April 27, 2018