How Industry Sales Experts Close Inbound Leads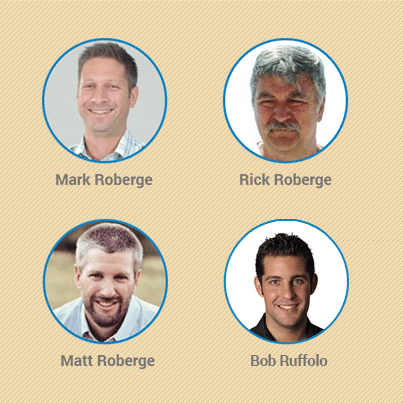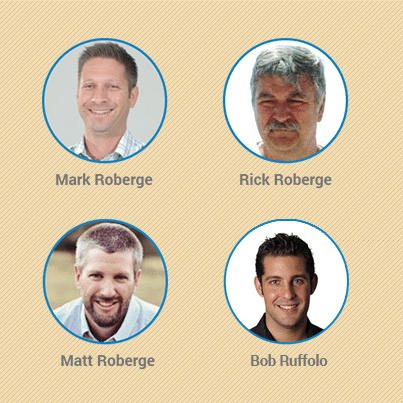 For all of you skeptics out there, inbound marketing works.
HubSpot's 2013 State of Inbound Marketing 2013 states, 92.7% of companies using inbound marketing increase their lead generation.
If you missed our How to Close Inbound Leads webinar, sales experts from the marketing industry answered questions and discussed tips on how to convert more leads into customers.
The webinar hit upon one of the biggest challenges business owners experience with inbound marketing. Unfortunately, it's not lead generation itself, but rather knowing how to qualify and close an inbound sales lead.
Meet our experts:
Mark Roberge SVP of Sales and Services at HubSpot
Rick Roberge Coach and mentor to sales rock stars and rainmakers, inbound networkers, founders, entrepreneurs and executives.
Matt Roberge CEO at Salt Lake City Bookkeeping
Here are a few highlights to help you understand the biggest mistakes sales reps make when transitioning to inbound marketing and how you should handle those leads that need further nurturing to become sales ready.
Expert Tips on How to Close Inbound Leads
Question 1:
How does the size of your business change the way you approach an inbound lead?
Mark: With 3,000 inbound leads a month, there isn't a lot of filtering in that stage, therefore, you are basically going to call everyone. As you scale you want to be a lot more structured and scientific about how you call those leads.
Questions about when are important:
How long do you call them for?
If you call and leave a message when should you call them again?
How many times should you try before you give up?
Approach those through a buyer centric perspective, think about the different buyer segments you have and think about the buyer stages they go through and make decisions about what's best for them.
Rick: You do have to adjust as you grow. It's not just the size of your company, but you also have to adjust the mental size and attitude the founder has towards growth and scalability.
Matt: No matter the size of your company, we have the same struggles. When do we follow up, how often do we follow up. It's just not in the same volume.
"Inbound allows you to develop trust with your prospects quickly." - Mark Roberge Tweet This!
Question 2:
How does inbound marketing affect the notion that you should be closing on the first call? Does this assist in making the first call more productive?
Mark: Sales should always be closing. I don't think that it's entirely true. Part of it is. I always say, don't always be closing always be helping. And that tends to accelerate things much better. One of the first things you need to do is build trust with your prospects. So you can really get down to what's bothering them and really work side by side with them to help. That's what inbound really allows you to do.
Rick: You could go back 40 years and sales people are still having a problem closing during the first call. Nothing has changed. I don't think inbound changes anything, except it makes the sales person smarter and more informed about what the prospect is looking for. Allowing you to adjust your approach. You are just as likely to close on the first call, as you would have 30 years ago.
You need to answer these questions:
Does this person have a problem I can fix?
Do they know it?
Do they want it fixed?
Can they tell me to fix it? (do they have decision making capability)
Can they pay me, do they have the money
Do they believe that I understand their world?
Do they believe that I have the expertise to help them?
Do they want my help?
If you can answer yes to those eight questions you can close. If you get one no, schedule another call.
Matt: Inbound certainly helps to assist in the first call. I don't feel the pressure to close on the first call. Inbound leads tend to close themselves naturally. And if you just let that happen it's better for both sides.
"Inbound leads tend to close themselves naturally." - Matt Roberge Tweet This!
Question 3:
How does a business of your size track leads in the various levels of a sales funnel? Some small businesses struggle using a CRM as part of their sales and marketing alignment efforts. What advice would you give to help them get to the next level?
Mark: For the last ten years, everyones first instinct was to get a CRM. I think that logic is a little backwards. Why buy a CRM? A lot of small businesses don't have a lead management problem. They have a lead generation problem.
There is a problem with the alignment of sales and marketing. Historically sales and marketing haven't gotten along. They have different perspectives. It's important to have a quantifiable definition of what a workable lead is.
Rick: I don't use a CRM, and I never have. I just wouldn't use it.
In the 80's I created priority lists:
As I got better at generating leads, I didn't have time for my when I have time list and the same thing eventually happened to my must do list. It added an extra step to my process. When I talk to someone now, when they're on my radar I reach out to them and they either get on my calendar or they don't. If you're not on my calendar we don't communicate. It's that simple. There's no what do I have to do next.
Matt: We don't have a management problem, but a lead generation problem. Most of our time is spent generating more leads. There is no alignment issue because the two people doing this are handling sales and marketing. With HubSpot, we can keep each other in the loop as well as with Google Doc. Being so small we don't have communication problems. We are constantly bumping ideas between each other, asking questions and advice. It's almost like having an internal sales coach. It becomes extremely helpful to have another person. You don't want to be second-guessing.
"A lot of small businesses don't have a lead management problem. They have a lead generation problem." - Mark Roberge Tweet This!
Question 4:
What's the biggest mistake you see with sales reps transitioning from a more cold style of selling to an inbound style of selling?
Mark: When dealing with inbound leads compared to traditional leads, there needs to be a transition. A traditional sales team goes out and builds a contact list and they cold call them until 1% call back. Inbound flips that claim. You start with everyone that has a pain. They would not have visited your site, downloaded an ebook, or read a blog article if they weren't thinking about the problem your company can solve. You just need to filter them down to the people that are a good fit.
Often times the person you're dealing with is not the CEO. It's usually someone lower down in the organization. The problem is that you cannot approach them in the same way. But they do have value.
Rick: With regard to the biggest mistake sales people make; there are a lot of choices. However, they're perennial and they were around in the outbound world. Typically not asking enough questions, talking too fast, not engaging, or assuming that they're welcome to be calling in the first place.
Get a conversation started. You need to have a conversation before you can have a sales conversation. Use the 70/30 rule: 70% of the time listening, 30% of the time speaking.
Matt: Cold calling has kind of gone away and people have transitioned to inbound. With cold selling your tactic is volume, getting in front of as many people as possible. Inbound is a lot more personal. You have a lot of information. You also know a lot about what problems your contacts are having. You should be asking them about their pain points. Your questions should position yourself as a solution to their issues rather than just focusing on getting in front of as many people. Your questions should also change with each inbound lead. Don't just have a set of generic questions.
"Use the 70/30 rule during the sales process. 70% of the time listening, 30% of the time speaking." - Rick Roberge Tweet This!
Question 5:
What advice would you give to get buy-in from the decision maker when the main contact is an influencer and your struggling to get to the decision maker?
Mark: At the end of the day the person your talking to needs to have the right influence at the company. They need to be the signer of the check. Often times those aren't the leads coming in. Sometimes people will tell that they're the decision maker even though they aren't. The same applies to those that say they aren't the decision maker when they are. You don't have to call upon the person who generated the lead directly. When a lead comes in, if its an intern or an associate that downloaded the offer, its perfectly fine to look up who the CMO is or the CEO and contact them.
Rick: There's a rule, you can lie to a sales person and still go to heaven. It's the little white lie. Things you need to do just to get by. They're not being evil because there are sales people that deserve it.
The newer generations of sales people are more honest than sales people from my day.
Stop Struggling. They may not have decision-making capability or they may not understand the true needs of the company or be able to write a check but they do know who can. So ask questions of the subordinate that you would normally ask the CEO or decision maker. What happens is that they don't know. Your next question should be who does know. They will say the CEO, at that point you want to develop a process where the person who originally contacted you becomes the chauffeur and they drive you right into the CEO's office. The reason is because you and that person bonded and they trust you.
Matt: Right away you want to identify if you're talking to the decision maker. Even if they aren't you want to ask the same questions, they can introduce you to the decision maker. When you get to the point when you can ask them if you are the right fit for the job, ask them yes or no. If they are going to say yes, ask for an introduction to the boss. If they say no start the sales process all over.
"Get a conversation started. You need to have a conversation before you can have a sales conversation." - Rick Roberge Tweet This!
Question 6:
How do you handle a lead that is not educated enough to be sales ready? Do you send them back to marketing for further nurturing or is this now the sales team's responsibility?
Mark: This comes up most with larger companies. Develop your lead nurturing strategy around your buyer personas. Figure out who they are and develop different plans. A little bit of legwork will drastically increase the effectiveness of your sales activities.
Rick: Especially in a mid size to small company, it depends on the size of your sales team and how busy they are. I've always had more leads than I actually needed. I would rather have a quick conversation with a contact. If a good sales person can ask good questions on a call and can do what two months of lead nurturing can do the company makes the sale quicker and your company gets paid two months sooner.
Matt: Sales and marketing are one in the same. Maybe we send them a link to an ebook or blog. Continue to follow up with your contacts without overwhelming them. Keep good notes on when the last point of contact was made, what was discussed. You want to add value to the prospect. Price is never used as a selling strategy. It's all about adding value to the client's situation. You want to engage with your leads on a more personal level.
"Personalization is the spirit of inbound marketing. Prospects want a more personalized experience." - Bob Ruffolo Tweet This!
Question 7:
What's the most important metric that you monitor for a business of your size?
Mark: This is obvious, customer success. Your not going anywhere as a business if you're not obsessing over the success of your own customers. When your customers are succeeding they tell other people.
Net promoter score: which includes two simple questions ranked on a scale of 1 to 10
How likely are you to refer some to buy your product?
Why or Why not?
Rick: Don't agree. Delivery is key. A lot of business owners are constantly focusing on delivering and they're not growing. The reason is because they don't start. You cannot finish what you don't start.
My number one metric is the call, the dial. I don't concern myself with the delivery. I take the time to focus on making the right number of reach outs everyday.
How many times am I going to dial the phone? Call up your best leads. I make my calls no matter what. If I make my calls, everything else will fall into place because I deliver.
The questions I'm going to ask are:
How many people did you call today?
How many people did you talk to?
Matt: With inbound, certainly the end result for us is customer conversion ratio. It all starts at the top of the inbound sales funnel and that's with traffic. We are constantly analyzing numbers to figure out what we need to generate the amount of customers to reach our sales goals.
A certain volume of traffic generates a certain number of leads, which leads to a certain number of prospects, which leads to a certain number of sales calls and that leads to certain number of proposals, and in the end leads to a certain number of customers.
Our traffic is aligned with our sales goals. Which can also determine how many blog posts and ebooks we need to develop and email campaigns we need to send out.
This sounds generic but everything starts with a traffic goal.
"Trust! It's more like a doctor/patient relationship between buyer & sales in the 21st century." - Mark Roberge Tweet This!
Question 8:
What are some strategies that you would use to help a prospect commit when they're almost ready to close, but they're stalling?
Mark: At that point, you haven't done the setup appropriately, if you get to the close and they're staling. You missed some of the steps. In most businesses our biggest competitor is a sense of urgency. It's important to build trust and address your prospects pain. Once you've built trust and you will begin to understand their pain.
Rick: Don't waste your time and money on books about closing. You want to ensure that your sales process handles every possible objection that could be brought up. Make sure you get every single question, every single reason someone might not want to buy handled during the regular sales process. If you've done it properly, the close is the next natural thing.
Straight out of Baseline Selling, there are three possibilities when someone gets to the point when they should be saying yes, and they're not.
They don't like the solution that you came up with. You're a looking for them to say that it's the perfect solution.
They don't like your company. They did some research and possibly saw an unhappy customer or you won't give them any references.
They don't like you.
Matt: Ask them a really tough question everyone else is afraid to ask. It could be controversial or slightly board line insulting but it makes you stand out to your prospect and it's not the same old thing that everyone else is pitching them. It makes them pay attention to you and believe in you.
"Don't be afraid to ask the tough and difficult questions at closing time." Matt Roberge Tweet This!
Free Assessment:
How does your sales & marketing measure up?
Take this free, 5-minute assessment and learn what you can start doing today to boost traffic, leads, and sales.