HubSpot Partner Day and Customer Love (The IMPACT Show Ep. 50)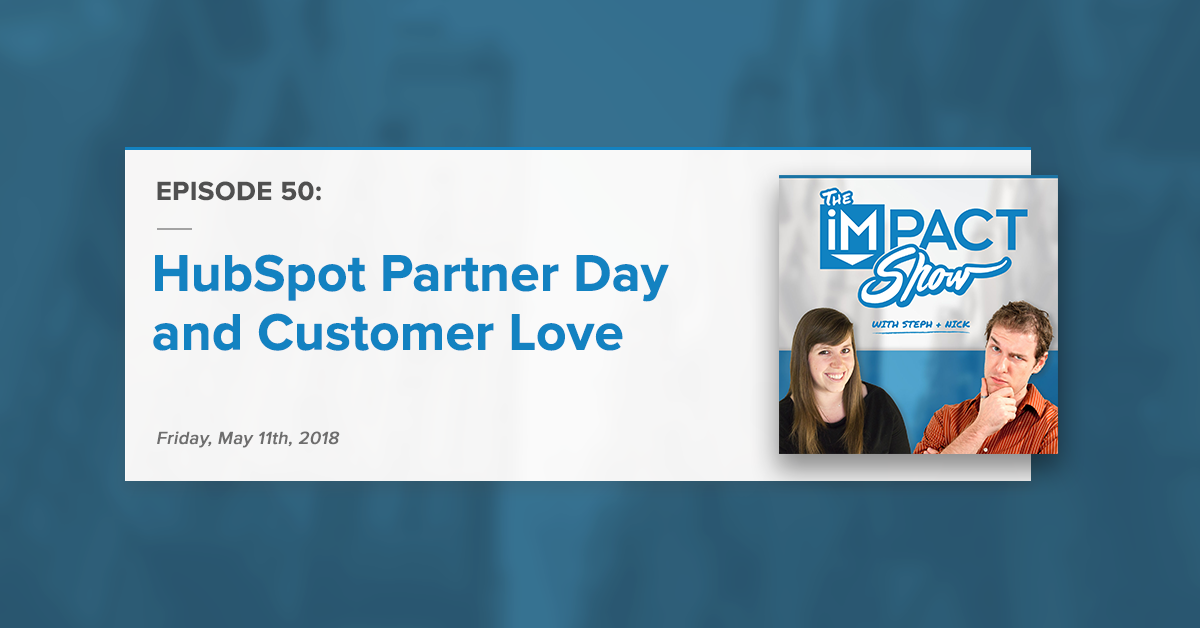 In this week's episode of The IMPACT Show, Nick and I talk HubSpot Partner Day and the launch of the Customer Service Hub, the #CustomerLove hashtag, and a whole lot more.
Just in case you missed us live (or if you want to relive the magic), you'll find the episode's show notes below as well as the recording.
Enjoy and make sure to share!
Like what you saw? Make sure to subscribe to email reminders and give us a review on iTunes.
Have feedback or questions? We'd love to hear it. Comment on this blog or email us at show@impactplus.com
IMPACT Updates
What to do when your webinar platform has a system-wide outage!
Christopher Penn was a fantastic webinar guest. Not only was his content good, he rolled with our technical challenges as well! As we logged on to our tech prep for the webinar, Christine noticed that GoToWebinar wasn't working - as we started looking into it we found out they had a system wide outage! We frantically went to set up a backup Zoom webinar while Christine worked with GoToWebinar support. Thankfully, GoToWebinar ended up working just in time and we went live as planned. However, this was a good reminder to stay calm and keep things in perspective- and also to have a backup plan in place in case of a technical issue like this! Fortunately, we had done a dry run with Christopher before the day of the webinar so we had already tested out his slides and made sure we're on the same page.
One of his quotes during the webinar was about how, as marketers, we can't drive a car forward while looking in your rearview mirror. This is not only a great thing to remember when thinking about predictive analytics - we were reminded of this exact thing when we finished up the tech-stressed webinar, sat back to take a breath, and realized we had to update all the assets and CTAs to promote the next thing and not reference the webinar we just finished!
As for our next webinar: It's coming up!
HubSpot Partner Day and the Customer Service Hub
It's Partner Day(s) at HubSpot and they've launched the brand new Service Hub! Brian Halligan wrote an open love letter to HubSpot's customers and really nailed why #CustomerLove is so important and why the Service Hub is the next logical step for HubSpot and HubSpot users.
Our team who is at Partner Day is sending us lots of exciting tidbits over Slack which has been super exciting. We look forward to bringing some of these great new things to our clients and community.
The Service Hub launch prompted a series of #CustomerLove letters where HubSpotter thanked their customers. I loved this video one from Angela DeFranco as well as this note from Mark Kilens.
On the show, I also took a moment to show my "love" board of all the wonderful customer love letters and thank you notes I've received that I keep on my desk to look at and inspire me to make others feel as awesome and appreciated as these companies have made me feel. This is it: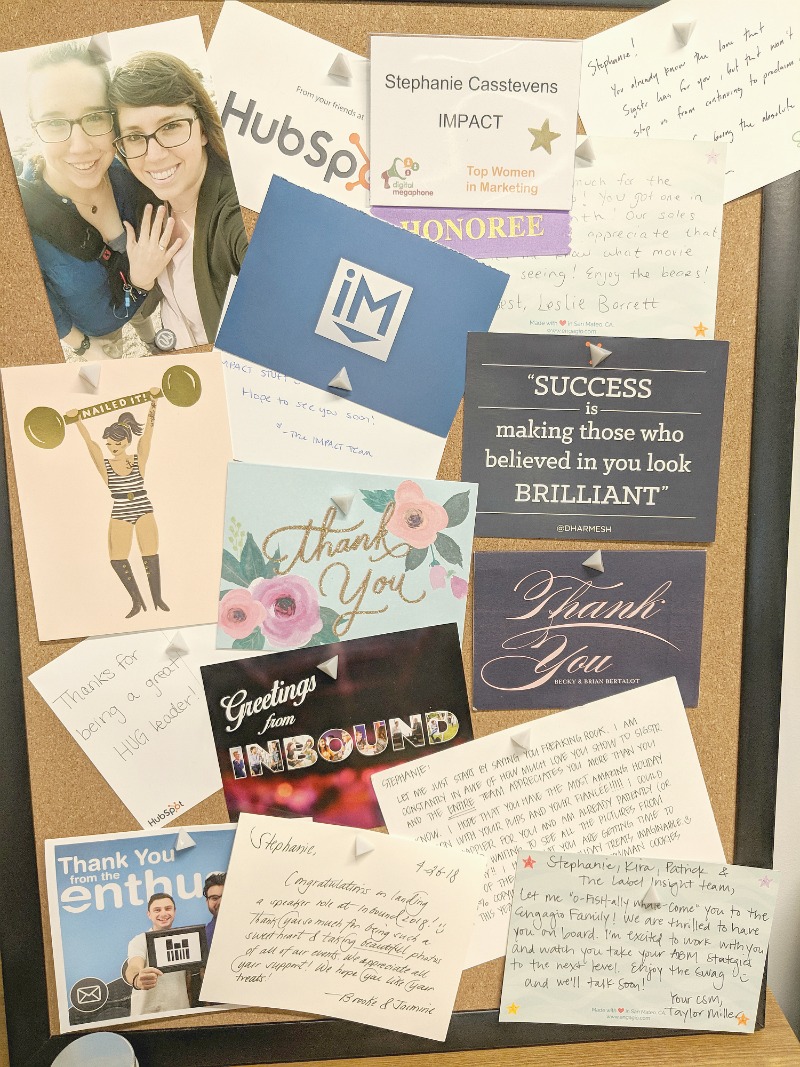 What Marketers Be Talkin' 'Bout
Where we go over what you're saying in IMPACT Elite.
IMPACT Elite is a community of over 2,800 passionate inbounders looking to help other marketers (and sales and customer success people) succeed. We'd love for you to join us!
Go to impactplus.com/elite or just search the IMPACT Elite Group on Facebook and request to join. Plus, join us LIVE and in person this August at IMPACT Live 2018.
If you're already in Elite - invite a friend or coworker! It's more fun with friends. Plus, it's not just for marketers. Salespeople, service, etc. are all welcome.
Our First Ever Community Hangout
We had our first ever community hangout last Friday which was a blast! If you missed it, you can join us again next Friday at 2:00PM ET (new time!) and you can add it to your calendar so you don't forget. We'll be talking about resources for "marketers of one." Regardless of the size of your marketing team, join us for a discussion about managing all that marketing teams are responsible for!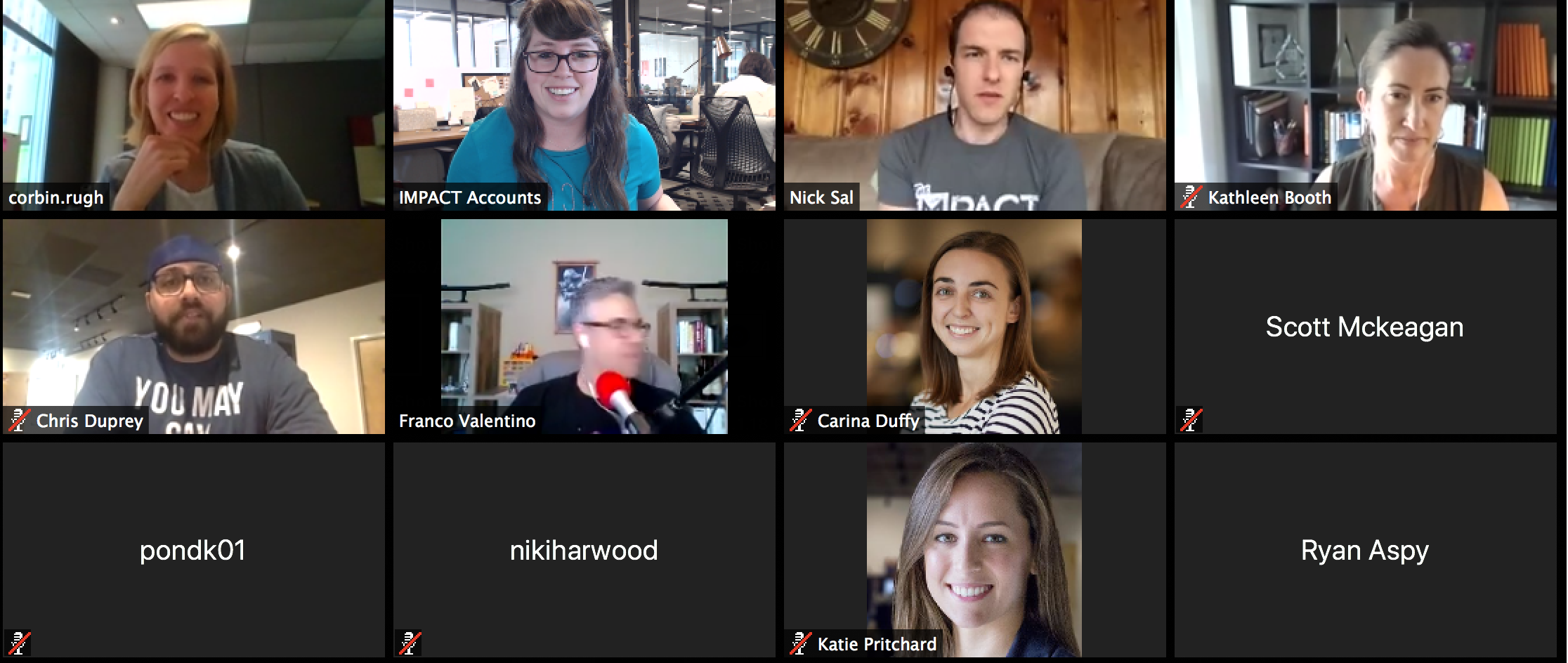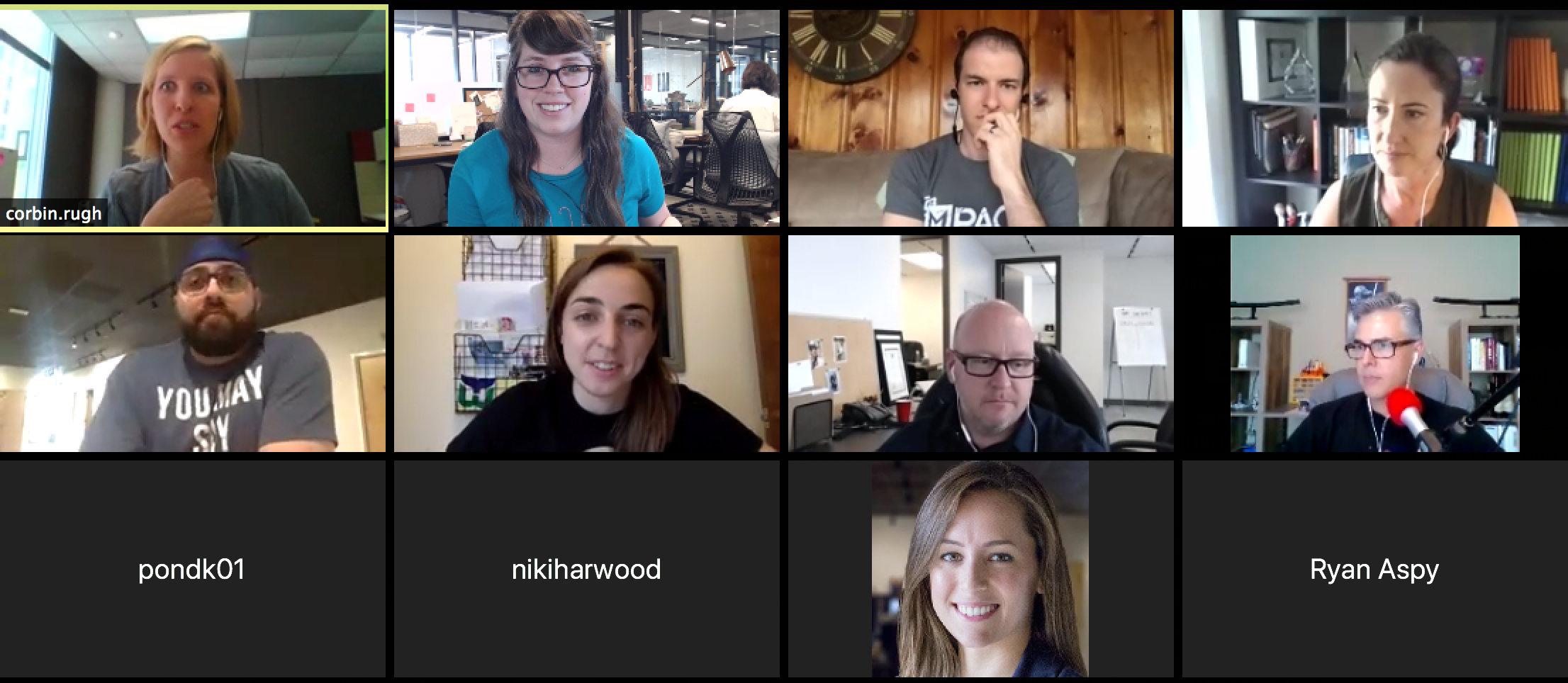 Never Lose a Customer Again
Elite Member Ryan Litwiller posted: "Looking for the best blogs, podcasts, books, or learning resources that are customer experience / service focused. I've read Never Lose a Customer Again and am looking for more along those lines. Thanks for any recommendations."
Check out the discussion and provide your input in Elite.
I also shared my custom bobblehead from HubSpot - as did Kyle Jepson (he got his first from ROKT) in his #CustomerLove letter. Speaking of amazing gifts, we're having an Elite exclusive conversation with RealThread on May 22nd where you can learn all about how to pick the ideal promo/swag for your industry and audience. More info coming soon!
Inbound

in the Trenches
This is where we talk about what we're doing and what we've learned lately right here in the trenches.
Nick and I talked a bit about the importance of and challenges associated with asking your customers for reviews - and what we've encountered recently. If you love Elite, the IMPACT show, or any of our resources and want to write us a review, we'd love that!
I also talked about what it feels like when your marketing speak gets in the way of being human! I recently had a nice chat with one of our Elite members and, after the chat, I followed up with an email because I wanted to invite him to IMPACT Elite. I was thinking what a great fit for the event he would be and wanted to make sure he got a personal invitation. However, when he got my email, he replied asking if it was just a marketing promotion sent to a list! I was horrified when I realized even my normal, human 1:1 email copy has become so "market-y" it didn't sound real or like me!
I decided the only way to respond was with a video. I created it using Vidyard's GoVideo Chrome extension/tool, which I love, and he actually replied with a video of his own! Check out Vidyard's GoVideo and try it out.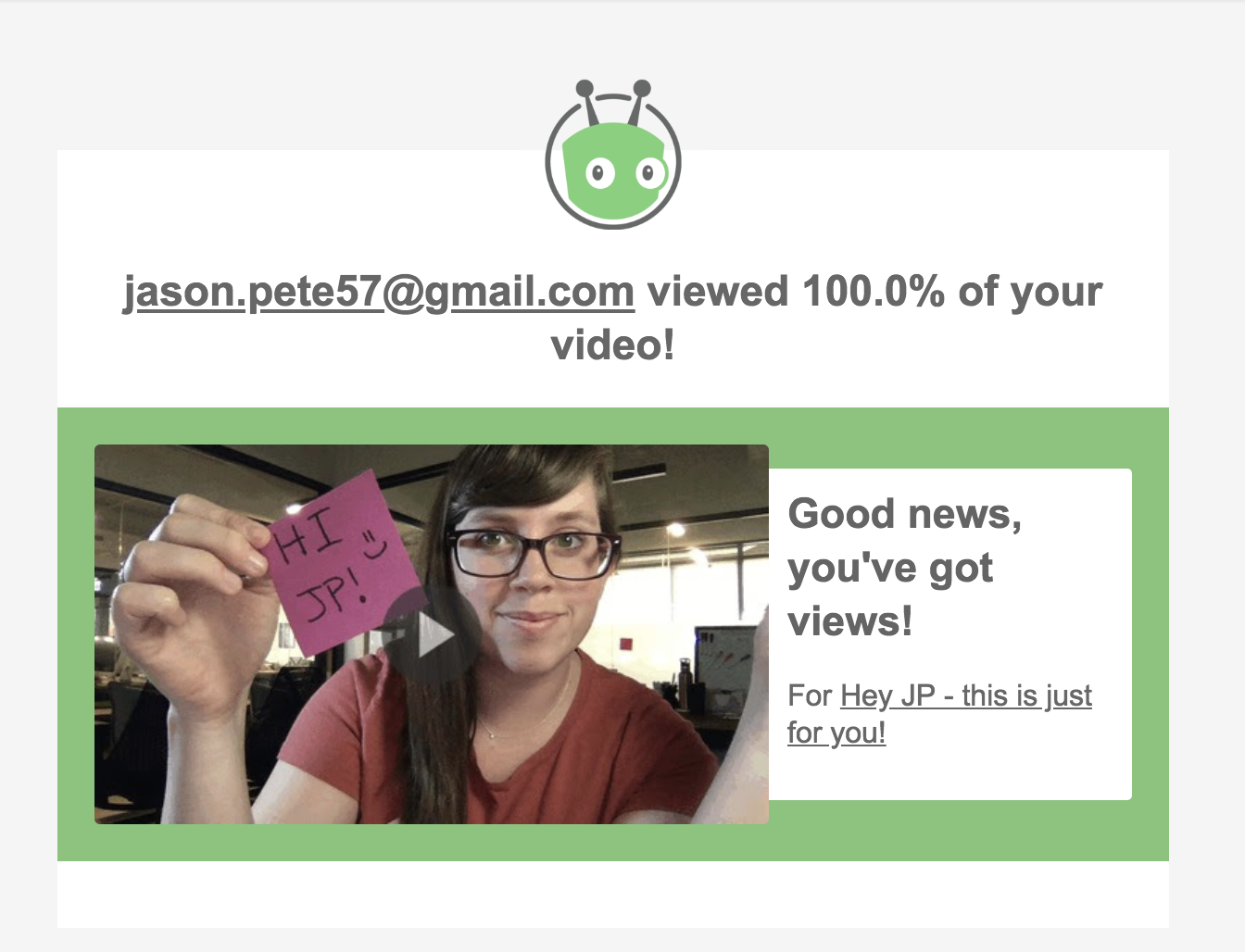 Next Steps:
Community Hangout: a new time: 2:00PM Eastern. We got some feedback that 1:00pm Eastern wasn't good for everyone so we're going to try 2:00pm. Add to calendar link!
Nick will be speaking at the Boston HubSpot User Group on May 17th and Stephanie will be at the Digital Innovator Summit in Chicago on the same day. Will you be at either event? Let us know in the comments or in Elite!
We would love your comments. What did you think of the show? Let us know in Elite. Make sure you never miss a show or update by subscribing at impactplus.com/show.
Join Us Next Time!
Next week, we'll see you on the second community hangout on FRIDAY May 17th at a new time: 2:00PM Eastern.
We'll be back in two weeks for the IMPACT Show live on Friday, May 25th at our normal time 11:00AM ET.
Until next time...we'll see you in Elite!
Free Assessment:
How does your sales & marketing measure up?
Take this free, 5-minute assessment and learn what you can start doing today to boost traffic, leads, and sales.