"Big Announcement and Objectives & Metrics:" The IMPACT Show Ep. 33 [Show Notes]
Ramona Sukhraj also recommends this free guide: The Ultimate Inbound Marketing Strategy Playbook 2022.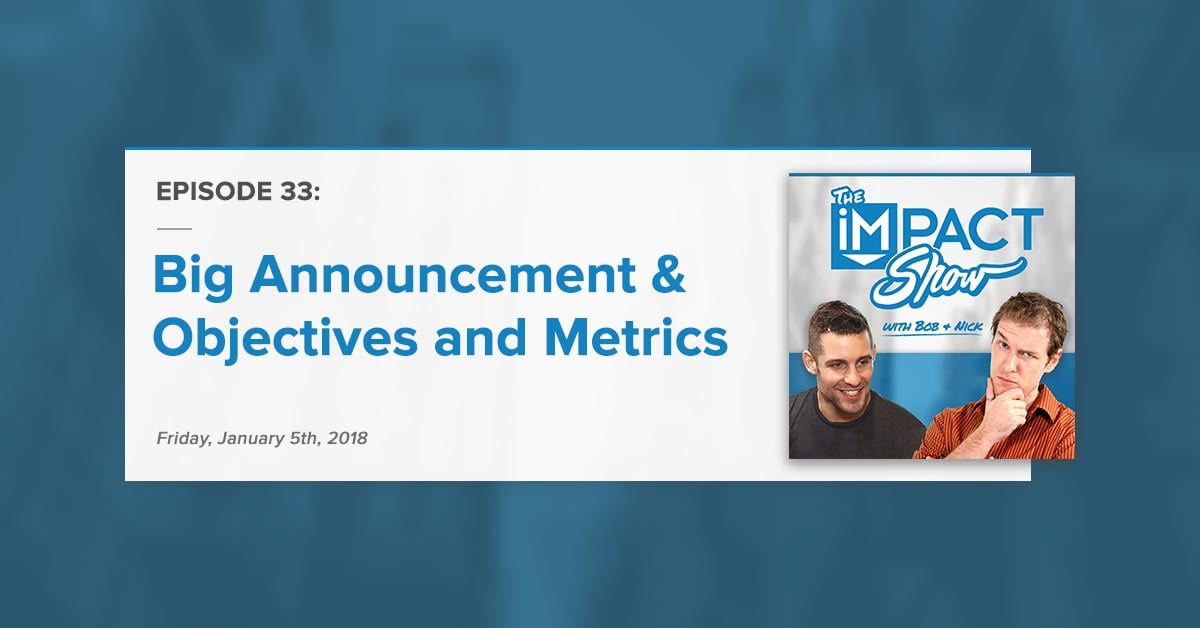 Happy 2018 everyone!
If you missed this week's episode of The IMPACT Show, you may be the only one... Just kidding.
This week we saw our biggest live audience to date and with good reason -- Bob and Nick had a huge announcement.
Free Guide: The Ultimate Inbound Marketing Strategy Playbook 2022
In addition to our big news, the two caught up on the latest industry news includingAmazon looking into ads on Alexa, personalization and time machine learning, and what happens if your company evolves but your employees don't.
As a reminder, we're here to help growth leaders overcome common obstacles and create breakthroughs.
Just in case you missed us live (or if you want to relive the magic), you'll find the episode's show notes below as well as the recording.
Enjoy and make sure to share with your peers!
Like what you saw? Make sure to subscribe to email reminders and give us a review on iTunes.
Have feedback or questions? We'd love to hear it. Comment on this blog or email us at show@impactplus.com
IMPACT Live
IMPACT Live is an exclusive 2-day experience where marketing experts and peers can gather to grow valuable connections.
Event Date: August 7th and 8th
Location: Infinity Hall in Hartford, CT
Our lineup of speakers include Ann Handley, Dharmesh, David Meerman Scott, Marcus Sheridan,
Hurry... early bird pricing is ending on January 17th.
What Marketers Be Talkin' 'Bout
Where we go over what you're saying in IMPACT Elite.
IMPACT Elite is a community of passionate marketers looking to help other marketers succeed. We'd love for you to join us! Go to impactplus.com/elite or just search the IMPACT Elite Group on Facebook and request to join.
Sarah Corley: "I'm working on a blog currently called, "18 marketing predictions for 2018." It's an infographic quote blog that'll share predictions on inbound marketing, social media, SEO, email marketing, video marketing, marketing automation and HubSpot. I'd love to add your prediction in one of these areas to my blog. Feel free share your short (and sweet) prediction below -- along with your full name, company name, and Twitter Handle. Thanks!"

Bob's Prediction: "As competition increases and big brands continue to invest in content... content marketing for small businesses will get even harder. In 2018, it'll take a larger dedication to content / inbound from an organizational level and a whole lot of differentiation/value

that can't be found anywhere else on the web to find success, and companies will have to go way beyond blogging/email / social posts to be successful, including video, events, community management, and more."

Nick's Prediction: Live Q&A will become the new silver bullet for content creation that's effective and scalable.

Kathleen Booth shared Mark Schaefer's post claiming marketing technology is sucking the life out of the marketing profession.

Here's some feedback from the group:

John McTigue: "

I don't disagree with Mark's thesis, especially when it comes to "marketing at scale". By that I mean big brands marketing to the masses and by far the biggest users of the data-driven, automation strategies. There are, however, plenty of businesse

s and even whole industries, like industrial manufacturing, where you don't see this so much, at least not yet. You could argue that due to the smaller audiences in B2B (think one-to-one or one-to-few), the data required for data-driven marketing is not sufficient to be effective. It's possible that AI may overcome that limitation, but not yet. It seems that ABM is becoming far more effective than mass inbound in B2B, and that's a different application of technology. So while I agree that obnoxious data collection and obsessive metrics may have seen their best days already, going in a more personalized direction makes sense in B2B."

Frances Bowman: "

Any marketing technology not used in a thoughtful and strategic manner can be detrimental to the customer relationship and the marketer's soul.

Today's technology does give one the ability at almost no cost to carpet bomb the world with a pitch that

is only appropriate for a few but is that any different from telemarketers calling during dinner to the point that people cancel their landlines or piles of unwanted faxes waiting for you in the office every morning or even all those AOL CDs that showed up in our mailboxes?

They say marketers ruin everything and there's truth in that, however, marketing technology has made it easier to deliver the right message to the right audience at the right time in a way that was never before possible."
The Big Announcement
Drumroll, please... The Sales Lion is merging with IMPACT!!
Last year, we formed a partnership that allowed our two companies to work together, better educate and service clients, and co-host IMPACT Live 2017.
In 2018, we're making this partnership permanent.
The Sales Lion (TSL) team, including George B. Thomas, Zach Basner, and Kevin Phillips will also be joining IMPACT and forming the new educational department offering workshops and trainings, premium content, and more. The HubSpot Intensive Training and Video Marketing workshops at TSL have been two of our most popular and will continue to be offered by IMPACT, with George and Zach. If interested, you can request a one or two day workshop at your location.
The TSL podcast for HubSpotters, The Hubcast, will live on and join the lineup of other IMPACT podcasts and shows which includes The IMPACT Show, Website Throwdown, MarketHer, Inbound Success and Creator's Block.
You can learn more about the merge here.
Databox Webinar
We have a webinar coming up with Databox

How IMPACT Consistently Hits Aggressive Marketing Goals by Being More Data-Driven

Tuesday, January 16th at 11 AM EST.

Databox CEO, Pete Caputa

and IMPACT's

Director of Client Services, Brie Rangel

, will dive into how IMPACT saved time and hockey-sticked our (and our clients') performance through data aggregation and real-time reporting.

What you'll learn:

What KPIs and metrics we measure

How to build a streamlined, in-house automated reporting process
The secret to avoiding missing targets using alerts
How to create a process where every team member can—and does—monitor data and track results
How to set S.M.A.R.T goals and automatically track progress towards them
The formulas to create the right marketing dashboards quickly (and monitor the right analytics in real-time)
And more!
Objectives and Metrics
How IMPACT Sets objectives for the company

The way we do it at IMPACT, we have the same objectives believe it or not every single quarter.
There are five tracks of objectives that we have:

Be the best agency
Sustainable revenue growth
Best place to work
Expand the brand
IMPACT Live

How we track progress

Every quarter we know our vision, all of the objectives roll up towards our vision and what we're trying to do as an organization. Every quarter we will update the results for the metrics for the things that let us know underneath that objective if we're heading on track to hitting those objectives.
The way we track it is we use a tool called 7Geese. An OKR (objectives key results) software allowing the team to update their objectives in real time. At the end of the quarter, we're able to see where we are. Rolling up to our three-year vision.
In terms of marketing objectives, we use HubSpot, Facebook, Twitter, and last year we started us Databox - allowing us to feed in other non-HubSpot data.
Digital Marketing News
Where each week, Nick and Bob share one thing from the world of digital marketing that caught their eye.
Shares a story about younger employees that he tolerated, but over time, they could not keep up.

"When companies evolve at a rapid pace, often people cannot keep up. Some individuals who fit our company in its infancy became a weaker fit over time. They may have had difficulty keeping up with our company's growth rate and the requirements of their evolving roles."

Defines good fit as "A good fit isn't just about putting the right person in the right seat, but about putting them there at the right time."
3 tips provided:

Implement Personality Tests to discover purpose.

He recommends Acceleration Partners which is designed to find a person's why?
Never heard or used it, but Natalie... We should check it out.

Rethink employee development and exits
Recognize that experiences doesn't equal fit.
89% of new hire failures is because of attitude, 11% are for lack of skills.
References how he uses his core values in the hiring process:

"One of our core values is "excel and improve" so we seek out candidates who embrace continual improvement and have demonstrated that they love learning new things, we can train them tactically on the ins and outs of the job."
Some of the talks are said to be about search placement and whether brands can get mentioned over others. In the future, when Alexa helps with online shopping, it might suggest related products from a sponsored brand.

This might even come up when you aren't shopping. So if you ask Alexa to help clean up a spill, it could suggest you use a certain brand of cleaner, CNBC says.
Opens up, people want personalization… personas are too broad

And, in 2018, it looks like it's going to mean asking a central question: Can machines help us connect with our audiences in meaningful ways?

True personalization would be to send individualized social posts and ads to users.

"True personalization at scale requires machine learning. As users engage with content or ads, algorithms drill down into the relevant data and customize the experience. This can help create a cohesive user journey. If someone sees a Facebook Ad and clicks it, the next touch point could be customized around that product, the color, and call to action and any other relevant data point."

Machine learning to create personalized experiences, similar to Netflix and Spotify playlists

Did not give the how.
Next Steps:
We would love your comments! Feel free to send us an email or comment on the Facebook thread.
If you really liked it, please give us a 5-star review on iTunes.
We're going to IMPACT Elite to ask what you want us to talk about, so jump in on the post there.
Join Us Next Week!
We'll be back again next Thursday, January 11th at 1:00 PM ET.
Until next time... get out there and make it happen.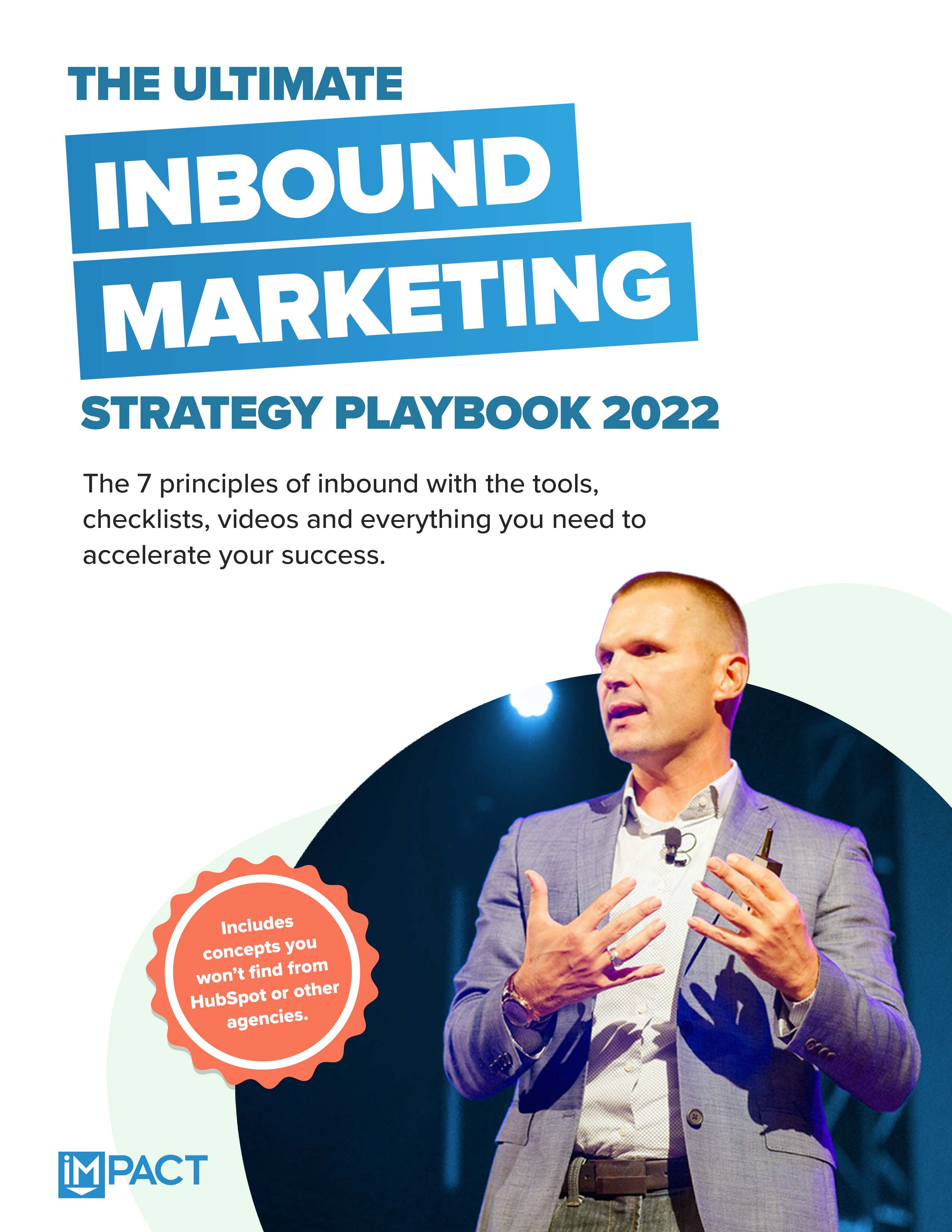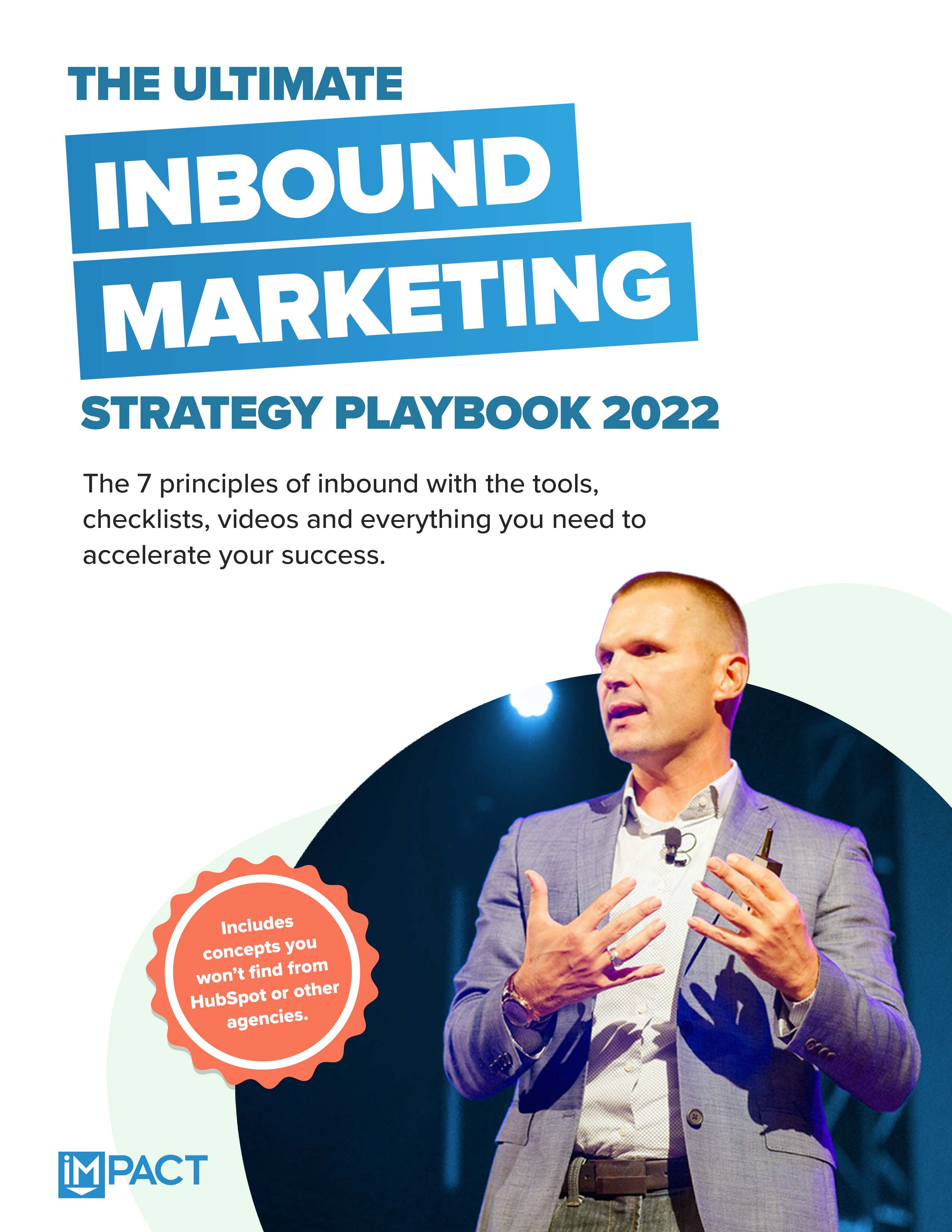 Free Guide:
The Ultimate Inbound Marketing Strategy Playbook 2022
Take your inbound strategy to the next level
Master the 7 principles of highly effective inbound marketing
Dramatically improve your inbound sales
Get more buy-in at your company
Published on January 5, 2018