"INBOUND & All the Major Industry News This Week:" The IMPACT Show Ep.19 [Show Notes]
Ramona Sukhraj also recommends this free guide, The Inbound Marketer's Guide to Maximizing HubSpot ROI.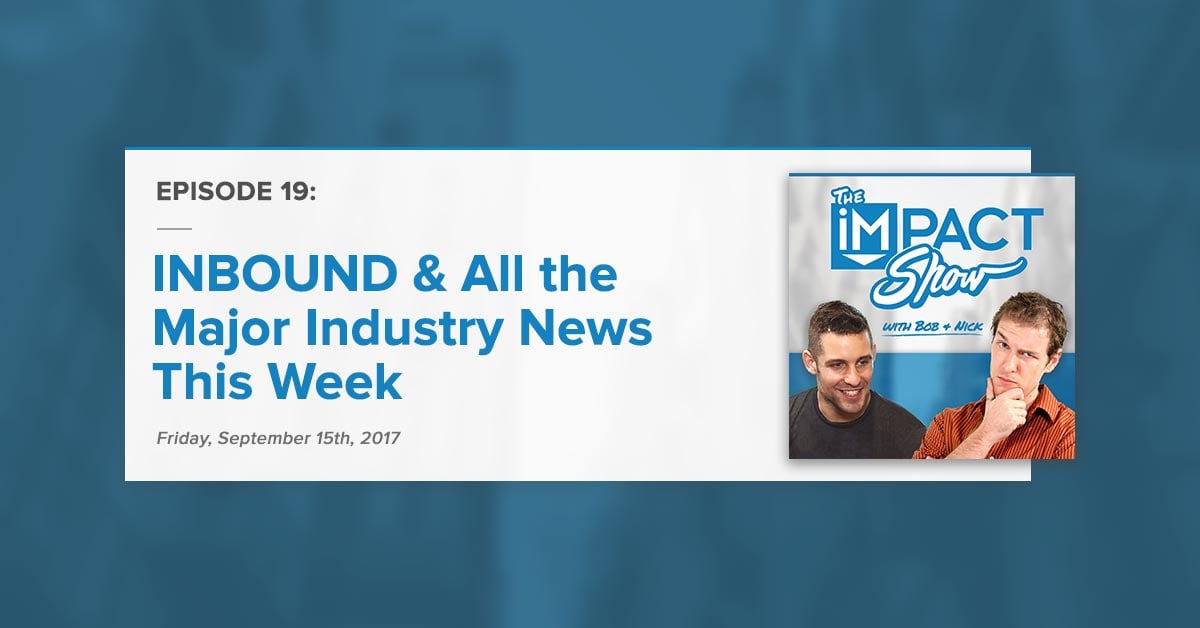 As a marketer, staying on top of industry trends is important.
So in this week's episode of The IMPACT Show, Bob and Nick decided to use the show to talk some huge developments. They discussed INBOUND's newest keynote speaker, HubSpot Academy's newest certification, as well as what's happening in the world of social media.
Just in case you missed us live (or if you want to relive the magic), you'll find the episode's show notes below as well as the recording.
Free Guide: The Inbound Marketer's Guide to Maximizing HubSpot ROI
Enjoy and make sure to share with your peers!
Like what you saw? Make sure to subscribe for email reminders and give us a review on iTunes.
Have feedback or questions? We'd love to hear it. Comment on this blog or email us at show@impactplus.com
We mixed up the show a little bit this week, and we're going to be focusing on some big INBOUND updates as well as a ton of industry news that was released this week.
Going Deep on INBOUND
New speaker announced

Dr. Ed Catmull, Co-Founder of Pixar Animation Studios and author of the awesome book, Creativity Inc.

As president and co-founder of Pixar Animation Studios, Dr. Ed Catmull has been at the helm of some of the most successful films ever made and his book Creativity, Inc. shares everything he's learned along the way about creating a creative culture, managing creative people, and harnessing your own creativity. Whatever your role, his talk is going to be massively inspirational (plus a trip behind the scenes of some of your favorite films).

Visit the IMPACT Booth in Club INBOUND


We're giving away a $500 Amazon gift card and a free website redesign

Last years website redesign winner won an IMPACT awards at IMPACT Live for best website redesign

Excited to announce that we have three more guests that will be joining us at our booth: Ryan Deiss and Justin Rondeau from Digital Marketer, and superstar Stephanie Casstevens.

Filling up fast (ahead of last year)!

Preparing for INBOUND

Awesome article by Angela:

Are you prepared for INBOUND 2017? Here's what to expect.

Includes what to pack, how to pick sessions, networking tips, and more.

"And put your phone away as much as you can. This is a networking conference and a phone in your face tells everyone to go away. Put it away!" - Andrea Funk

Kyle also has an article that breaks down a few parties you should check out.

HUBCAST Party - Live broadcast & get together @ The Aloft Hotel on Tuesday at 9:00 pm
What Happened to Bob?
Bob, Chris (our COO), and Kaitlyn (one of our IMCs) spent the day at HubSpot and checked out a Red Sox game. Towards the seventh inning, they headed back to CT and upon crossing the line, in the middle of nowhere, they got pulled over (didn't realize we were going 80).
While moving offices, we never received a paper regarding the registration of the car expiring and, unfortunately, it expired in January, and the officer wouldn't let them go. They took the plates off the car and were going to have a tow truck pick it up. They couldn't get the car until it was re-registered.
After the tow driver dropped them off at a rest stop and a couple Ubers, they finally made it home. Which is why Bob is doing the IMPACT show from home. With the help of his dad (who waited in line at the DMV), Bob was able to get his car registered.
...And What About Nick Last Week?
Last week, Chris stepped in for Nick, who had a doctor's appointment with his family that morning and it ran a little late.
As show time approached, Nick took an Uber home, but once he arrived, all of the doors to the house were locked. Nick called his wife telling her that all of the doors were locked, she responds by telling him he has the key to their car which is still at the doctor's office. So, Nick Uber'ed back to the doctor's office and drove his wife and son home.
Question From Last Weeks
"A growing (but small) B2B manufacturer with basically one marketing person (+ a graphic designer who pretty much just does website and graphics) is looking to expand Marketing Dept. Started Marketing dept. 1.5 years ago with Marketing Coordinator position. The role has expanded beyond experience, skills, and capacity. I'm thinking new position needs to be more of an experienced manager with strong content marketing skills like creating, developing content and content strategies for articles, editorials, blogs, webcasts/webinars, press releases, email marketing, etc.; and, managing/leading dept. Can you recommend the best title and required skills for a role like this? I was thinking Content Marketing Manager. But do they tend to have the ability to lead & manage in all the other marketing pieces?"

If you have more junior people, it makes sense to hire someone with more experience.
Basically looking for a seasoned, well-rounded marketer with really strong content or inbound marketing skills and leadership skills to help take this to next level.

See Nick's interview of Dan Murphy,

Marketing Specialist vs Generalist: How to Hire For Your Team
Big pieces/high-level summary

Not just for EU. For all businesses that could generate a lead from an EU company (pretty much everybody) need to make sure they're protected and done their research

HubSpot has a resource to prep you.

Talk to your lawyer and make sure you're protected

We've also created a

simple checklist

to help you assess your readiness for GDPR.
Google "Hawk' Algorithm Update
The change the way local filtering works.

Filters have existed for awhile, the goal is making sure multiple listings for the same company don't monopolize the search results.

Google says they make several changes to their algorithm daily.

My advice...

If you are a local business, Stacy gives you tips at the end of the article.

If you're a local brick and mortar business, local search matters to you.
HubSpot Sales Enablement Course Released
HubSpot has a "coming soon" lead capture page here (good example for us to follow as well): https://certification.hubspot.com/sales-enablement-certification-course

HubSpot's pillar content page on Sales Enablement (showing how this course is part of a larger strategy to "own" this topic):

https://www.hubspot.com/sales-enablement
Facebook Newsfeed Redesign
Why the circles? What can we learn from this?
Check out this article from Techradar

Facebook is going from blue and squares to gray and circles.

Want it to look more like the messenger app.

News Feed proper is getting a few readability tweaks of its own, such as bigger, higher-contrast text on the 'Like/Comment/Share' buttons so that they're easier to tap. Link previews are also getting enlarged text for an easier read.

Round pictures similar to Instagram.

You may have already noticed as these changes are already being rolled out.
LinkedIn (finally) Rolling Out Video Uploading & Streaming to All Users
Got this from Kathleen who follows this senior product manager on Linkedin who leads product for video!
"This is an empty space, imagine what you could fill it with??"
Events you attended/spoke at, Work hacks to increase productivity, insider perspective on today's news, technology making waves in your industry
Shared Slack Channels
Value prop: Say goodbye to email for work with external vendors, partners, clients, and more.

From the release from Slack: For all those cases (and more), there are now Shared Channels—a space where you can work with anyone in Slack. Shared Channels are a new kind of channel that connects two separate organizations, creating a common space for both sides to make use of Slack's communication features and platform integrations when working together.
Apple Announcements
Apple released the iPhone X (giant improvements for their 10 year anniversary) and iPhone 8 (next generation, typical updates)
Would you ever pay $1000 for a phone?
Next Steps:
We would love your comments! Feel free to send us an email or comment on the Facebook thread.
If you really liked it, please give us a 5-star review on iTunes. Review offer: We have a special price for the first 10 people to leave us reviews on iTunes (hopefully 5-stars). After you do, send us an email at show@impactplus.com so we know it's all set.
Join Us Next Week! How to Implement Emerging Tactics Onto Your Marketing Plan
We'll be back again next Thursday, September 21st at 1:00 PM ET. Want to get reminded? Drop us your name and email address below and we'll make sure you're notified before the broadcast every Thursday!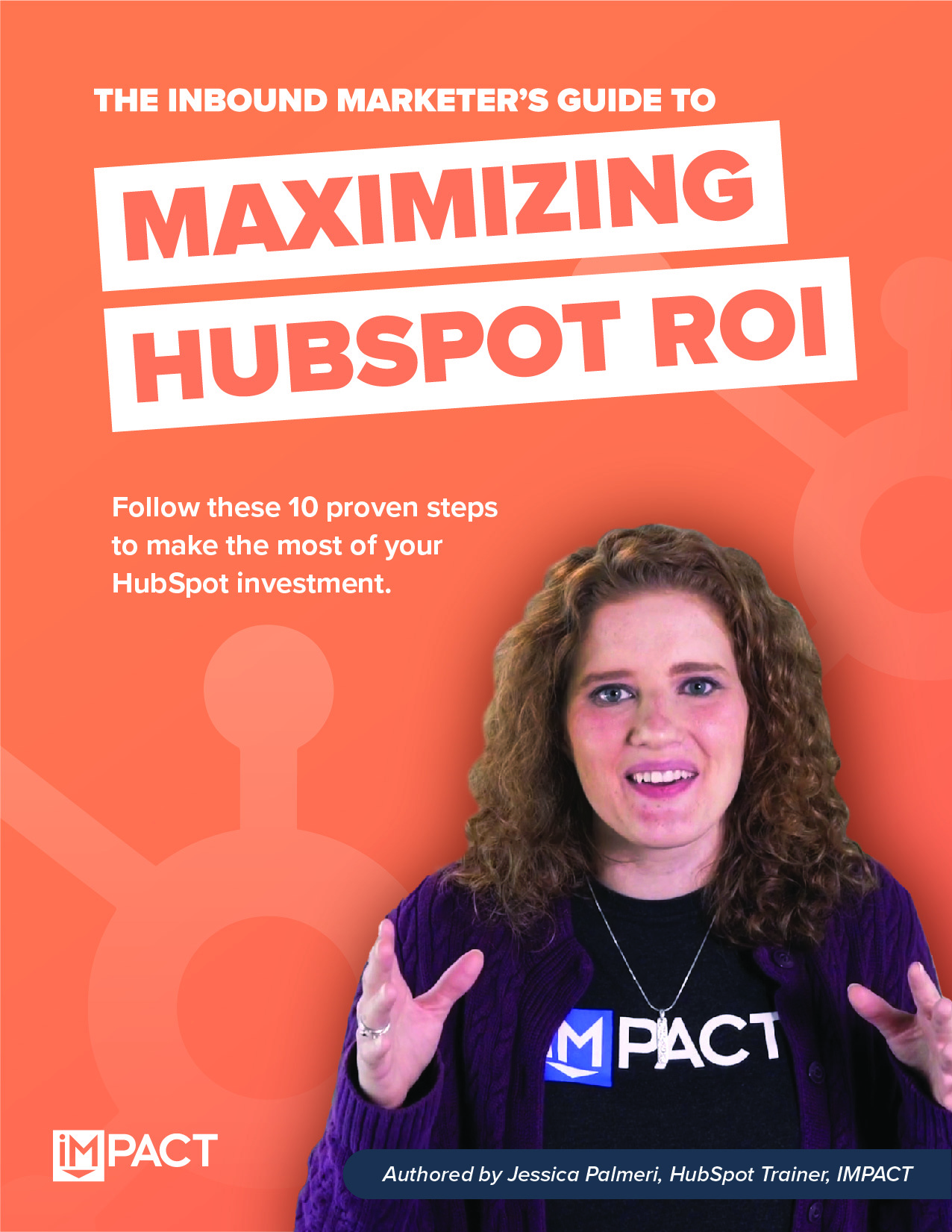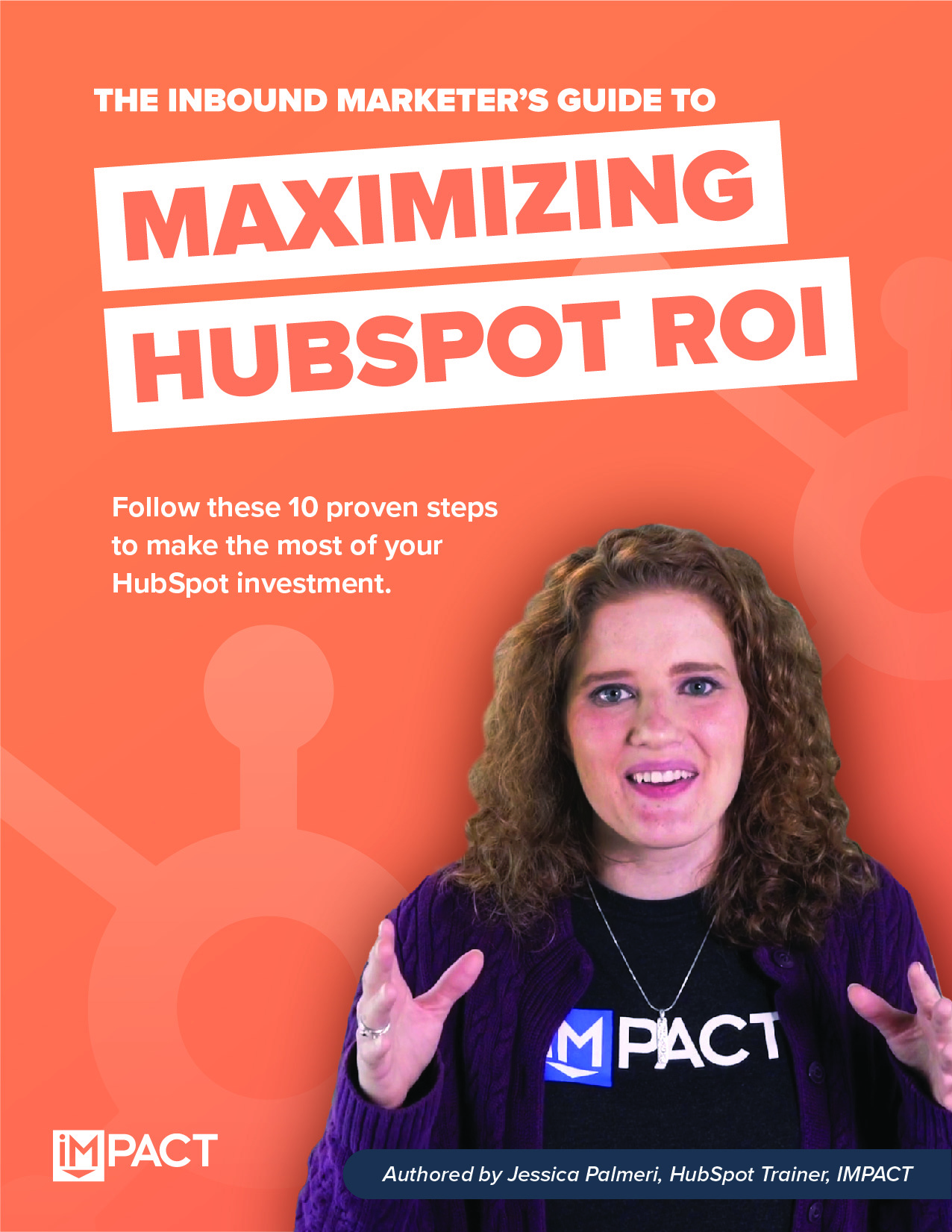 Free Guide:
The Inbound Marketer's Guide to Maximizing HubSpot ROI
Follow these 10 proven step to make the most out of your HubSpot investment.
In this free guide, you'll learn:
What HubSpot is and isn't
How to use HubSpot to track inbound success
How to make sure you truly are getting the most out of HubSpot
Published on September 15, 2017