Instagram Breaks Barriers Introducing 2 New Accessibility Features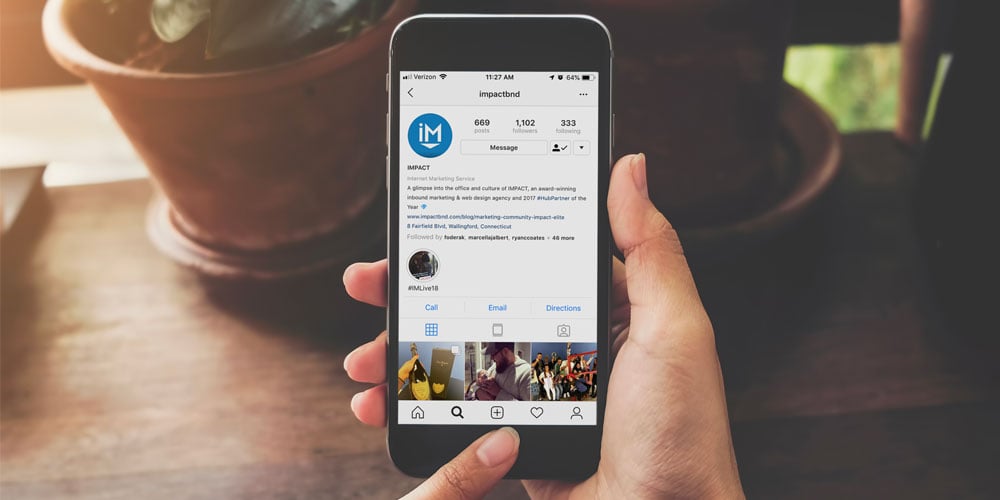 With over 800 billion users on its platform and more than 285 million people in the world with visual impairments, Instagram noticed an opportunity to reach a group of people that normally wouldn't be able to enjoy it.
Just this week the social media favorite rolled out two new accessibility-focused features to help people with visual impairments get more out of the app.
But first, let's back up and talk about what accessibility is.
According to this blog post and Wikipedia, "Accessibility refers to the design of products, devices, services, or environments for people who experience disabilities."
With almost everything being on the web, it is important your online presences be accessible to everyone in order to provide equal access, opportunity, and experience to your entire audience.
Why Should I Care About Things Being Accessible?
Well, first of all, there are actually laws in place about web accessibility.
WAI Web Accessibility Policy Resources is a great resource that links to articles addressing legal and policy factors within organizations, including a list of relevant laws and policies around the world.
Energy Circle stated, "Recent reports estimate 20% of people are affected by some form of permanent, temporary, or situational disability that presents challenges to using the web. Chances are that as many as 1 in 5 of your potential customers falls into this group."
Plus, accessibility is a matter of inclusion. As a brand, you should always be trying to provide the best experience for your audience regardless of their demographics or personal situations.
What Changes Is Instagram Making?
So, you are probably asking now what are these new features.
The first is automatic alternative text.
Automatic alternative text uses object recognition technology to generate a description of photos that work with screen readers, so you can hear a list of items that photos may contain.
Like closed captioning, with this alternative text, those with visual impairments can still visualize the content and digest it, while previously they could not.
This feature can be found in the Feed, Explore, and Profile sections.
In case this isn't enough, Instagram is also taking it one step further and introducing custom alternative text.
With custom alternative text, you can add your own description when you are uploading a photo. This allows you to make sure that screen readers share the exact message/information you intend. Think of it like img-alt tags for Instagram.
Doesn't this sound awesome?
Here's how to get out there and start using this new feature.
How to Get Started with Instagram Alternative Text
To see and edit alt text for a photo before you post it on Instagram:
Start by taking a photo or uploading an existing photo to Instagram.

Choose a filter and edit the image, then tap Next.

Tap Advanced Settings at the bottom of the screen.

Tap Alt Text.

Write your alt text in the box and tap Done.
To change the alt text of a photo after you've already posted it on Instagram:
Go to the photo and tap (iPhone) or(Android).

Tap Add Alt Text in the bottom right.

Write the alt text in the box and tap Done.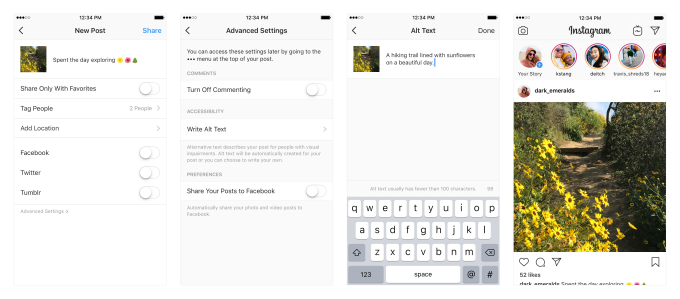 When I saw this news, my first reaction was -- this so cool!
This great move by Instagram opens the door for millions of new users.
It creates a great experience for more people who weren't able to use Instagram before and it gives brands and marketers the chance to reach more people too.
This is just the first of many features Instagram will be rolling out for accessibility. I'm definitely looking forward to seeing what comes next. Stay tuned!
Free Assessment:
How does your sales & marketing measure up?
Take this free, 5-minute assessment and learn what you can start doing today to boost traffic, leads, and sales.