"Marketing Technology to Consider in 2018:" The IMPACT Show Ep. 24 [Show Notes]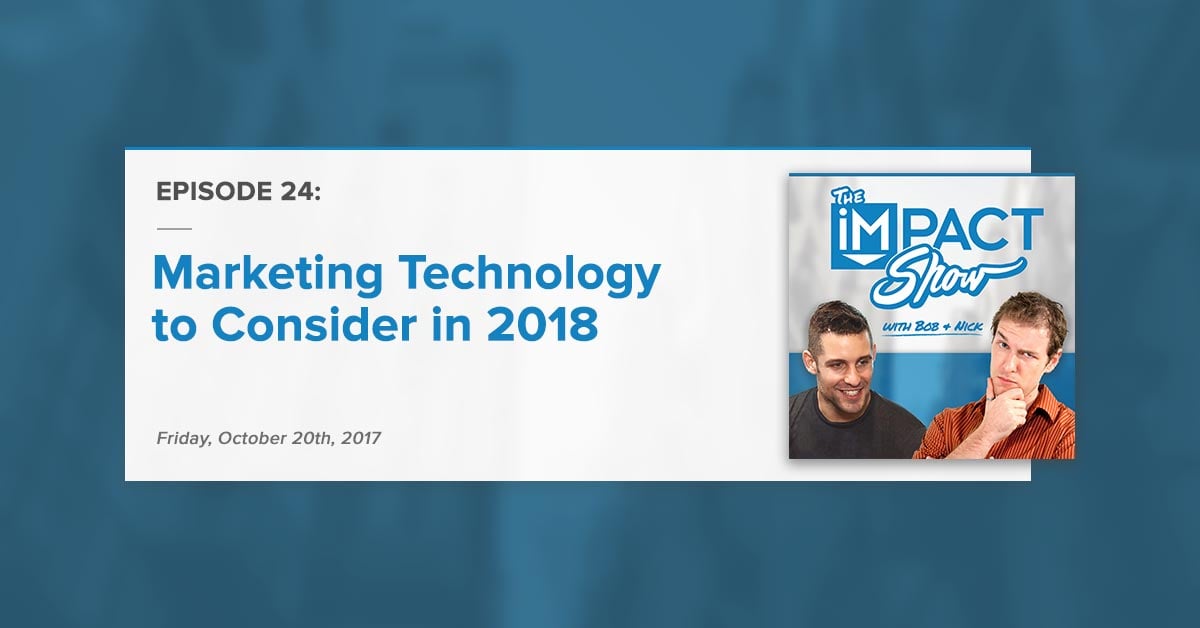 With 2018 just around the corner, do you know what marketing technology you're going to implement next year?
In this week's episode of The IMPACT Show, Bob and Nick asked what you wanted to hear, and the topic everyone wanted to know more about was what marketing technology you should consider in 2018. As always, in digital marketing news, we discussed Google machine and the differences between rule based and AI bots.
Just in case you missed us live (or if you want to relive the magic), you'll find the episode's show notes below as well as the recording.
Enjoy and make sure to share with your peers!
Like what you saw? Make sure to subscribe for email reminders and give us a review on iTunes.
Have feedback or questions? We'd love to hear it. Comment on this blog or email us at show@impactplus.com
IMPACT Updates
We've got a brand new format. The reason for the new format is since the show is hosted on Facebook Live, it can be hard for people to know what the show is about if they're scrolling through their feed. An inspiration for the design was ESPN's Pardon the Interruption.
Our 24th Episode! A big milestone for us. Our goal was to produce 24 episodes, and only a few episodes in we had decided that this was something we want to continue.
IMPACT Elite

If you're a marketer, who's interested in learning and sharing ideas with others, be sure to join our Facebook Group.
Bob recently asked a question to the group regarding how we're viewed, and we would appreciate it if you answered these questions.

Why do you read our content? Why is it a preferred option over other online resources, such as HubSpot?
Fill in the blank: "IMPACT is one of the best resources for _________ on the web."
What type of company is IMPACT? What business would you say we're in?
Is there something we say or do that makes us different than everyone else in your eyes?

Earlier these week, Natalie, our Director of Talent, joined Bob for an AMA where they talked all things company culture, including creating a successful remote environment. If you haven't seen it or you have and want to learn more, Natalie went even deeper into our culture and hiring process in this piece.
We also have a great conversation going on right now about great books you should check out.

Our new messenger bot

We released our new messenger bot on Facebook today! Be sure to check it out. And, in the coming days, Kyle Bento will be publishing a blog post documenting what we did.
Digital Marketing Trends
Where each week, Nick and I share one thing from the world of digital marketing that caught our eye and we found interesting to share.
Google / Machine Learning
Article: How Machine Learning Levels the SERP Playing Field

Contributor Kristopher Jones explains how SEOs should be changing their practices to keep up with trends in the way Google evaluates web pages.

Back in the day…. Established brands frequently dominated top SERP positions because of long-standing trust, fresh domains had to wait their turn in line, and black-hat SEO allowed webmasters to game the system and deliver high rankings for thin content. A decade ago, SEO agencies and webmasters could apply simple heuristics and buzzworthy keywords to rank content regardless of its utility to user intent or actual quality.

Changed with Hummingbird update and RankBrain roll out.

What is machine learning? A subset of artificial intelligence that allows computers to learn independently of human intervention, learning in iterations by grouping similar properties and determining values based on their shared properties.

Google employs machine learning technology to find patterns and make sense of relevant data when it analyzes user engagement with web pages in its SERP listings. With this data, Google's algorithm evaluates user intent. From Google's perspective, this helps filter results more effectively and rewards users with a better experience.

Currently, conventional signals are still applied to rank the best results. With each subsequent, relevant search, machine learning can analyze which web pages are receiving the best user signals and provide the best results to meet user intent. It's important to note that machine learning isn't instantaneous but would result in slow ranking changes based on growing data from its SERPs.

In more competitive niches, content quality and increased user engagement will slowly take precedence over conventional signals, leveling the SERP playing field. In low-volume searches, conventional ranking signals will still be applied as the de facto standard until enough data is available to determine user intent.

Give the people what they want

Give the people what they want

Embrace thematic continuity (topic clusters)

Also talk about optimizing for voice search and personalize for the buyer's journey.
Rule Based Bots vs. AI Bots
The article itself is a marketing case study. This company clearly helps companies make bots, thus they have a "magazine" devoted to the TOPIC not their business/products + they generate awareness of other marketing assets like their webinar in the article itself.

The debate about this being a fad is over

See the value prop on the publishers own website homepage (another great example of specific, compelling value-prop):




Messenger marketing is the new email marketing




Average 40% CTRs. No coding necessary. Reach a younger demographic.

Bots being deployed and/or utilized in every sector

Companies rushing to deploy a bot, learning towards rules-based vs. AI. Rules = if/then (think HubSpot workflows, smart lists, smart content) + AI (think how your voice-to-text function on your phone gets better the more you use it, machine learning, suggestion engine)

Limitations for both. Rules-based is faster to deploy, values-must be predefined and can't understand intent (think open text fields) but AI bots take more time/effort to create, while providing a more "human" experience (using natural language processing to understand say, "I'm hungry" vs. "I'm starving"). Think about the use-case for the bot in order to decide (links to other examples of companies doing this in the article itself)
Main Topic: "Marketing Technology to Consider in 2018
Every week, we pick one topic and go deep on it, and today's topic is Marketing Technology to Consider in 2018
Before we dig in.. start thinking about how the things we're talking apply to your company. If you have any challenges or questions that you want us to address, leave comment or send us an email to show@impactplus.com. We'll get to as many as we can either at the end of the show or during next week's episode.
Problem > Agitation > Solution
Live chat…

Why live chat

Allows us to engage with visitors on our website that have questions they immediately want answered.

HubSpot has it as part of their messages tool

Drift… which has some bot capabilities
There are also other platforms that integrate with HubSpot.

Messenger Bots...

Facebook is driving people to talk to businesses through messenger..

Facebook Messenger chatbots will let you automatically provide consumers with immediate responses. They can answer basic questions like "What is your return policy?" (even though it's posted in three different places on your site), freeing up your customer service team to handle more serious customer concerns or issues.

Motion.ai, MobileMonkey, and Chatfuel

AI

This isn't an area we're strong in, however, we reached out to our good friend, Paul Roetzer over at PR 20/20.

He did a whole session at IMPACT Live17 regarding where AI is going.

A couple AI tools Paul mentioned:

Grammarly

HubSpot's Content Strategy Tool

Conversation Management

HS conversations tool - backed with bots (Ari Plaut)

Predictive analytics for SMBs

I asked John McTigue…

Conversica… it's like lead scoring using AI

HubSpot has predictive lead scoring built in… but issues….

Conversica and Boomtrain seem a bit underpowered and immature at this stage.

IBM Watson Analytics, mentioned both by Paul and John McTigue

Main use case (from Paul): Export 12 months of blog post data from Buzzsumo, import CSV into IBM and run explorations on content performance by a variety of factors (topics, authors, length, social shares, etc). Basically it informs content strategy.

Speaking of analytics:

One other feature that's coming in the next few months, that will have a huge impact on marketing teams: behind the scenes, our engineers have been completely rebuilding the system that processes our analytics data. Now in beta is a brand new home for traffic analytics in HubSpot, including new designs for Sources and Page Performance, that use the new analytics engine.

The coolest part: the new reports refresh up to 10x faster than old (think: 20 minutes instead of three hours for Sources). Plus, they have web analytics data that would've never been possible a year ago. Things like bounce rate by sources, exit rate from specific pages, time on page, etc.
Next Steps:
We would love your comments! Feel free to send us an email or comment on the Facebook thread.
If you really liked it, please give us a 5-star review on iTunes.
Join Us Next Week!
We'll be back again next Thursday, October 26th at 1:00 PM ET.We're taking a poll in IMPACT Elite on what next week's topic should be. So, be sure to vote. The ideas we have are:
How to turn your marketing into a profit center

10 marketing books that you must read now

What to look for when hiring marketers
Until next time... get out there and make it happen.
Free Assessment:
How does your sales & marketing measure up?
Take this free, 5-minute assessment and learn what you can start doing today to boost traffic, leads, and sales.